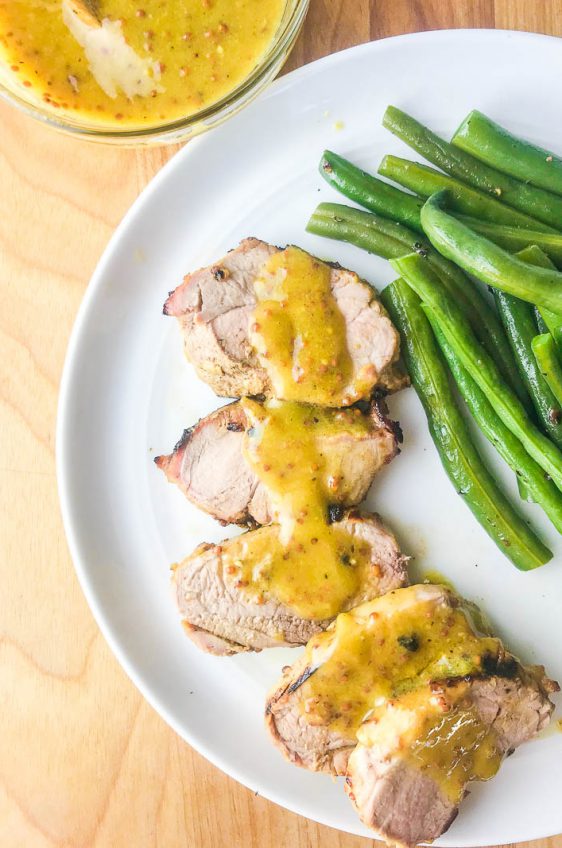 Grilled Pork Tenderloin with Mustard Sauce
Grilled Pork Tenderloin is an easy flavorful dinner. Marinated in a honey mustard sauce and then grilled to perfection. An easy family dinner!  
Let me start by saying that my entire family LOVED this Grilled Pork Tenderloin recipe. Like loved. 
My picky 7 year old asked for seconds. My less picky 5 year old had FOURTHS. Like I said, this is a goodie, friends.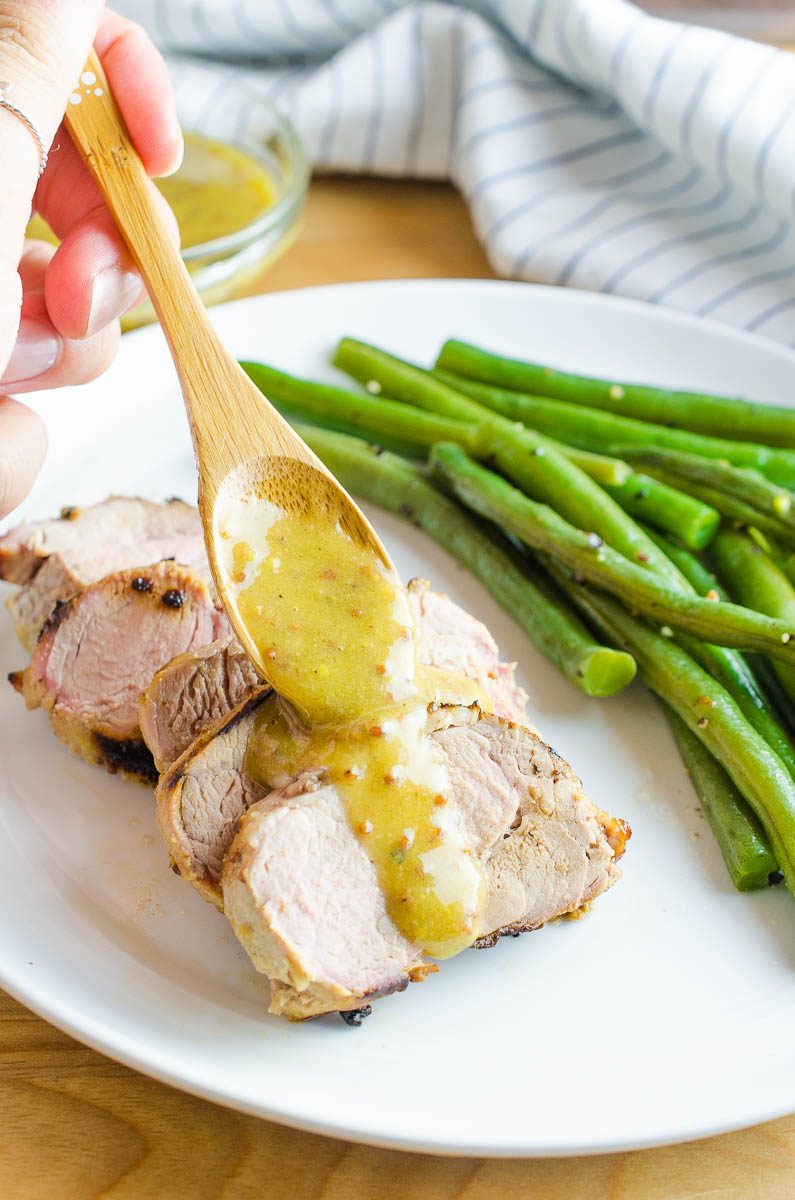 Pork Tenderloin is not one of the cuts that I usually use in the kitchen. Recently my grocery store had them on BOGO so I thought, why not? Now they are seriously my favorite cut. So incredibly tender. So quick and easy to cook. And super versatile.
What is the difference between Pork Loin and Pork Tenderloin?
When it comes to pork, there are so many cuts in the meat section that it can be a bit overwhelming.
Pork tenderloin and pork loin are cut from different parts of the animal. Pork tenderloin is long and thin, pork loin is wider. The tenderloin is a very lean cut of meat and can overcook easily.
When it comes to cooking, pork tenderloin cooks fast, pork loin is better when it has a chance to slow cook. Because of these cooking differences, they aren't really interchangeable in recipes so make sure you grab the right one for the recipe you're using!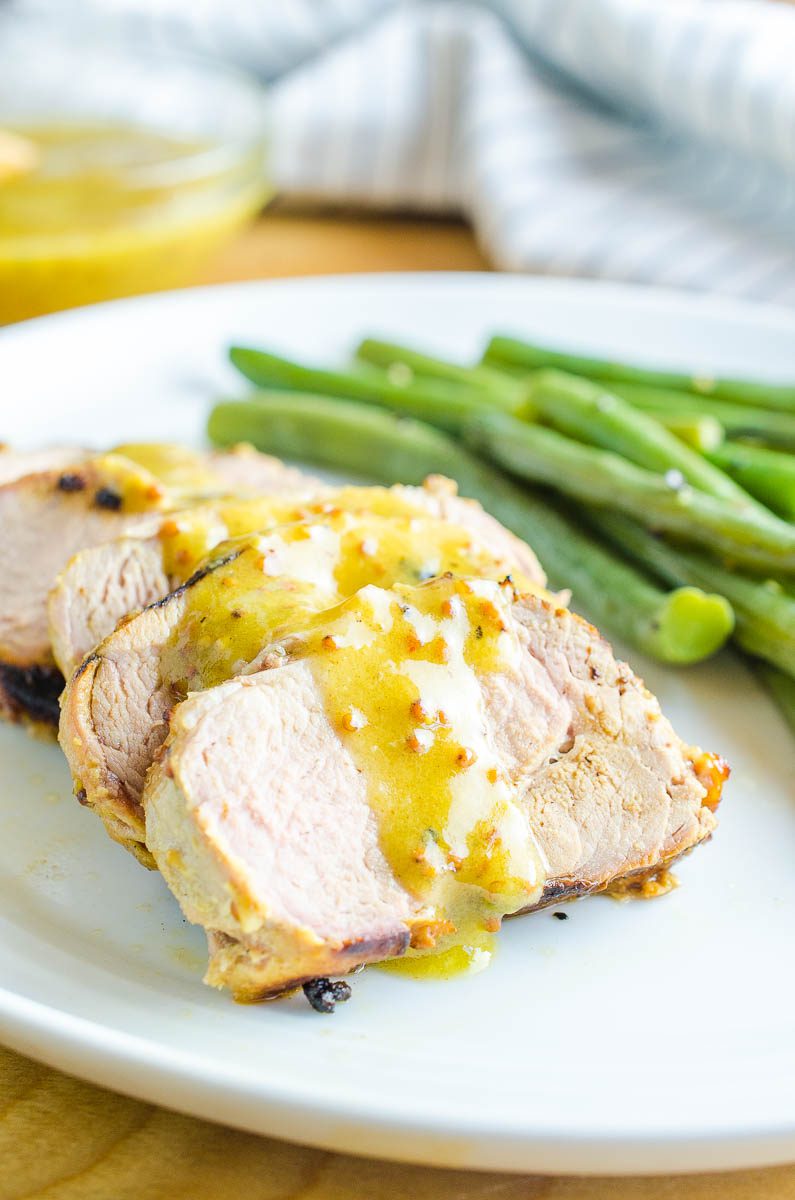 Tips for cooking and preparing pork tenderloin:
Tip #1: Always make sure the tough silver skin is trimmed before cooking. Simply run a paring knife gently under the silver skin and carefully cut it away. Here's a good article on trimming pork tenderloin to help if you're unsure. If buying from the butcher counter, you can also ask the butcher to do it for you.
Tip #2: Marinate the pork tenderloin for at least a couple of hours to really allow the flavors to meld.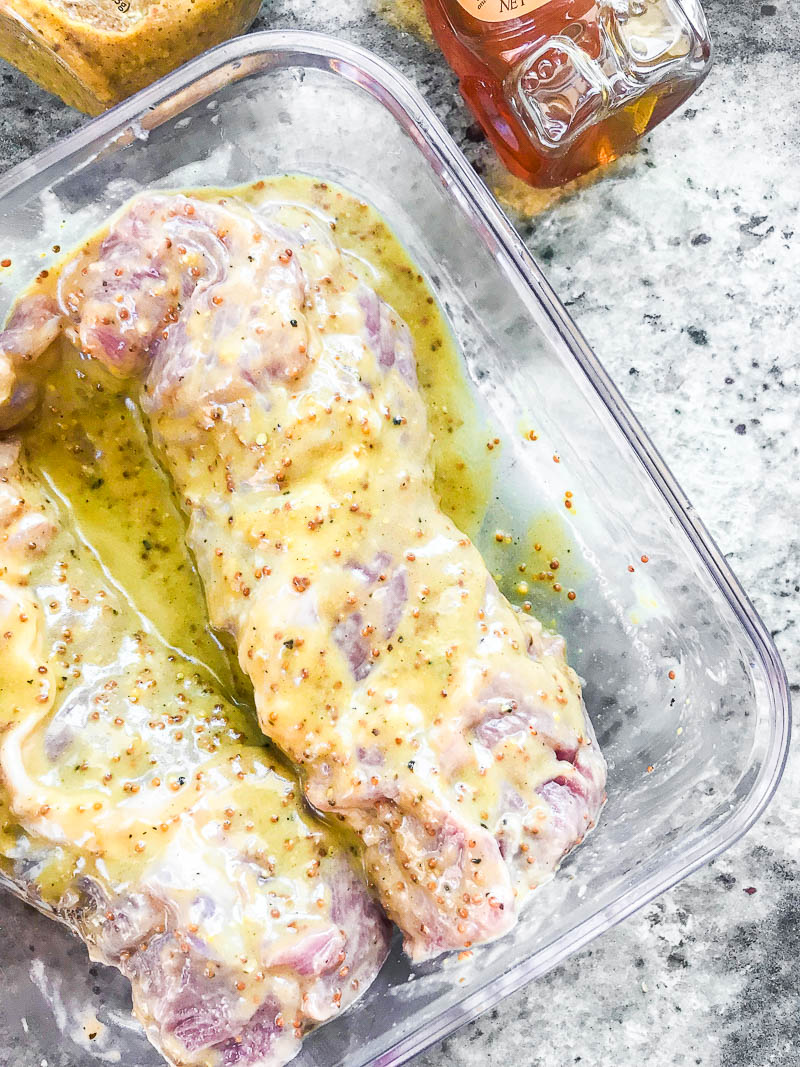 Tip #3: Don't over cook! I'm not sure if you've heard but, aside from ground pork, you no longer have to cook pork to a temperature of 160 degrees. Instead, cooking pork to 145 degrees is considered safe to eat. This means the meat will have a blush of pink to it. A meat thermometer will ensure that you've reached the correct temperature.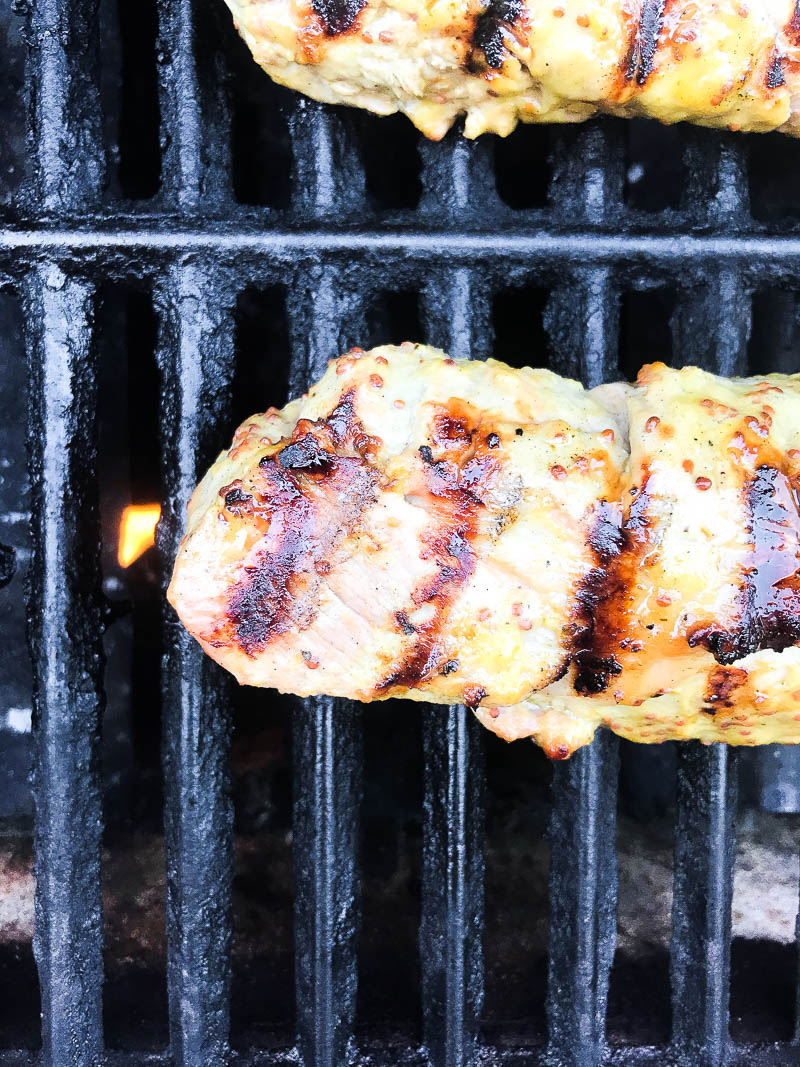 Tip #4: Let it rest! Just like a good steak, grilled pork needs to rest before being sliced. 5 – 10 minutes is good. This gives the juices a chance to redistribute. Cutting into the meat before that will result in dry meat.
The Best Grilled Pork Tenderloin Marinade:
You guys, the marinade for this grilled pork tenderloin is out of this world. It's a blend of olive oil, dijon mustard, stone ground mustard, garlic, apple cider vinegar and honey. It's sweet, tangy and pairs perfectly with the pork.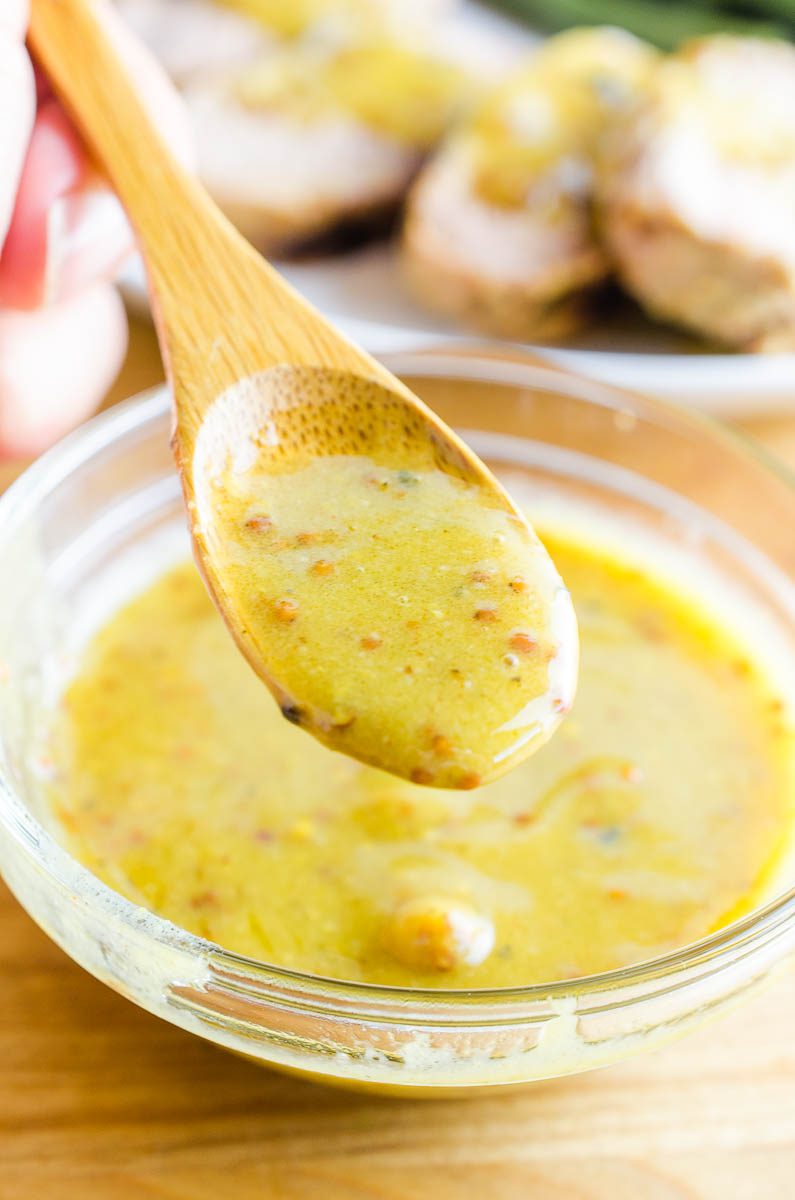 I recommend using 3/4 of the marinade for marinating the pork while reserving the remaining 1/4 for drizzling over the finished pork.
SO GOOD.
Other Easy Main Dishes:
Alabama BBQ Chicken Sandwiches
Kielbasa and Tater Tot Casserole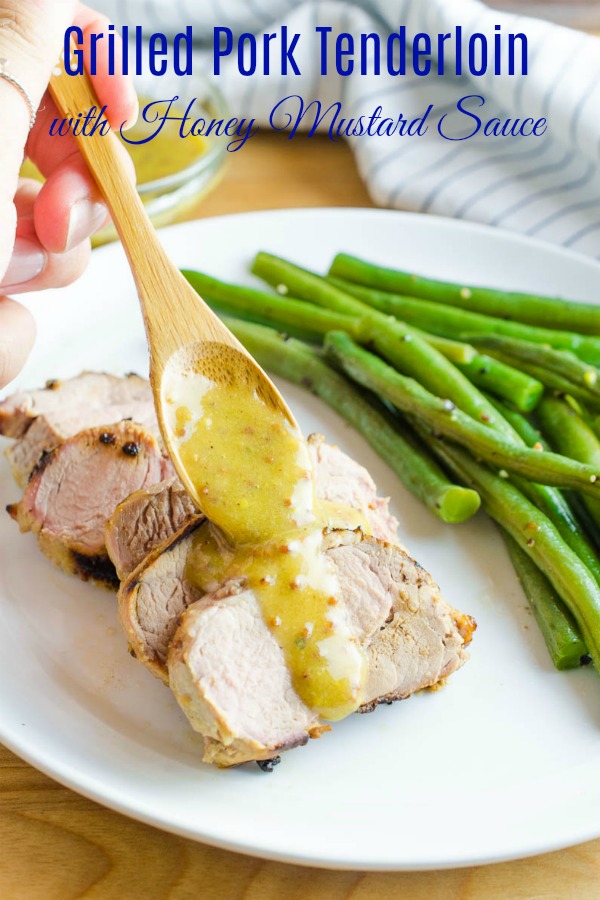 Other Grilled Favorites:
Grilled Pork Tenderloin with Mustard Sauce Recipe
Ingredients:
2 pounds pork tenderloin, trimmed
1/2 cup olive oil
1/4 cup stone ground mustard
3 tablespoons dijon mustard
2 tablespoons apple cider vinegar
2 tablespoons honey
1 1/2 teaspoons salt
1 teaspoon granulated garlic
1/4 teaspoon onion powder
Instructions
1
Place pork in a shallow dish (or resealable plastic bag)

2
Whisk together remaining ingredients until emulsified.

3
Reserve 1/4 of the marinade to serve with cooked pork.

4
Pour remaining marinade over the pork. Turn to coat. Cover and refrigerate for at least 2 hours.

5
When ready to cook, preheat grill to medium.

6
Cook pork 8 - 10 minutes on each side or until a meat thermometer inserted reaches 145 degrees.

7
Remove pork from grill and allow to rest 5 - 10 minutes.

8
Slice, drizzle with reserved marinade and serve.
Notes
Nutrition facts not guaranteed.
Nutrition information
Calories: 396 , Total Fat: 22.8g , Saturated Fat: 4.2g , Cholesterol: 110mg , Sodium: 802mg , Carbohydrates: 7.3g , Fiber: 0.3g , Sugar: 6 , Protein: 40g