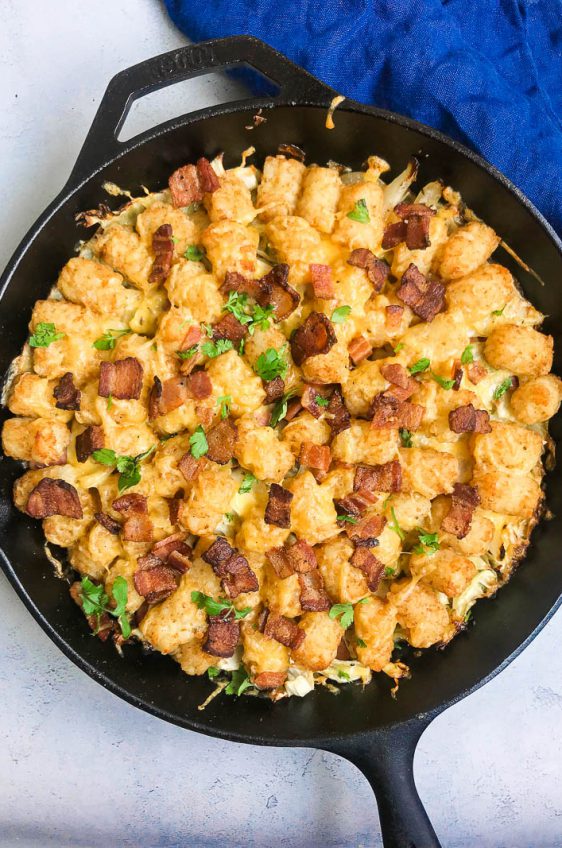 Kielbasa and Cabbage Tater Tot Casserole
Kielbasa and Cabbage Tater Tot Casserole is comfort food of epic proportions. Sautéed cabbage and kielbasa topped with cheddar cheese and tater tots, then baked until crisp. 
We eat a lot of cabbage around here. Whether I am subbing it for lettuce on Shrimp Tacos, making some slaw to serve with pulled pork, making cabbage salsa or, one of my personal favorites, sautéing it with kielbasa. Cabbage makes a several appearances on our menu.
This Kielbasa and Cabbage Tater Tot Casserole is my latest cabbage creation. And we have already eaten it 2 times in as many weeks. The kids love it, my husband loves it and I love it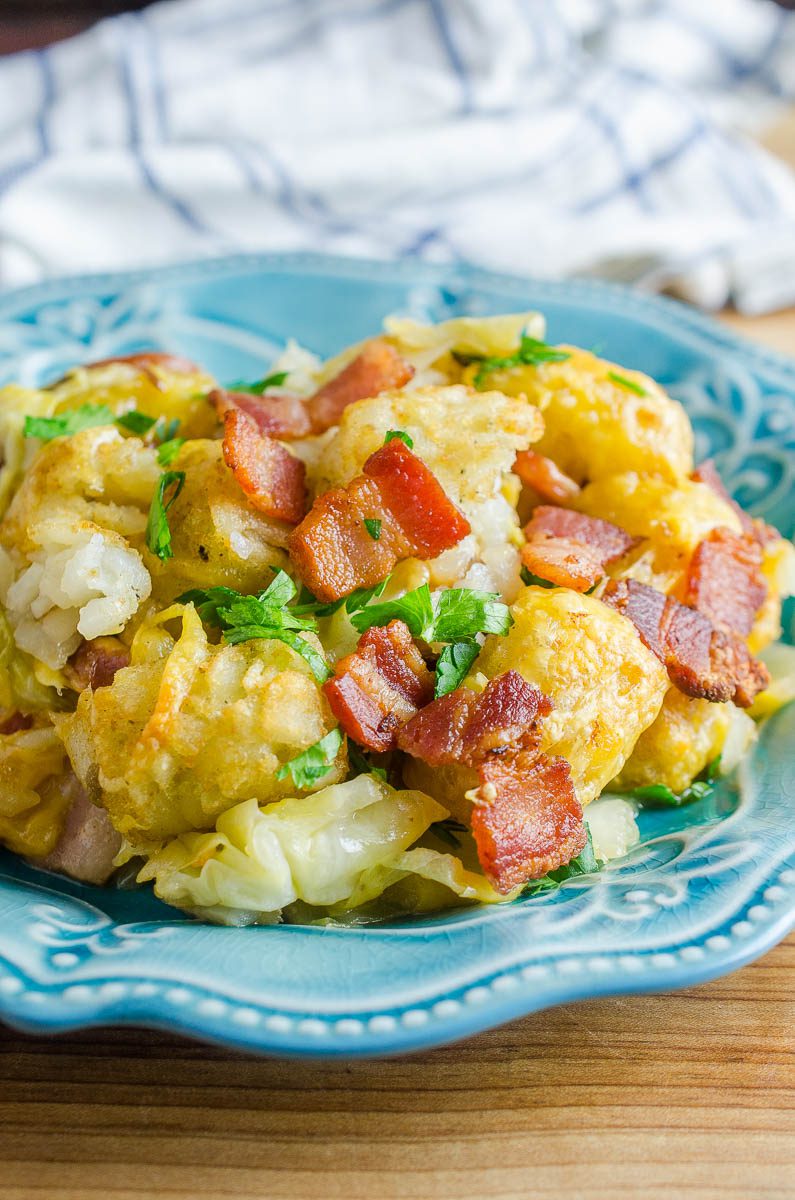 I'm pretty sure your family will love it too.
What is Tater Tot Casserole?
Tater tot casserole has origins in the midwest. I believe it's called hot dish there. Basically it's sautéed meat and veggies topped with tater tots and baked until golden.
The possibilities are virtually endless. You could make a classic version with ground beef, a version with BBQ Pulled Pork , and a taco version and even a pizza version.
This Kielbasa and Cabbage Tater Tot Casserole is destined to become a favorite just like these.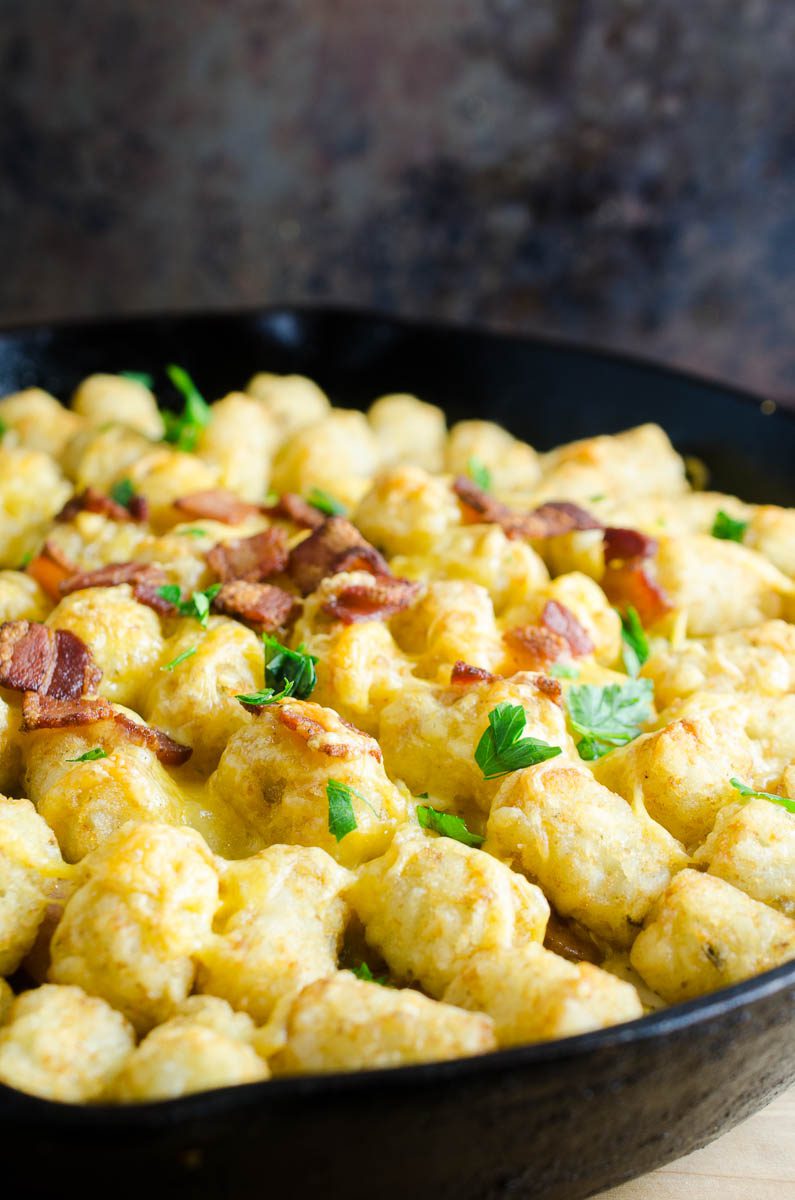 How do you make Kielbasa and Cabbage Tater Tot Casserole?
Like most good recipes, this one starts with bacon.
After browning the bacon, reserve the pan drippings and use it, along with apple cider vinegar, to sauté onions and cabbage.
Next comes the kielbasa and seasonings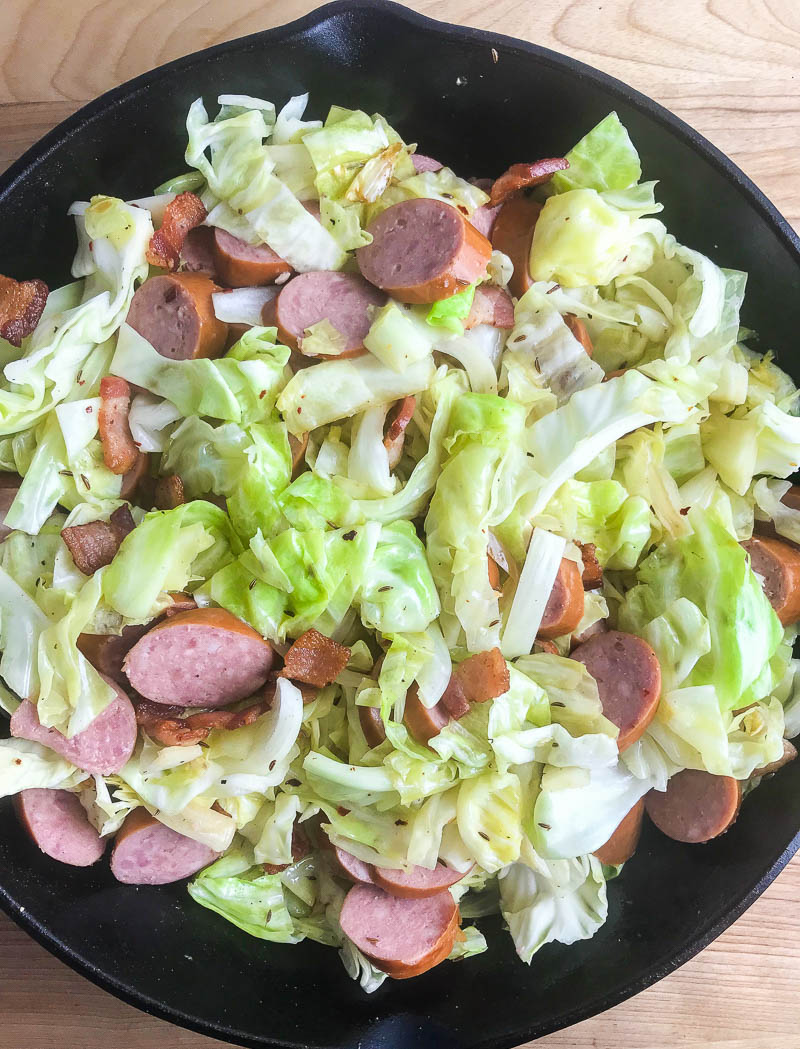 For the seasonings, I keep it simple, salt, pepper, caraway seeds and crushed red pepper for a little kick. You can leave the crushed red pepper out if you don't want the added heat.
Finally, sprinkle some cheddar on top, top with tots and bake until the the whole thing is golden brown.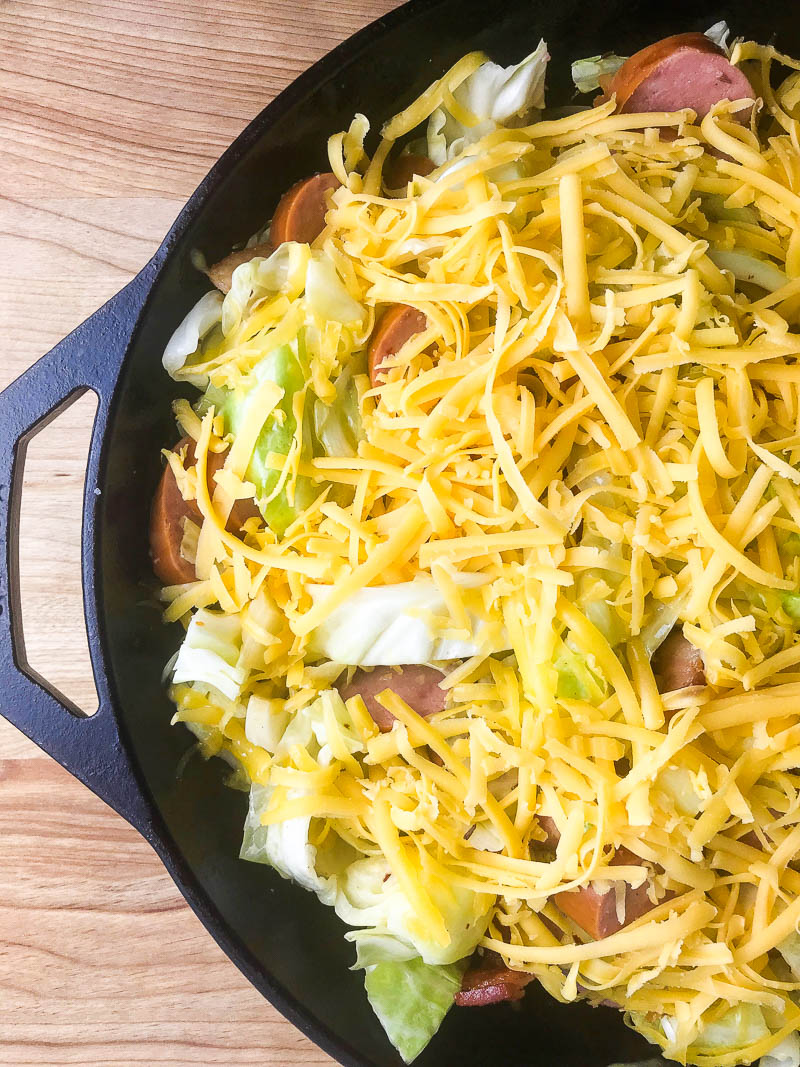 Seriously, bacon, cabbage, sausage and tater tots. It doesn't get much more comforting
What kind of baking dish do you need to make tater tot casserole?
Basically, you want a pan that is large enough to fit all of your ingredients. I like to make this as easy as possible by making this a one pot dish and using a 12 inch cast iron skillet. That way I can use it on the stove and in the oven.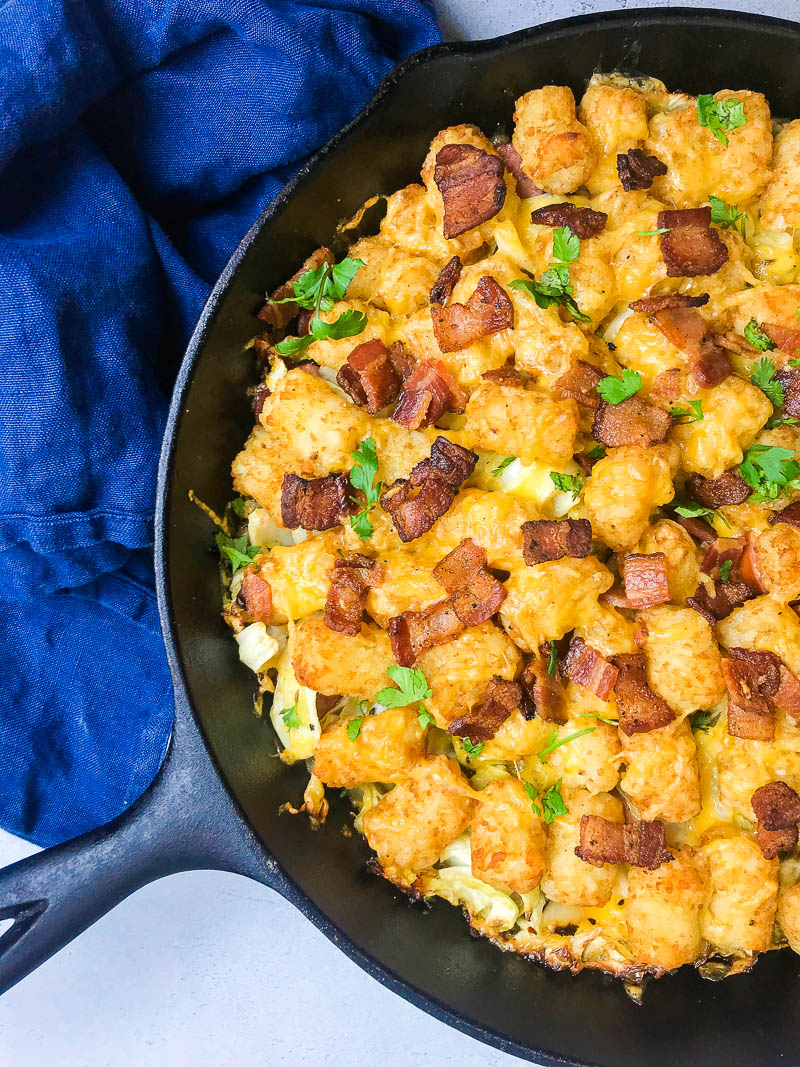 If you don't have a cast iron skillet, or other oven-proof skillet, simply prepare the kielbasa and cabbage in a skillet and then transfer the whole thing to a casserole dish before topping it with the tater tots.
Can you use turkey kielbasa?
Absolutely! Any kind of kielbasa will work in this recipe! I've used both, turkey and beef, and have had great results.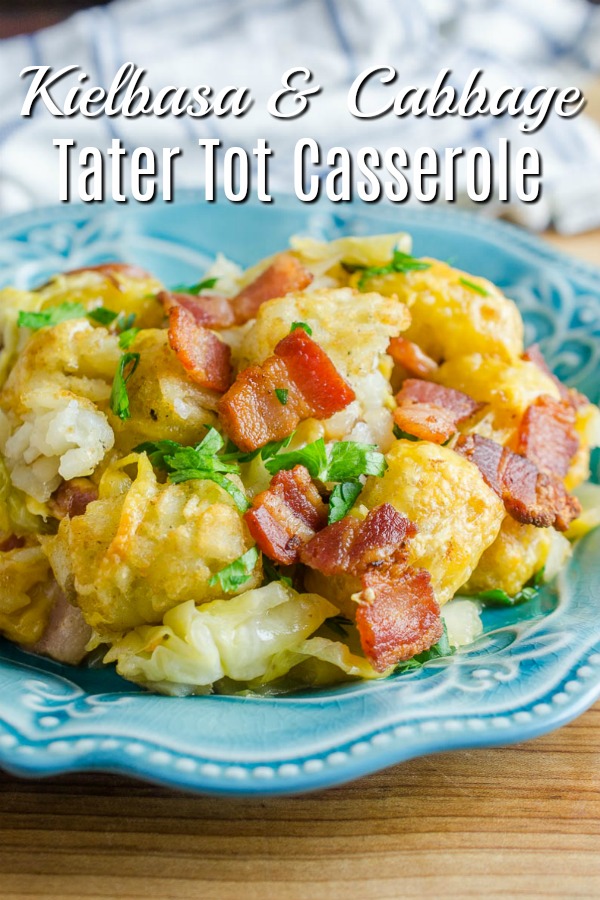 Kielbasa and Cabbage Tater Tot Casserole Recipe
Ingredients:
4 slices bacon, diced
1 yellow onion, sliced
1 head cabbage, cored and sliced
1 tablespoon apple cider vinegar
16 ounces (beef or turkey) kielbasa sausage, sliced
2 teaspoons caraway seeds
1/4 teaspoon crushed red pepper
salt and pepper
2 1/2 cups shredded cheddar cheese
1 (2 pound) bag tater tots
Instructions
1
Preheat oven to 425 degrees.

2
Cook bacon in a 12-inch cast iron skillet until browned. Use a slotted spoon to remove and set aside. Reserve 2 tablespoons pan drippings.

3
In the same pan that you cooked the bacon, sauté the onions, just until they start to soften, about 3 minutes. Add the cabbage and apple cider vinegar. Cover and cook for 3 - 5 minutes or until cabbage has wilted.

4
Add in kielbasa, caraway, crushed red pepper. Season to taste with salt and pepper.

5
Sprinkle half of the cheddar cheese on top of the kielbasa and cabbage mixture. Top with tater tots. Bake in preheated oven for 15 minutes.

6
Remove from oven, top with remaining cheese and reserved bacon. Bake for an additional 5 - 10 minutes or until tater tots are browned and cheese is melted. Serve.

Notes
Nutrition facts not guaranteed.
Nutrition information
Calories: 692 , Total Fat: 45.4g , Saturated Fat: 17.8g , Cholesterol: 126mg , Sodium: 2344mg , Carbohydrates: 43.2g , Fiber: 5.6g , Sugar: 3.9g , Protein: 30.7g