Herb Roasted Mushrooms
This is my absolute favorite way to cook mushrooms. Truth be told, I don't think that you necessarily need to cook mushrooms for them to be delicious. My better half on the other hand is not the biggest mushroom fan. He always picks them out when I put them on a salad or pizza. So if I'm going to take the giant step and serve them as an actual side dish with dinner, then I've got to dress them up a bit. This recipe is the perfect way to do just that.
Slow roasting mushrooms, or any kind of vegetables for that matter, brings out all of their wonderful flavor. So much so that you barely need any seasonings to go with them. Take these mushrooms for instance. With just a sprinkling of herbs, some salt and pepper, a drizzle of olive oil and a little lemon juice for brightness, these mushrooms shine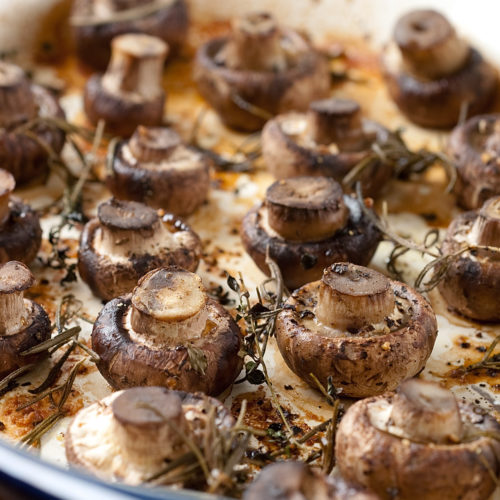 Herb Roasted Mushrooms
Make mushrooms shine by slow roasting them with herbs, salt, pepper, olive oil and lemon.
Preheat the oven to 350 degrees.

Place crimini mushrooms in a baking dish. Sprinkle the rosemary and thyme around the mushrooms. Sprinkle the kosher salt and black pepper over the mushrooms. Drizzle with olive oil and lemon juice. Bake in the preheated oven for 30 - 35 minutes or until mushrooms are tender. Serve hot.
Keywords:
crimini mushrooms, Food, gluten free, Mushrooms, Recipe, roasted mushrooms, side dish, Vegetarian