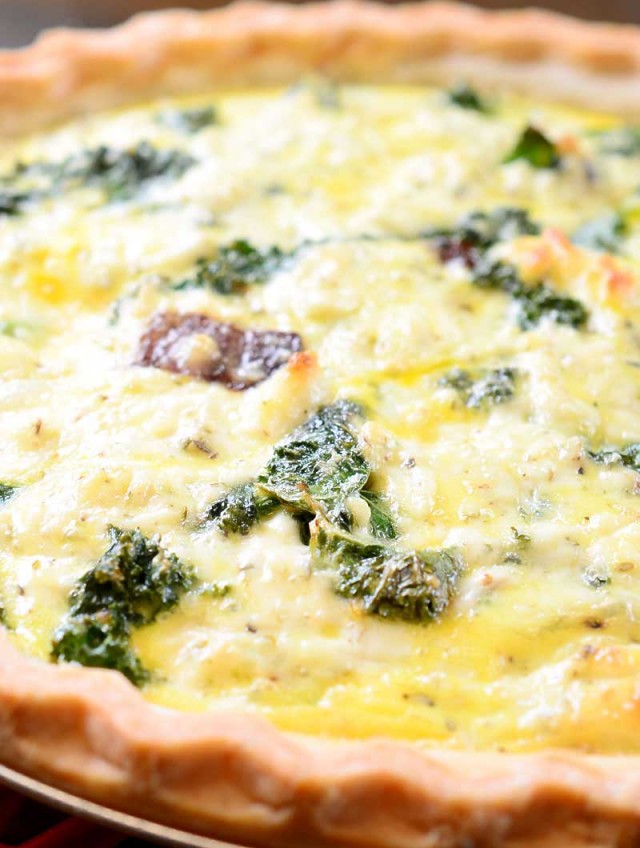 Kale and Goat Cheese Quiche
Quiche is not something I have a lot of experience making. For some reason I always thought it was really hard to make. In actuality, if you cheat just a little bit with store-bought crust, a quiche is one of the easiest things to make. The possibilities of the filling are practically endless. For this recipe, I decided to use thick cut bacon, kale and goat cheese.
A few Saturdays ago, I was wide awake and Kellan and Ryan were sound asleep. I decided to take that moment to go down to the kitchen, turn on my Mad Men pandora station and make my family a quiche. It was the first time I attempted one. And despite not knowing exactly what I was doing in the begining, it was one of the most relaxing mornings in a while.
As I hummed along to the crooning of Dean Martin and Frank Sinatra, I scoured my refrigerator for ingredients to add to my quiche. I had some thick cut bacon, some curly kale and some herb and garlic goat cheese. Those are three of my favorite things so I knew they would be great together.
After cooking the bacon, the quiche came together very quickly. I layered the ingredients in the pie crust, poured the eggs over the top and popped it in the oven. 45 minutes later it was done, my boys were awake and we were ready to start our day with a freshly baked, scrumptious quiche. What a way to start a weekend!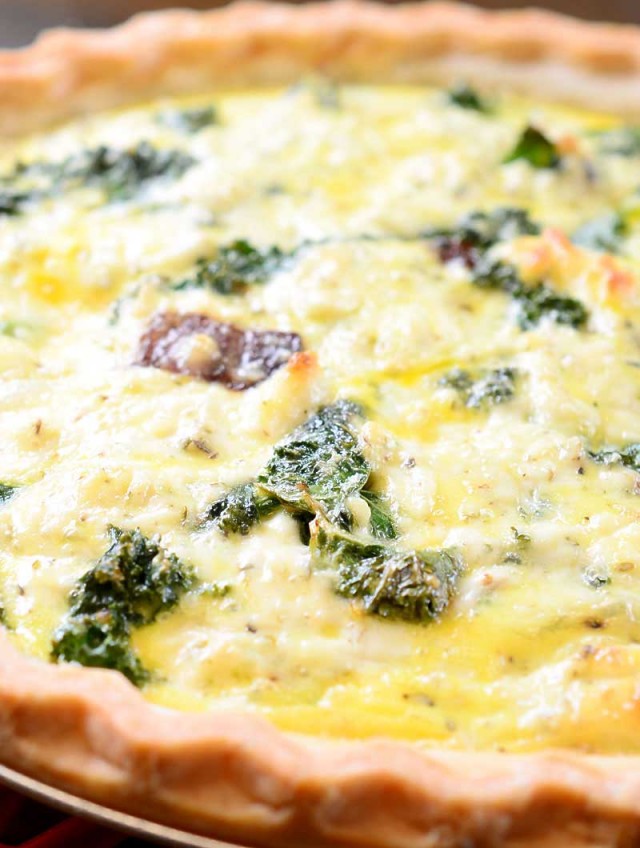 Kale and Goat Cheese Quiche
Treat yourself and your family to this scrumptious quiche made with thick cut bacon, curly kale and creamy goat cheese perfect for lazy Saturday mornings.
1

pre-made 9 inch pie crust

5

slices

thick cut bacon

3

cups

chopped fresh kale

4

ounces

herb and garlic goat cheese

6

eggs

3/4

cup

heavy cream

1/4

teaspoon

kosher salt

1/4

teaspoon

black pepper
Preheat oven to 375 degrees. Fit your pre-made pie crust to a 9-inch pan.

Cook bacon in a skillet over medium heat. Once browned, add in the kale. Cook until kale becomes wilted, about 5 minutes.

Layer the bacon and kale on the pie crust. Crumble the goat cheese over the top.

Whisk together eggs, heavy cream, salt and pepper. Pour over the filling.

Bake in the preheated oven for 40 - 50 minutes or until the mixture is set and the crust has browned. Slice and serve.
Keywords:
Breakfast, brunch, Food, Goat Cheese, kale, quiche, Recipe