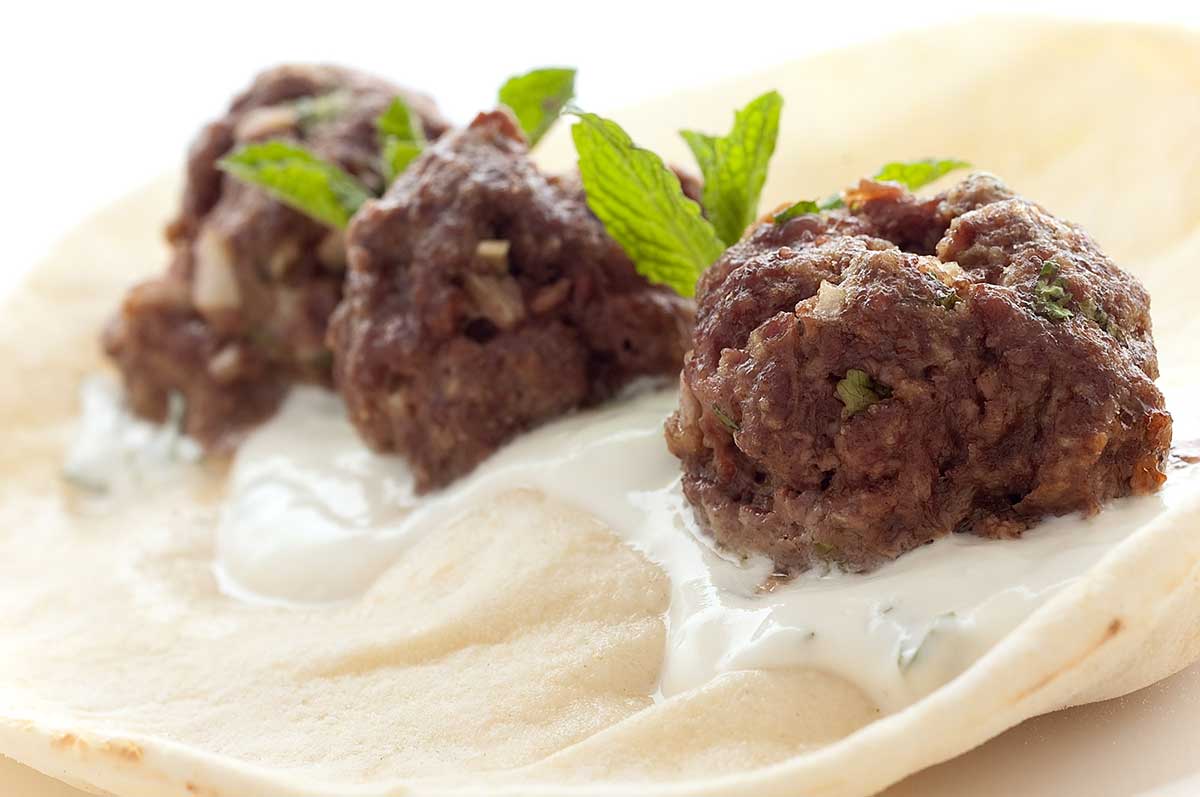 Lamb Meatball Gyro with Mint Yogurt Sauce
Hey there everyone! You may or may not have noticed that I was not around last week. Unfortunately, I was not feeling well and decided that it would be best for me to relax and rest for a few days to get myself better. Now that I've had a few days I can say that I am feeling much better and am happy to be back to sharing recipes. First up this week is this quick flavorful recipe that is sure to please just about everyone.
In the nature of full disclosure, prior to this recipe, I had not had much experience with lamb. But about a month ago the Tri-Lamb Group contacted me to ask if I would be interested in developing a lamb recipe. I don't usually do those types of things but since they weren't asking me to review a specific brand, and just wanted me to cook with lamb,  I figured what the heck. I also liked the idea that it would give me some great experience with cooking a different protein.
I went to my local grocery store first to see what kind of lamb that they had. Surprisingly, all I found was a couple of sorry looking vacuum packed lamb chops in the corner of the meat section. These little packages were not appealing at all, so I headed to a local butcher shop to see what I could find. Having not had any experience working with lamb what-so-ever I decided to go with ground lamb because I knew it would cook up quicker and would be relatively easy to prepare.
As far as flavors for the dish, I knew I wanted something Mediterranean. Looking at the ground lamb, I thought I could do a Mediterranean style meatball gyro. First,  I mixed the lamb with cilantro, shallots, cumin and all spice before baking them in the oven.  And while they were good on their own, I thought that they needed some kind of sauce. Something fresh and flavorful. That is when I got the idea for the mint yogurt sauce. Which, as it turns out, pairs very nicely with lamb.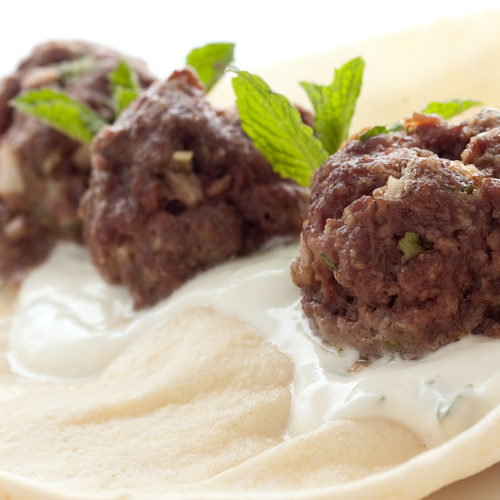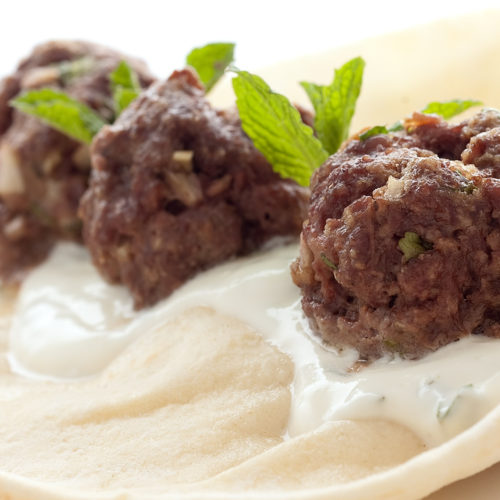 Lamb Meatball Gyro with Mint Yogurt Sauce
A twist on a gyro with spiced lamb meatballs and mint yogurt sauce.
Ingredients:
1

cup

fat free Greek yogurt

1

clove

garlic

minced

2

tablespoons

minced fresh mint

1

tablespoon

lemon juice

1

teaspoon

kosher salt

divided

1

pound

ground lamb

1/4

cup

plain bread crumbs

1

egg

beaten

2

tablespoons

chopped fresh cilantro

1/4

cup

minced shallots

1/2

teaspoon

ground cumin

1/4

teaspoon

allspice

1/2

teaspoon

kosher salt

1

tablespoon

olive oil

4

pieces

whole wheat pita bread
To make the yogurt sauce mix yogurt, garlic, mint, lemon juice and 1/2 teaspoon kosher salt in a bowl. Cover and refrigerate for at least 30 minutes.

Preheat oven to 350 degrees.

In a bowl combine lamb, bread crumbs, egg, cilantro, shallots, cumin, allspice and 1/2 teaspoon kosher salt. Mix well. Roll into 12 meatballs (Helpful hint: Shape your meatballs using an ice cream scoop for consistent size). Place meatballs in a baking dish. Drizzle with olive oil. Bake for 20 - 25 minutes or until cooked through. Transfer to a paper towel lined plate.

Spoon yogurt sauce on down the middle of the pita, top with three lamb meatballs. Serve.
These would also make a great appetizer. Simply put toothpicks in the meatballs and serve the yogurt mint sauce alongside for dipping. Enjoy!
Keywords:
Food, greek yogurt, ground lamb, gyro, lamb, meatball, meatball gyro, mint, Recipe, yogurt