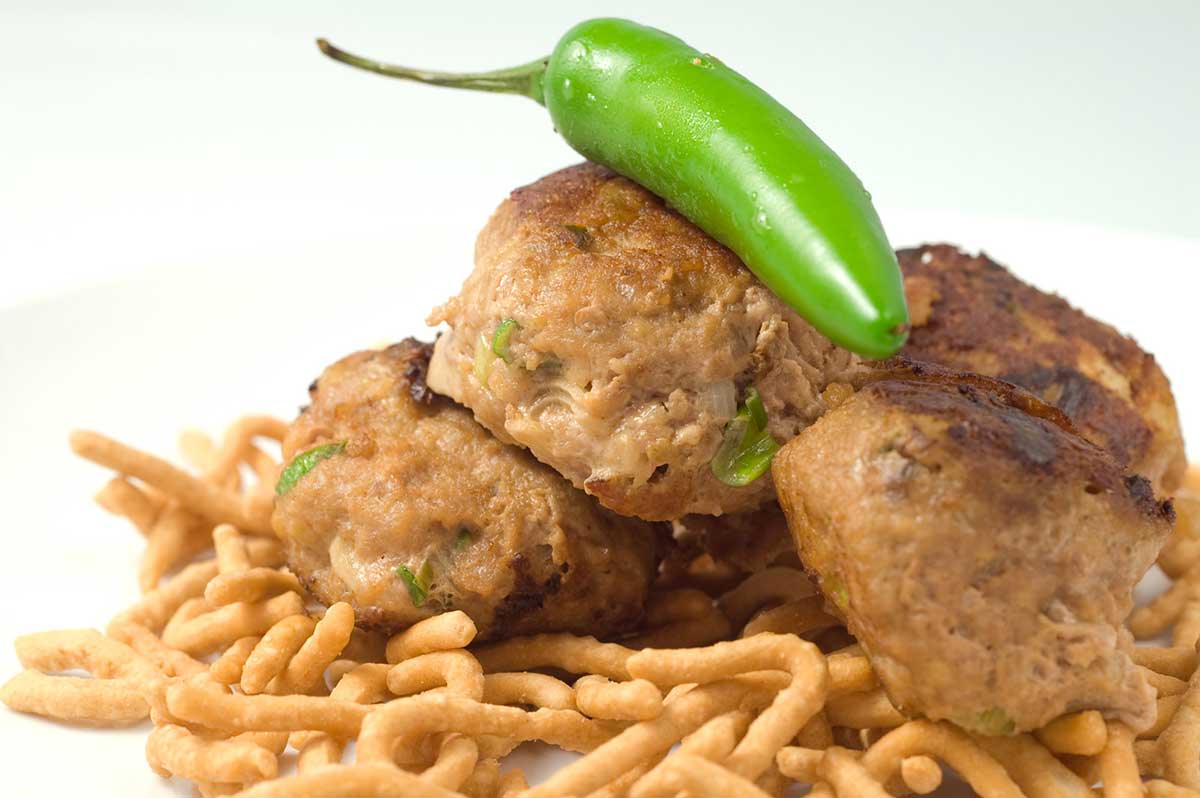 Turkey Meatballs with Peppers and Mushrooms
I have been on an Asian food kick lately so I thought I would do an Asian twist to meatballs. I already posted my Teriyaki Turkey Meatballs a little while back but this time I went with something without a sauce. I combined many of the flavors that I love including serrano peppers, fresh ginger, water chestnuts and crimini mushrooms with some ground turkey, rolled the mixture into balls, browned them in a mixture of chili and olive oils and then finished them off in the oven. Served on top of some crunchy chow mein noodles and jasmine rice, these make a delicious dinner.
I chose to use ground turkey in this recipe because it is a little bit healthier for you but still makes a great meatball. For this recipe, I use lean ground turkey, not to be confused with ground turkey breast. The meatballs do need to have some fat in them to stick together well and the breast does not have enough. If you're not a fan of ground turkey, you could substitute ground pork or beef.
Turkey Meatballs with Peppers and Mushrooms Recipe
Ingredients:
1 pound ground turkey
2 garlic cloves, minced
1 serrano pepper, minced
1/3 cup minced water chestnuts ( buy the already sliced water chestnuts, not the whole ones)
1 teaspoon minced fresh ginger
1/3 cup minced crimini mushrooms (about 2 mushrooms)
1/3 cup green onions, minced
1 1/2 teaspoon soy sauce
1 teaspoon plus 1 tablespoon chili oil
1 teaspoon rice wine vinegar
1 egg, beaten
2/3 - 1 cup dry bread crumbs
1 tablespoon olive oil
Crunchy chow mein noodles, if desired
Jasmine rice, if desired
Instructions
1
Preheat oven to 350 degrees.

2
In a bowl combine turkey, garlic, serrano pepper, water chestnuts, ginger, mushrooms, green onion, soy sauce, 1 teaspoon chili oil, rice wine vinegar, egg and 2/3 cup bread crumbs. Use your hands to mix. If mixture appears too wet add 1/3 cup bread crumbs. Roll into 20 meatballs.

3
Heat 1 tablespoon olive oil and 1 tablespoon chili oil in a large skillet. Fry meatballs 3-4 minutes per side, or just until browned.

4
Transfer to a baking dish and bake for 15 minutes or until cooked through.

5
Remove from oven. Place on bed of crunchy noodles. Serve with jasmine rice.