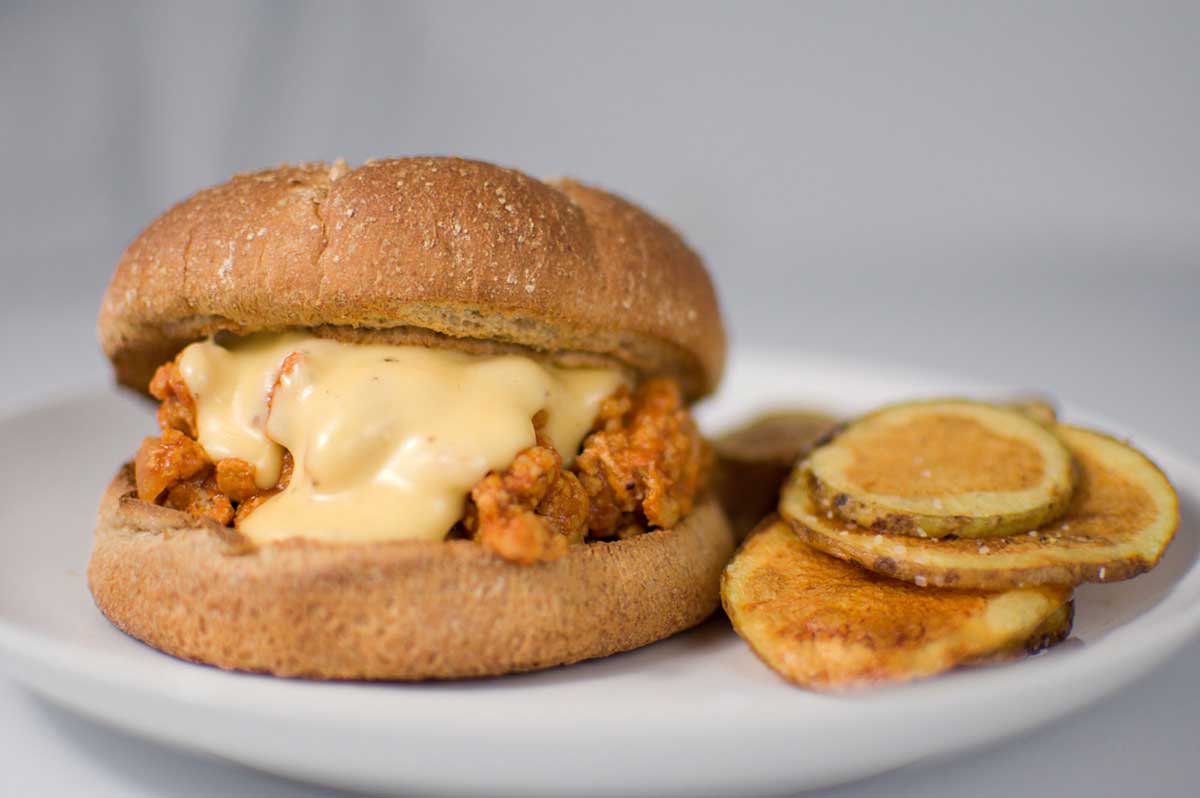 Cheesy Sloppy Joes
Since I started this blog, I have been experimenting with classics and this is the most recent dish I have re-discovered. Sloppy joes were a staple at my home while I was growing up. You all know what I am talking about. Ground hamburger cooked with onions, simmered in savory and slightly sweet tomato sauce all piled high on a crusty hamburger bun. They were messy and delicious and I loved them.  When I made them for dinner this week, I decided to venture off the beaten path just a little bit. First off I used ground turkey, it is a lot better for you and trust me you and your family won't be able to taste the difference. Second, I made my own sloppy joe sauce, which is easier than you might think. Third, I like the flavor of the whole wheat hamburger buns with this better than the traditional white bread. Finally,  since I was saving some calories by using ground turkey and a whole wheat bun, I figured I could afford to throw some homemade cheese sauce on top and let me tell you it was probably one of the most delicious ideas I have had.
A basic cheese sauce recipe is a good thing to have in your repertoire. I have found a variety of uses for it including dips, topping for broccoli but especially sandwiches.  For this recipe I used the same cheese sauce that I used for my Philly Cheese Steak Sandwiches.
I served these with my Homemade Potato Chips and Ryan and I devoured them. Just be sure to have a lot of napkins handy, they are called sloppy joes for a reason.
Cheesy Sloppy Joes Recipe
Ingredients:
1 (14.5 ounce) can tomato sauce
1 tablespoon white wine vinegar
1 tablespoon worcestershire sauce
1/2 teaspoon granulated garlic
1/2 teaspoon ground mustard
sprinkle of cayenne
2 teaspoons brown sugar
1 tablespoon olive oil
1/2 onion, diced
1 pound ground turkey
4 whole wheat hamburger buns
2 tablespoons butter
1 cup milk (I used non-fat once too and that worked just fine)
1 tablespoon flour
2 ounces cream cheese, softened
3 cups shredded cheddar cheese
kosher salt and pepper to taste
Instructions
1
In a bowl whisk together tomato sauce, white wine vinegar, worcestershire sauce, granulated garlic, ground mustard, cayenne, brown sugar and salt and pepper.

2
Heat olive oil in a large skillet over medium heat. Cook onions and ground turkey until brown and cooked through. (Note: Unlike hamburger, there is no real need to strain the fat from the turkey, there will not be much at all.)

3
Add tomato mixture to the pan, stir to combined. Bring to a boil. Reduce to medium low and allow to cook 30-40 minutes, or until sauce reduces and is thick. (Note: Mixture should not be overly saucy. The meat will be coated in the sauce, but you won't have sauce dripping from the spoon when you scoop up the mixture.)

4
While the meat mixture is cooking, make the cheese sauce. In a sauce pan over medium heat, melt butter. When butter has melted, whisk in flour. Cook 1 minute. Slowly stir in milk. Stir in cream cheese and shredded cheddar and cook until melted. Season to taste with salt and pepper.

5
Preheat your broiler. Toast the hamburger buns.

6
Scoop the turkey mixture onto the bun, top with cheese sauce. Serve.