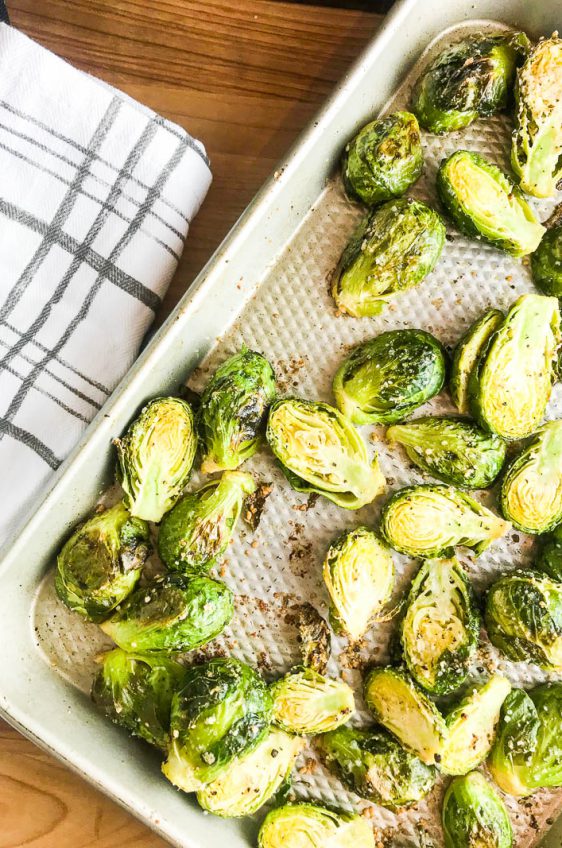 Roasted Brussel Sprouts with Parmesan
Roasted Brussel Sprouts with Parmesan is a great way to get your family to eat Brussel Sprouts! Who can resist tender roasted brussel sprouts with crispy cheesy edges?! 
I have mentioned before that I am forever on a quest to make everyone love brussel sprouts. It's my favorite veggie that has gotten a bad rap over the years. I'm fully convinced that it's just because people were cooking them wrong.
Brussel Sprouts with cajun seasoning are spicy perfection. Grilled Brussels are top notch. They're even great in pastas.
And are especially great when cooked au gratin.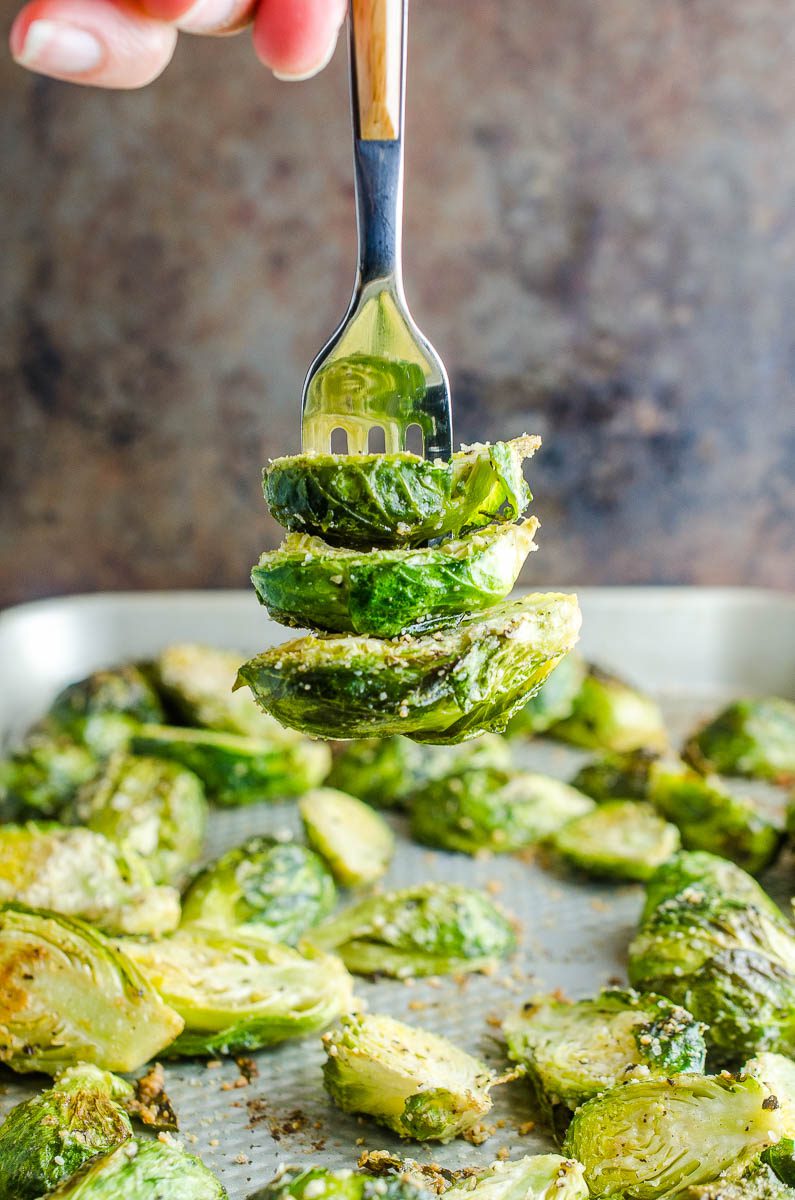 But I will say that my favorite, by far is roasted. I love roasted brussel sprouts because they have crispy outsides but they are tender too. These Roasted Brussel Sprouts with Parmesan get a bit of extra crispy cheesiness from some Parmesan making them even better.
How to make Roasted Brussel Sprouts?
It is really easy to make the best roasted brussel sprouts. Simply halve the brussels, toss them with oil, salt, pepper, granulated garlic and parmesan. Then spread them out in a single layer onto a cookie sheet. Don't worry if any of the leaves come off when you're doing this, that just makes for some extra crispy pieces to munch on while you are plating them.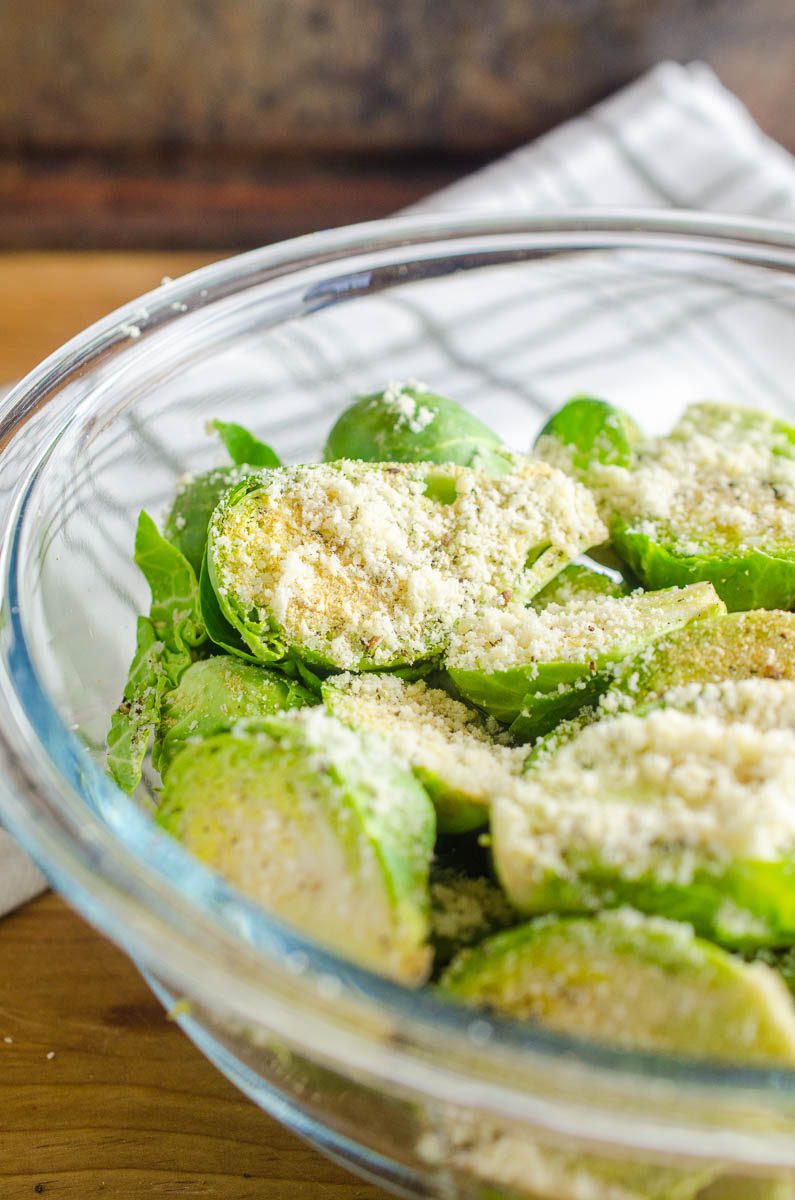 Finally, roast them to perfection. That's it and that's all!
What temperature do you roast brussel sprouts?
For this particular recipe, I roast brussel sprouts at 375 for 25 – 35 minutes
To roast Brussel Sprouts at 400 degrees you'll need 20 – 30 minutes
To Roast Brussel Sprouts at 425 allow 20 – 25 minutes.
How do you cut roasted brussel sprouts?
When it comes to how you cut brussel sprouts, size matters. If they are particularly small, you could leave them whole. Larger brussel sprouts, it's best to cut them in half or quarters.
I prefer to cut them in half because they cook a bit faster and, the best part, it gives even more chance for crispy edges. And as I've mentioned, I love me some crispy brussel sprouts edges.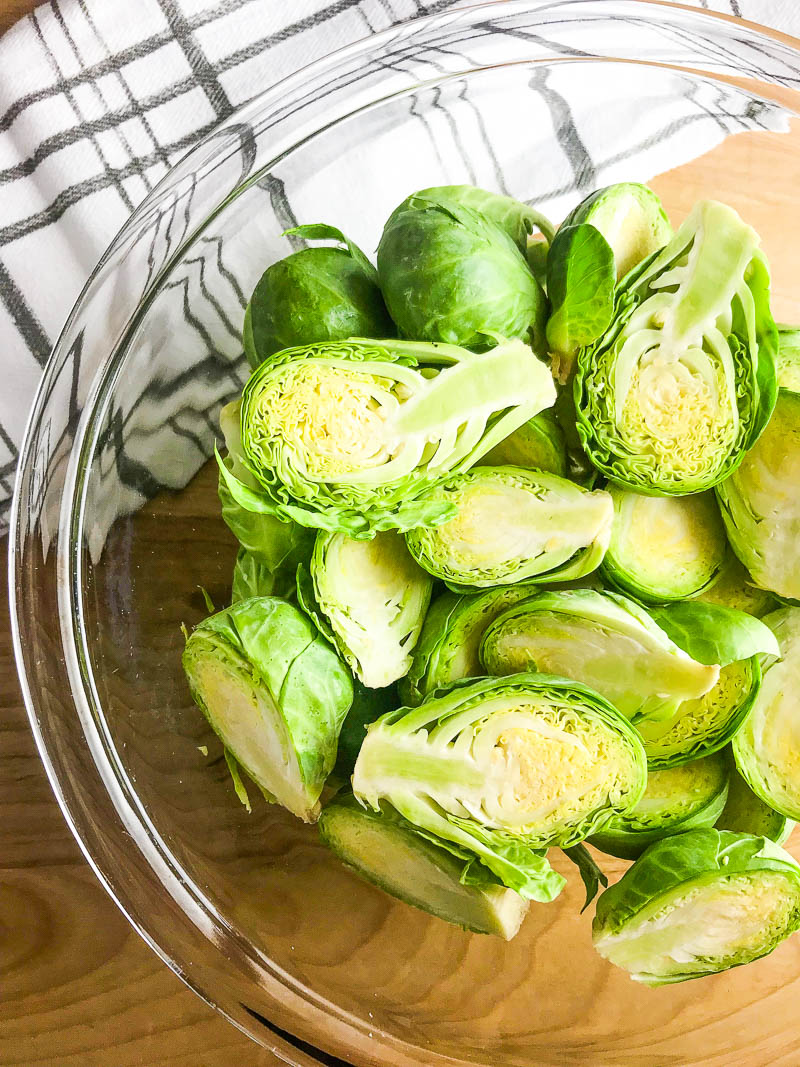 What do you serve with roasted brussel sprouts?
Seriously, you can serve these babies with just about anything and they will be great.
One of my favorite things to serve with roasted brussel sprouts is steak, especially this Balsamic Flat Iron Steak. And usually a loaded baked potato on the side.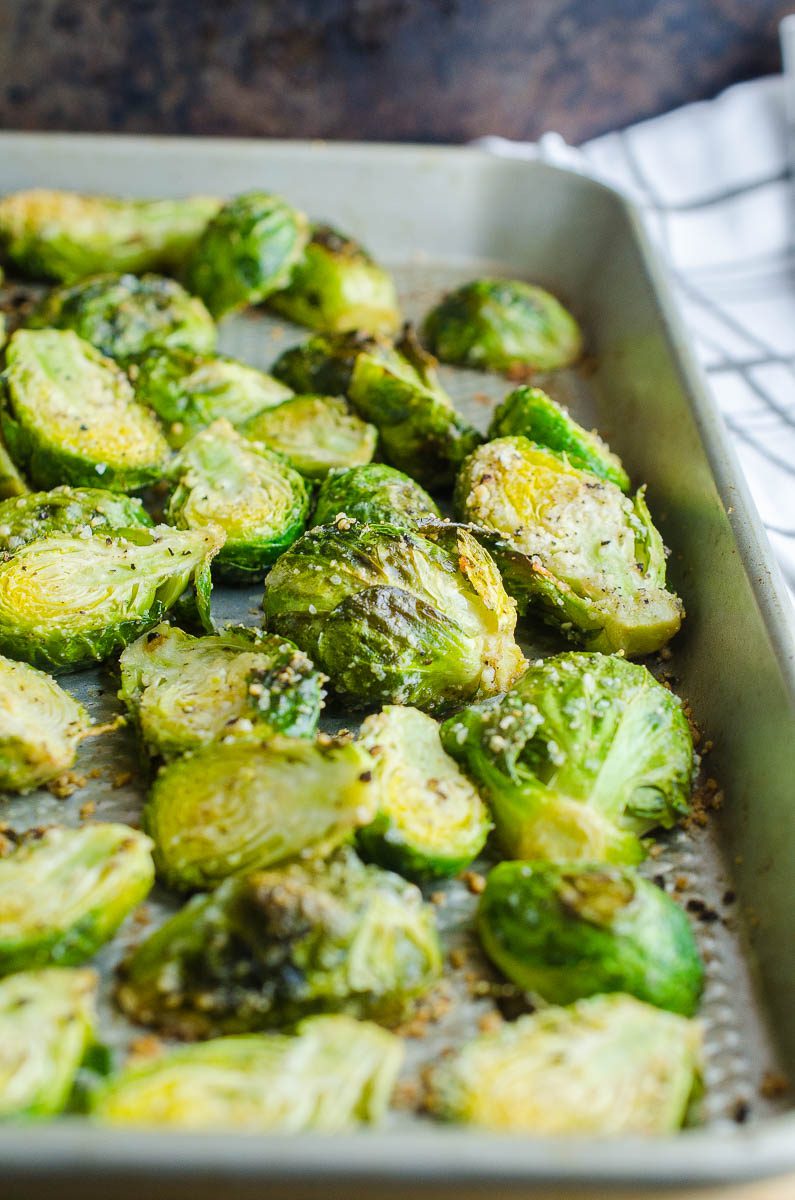 You could also serve this alongside ham at your holiday dinner. Or even as a meal themselves, because honestly, they are that good.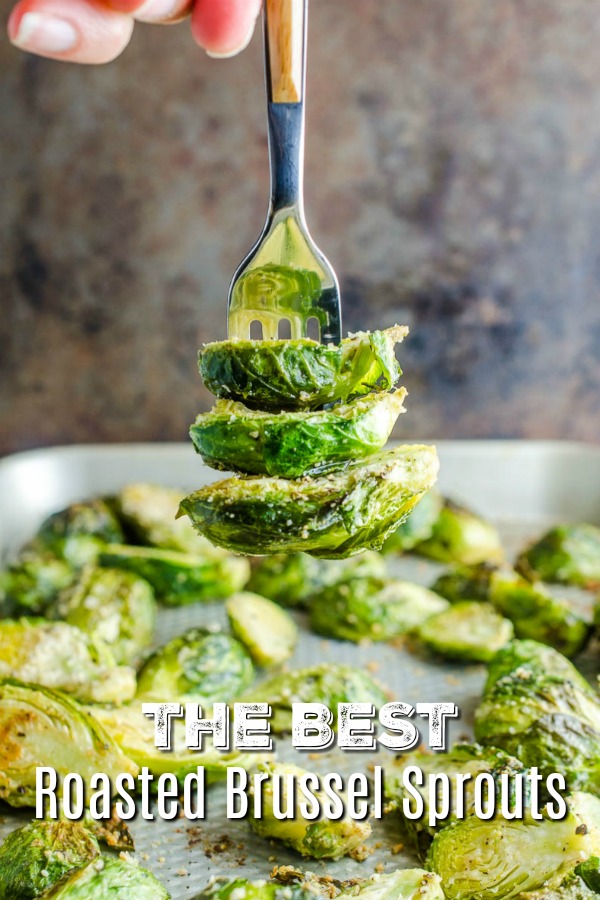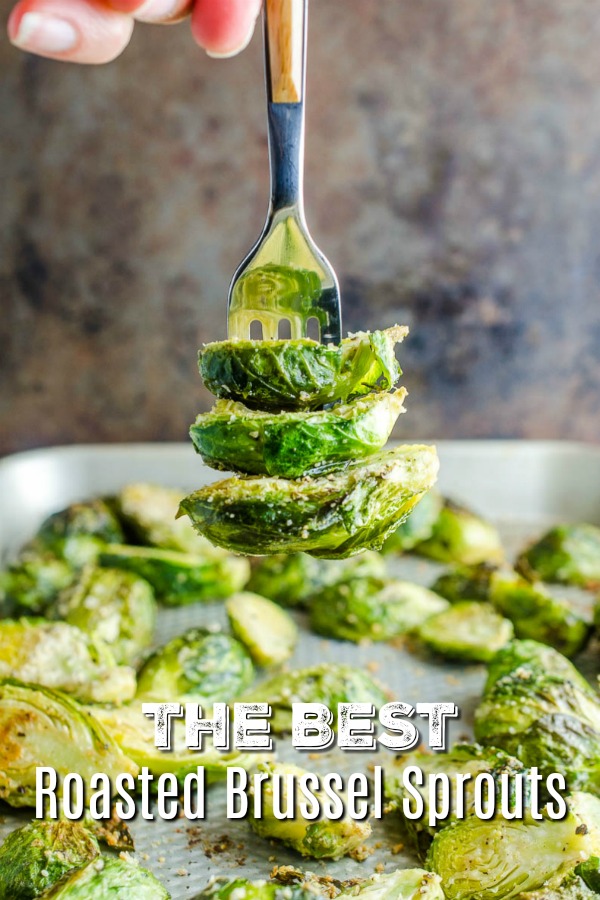 Roasted Brussel Sprouts with Parmesan Recipe
Ingredients:
1 pound Brussel sprouts, halved
2 tablespoons avocado oil
1 tablespoon grated parmesan cheese
1 teaspoon granulated garlic
3/4 teaspoon kosher salt
1/2 teaspoon black pepper
Instructions
1
Preheat oven to 375 degrees. Rub a thin coat of oil on a baking sheet or with non-stick spray.

2
Combine all ingredients together in a bowl. Toss to coat Brussel Sprouts completely.

3
Bake in preheated oven for 25 - 30 minutes or until Brussel sprouts are tender and have crisp edges. Serve immediately.
Notes
Nutrition facts not guaranteed
Nutrition information
Calories: 43 , Total Fat: 2.1g , Saturated Fat: 0.8g , Cholesterol: 3mg , Sodium: 499mg , Carbohydrates: 11.5g , Fiber: 4.7g , Sugar: 2.6g , Protein: 5.2g