Well here we are. It's Monday again. You're probably busy with a million things to do and a dinner that is a quick and easy crowd pleaser is just what you need. Am I right? Or maybe you just want a good ol' fashioned messy sloppy joe sandwich. Either way, I've got you covered today with these Italian Sloppy Joes.
I hope you all had a wonderful weekend. Mine was a blast. You see last Friday, I turned 32. We spent the weekend out of town visiting family and friends. I got to enjoy an awesome Chinese lunch feast, a pizza dinner and the Costco All American Chocolate Cake.
Guys, if you like chocolate cake, you NEED that in your life. Trust me.
Then came Saturday.
Saturday, I spent 3 GLORIOUS hours at the spa with my best friend. It was like a whole other world. It was quiet. It was peaceful. We spent some time in the sauna. Had a 30 minute milk foot bath, a 60 minute deep tissue massage and a 60 minute facial. And if all that wasn't enough we finished off with a fried chicken dinner.
Because…fried chicken. Obviously.
It was an absolutely wonderful and very much needed relaxing day. I am pretty sure we are gonna have to make that a tradition.
And now that we are back to real life and Monday, I figured a quick and easy dinner like these Italian Sloppy Joes would be just what we need. If you are a fan of sloppy joes then you are going to love this. It's an Italian twist with sausage, diced tomatoes, red bell pepper, oregano and fennel. And of course there is cheese too. Tillamook smoked provolone to be more precise.
It's a real crowd pleaser and on the table in about 30 minutes so it is perfect for weeknights!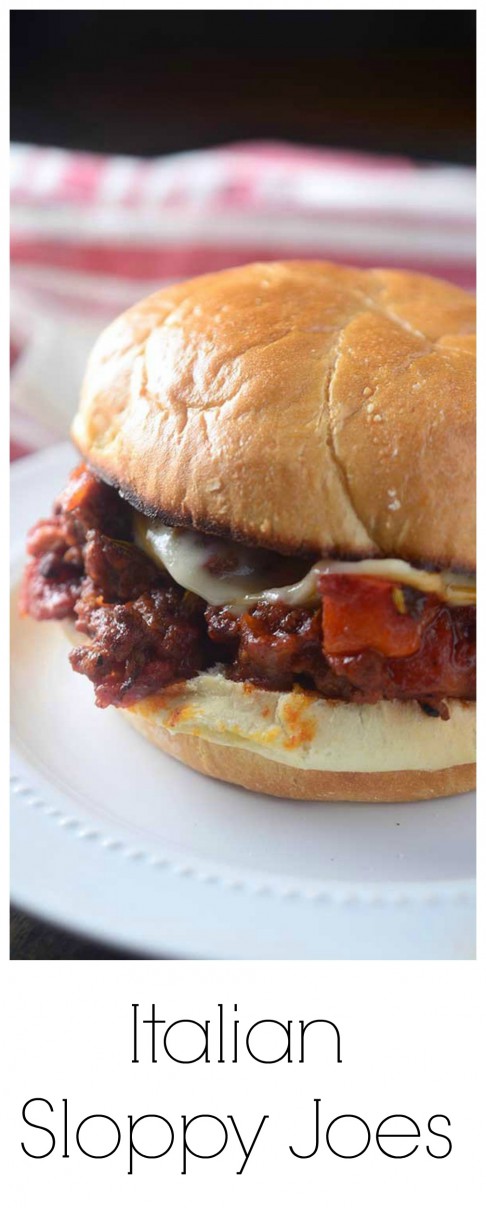 Ingredients:
1 pound ground mild Italian Sausage
1 tablespoon olive oil
1/2 medium yellow onion, diced
4 cloves garlic, minced
1 red bell pepper, seeds removed, diced
1 (14.5 ounce) can diced tomatoes
1 cup tomato sauce
1 teaspoon dried oregano
1 teaspoon fennel seeds
1/4 teaspoon sugar
salt and pepper to taste
4 pub buns or hamburger buns
4 slices smoked provolone (I prefer Tillamook)
Instructions
1
Cook Italian sausage in a skillet over medium heat. Cook until browned. Drain any grease.

2
In the same pan add olive oil. Add in onion, garlic and red pepper. Cook just until garlic is fragrant 30 seconds -1 minute. Return sausage to the pan. Pour in diced tomatoes and tomato sauce. Add in oregano, fennel and sugar. Mix well. Bring to a bowl and reduce heat to medium low. Cook for 20 minutes or until sauce is reduced and thickened. Season to taste with salt and pepper.

3
To make a sandwich, spoon mixture on top of bottom bun. Place provolone on top. Place under the broiler and broil just until cheese melts. Repeat with remaining ingredients until four sandwiches are made. Serve.