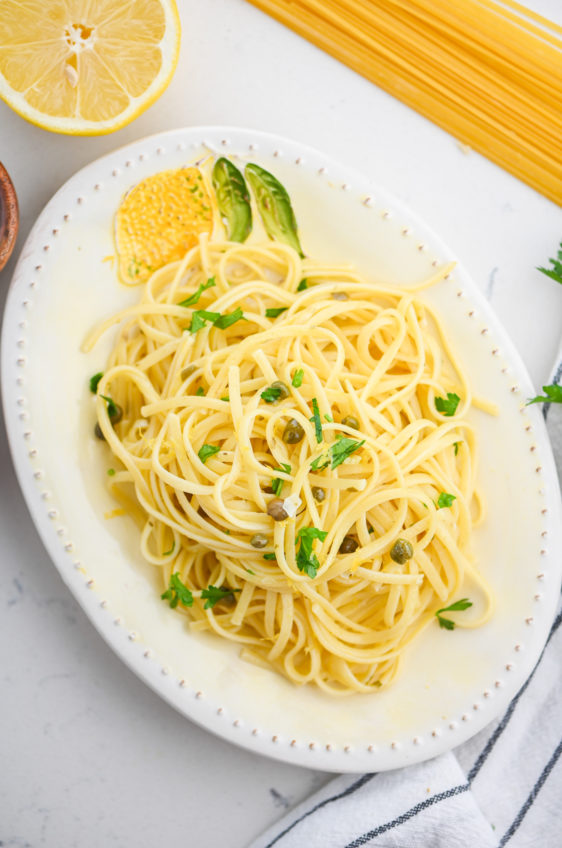 Lemon Caper Pasta
Lemon Caper Pasta is a quick, easy flavorful pasta. It uses only a handful of ingredients and can be on the table in 15 minutes.
Talk about quick and easy. This Lemon Caper Pasta just screams busy weeknight dinner. Whether you have to run the kids around, run errands or just really don't want to spend too much time in the kitchen, this pasta is for you. It's packed full of flavor and can be on your dinner table in about 15 minutes.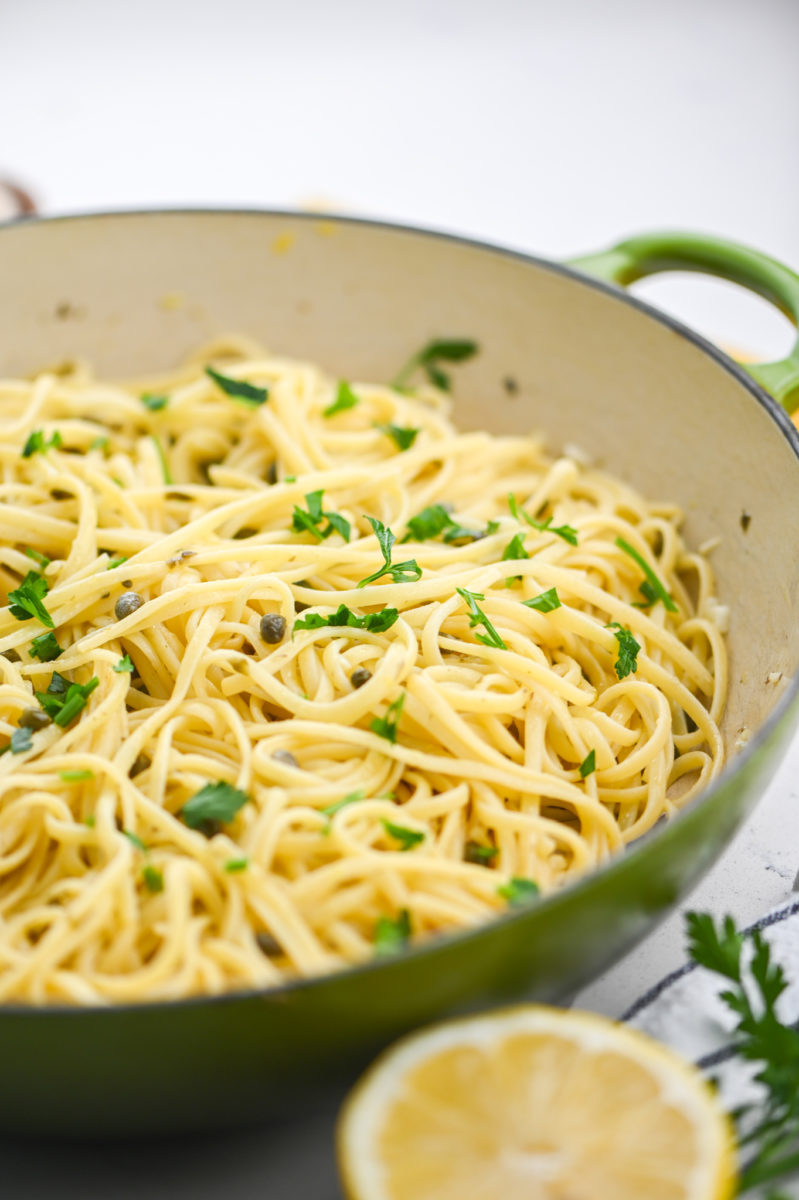 Let's talk about what you need:
INGREDIENTS NEEDED FOR LEMON CAPER PASTA:
One key to a quick and easy dinner, is a small ingredient list. And when you have a small ingredient list, it's essential that the ingredients pack a flavor punch. That is exactly what you get with this pasta.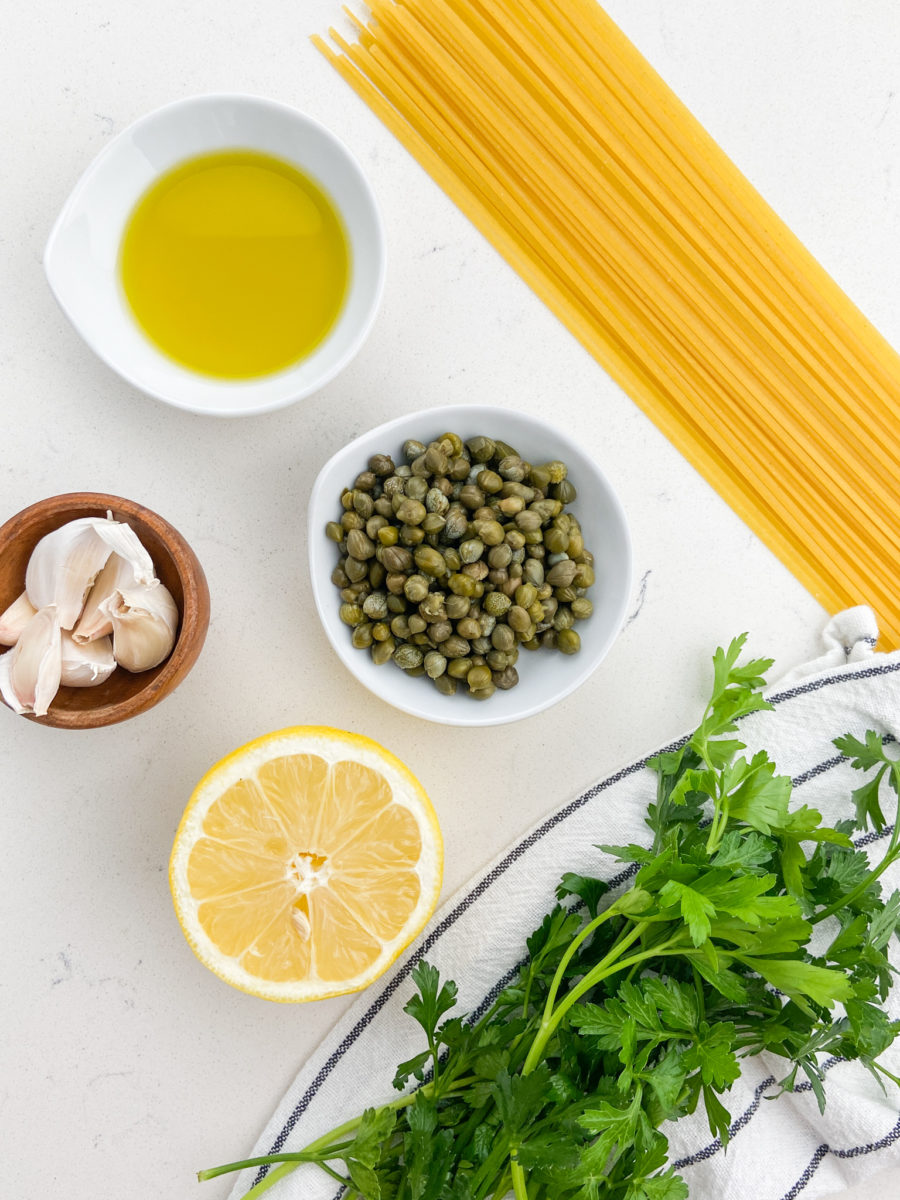 CAPERS: Capers are the bud of a flower. They are a salty and sour flavor power house.
LEMON: You'll use both lemon juice and lemon zest in this recipe. Fresh works the best!
GARLIC: Like the lemon juice, you'll want to use fresh garlic here instead of the jarred version.
OLIVE OIL: Whichever olive oil you prefer! I like to use Kalamata Olive oil because it's slightly less bitter than other olive oils.
PASTA: I use linguine for this dish but any long pasta will do.
PARSLEY: Adds a pop of color and freshness to the dish.
STEP BY STEP PHOTOS AND INSTRUCTIONS:
STEP #1: Cook your pasta. I like to use linguine or other long noodles like spaghetti or fettuccine. Reserve some of the pasta water.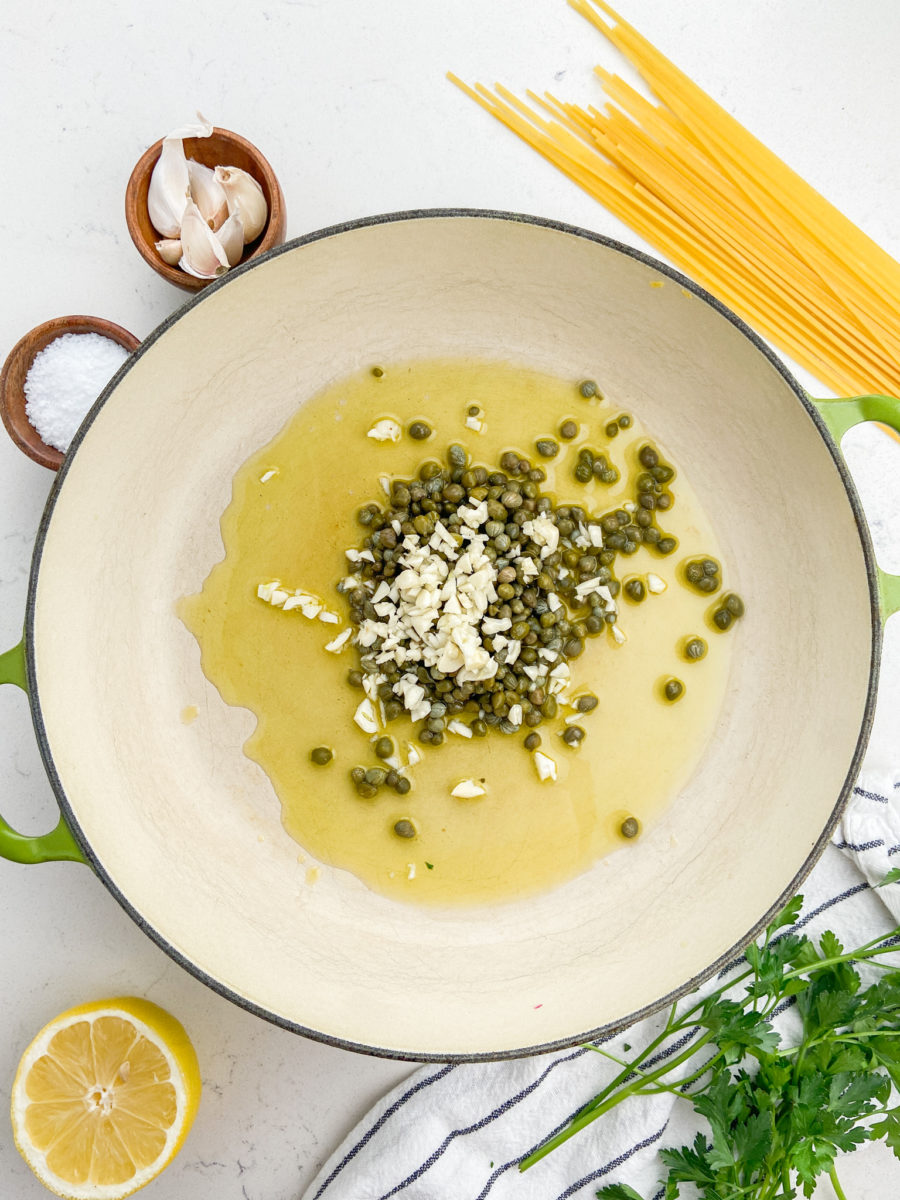 STEP #2: Cook capers and garlic in olive oil just until fragrant. Add in lemon juice, lemon zest and then pasta. Stir to coat completely. Stir in reserved pasta water if pasta seems too dry.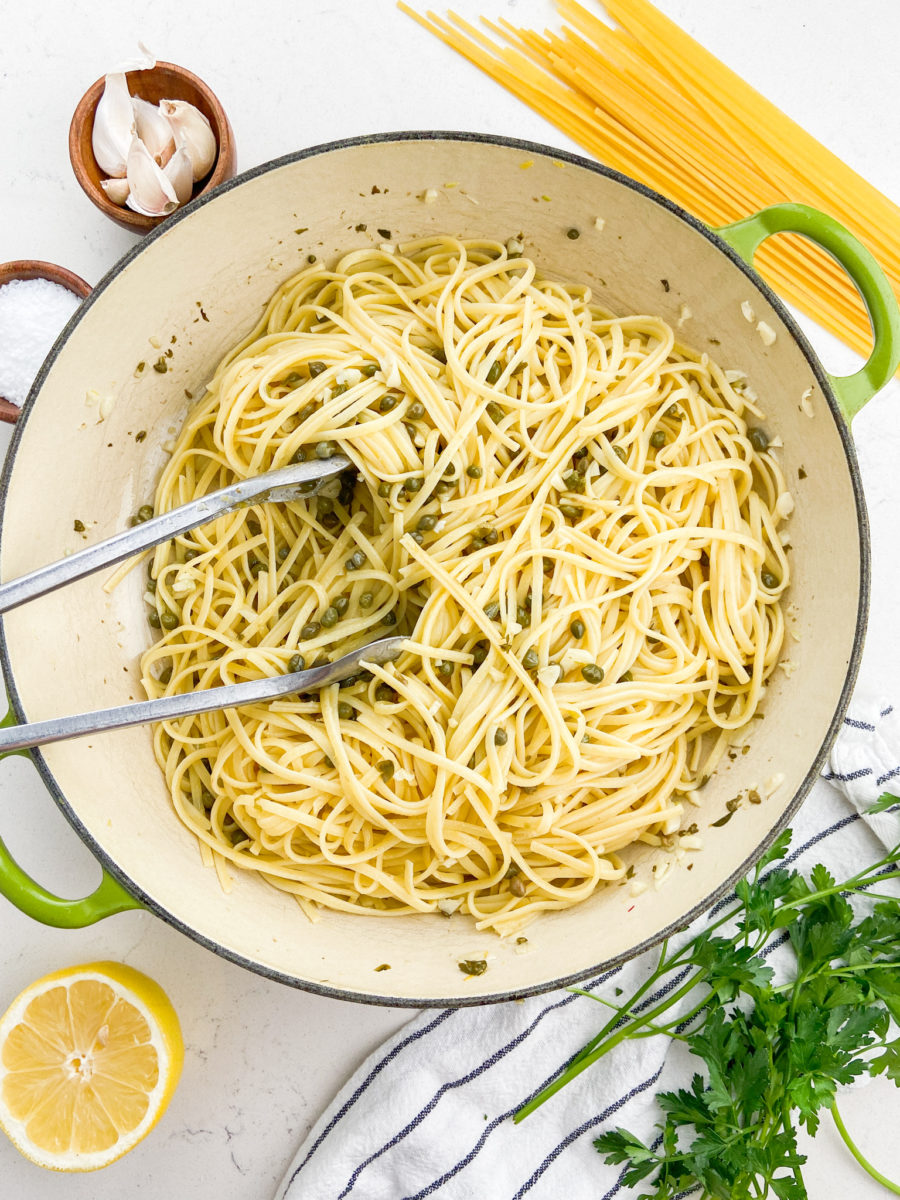 SEE! I told you it was easy? If you want to make it a bit heartier you could also add some cooked chicken or shrimp. It would be divine!
RECIPE FAQ:
What are capers?
It took me a bit to warm up to capers but now I love them. I even find myself craving the salty little devils and will reach for one or two as a snack while I'm cooking dinner. They come in a couple different varieties. I prefer the non pareil variety because they are smaller, more fragrant and not quite as strong as the larger varieties. You should be able to find them in the condiment aisle of the grocery stores.
Why do recipes ask you to reserve pasta water?
When pasta cooks, it releases starch which can be used to help bind sauces together. This will help make a smoother sauce.
Looking for more recipes that use capers? They are one of my favorite ingredients so I've got you covered!
Artichoke Tapenade makes a great addition to your wine and cheese night!
Easy Chicken Piccata is a classic and a family favorite!
Skip the jarred stuff and make your own Homemade Tartar Sauce. The capers are my secret ingredient!
Note: This post was originally published in 2011. It was updated with new photos, FAQ and nutrition information in 2022.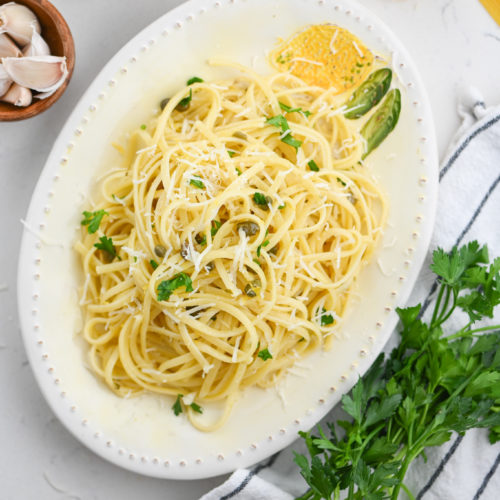 Lemon Caper Linguine
A bright, light pasta with lemon and capers ready in 15 minutes or less.
Capers can be "briny". I love the flavor so I don't rinse them. If it is too salty for you, give them a quick rinse before using them. 
Speaking of salt, capers can be salty so don't add salt until you've tasted the pasta first. 
Nutrition information for estimation purposes only. 
Calories:
416
kcal
Carbohydrates:
65
g
Protein:
11
g
Fat:
12
g
Saturated Fat:
2
g
Polyunsaturated Fat:
2
g
Monounsaturated Fat:
8
g
Sodium:
10
mg
Potassium:
213
mg
Fiber:
3
g
Sugar:
3
g
Vitamin A:
1
IU
Vitamin C:
5
mg
Calcium:
26
mg
Iron:
1
mg
Keywords:
caper, capers, easy, Food, lemon pasta, pasta, quick and easy, recipe. italian