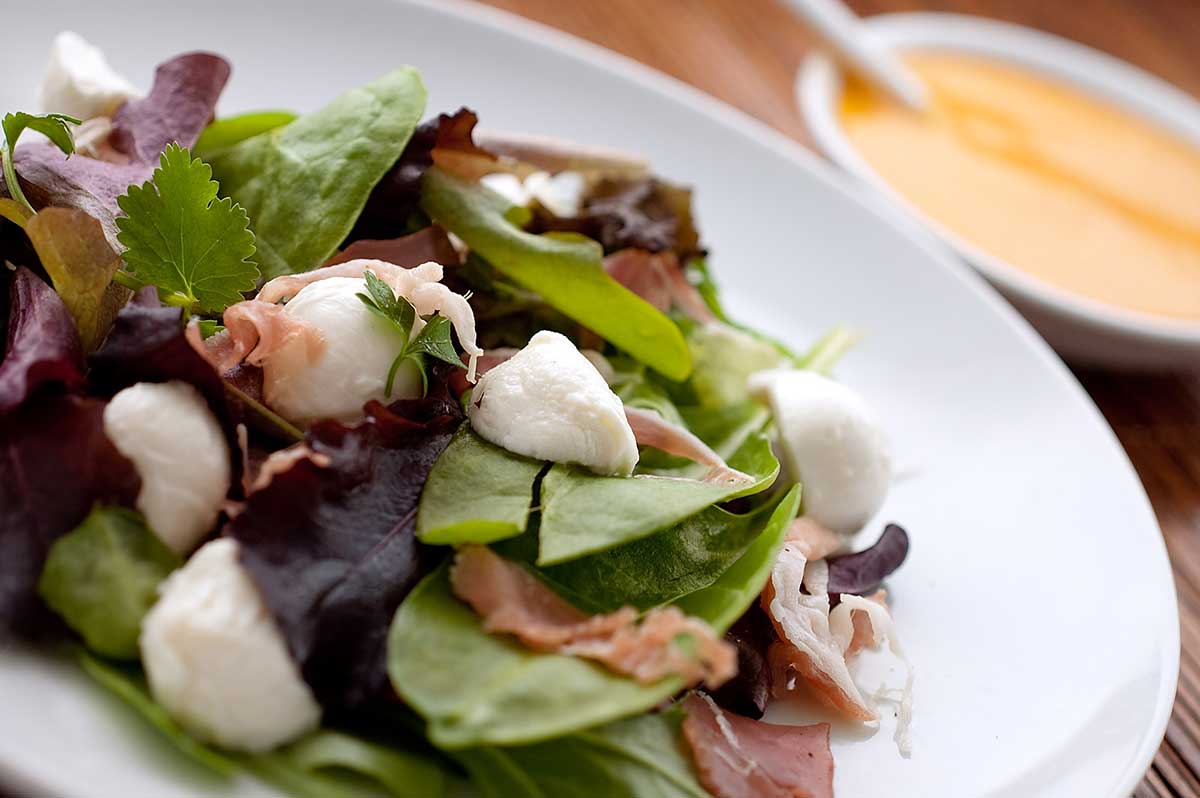 Mozzarella and Prosciutto Salad with Tomato Vinaigrette
You didn't think that I could get through Valentine's day without, yet again, indulging in my love affair with mozzarella did you? No, no that would not do at all.  When trying to figure a way to sneak it into the meal, I realized that a salad would be the perfect way so today I am sharing this Mozzarella and Prosciutto Salad with Tomato Vinaigrette. I love this salad because its quick, its easy and light. But at the same time, the creamy mozzarella, salty prosciutto and tangy tomato vinaigrette make this salad taste like it was made for a special occasion.
I am fortunate enough to find all kinds of fresh mozzarella at my local grocery store.  There are the large mozzarella balls, the smaller bocconcini and the even smaller ciliegine. All are equally good and creamy, but for this recipe I decided to use ciliegine mozzarella. Ciliegine mozzarella is fresh mozzarella that is in the shape of cherry tomatoes. I can usually find them in the deli section. If you are having a hard time finding them substitute a large fresh mozzarella ball cut into bite size pieces.
Mozzarella and Prosciutto Salad with Tomato Vinaigrette Recipe
Mozzarella and Prosciutto Salad
3 cups spring salad mix
15 ciliegine mozzarella, cut in half
3 slices prosciutto ham torn into pieces
Tomato vinaigrette (recipe follows)
fresh cracked black pepper
Tomato Vinaigrette
1/2 cup whole cherry tomatoes

1 /4 cup sherry vinegar

1 garlic clove

1 teaspoon dijon mustard

3/4 cup olive oil

fresh cracked pepper and kosher salt
Instructions
1
Prepare the tomato vinaigrette. Combine cherry tomatoes, vinegar, garlic and dijon mustard in a food processor. Process until well blended. With food processor on, slowly pour olive oil in in a steady stream until mixture emulsifies. Transfer to a bowl, season to taste with salt and pepper.

2
Combine spring salad mix, mozzarella and prosciutto in a salad bowl.

3
Drizzle tomato vinaigrette over the top. Toss to coat. Sprinkle with fresh cracked pepper. Serve.