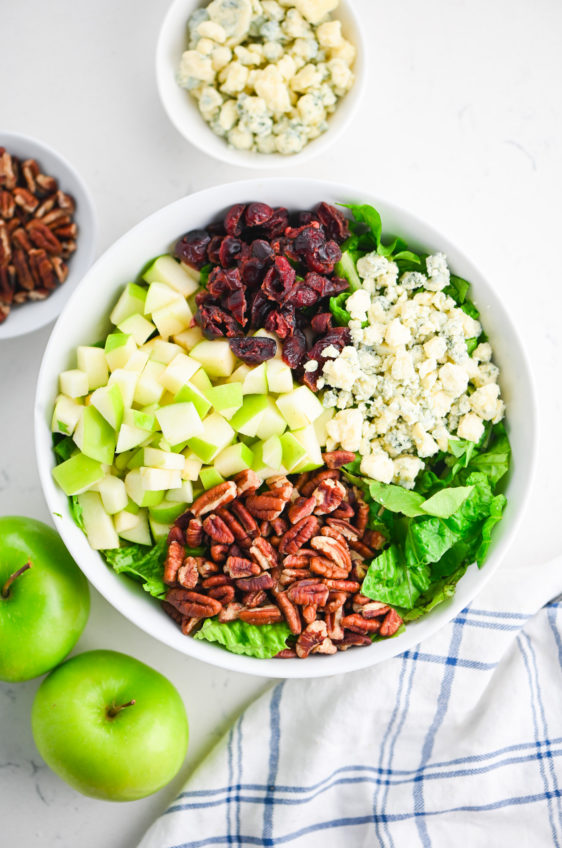 Apple Gorgonzola Salad
Apple Gorgonzola Salad is chock-full of all kinds of goodies. Tart green apples, sweet cranberries, tangy gorgonzola and nutty pecans.
If you're like me, you love a big salad that's loaded with all kinds of ingredients. I'm not talking about a little afterthought of some lettuce on a plate. I'm talking a salad that is great as a side but could also be the star of the show. One that is full of different flavors and textures. Like a Grilled Steak Salad with Caramelized Onions, a Spinach Salad with Bacon Dressing, a Green Bean Salad or this Apple Gorgonzola Salad.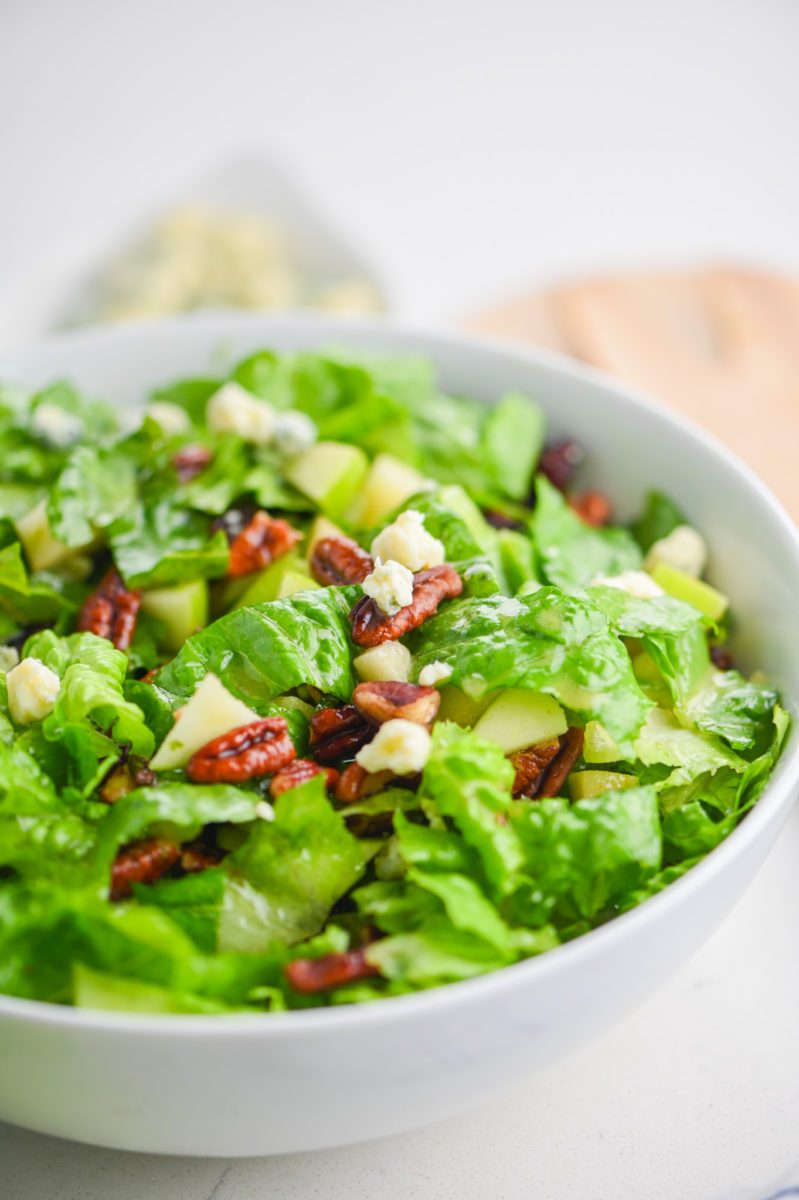 I am kind of obsessed with this particular salad to be honest because it is the perfect combination of crunchy, tart, nutty, and sweet. It also has the tangy creaminess from gorgonzola cheese crumbles and everything is tossed in a dijon vinaigrette. It really couldn't be any better.
Let's talk a little bit about all of the ingredients that go into it:
Apple Gorgonzola Salad Ingredients:
Like I said, this salad is full of all kinds of goodies. There are essentially two parts: the salad and the dressing.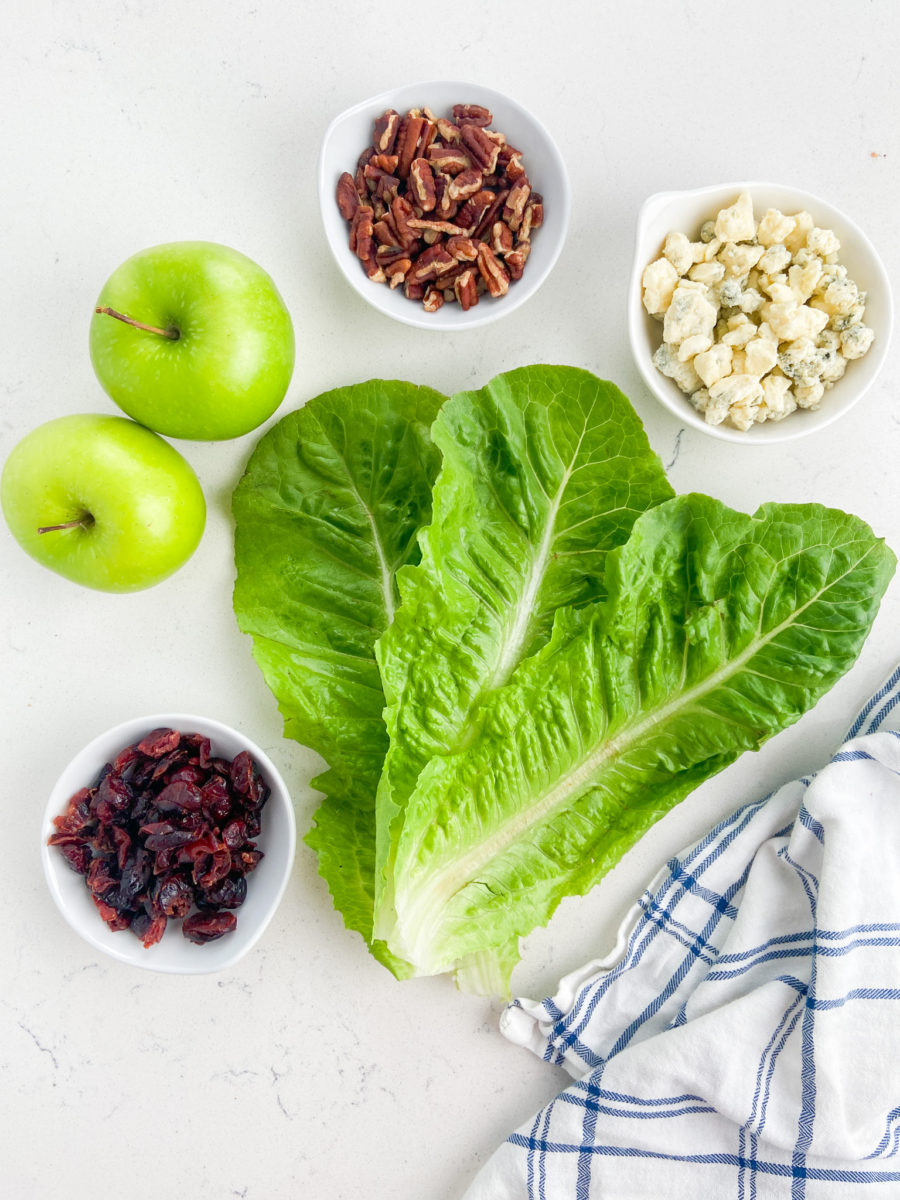 For the salad you'll need:
LETTUCE: I used chopped Romaine lettuce for the crisp crunch factor but you could really use any kind of lettuce that you like. Spring mix is also a good option. 
GRANNY SMITH APPLE: A granny smith apple will add a crunchy, sweet tartness. 
PECANS: Chopped pecan pieces will add a nutty, heartiness to the salad. 
DRIED CRANBERRIES: Dried cranberries are great to add to a salad. They add great texture and a little bit of sweetness. 
GORGONZOLA: Gorgonzola cheese is a blue cheese. If you're worried about the overpowering tanginess keep in mind that gorgonzola is milder than a more traditional blue cheese or stilton.  It's a great place to start when you're thinking of testing the blue cheese waters.
For the vinaigrette dressing you'll need:
EXTRA VIRGIN OLIVE OIL: I always use my best extra virgin olive oil for salad dressings (as opposed to cooking) because the flavor really gets to shine.
APPLE CIDER VINEGAR: The apple cider vinegar is going to add acid and brightness to the dressing.
HONEY: To add a touch of sweetness.
DIJON MUSTARD: Adds a richness and helps the dressing emulsify.
SALT
Step by Step Photos and Instructions:
This Apple Gorgonzola Salad is as easy to make as any other salad recipe. You simply need to put the salad together in a large bowl and make the dressing. You can toss the salad with the dressing right before serving or you can serve the dressing on the side so people can dress the salad themselves.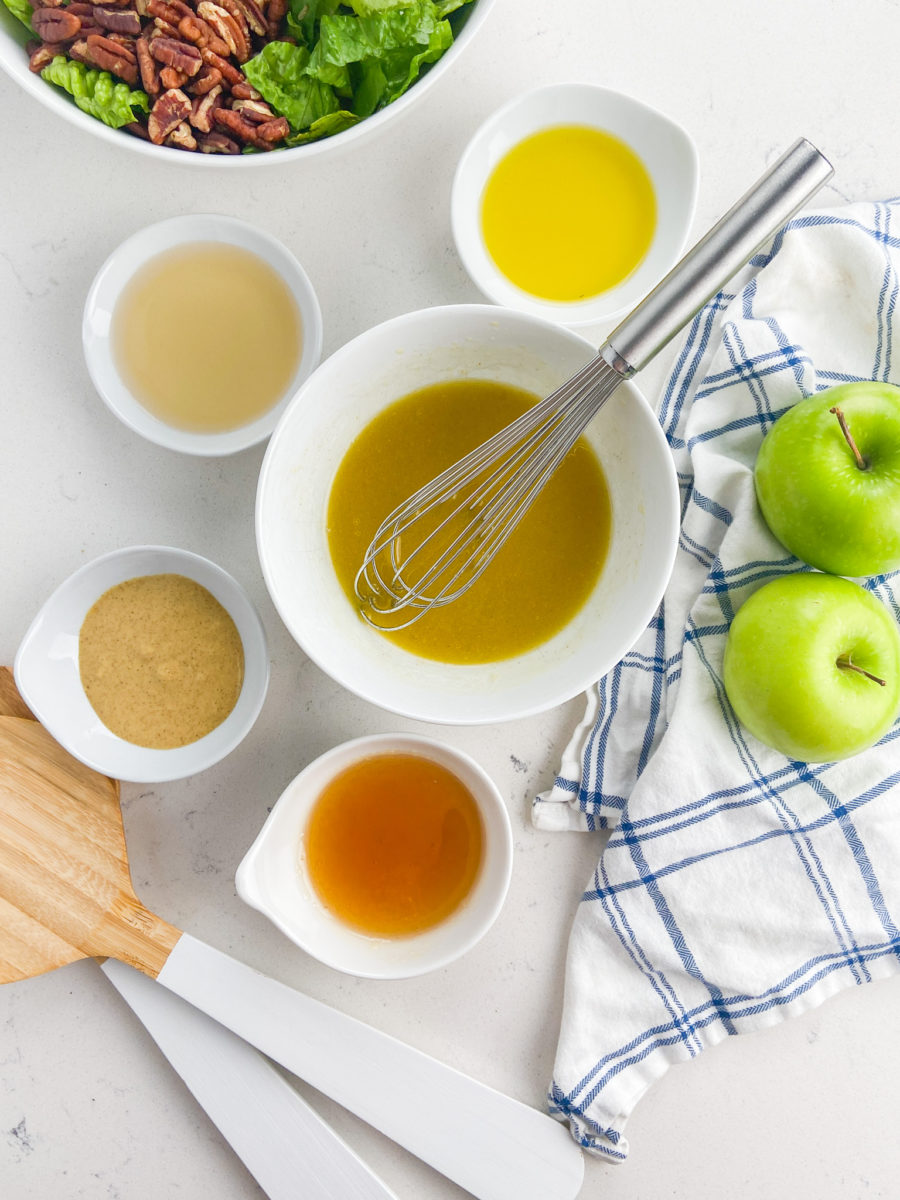 Storage and Leftovers:
You can make the dressing ahead of time and keep in the refrigerator. Use within a few days. The chilled dressing will solidify in the refrigerator, just allow it to come to room temperature before using. For the salad, it's best eaten the day that it is made. Especially if you dress it.
Recipe FAQ:
Is gorgonzola the same as blue cheese?
Gorgonzola is a blue cheese, but it is not nearly as pungent as others. It is a cows milk cheese and is aged similarly but it is creamier, milder and less fragrant and other blue-veined cheeses.
How do you keep sliced apples from browning?
There are many ways to do this including soaking in water, salt water, or honey water. My favorite way is to toss apple slices with a little bit of lemon juice.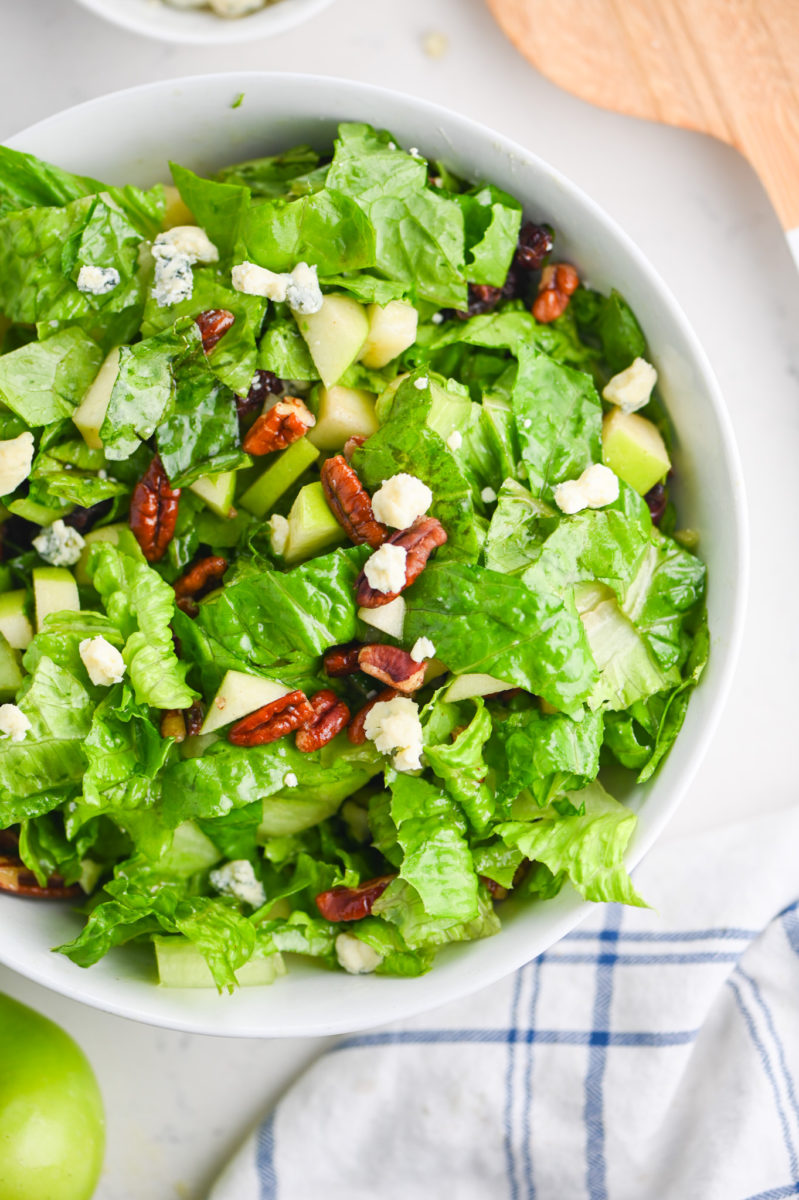 Want more apple recipes? Try these:
Cranberry Apple Pie is a great twist on classic Apple Pie.
Looking for a savory apple recipe? You've got to try this Apple Sausage Stuffing.
This easy Apple Crisp is one of my all-time favorite apple desserts.
Note: This post was published in 2010. Updated in 2023 with new photos, nutrition information and a modified recipe.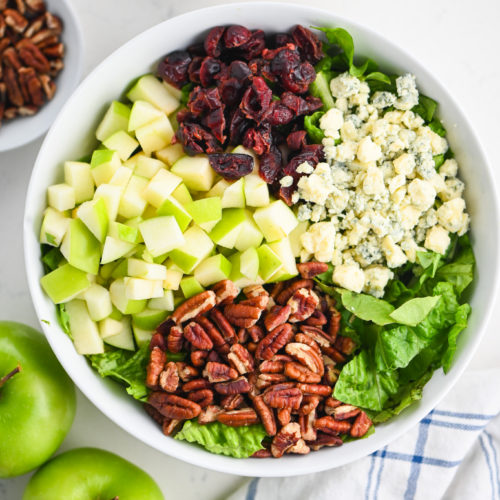 Apple, Gorgonzola and Pecan Salad
Apple Gorgonzola Salad is chock-full of all kinds of goodies. Tart green apples, sweet cranberries, tangy gorgonzola and nutty pecans. 
Dressing Ingredients:
1/4

cup

extra virgin olive oil

3

tablespoons

apple cider vinegar

2

teaspoons

honey

2

teaspoons

dijon mustard

1

teaspoon

salt
Whisk together extra virgin olive oil, apple cider vinegar, honey, dijon and salt until it emulsfies.

Combine lettuce, apple, pecans, cranberries and gorgonzola in a bowl.

Drizzle dressing over the salad, toss and serve.
You can put the salad together a couple hours in advance just dress it right before serving. If making in advance, toss the apples with a little lemon juice to help prevent browning. 
Nutrition information for estimation purposes only. 
Calories:
314
kcal
Carbohydrates:
19
g
Protein:
4
g
Fat:
26
g
Saturated Fat:
5
g
Polyunsaturated Fat:
5
g
Monounsaturated Fat:
16
g
Cholesterol:
7
mg
Sodium:
722
mg
Potassium:
234
mg
Fiber:
4
g
Sugar:
14
g
Vitamin A:
3192
IU
Vitamin C:
4
mg
Calcium:
77
mg
Iron:
1
mg
Keywords:
apple, balsamic vinegar, extra virgin olive oil, gorgonzola, gorgonzola cheese, granny smith apple, pecan, salad, side dish