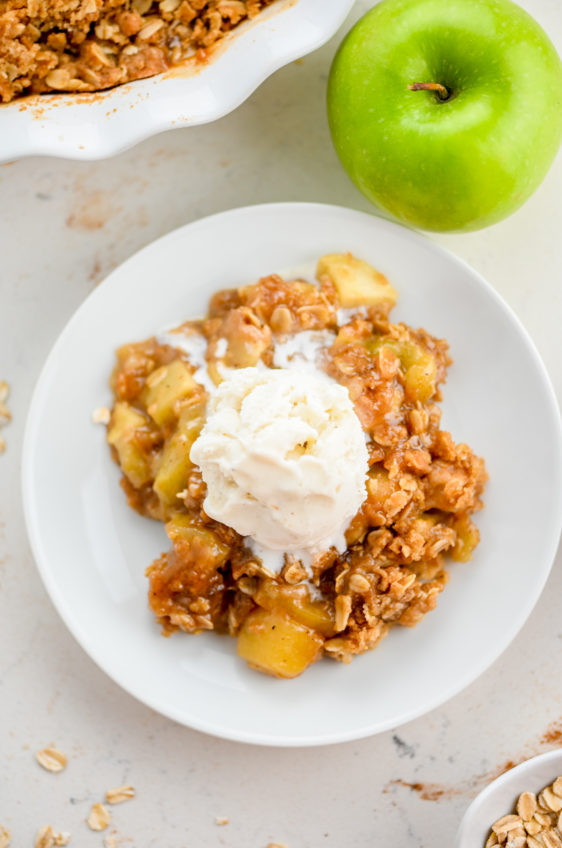 Easy Apple Crisp
Easy Apple Crisp is the perfect fall dessert. Loaded with sweet apples and topped with a crumb topping. It's my favorite easy alternative to apple pie!
Truth be told, I am not a huge pie fan. I do love me some Pumpkin Pie and this Cranberry Apple Crumble Pie is also pretty amazing. But more likely than not, I'll skip the pie crust and go straight for a fruit crisp. Fruit crisps like this Easy Apple Crisp.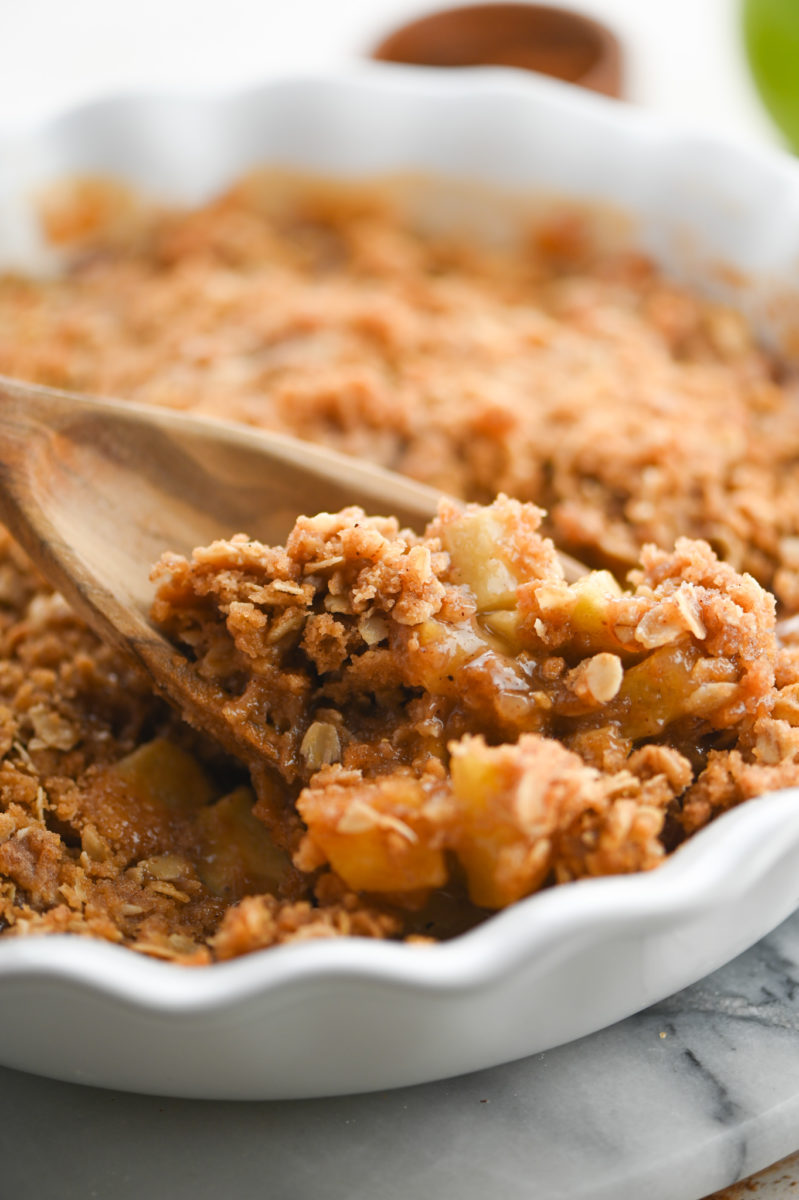 There is just something about a crisp that I can't resist. The sugary buttery topping has something to do with it I'm sure. The sweet cinnamon baked apples underneath don't hurt either.
What Ingredients do you need?
This recipe is basically broken up into two different parts: the apples and the crisp.
To make the apples you will need:
APPLES: I prefer to use Granny Smith apples because of their tartness. You can also use honey crisp, cosmic crisp or braeburn.
GRANULATED SUGAR: For added sweetness.
NUTMEG, GINGER, CLOVES: This warm classic blend of seasonings is what you find in all your favorite apple desserts.
LEMON JUICE: Used to help balance out the sweetness of the apples.
FLOUR: This is going to help thicken up the juices as the crisp cooks.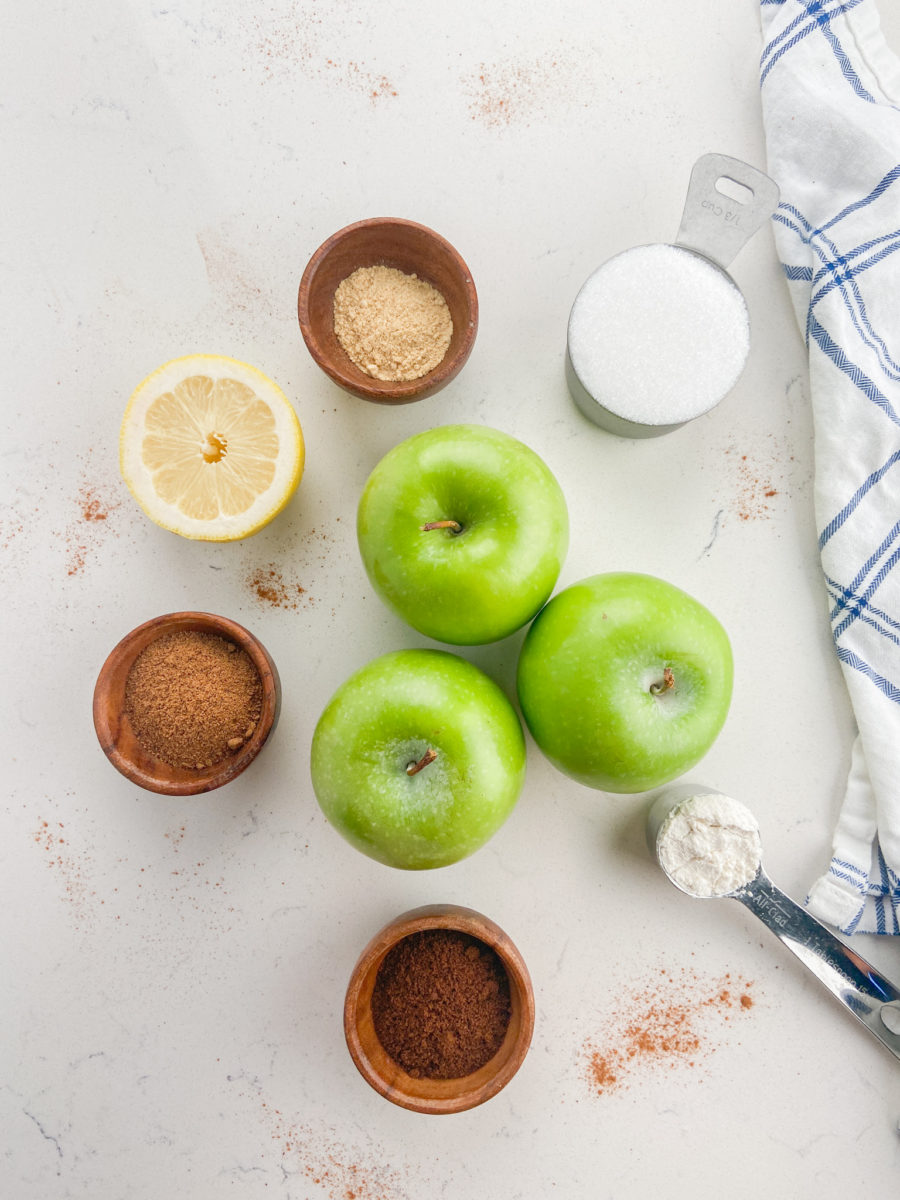 For the crisp topping you'll need:
BROWN SUGAR: I originally made this with a combination of brown and granulated sugar. I now prefer it with all brown sugar. It adds extra molasses taste.
BUTTER: Use cold butter to get tender, crumbly chunks in your crisp.
OATS: Oats are my favorite part of the crisp. They add that extra nutty flavor and great texture. Use old fashioned oats.
CINNAMON: Apples and cinnamon just go hand in hand.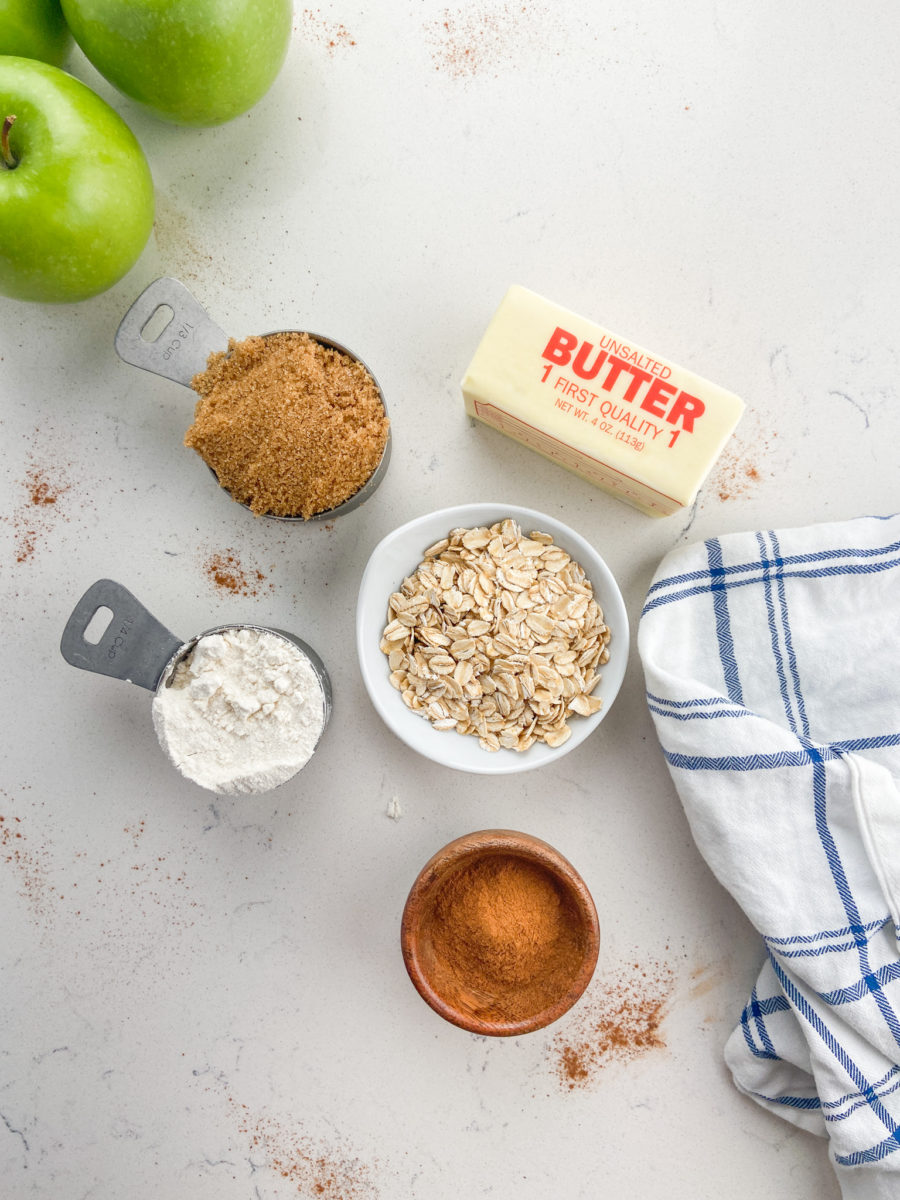 How you make Easy Apple Crisp Step by Step Photos and Instructions:
One of the main reasons that I prefer to make Apple Crisp instead of pie, is the easy of it. You basically make the filling, put it in a pie dish and then top it with the crumble. No need to roll out a bottom crust or lattice a top crust. It's my easy peasy, no fail fall dessert.
Follow along with these easy step by step photos and instructions: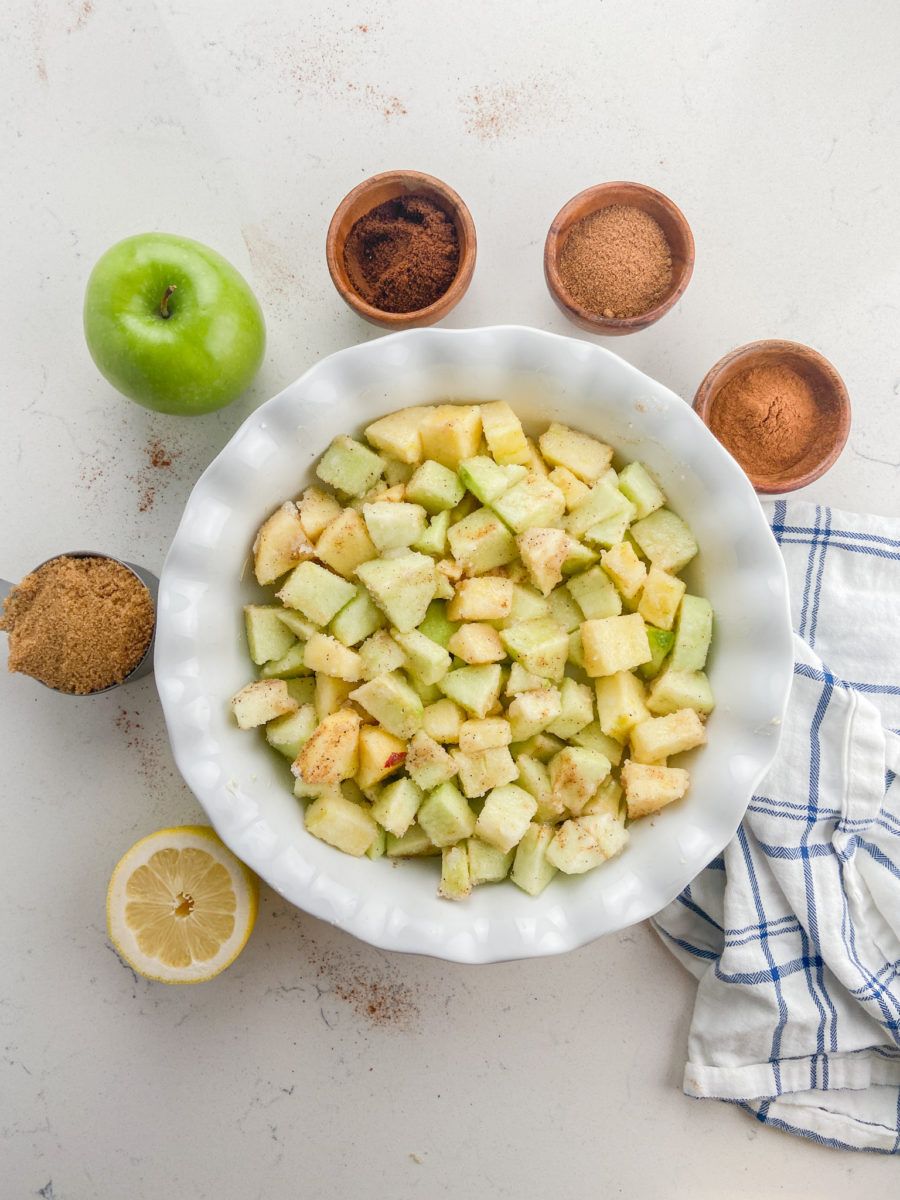 STEP #1: Preheat oven to 350 degrees. Grease a 9 inch pie pan. Then make your filling.
STEP #2: Make the crumble topping. You can use a pastry cutter, a fork or your hands to cut the cold butter into the mixture until crumbs form.
STEP #3: Top your apple mixture with the crisp mixture. Bake for 25 – 30 minutes or until crisp is browned and edges are bubbly. Allow to cool at least 10 minutes before serving.
Storage and Leftovers:
This will keep covered on the counter for a few days. You can reheat individual servings in the microwave for 30 seconds.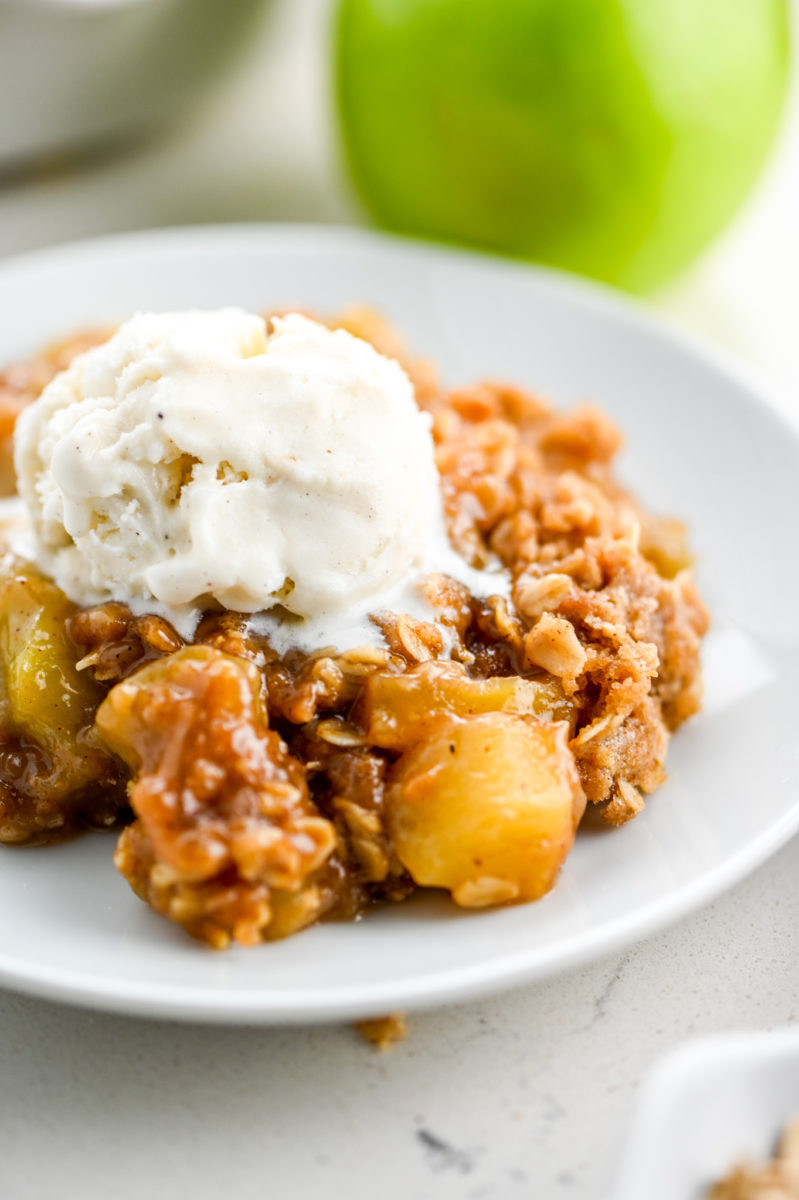 Recipe FAQ:
What is the difference between an apple crisp and an apple pie?
One word: crust. Pies have crusts. Crisps don't. I personally think that that makes fruit crisps a whole lot easier to make and is the reason that I chose to make them more often than I do pies.
What is the difference between apple crisp and apple crumble?
That is a common question that is asked. It's simple really, apple crisp topping will usually have oats in it. An apple crumble topping will not. I personally love the added texture from the oats with fruit crisps so that is what I usually make.
The other ingredients that you will find in the crisp topping is flour, sugar, cinnamon and cold butter. Some recipes will call for melted butter but I like to use cold butter when making crisps. I think it helps make the crisp topping more like a pastry topping.
Which apples should you use for cooking?
Hands down my favorite apples to not only eat but cook with are granny smith and honey crisp. Granny smith apples are firm and tart. They are perfect for cooking. Honey crisp, are also firm but they are a lot sweeter than granny smith. They won't cook down too much so they are still great for cooking. If you can't decide between the two, you can also do a combo for a bit of sweetness and a bit of tart. Other apple varieties that are good for cooking are: Jonagolds, Melrose, Winesap and Braeburn.
And of course, this apple crisp is great on it's own, but my personal opinion? It's even better served hot with a scoop of French Vanilla ice cream.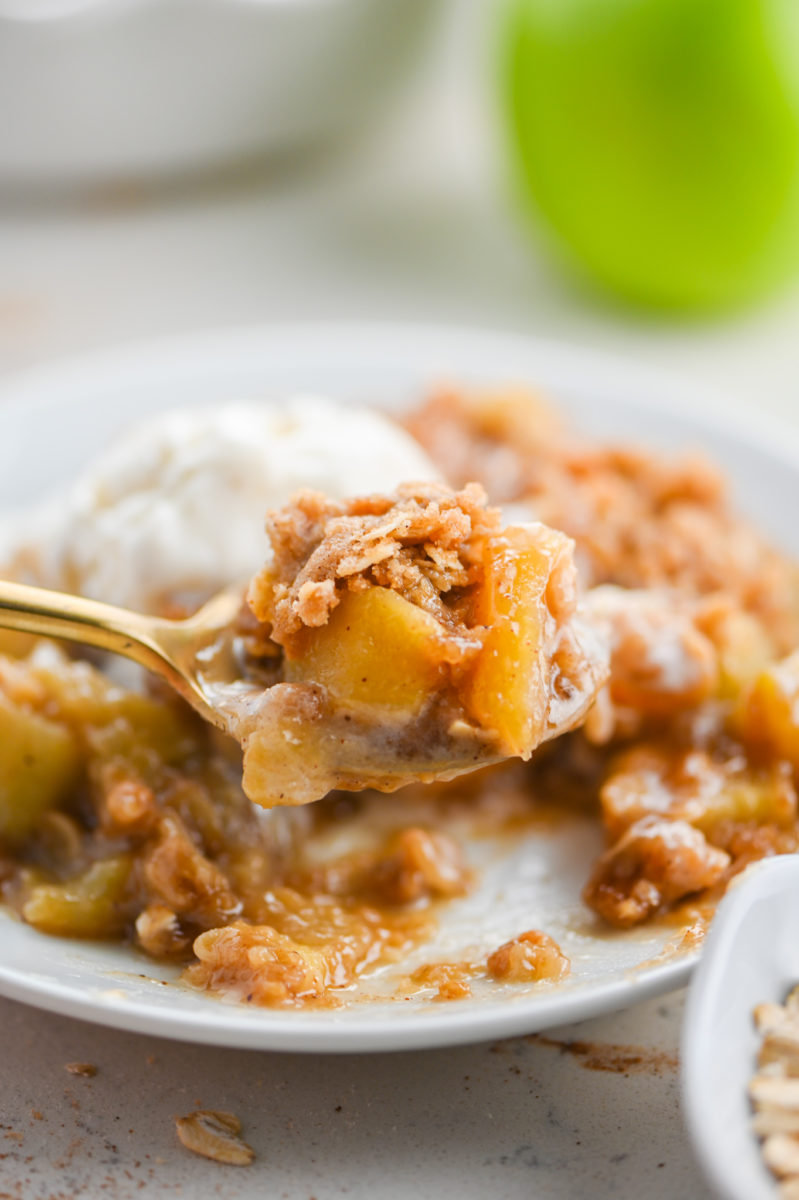 Looking for more apple recipes? Try these:
Warm up with this Hot Apple Cranberry Cider.
Like cheesecake? Like caramel apples? Try this Caramel Apple Pie Cheesecake for the best of both worlds!
For a savory use for apples, this Apple Sausage Stuffing is great for holidays!
Note: This post was originally published in 2018. It was updated with new photos, a modified recipe and nutrition information in 2022.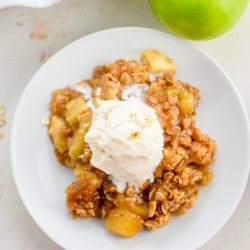 Easy Apple Crisp
Easy Apple Crisp is the perfect fall dessert. Loaded with sweet apples and topped with a crumb topping. It's my favorite easy alternative to apple pie! 
Apple Crisp Filling Ingredients:
Crisp Topping Ingredients:
2/3

cup

rolled oats

8

tablespoons

cold butter

2/3

cup

all purpose flour

2/3

cup

brown sugar

1

teaspoon

ground cinnamon
Preheat oven to 350 degrees. Butter a 9 inch pie pan. Set aside.

To make the filling, in a bowl, combine apple slices, sugar, nutmeg, ginger, cloves, flour and lemon juice. Mix well to coat the apples. Place apples in prepared baking dish.

To make the crisp topping, combine all topping ingredients together in a bowl and using a pastry cutter or your fingers, cut the butter into the ingredients until crumbly. Sprinkle over the top of the apples.

Bake crisp in preheated oven for 25 - 30 minutes or until topping has browned and edges are bubbly. Allow to cool several minutes before serving.
I have made this both with peeled apples and apples with the skin on. I prefer them peeled but this can be made either way! 
Nutrition information for estimation purposes only. 
Calories:
336
kcal
Carbohydrates:
57
g
Protein:
2
g
Fat:
12
g
Saturated Fat:
7
g
Polyunsaturated Fat:
1
g
Monounsaturated Fat:
3
g
Trans Fat:
1
g
Cholesterol:
30
mg
Sodium:
97
mg
Potassium:
169
mg
Fiber:
3
g
Sugar:
40
g
Vitamin A:
401
IU
Vitamin C:
5
mg
Calcium:
33
mg
Iron:
1
mg
Keywords:
apple pie, apples, Christmas, crisp, fruit, thanksgiving