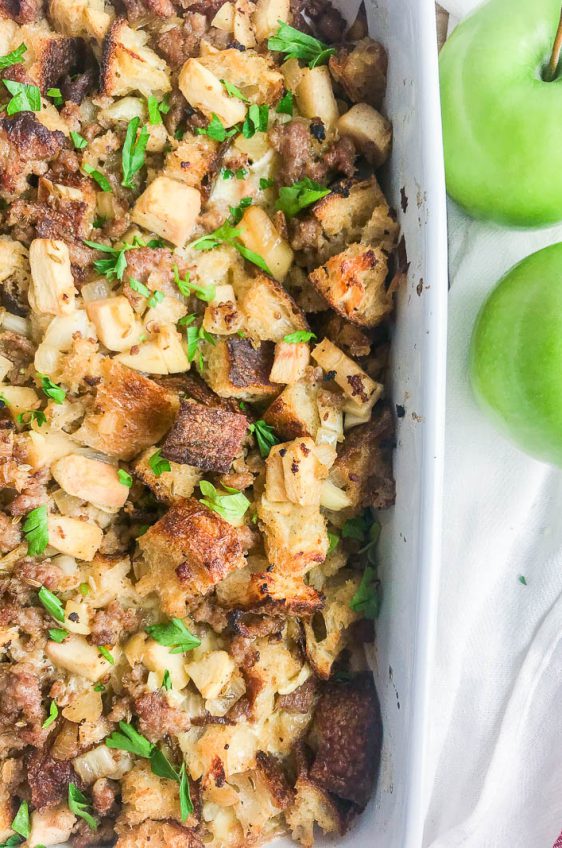 Apple Sausage Stuffing
Apple Sausage Stuffing is the perfect twist on the comfort food staple. Loaded with tart apples, country sausage and creamy brie, it's sure to be a hit with everyone! 
Growing up, stuffing in our house always meant bread, celery, onions, sage and loads of butter. And honestly, I loved that version and still make it to this day. That being said, I also like to mix things up a bit and bring a little twist to classic dishes.
This Apple Sausage Stuffing is just that. There is still bread. Rustic, crunchy bread to be exact. There is still butter. Because…butter. But there is also sweet, tart apples, savory country sausage and creamy brie cheese.
One bite and this apple sausage stuffing will be your new family favorite and a must for your Thanksgiving table.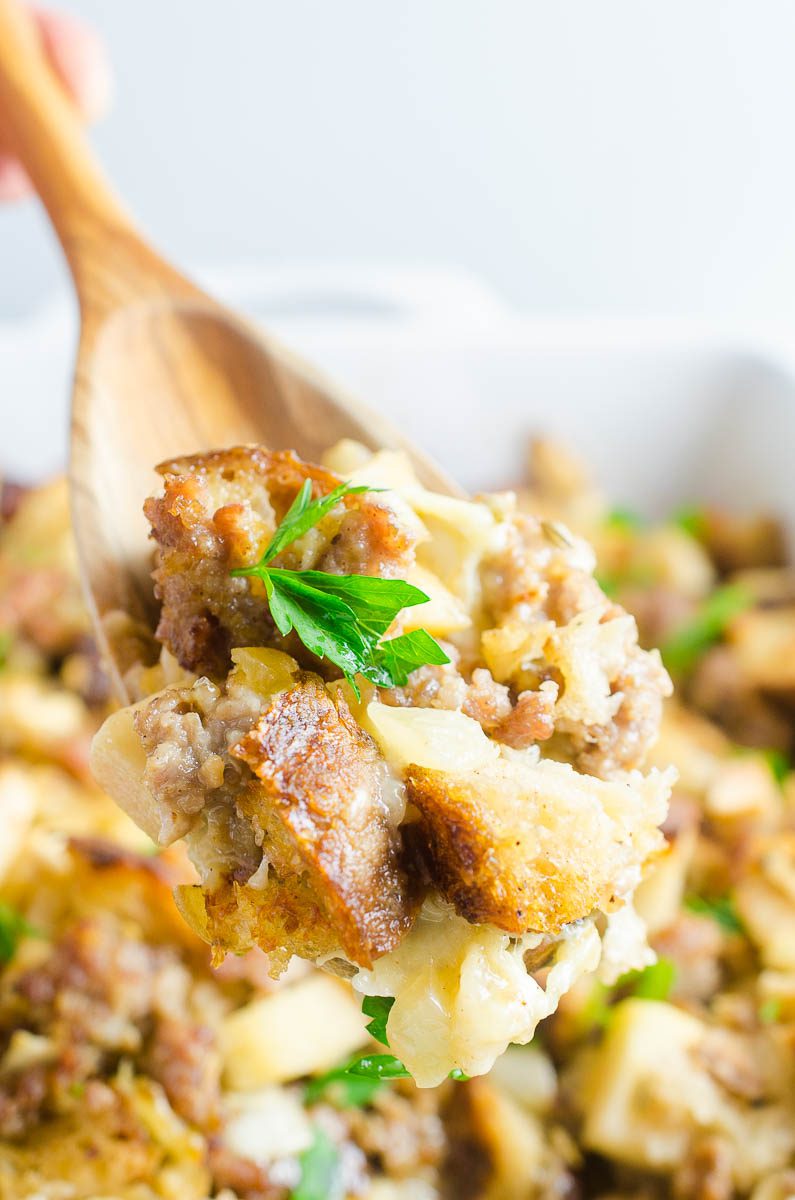 What kind of apples are best for stuffing?
For this recipe, and pretty much any recipe that involves baking, I prefer to use granny smith apples. They are sweet but not too sweet. Tart but not too tart and, most important of all, they hold up very well to cooking. They won't get mushy.
What kind of bread is best for stuffing?
While all the mix-ins in stuffing are fabulous, let's not beat around the bush, the bread is also a pretty big deal. That is why for this stuffing you'll need to pick a hearty, rustic bread. A bread like a como or a crusty sourdough. Something with a tough outer crust. Day old bread is even better!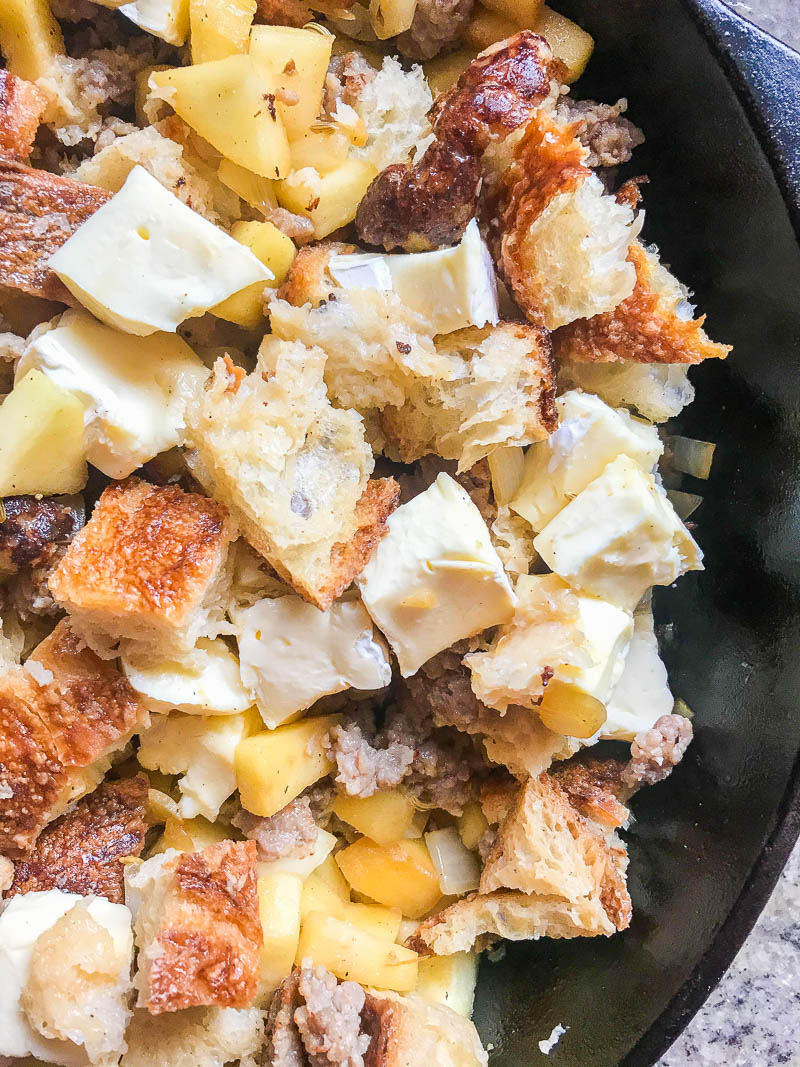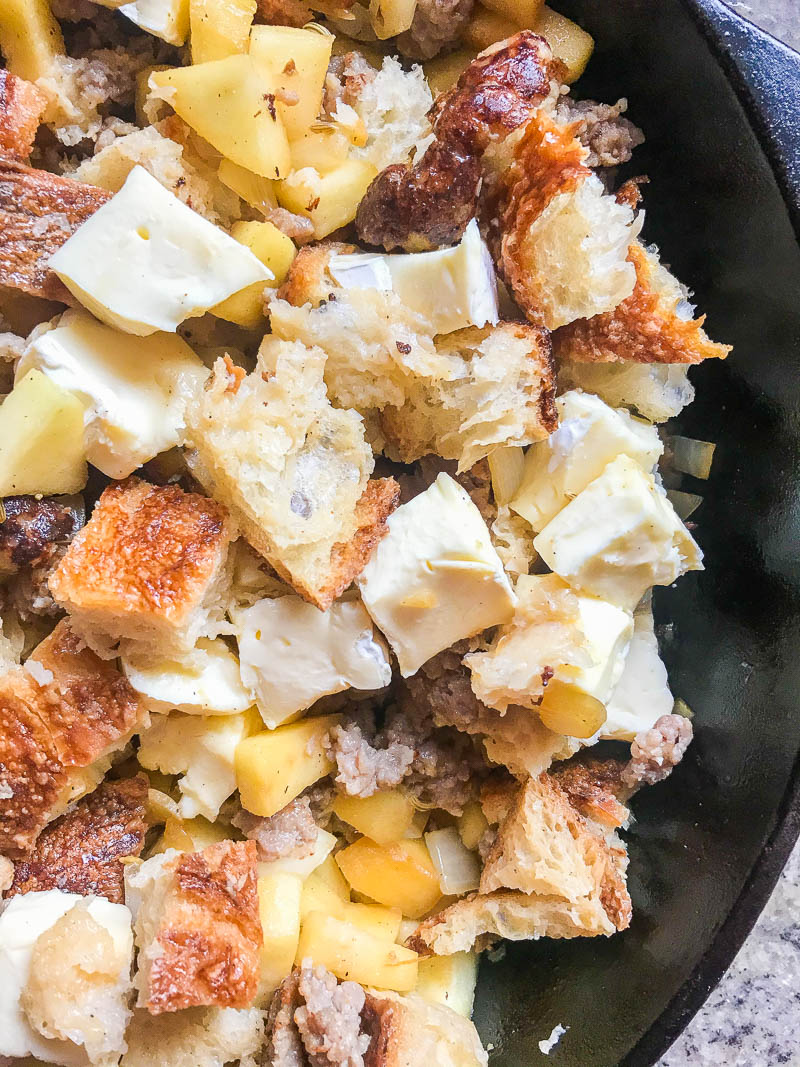 Crusty bread will hold up better to the cooking process. It won't get soggy like a traditional white bread might. Instead, it'll be crunchy on the top and moist in the middle.
Do you need to remove the rind from brie cheese?
Typically, when I eat brie cheese, I do not remove the rind. However, with this recipe, I like to remove it. I think it makes for a better texture. That being said, if you don't mind it or find it too difficult to remove, you can leave it. Like rind on any soft ripened cheese, it is edible.
How do you make apple sausage stuffing?
First, you will want to cook the sausage in a large skillet. Once it's browned, drain any excess grease and set it aside. Next, melt butter and add in fennel, nutmeg, salt, onions and apples and cook until softened.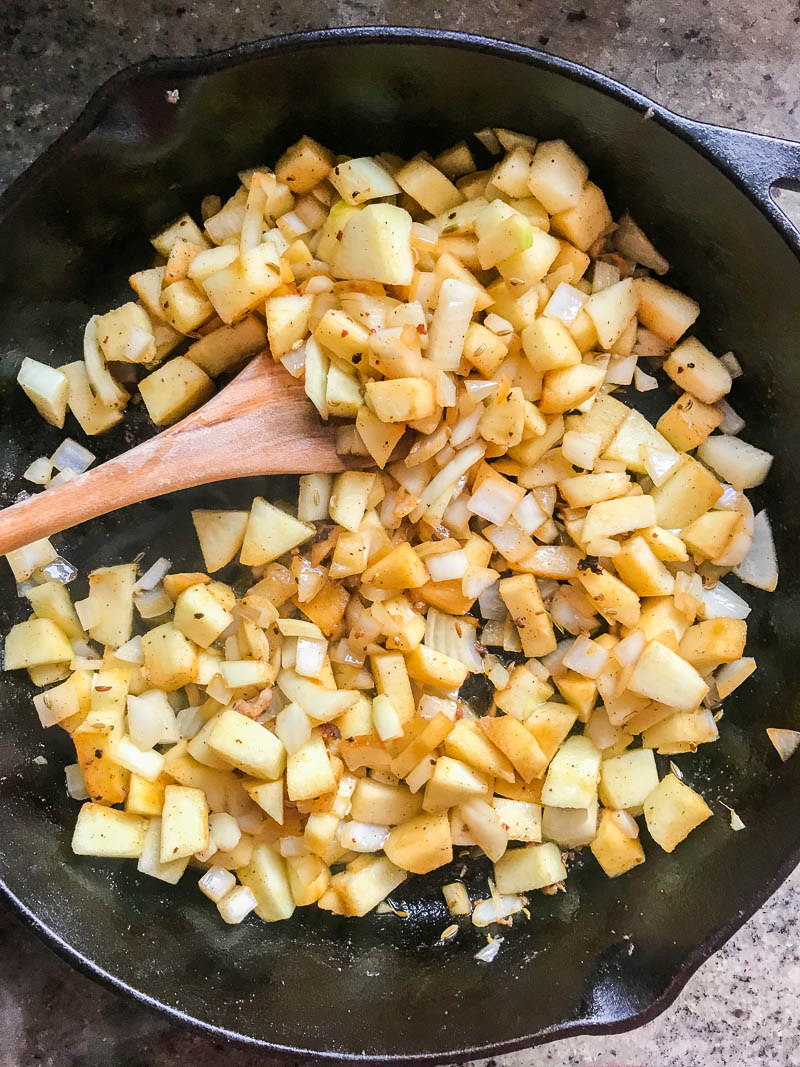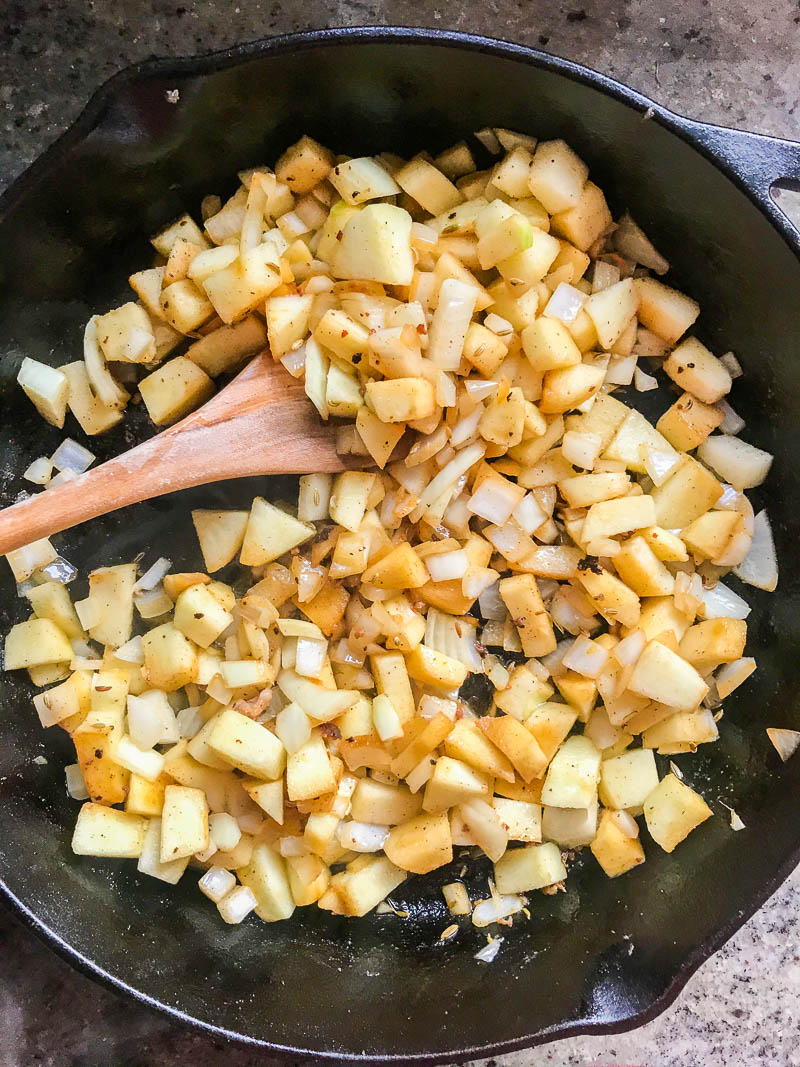 After apples have softened, return sausage to the pan, add in bread and toss to coat completely in the butter.
Next, pour in broth and mix well. If you want it a bit softer, add a little more broth. Once it's the desired consistency, stir in diced brie.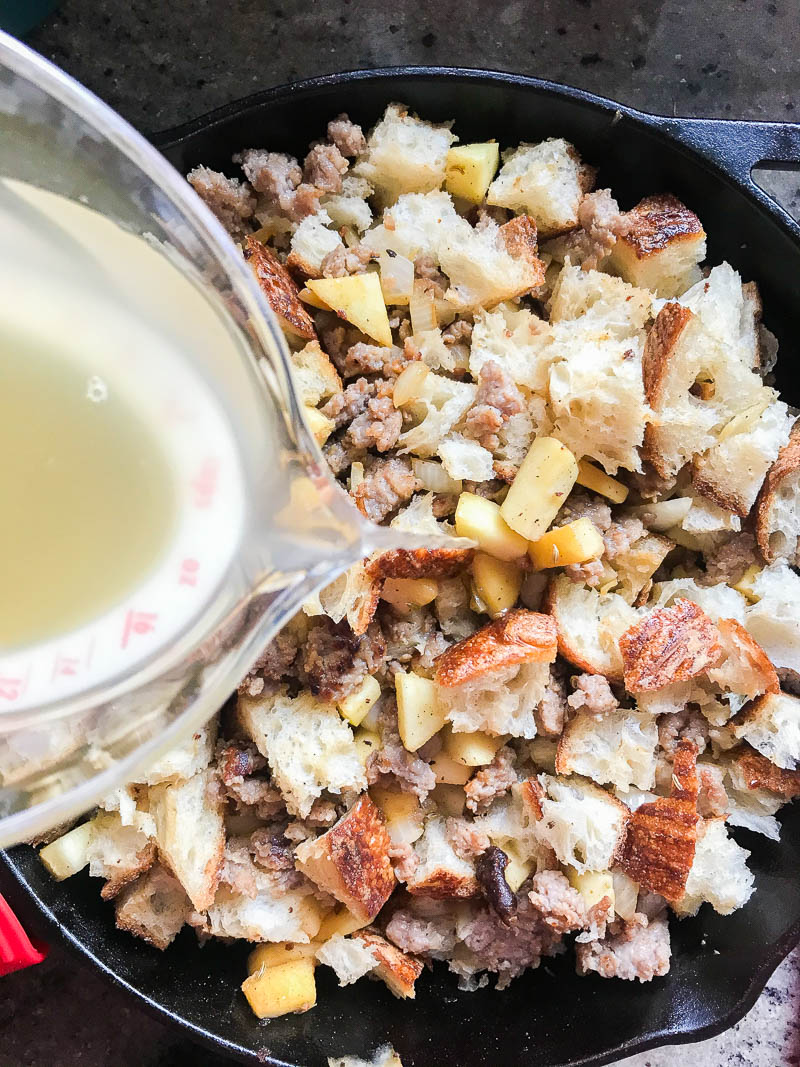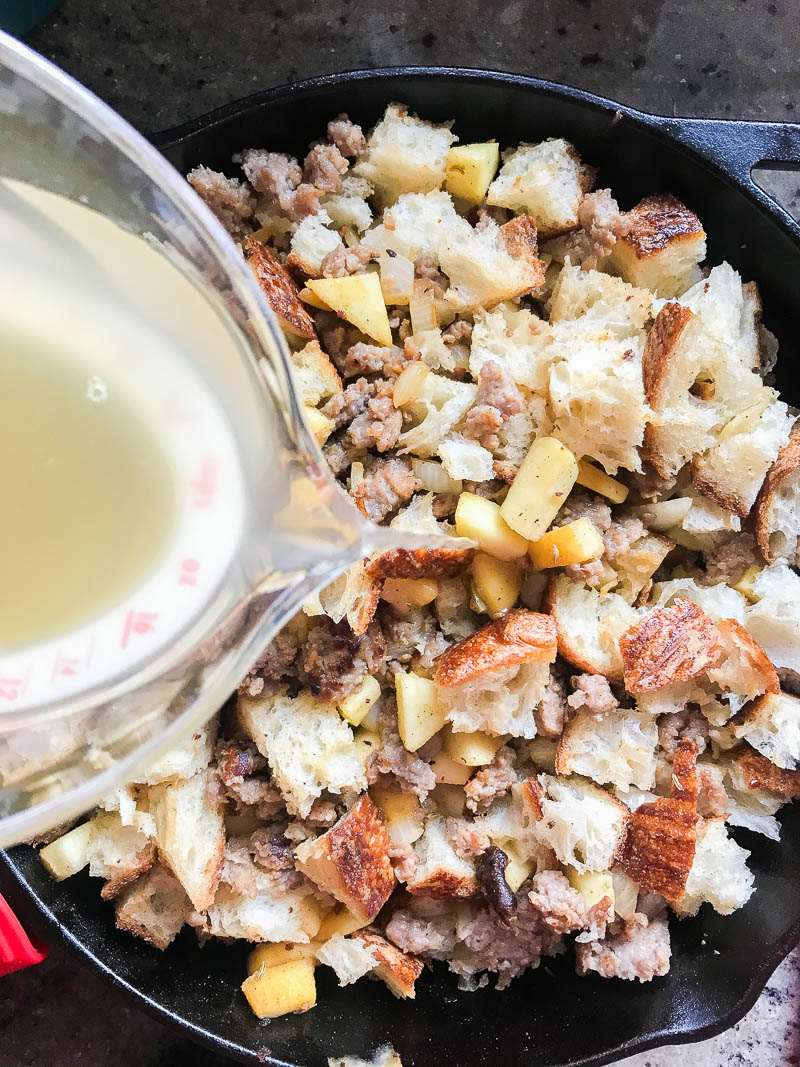 Transfer the stuffing to a baking dish and bake for 35 – 40 minutes or until bread is browned and cheese is melted.
What do you serve with Sausage Apple Stuffing?
Of course, this stuffing is the perfect addition to any Thanksgiving or Christmas table as it's the perfect side to Roasted Turkey. But don't just save it for holidays! This stuffing is also perfect when served along side Brined Fried Chicken and sauteed broccoli too!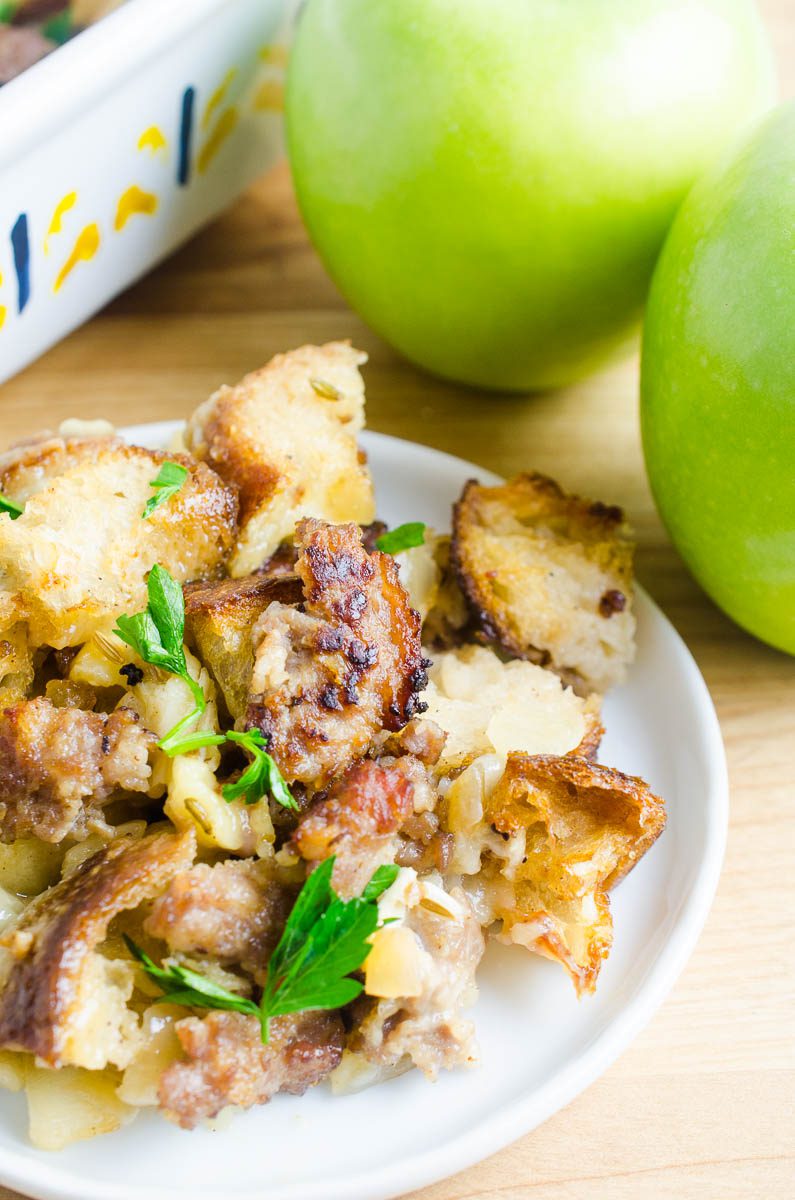 Planning Thanksgiving dinner? Here are some of my Thanksgiving MUST HAVES: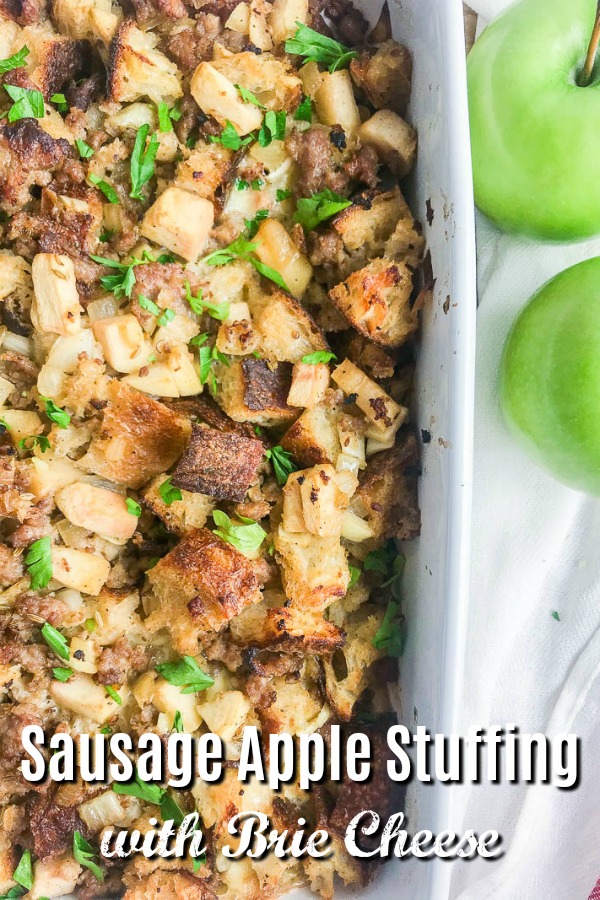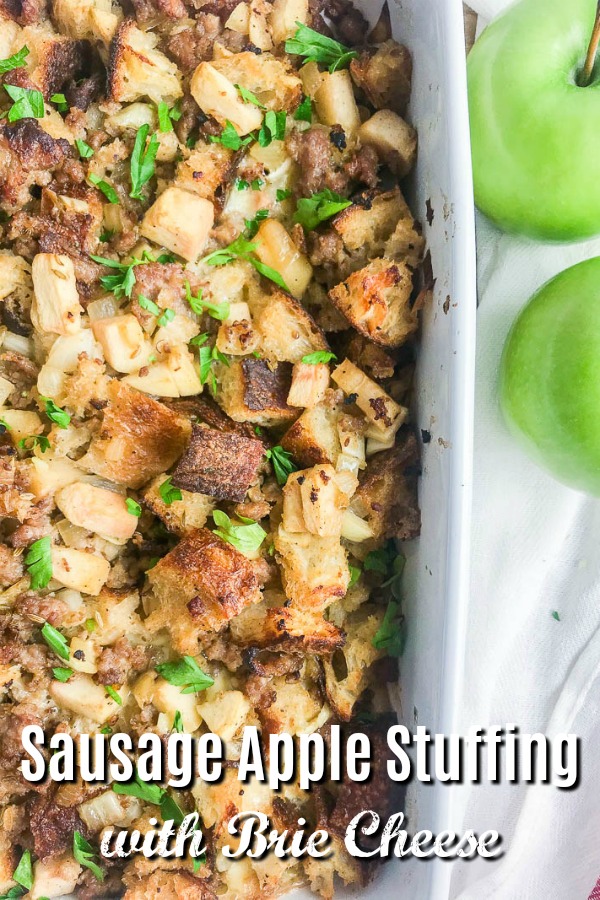 If you're looking for other easy side dish recipes, check these out!
Note: This post was originally written in 2012. It was published with new tips, photos and nutrition facts in 2019.
Apple Sausage Stuffing Recipe
Ingredients:
1 pound ground country pork sausage
3 tablespoons unsalted butter
1 teaspoon fennel
1/4 teaspoon ground nutmeg
1/2 teaspoon salt
3 cups chopped granny smith apples (about 2 apples peeled and cored)
1 medium yellow onion, diced
6 cups cubed rustic day old bread
1 - 2 cups chicken broth
8 ounces brie cheese rind removed, diced
Instructions
1
Preheat oven to 350 degrees. Butter a 9 x 13 inch baking dish.

2
Brown sausage in a large pan over medium heat. Remove. Strain excess grease. Set sausage aside.

3
In the same pan that you browned the sausage in, melt the butter. Once melted stir in fennel, nutmeg, salt, apples and onions. Cook until apples and onions have softened. About 5 minutes.

4
Stir in bread and sausage. Toss to coat bread completely in the butter. Pour in 1 cup of broth. Mix well. Pour in more broth if a softer stuffing is desired. Stir in diced brie.

5
Transfer stuffing into preheated baking dish. Bake in oven for 35 - 40 minutes. Or until bread is browned and cheese is melted. Serve hot.
Nutrition information
Calories: 519 , Total Fat: 34.8g , Saturated Fat: 13.8g , Cholesterol: 75mg , Sodium: 1088mg , Carbohydrates: 40.1g , Fiber: 3.3g , Sugar: 9.5g , Protein: 20g