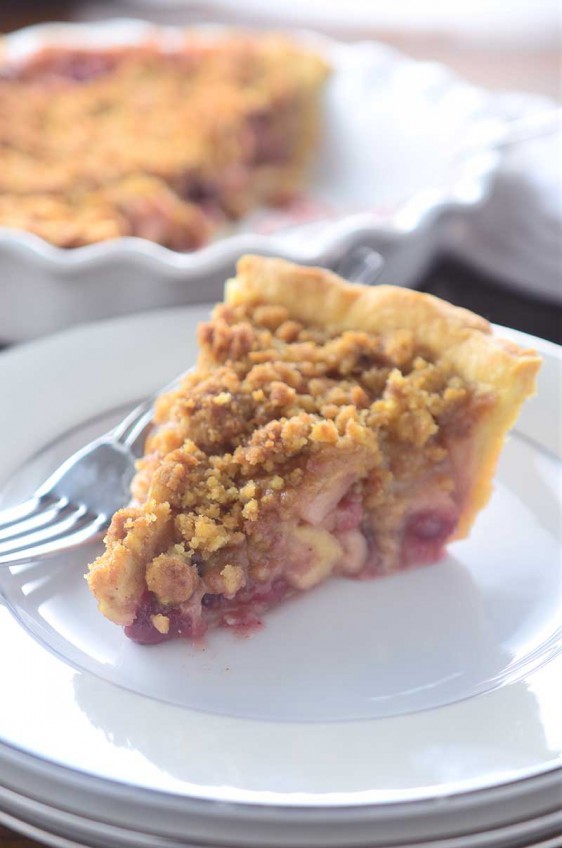 Cranberry Apple Crumble Pie
Cranberry Apple Crumble Pie may become your new favorite Thanksgiving dessert! This simple crumble pie recipe is a favorite with everyone who tries it.
Happy Thanksgiving week, friends! If apple pie is on your menu, how about trying this Cranberry Apple Crumble Pie instead? It's sweet and tart with a buttery crumbly top. It'll be perfect for all of your holiday celebrations this year.
Ok so here's the thing. I don't usually do pie. Like really. It's just not my thing. I am just not all that big of a fan of pie crust. Or so I thought. But then this month Kerrygold and King Arthur Flour challenged the bloggers in the Kerrygold Blogger Loyalty Program to bake a pie. And never one to back out of a challenge, especially a culinary one, I baked this Cranberry Apple Crumble Pie.
And guess what.
I kinda love pie.
I guess I always had it in my head that it would be hard to make a pie crust. I'm not quite sure where that Idea came from but it was one that was firmly planted in my brain until I accepted this challenge. Once I accepted it, I began researching a basic pie crust recipe and found it is seriously beyond easy. For all of you that are still unsure listen up. All you need is flour, butter, sugar and ice cold water. Next up you combine the flour, butter and sugar in a bowl until crumbly. Then drizzle the water in a tablespoon at a time just until the dough starts to come together, wrap it up in plastic wrap, flatten slightly and chill for an hour. Finally, roll it out, place it in your pie pan and fill it with whatever your little heart desires.
In my case, I decided to make this Cranberry Apple Crumble Pie and fill it with a combination of gala apples, granny smith apples, cranberries, and sugar. I also decided on a crumble topping because I really love the buttery, sugary crumbles in each bite. It's a nice contrast with the tender apples in the pie. Basically this Cranberry Apple Crumble Pie is the perfect fall treat, and a perfect fit for your Thanksgiving or Christmas dessert table.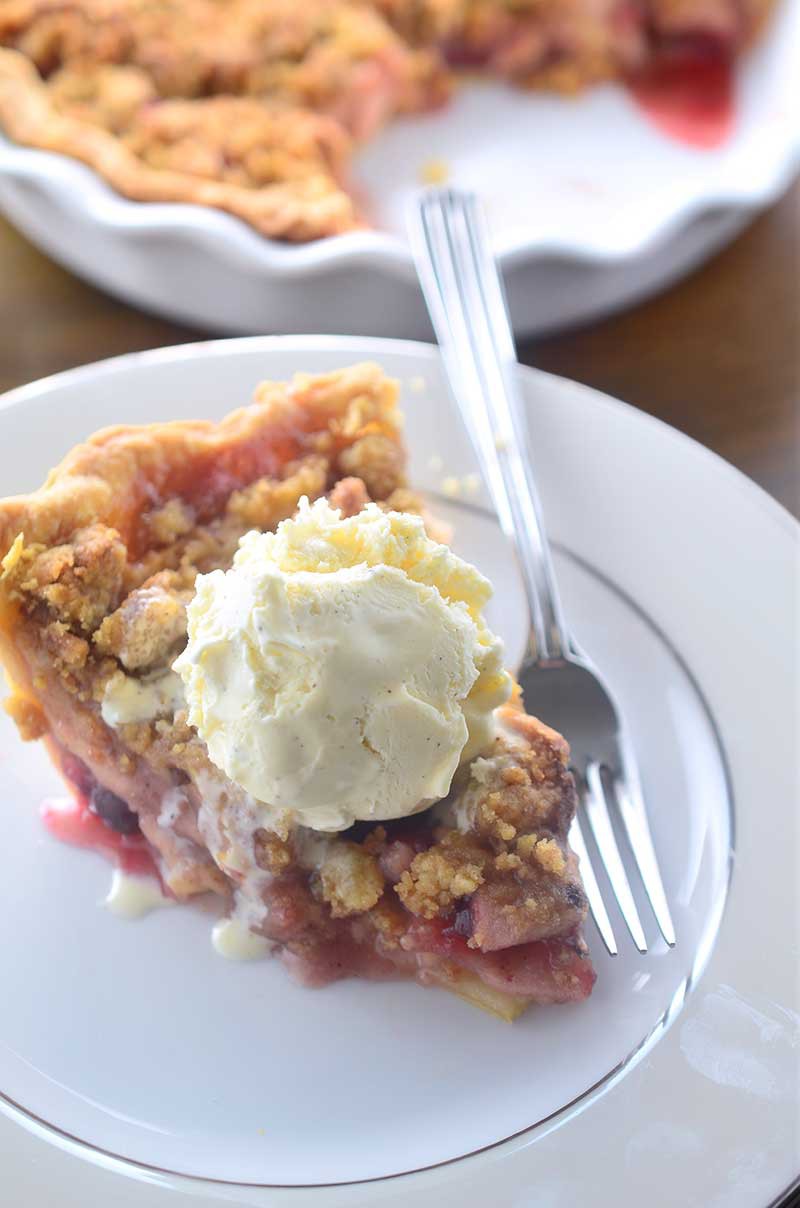 And of course, you've got to put ice cream on it and serve it warm. Trust me.
Disclosure: I was sent the butter by Kerrygold and this post is my entry for a giveaway for members of the Kerrygold Blogger Loyalty Program. All opinions are my own.

Another delicious holiday dessert recipe to make is my Caramel Apple Pie Cheesecake.
Cranberry Apple Crumble Pie Recipe
Crust Ingredients
1 1/4 cups all purpose flour
1/2 cup (1 stick) unsalted butter, cold cut into small pieces
1 tablespoon granulated sugar
1/4 cup ice cold water
Cranberry Apple Pie Filling
5 cups thinly sliced apples (equal parts gala and granny smith apples)

1 cups fresh cranberries

3/4 cup granulated sugar

2 tablespoons all purpose flour

1 teaspoon ground cinnamon

1/4 teaspoon nutmeg
Crumble Topping
2/3 cup all purpose flour

1/3 cup granulated sugar

1/3 cup brown sugar

1/2 teaspoon ground cinnamon

6 tablespoons unsalted butter, melted and cooled
Instructions
1
To make the crust, combine flour and sugar in a bowl. Add in butter and use a pastry cutter to cut butter into flour until mixture is crumbly. Add in water, one tablespoon at a time just until the dough comes together. It should be flaky but able to hold together. Wrap dough in plastic wrap and gently flatten into a disc. Refrigerate for 1 hour.

2
Preheat oven to 400 degrees.

3
Make filling by combining apples, cranberries, sugar, flour, cinnamon and nutmeg together in a bowl. Mix well.

4
Make the crumble topping by combining flour, granulated sugar, brown sugar and cinnamon together in a bowl. Pour butter over and mix until crumbly.

5
On a floured work surface, roll out chilled dough until you have roughly a 12-inch diameter circle. Use rolling pin to carefully roll up dough and then unroll over a 9-inch pie dish. Use kitchen shears to trim any excess dough that is hanging over the sides of the dish.

6
Carefully spoon apple cranberry filling into pie crust. Sprinkle crumble topping over the top.

7
Place pie on a rimmed baking sheet and bake on the bottom rack of preheated oven for 20 minutes. Reduce temperature to 375 and continue cooking for 35 - 40 minutes or until crumble is golden brown and filling is thickened and bubbly. If crust starts to brown too much place some aluminum foil around the edges to keep it from getting too dark.

8
Remove pie from oven, allow to cool at room temperature for at least 3 hours before slicing.

9
Serve cold or warmed with a scoop of vanilla ice cream.