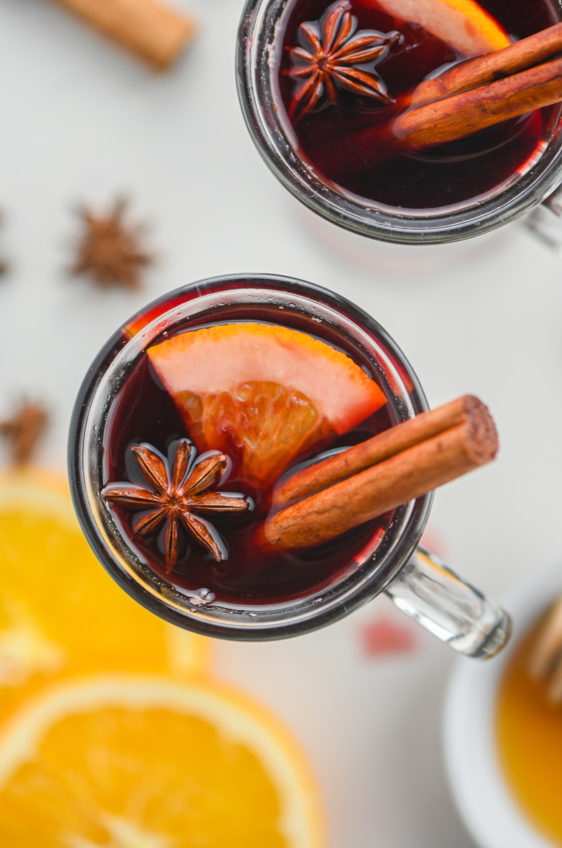 Mulled Wine
Jump to Recipe
Mulled Wine is a spiced wine recipe made with red wine, brandy, mulling spices and honey. It's perfect for the holidays!
One of my absolute favorite Christmas movies of all time is It's A Wonderful Life. I've been watching it every year since I was a kid. One of my favorite scenes from the movie is when George Bailey and Clarence are inside Nick's bar. When asked what he'd like to drink Clarence (the angel) responds "Mulled wine. heavy on the cinnamon, light on the cloves. Off with you lad and be lively!"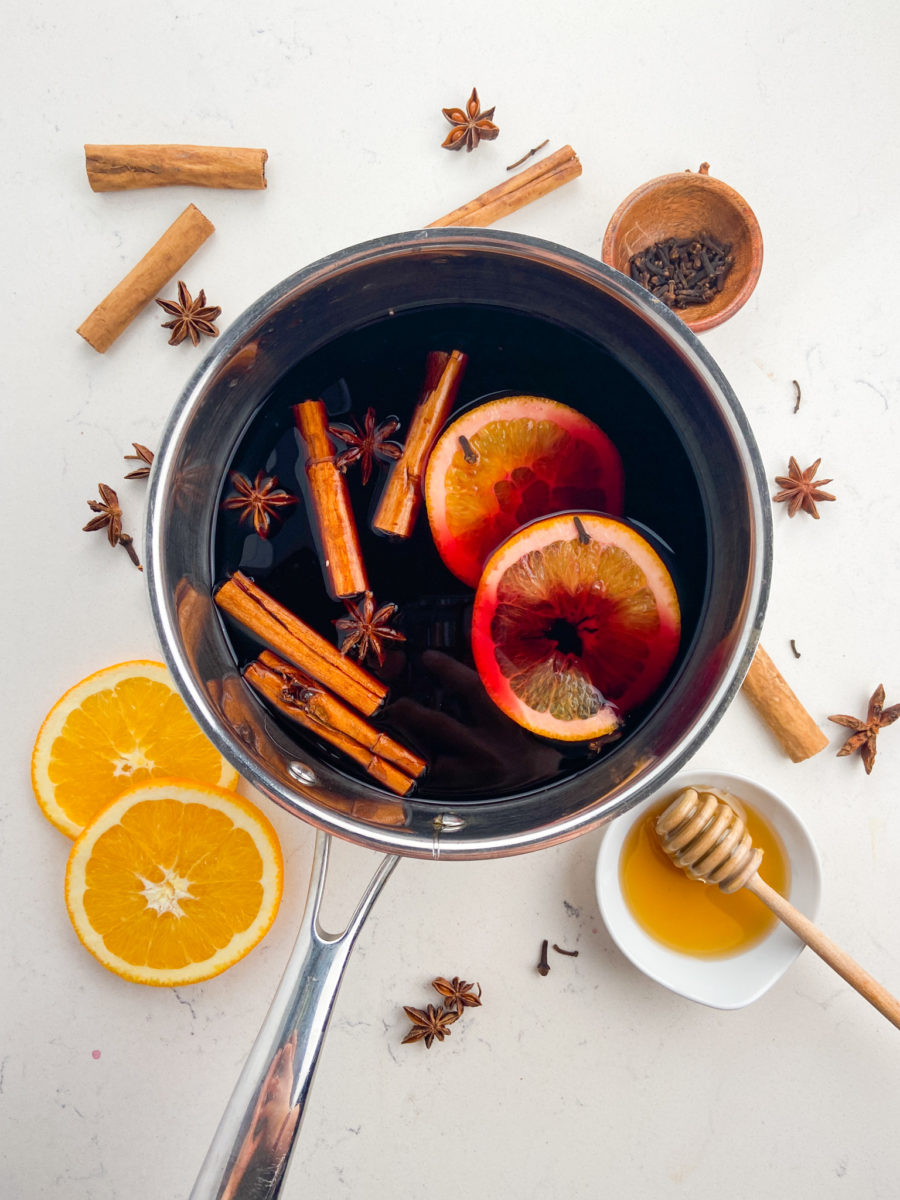 It doesn't go over very well in Nick's bar BUT can I tell you that mulled wine is, in fact, a delicious festive drink. It's warm, full of flavor. And, of course, can make you a little tipsy this holiday season.
And this Mulled Wine recipe is super easy to whip up! Let's talk about what you need to make it.
Mulled Wine Ingredients: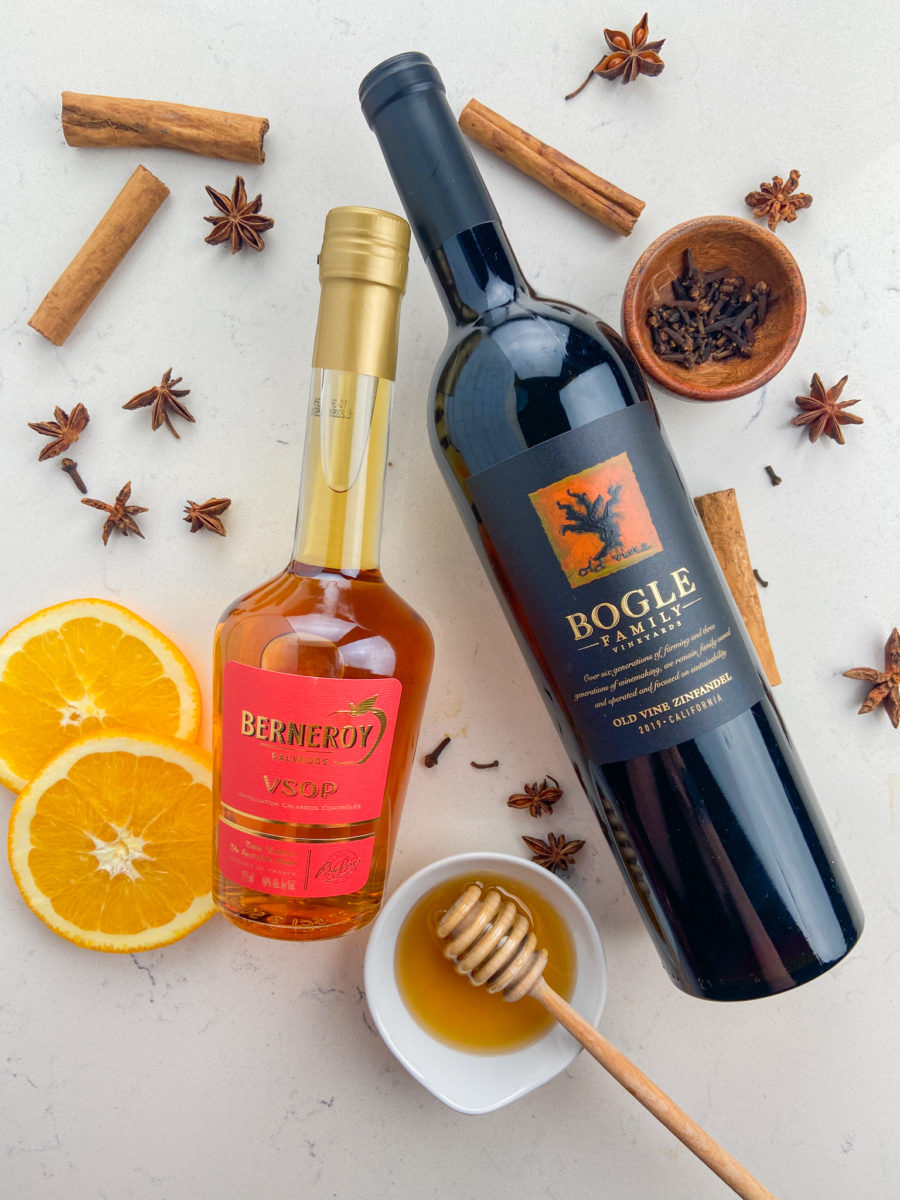 RED WINE: Mulled wine is traditionally made with red wine. You'll want to pick a full bodied red wine like a zinfandel or merlot.
BRANDY: Not all recipes will call for brandy but I like the added fruit flavor.
ORANGE SLICES: Adds a citrusy flavor.
CINNAMON STICKS: A must! For that warm, holiday flavor.
STAR ANISE: Star anise has a subtle licorice flavor.
CLOVES: Like cinnamon sticks, cloves are found in most mulled wine recipes. But a little goes a long way, you'll only need 4.
HONEY: I use honey to add sweetness. Mulled wine can sometimes take on a bitter flavor, the honey will help balance that out.
Step by Step Photos and Instructions:
Ok guys, mulled wine is ridiculously easy to make. The key to making great mulled wine that isn't overly bitter is to make sure that the wine doesn't come to a boil. To do this keep the burner on its lowest setting and let it simmer gently.
STEP #1: Combine ingredients in a large sauce pan. Stir gently.
STEP #2: Simmer on low for 15 – 20 minutes.
STEP #3: Use a strainer remove the aromatics from the pot. Ladle into cups.
STEP #4: You can garnish each cup with a fresh cinnamon stick, orange wedge and star anise.
This recipe makes about 4 glasses of mulled wine. If you're having a party it's easy to double.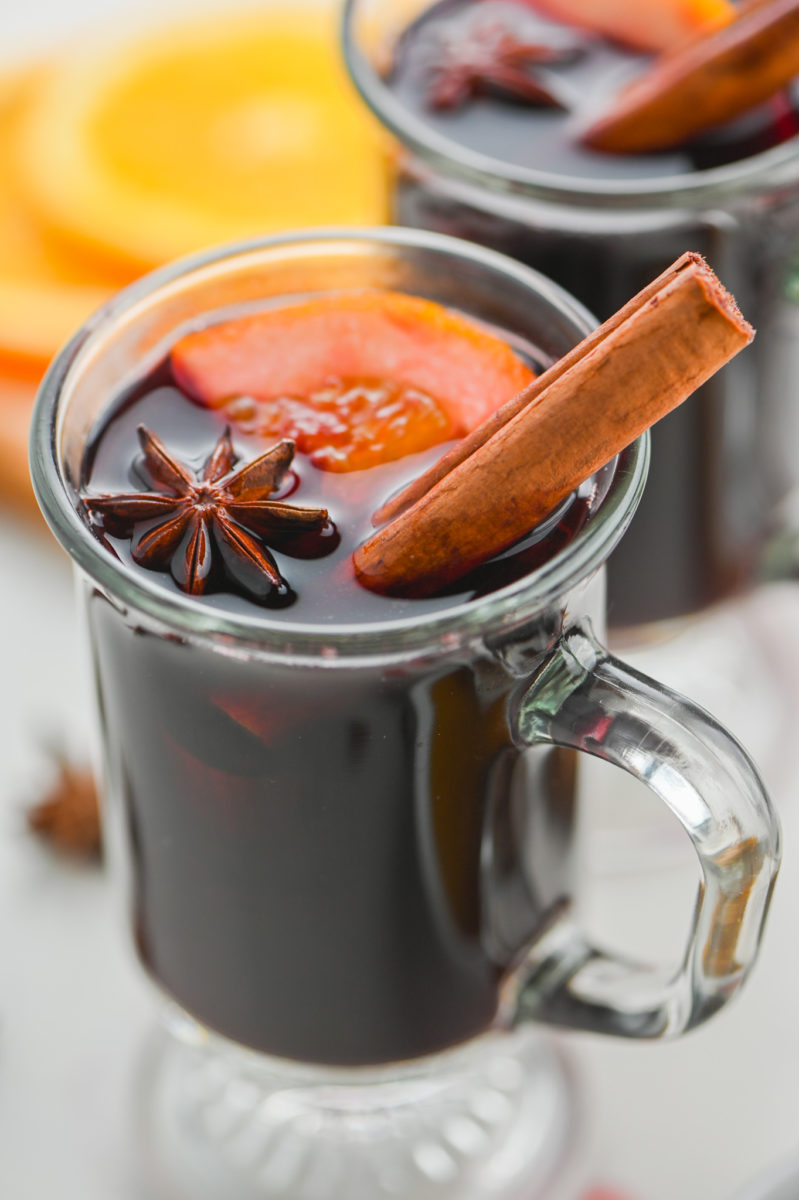 Storage and Leftovers:
Mulled wine is best enjoyed right after its made while it is still warm. You don't want to reheat the alcohol too much.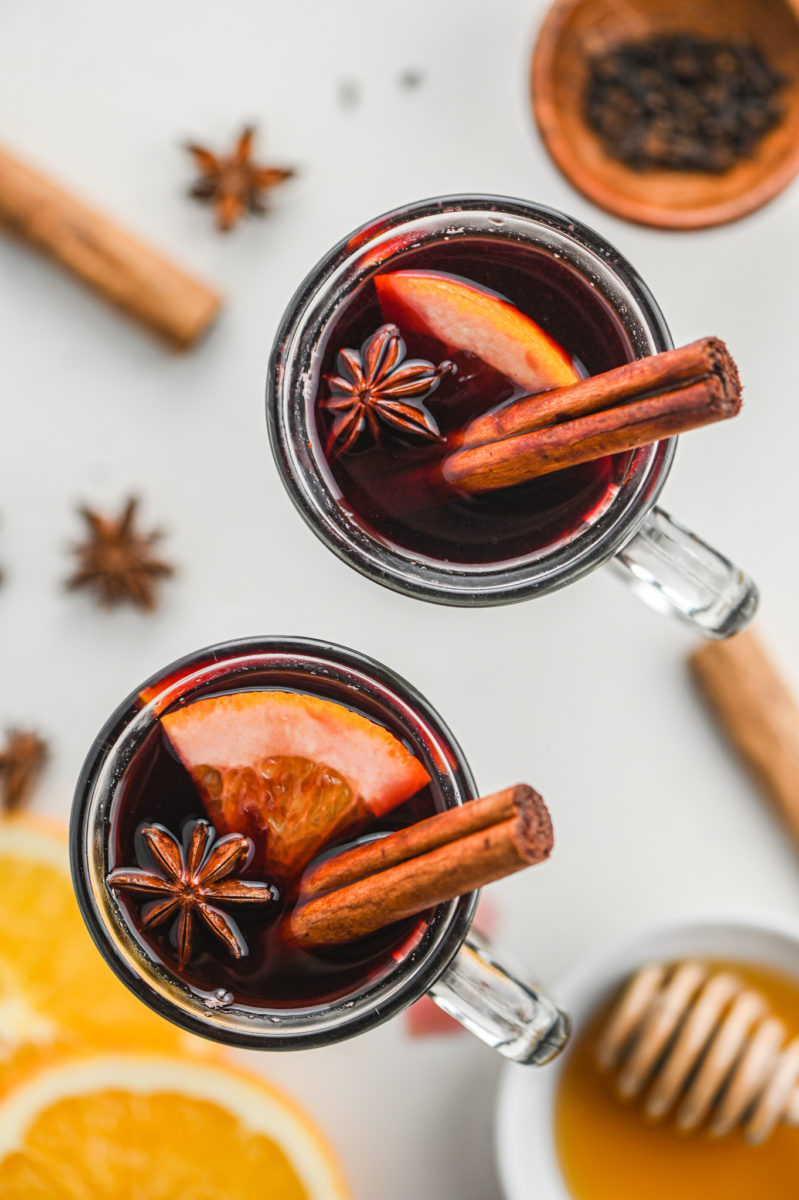 Looking for more holiday drinks? Here are some of my favorite festive beverages.
Peppermint Patty. One of my all time favorite Christmas cocktails. I drink one every Christmas eve!
Cranberry Apple Cider this is a great non-alcoholic festive drink! Adults can also add a splash of bourbon.
This Poinsettia Cocktail is a gorgeous red champagne cocktail. Perfect for Christmas or NYE.
A French 75 is a classic Champagne Cocktail and a must for NYE!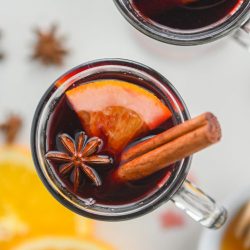 Mulled Wine
Mulled Wine is a spiced wine recipe made with red wine, mulling spices, brandy and honey. This festive drink is perfect for sipping.
Combine all ingredients in a pan. Stir gently and simmer for 15 – 20 minutes.

Use a strainer to strain aromatics from the wine. Discard.

Ladle mulled wine into cups. Garnish with a fresh cinnamon stick, orange wedge and star anise.
Don't allow the wine to boil or it will evaporate and reduce. You simply want to simmer it. 
Nutrition information for estimation purposes only. 
Calories:
309
kcal
Carbohydrates:
25
g
Protein:
1
g
Fat:
1
g
Saturated Fat:
1
g
Polyunsaturated Fat:
1
g
Monounsaturated Fat:
1
g
Trans Fat:
1
g
Sodium:
4
mg
Potassium:
50
mg
Fiber:
1
g
Sugar:
18
g
Vitamin A:
23
IU
Vitamin C:
4
mg
Calcium:
25
mg
Iron:
1
mg
Keywords:
alcohol, Christmas, red wine, thanksgiving