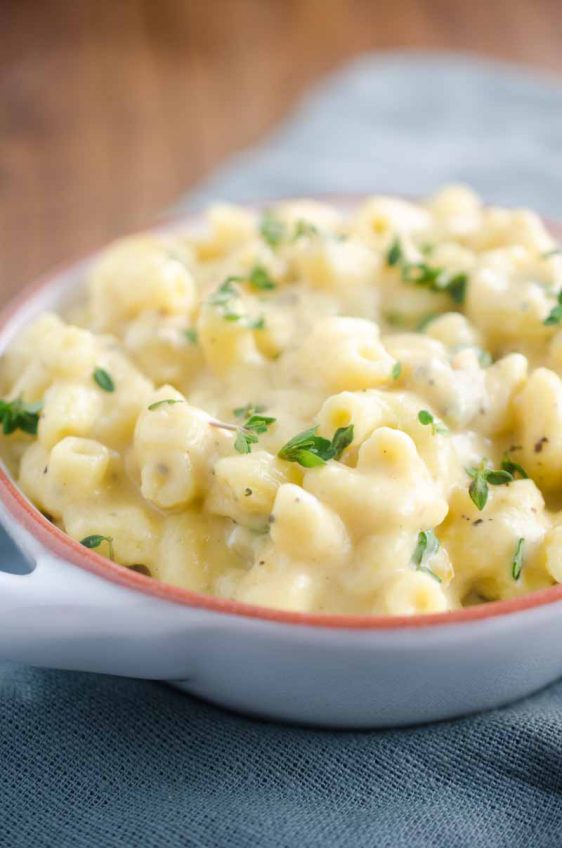 Roasted Garlic and Thyme Mac n' Cheese
Roasted Garlic and Thyme Mac n' Cheese is every bit as creamy and decadent as a good mac n' cheese should be. With the added deliciousness of sweet roasted garlic and peppery thyme. 
If you love creamy, cheesy, herby, garlicky goodness you are going to fall head over heels in love with this macaroni and cheese. I did. And it happened again and again with each and every bite.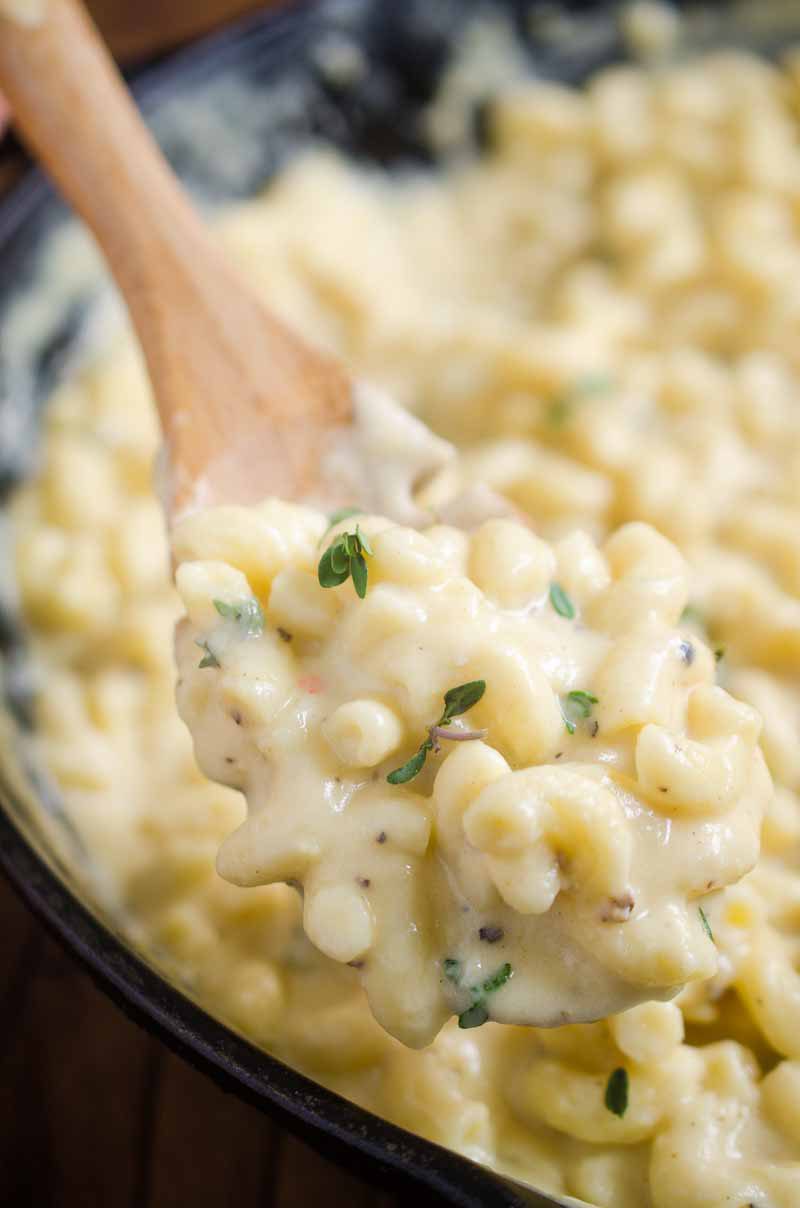 This Roasted Garlic and Thyme Mac n' Cheese is probably one of the best I have had. There is so much flavor happening. Sweet roasted garlic. Peppery thyme. Pepper jack and cheddar cheeses. My mouth is watering just telling you about it.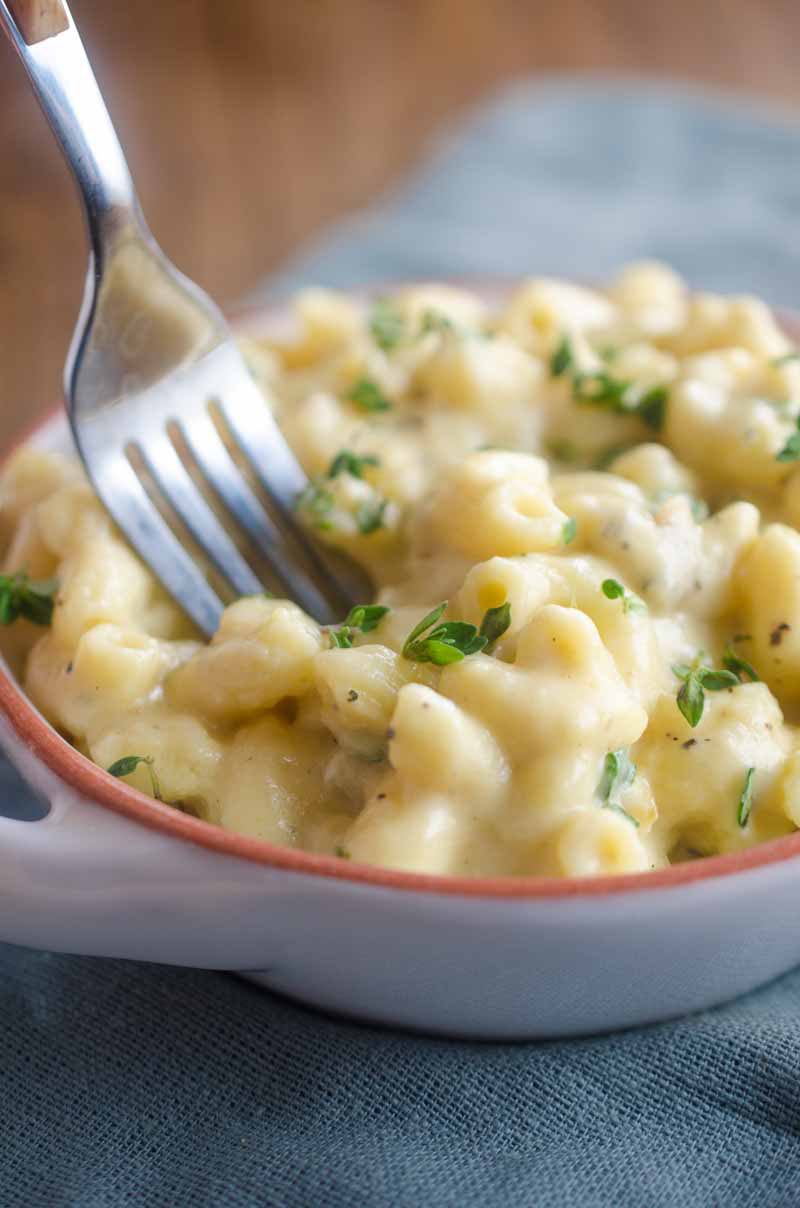 The idea of putting an egg into macaroni n' cheese is one that I've heard many times before.  Adding egg makes the sauce a bit richer. Until this Roasted Garlic and Thyme Mac n' Cheese, I had never tried it. Now, I am a convert. I add an egg to my macaroni and cheese now whenever I make it.
It is glorious. The egg gives the cheese sauce an ultra creamy texture. There is one thing you have to be careful of. The key is to temper the egg with the hot milk mixture before you add it to the sauce. Tempering prevents the egg from curdling and becoming an eggy mess when you add it to the cheese sauce.
An eggy mess is not what I was going for with this Roasted Garlic and Thyme Mac n' Cheese. No, no, I want creamy, smooth, cheesy goodness.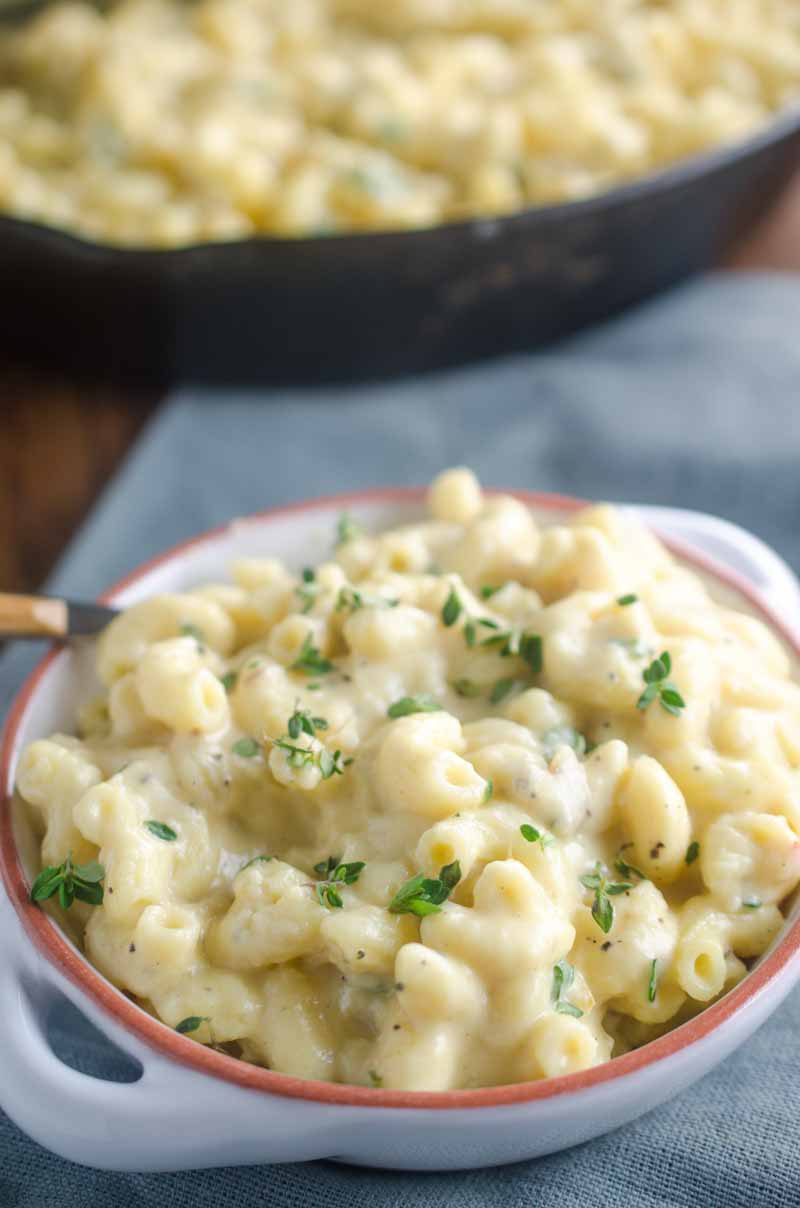 That is exactly what you get with this Roasted Garlic n' Thyme Mac n' Cheese. I just know that it is going to become a family favorite for you, just as it is for us.
Roasted Garlic and Thyme Mac n' Cheese Recipe
Mac n' Cheese Ingredients:
2 cups dried macaroni
4 tablespoons unsalted butter
4 tablespoons flour
2 1/2 cups whole milk
1 egg, beaten
3 cups shredded medium cheddar
2 cups shredded pepper jack cheese
2 tablespoons chopped fresh thyme
2 teaspoons fresh cracked black pepper
1/2 to 1 teaspoon kosher salt
Roasted Garlic Ingredients
1 head garlic

1 tablespoon butter

1 teaspoon oil

salt
Instructions
1
Preheat oven to 400 degrees.

2
Cut 1/4 inch off the top of the bulb of garlic to expose the cloves beneath, but do not peel the garlic, you want to roast it in the skin. Place bulb on a piece of aluminum foil, place butter on top, pour lemon juice over the garlic and sprinkle with kosher salt. Bring up all sides of aluminum foil and twist together to close. Cook for 45 minutes or until garlic cloves are soft and golden in color. Allow to cool. Once cool, use a fork to remove the garlic cloves. Mash. Set aside.

3
Bring a large pot of water to boil. Cook pasta according to package directions. Drain.

4
Melt the butter in a large pot over medium heat. Whisk in the flour. Allow to cook for one minute. Slowly whisk in the milk. Heat to a simmer but do not boil.

5
Slowly whisk a couple tablespoons of the heated milk mixture into the egg to temper it. Pour into the milk mixture.

6
Whisk in the cheese and allow to melt. Whisk in the mashed roasted garlic, fresh thyme, black pepper and 1/2 teaspoon kosher salt. Stir in the pasta. Mix well. Remove from heat and let stand for 5 minutes so sauce can thicken.

7
Stir. Adjust seasoning if desired. Serve immediately.