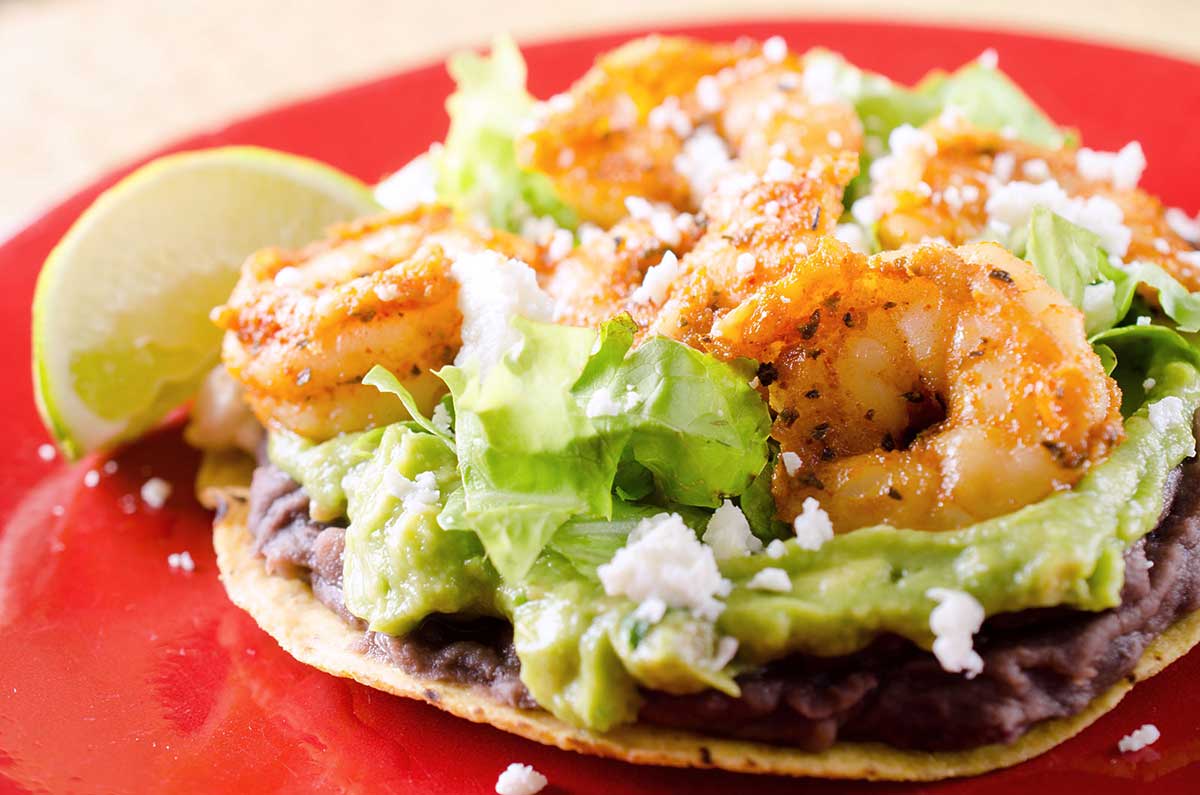 Shrimp Tostadas
It's finally July which means that summer has officially arrived here in Seattle. Yay! This means it is time to put away my soup pot, chill on the mashed potato making and hide the hot chocolate. Ok, ok I wasn't making hot chocolate in June but I did make mashed potaotes a few times and a couple batches of soup. Really it was that cold. But now that that is, fingers crossed, behind us until September, it's time to enjoy quick, light suppers, like these shrimp tostadas.
One of my most popular posts of all time, besides my Fudgy Brownie Cookies, is my recipe for Shrimp Tacos. The traffic to that recipe is pretty consistent throughout most of the year but then spikes in the summer time. This makes me think that a lot of people are a like me and when summer comes around they begin craving dishes that are big on flavor but still pretty light. That is why I decided to try these shrimp toastadas.  With crispy refried black beans, creamy guacamole, cool lettuce and spicy shrimp they are the perfect meal to enjoy out on your patio with a cold corona on a warm summer evening.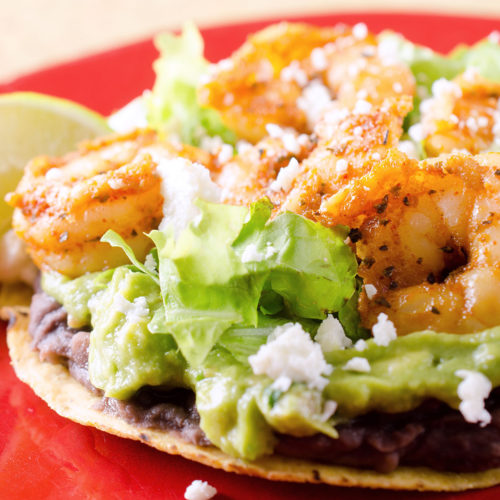 Shrimp Tostadas
Crispy tostada shells, refried black beans, creamy guacamole, spicy shrimp,
Ingredients:
1

teaspoon

chili powder

1/4

teaspoon

cayenne pepper

1

teaspoon

granulated garlic

1/2

teaspoon

ground cumin

1/2

teaspoon

dried oregano

1/2

teaspoon

kosher salt

1/2

teaspoon

onion powder

2

teaspoons

olive oil

1 1/2

pounds

24-30 ct prawns, peeled and deveined

4 - 6 to

stada shells

1

14.5 ounce can refried black beans

1 - 2

cups

guacamole

1

cup

chopped lettuce

1/2

cup

crumbled cojita cheese

1

lime

quartered
Combine first 8 ingredients together in a bowl. Mix well. Add shrimp and toss to coat. Cover and refrigerate for 3 hours.

When ready to cook, preheat oven to 200 degrees to warm up the tostada shells. Cook 5 minutes or just until warmed.

While tostada shells are warming, heat refried beans in a pan over medium heat until warmed through.

At the same time cook prawns over medium high heat until cooked through, 3- 5 minutes.

To assemble tostadas, spread some refried beans on top of a tostada shell, spread guacamole on top, top with handful of lettuce and 5 - 6 prawns. Sprinkle with cojita cheese. Squeeze lime over the top. Repeat with remaining ingredients. Serve immediately.
Keywords:
black beans, cojita cheese, entree, Food, guacamole, Latin American, Prawns, Recipe, shrimp, summer, tostada