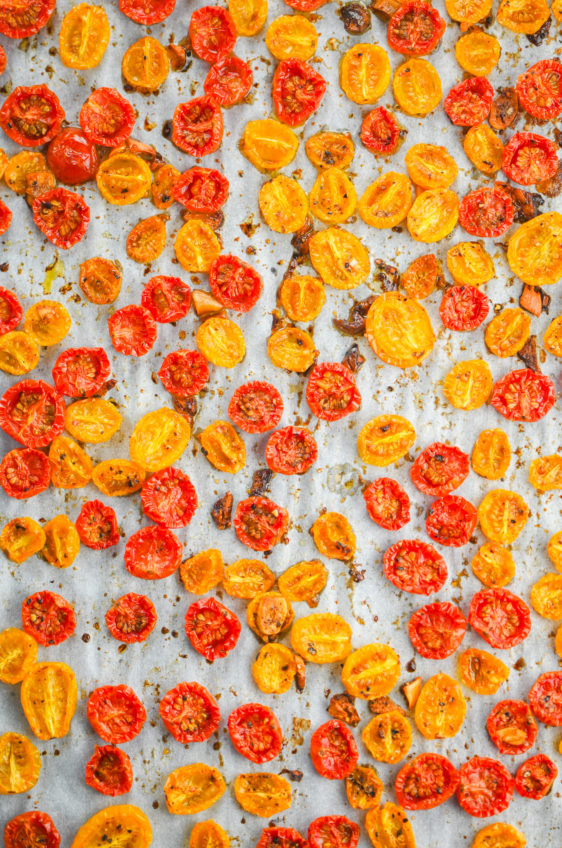 Oven Roasted Tomatoes
Oven Roasted Tomatoes are juicy little bits of tomato bliss. Made simply with cherry tomatoes, olive oil, salt, pepper and garlic.
One of my absolute favorite parts of summer has got to be summer tomatoes. It really doesn't get much better than a perfectly ripe summer tomato. And if you think you like the taste of fresh sliced tomatoes, just wait until you get a taste of slow roasted oven tomatoes. The flavor of the tomatoes is concentrated into little bites of pure tomato goodness.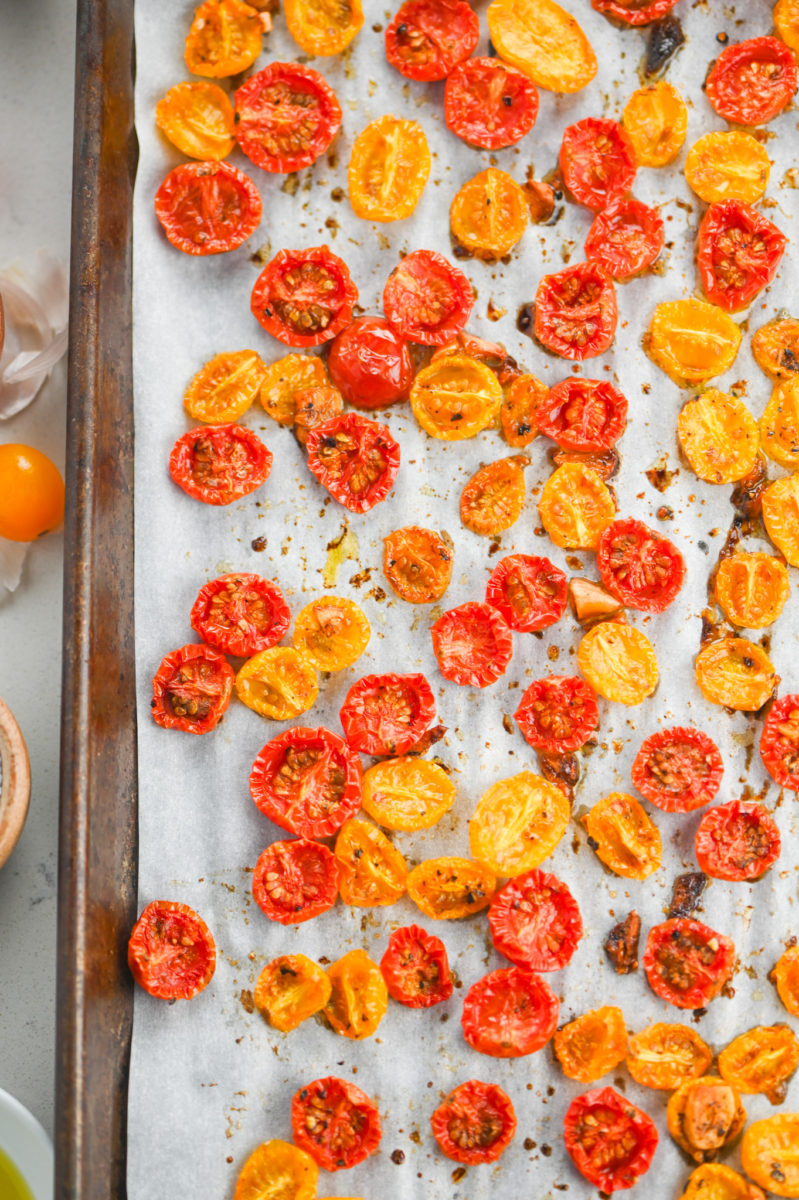 And the best part about making oven roasted tomatoes is that it only requires a few ingredients and just a little patience as they slow roast in the oven. Let's talk about what you're going to need to make them.
Oven Roasted Tomatoes Ingredients: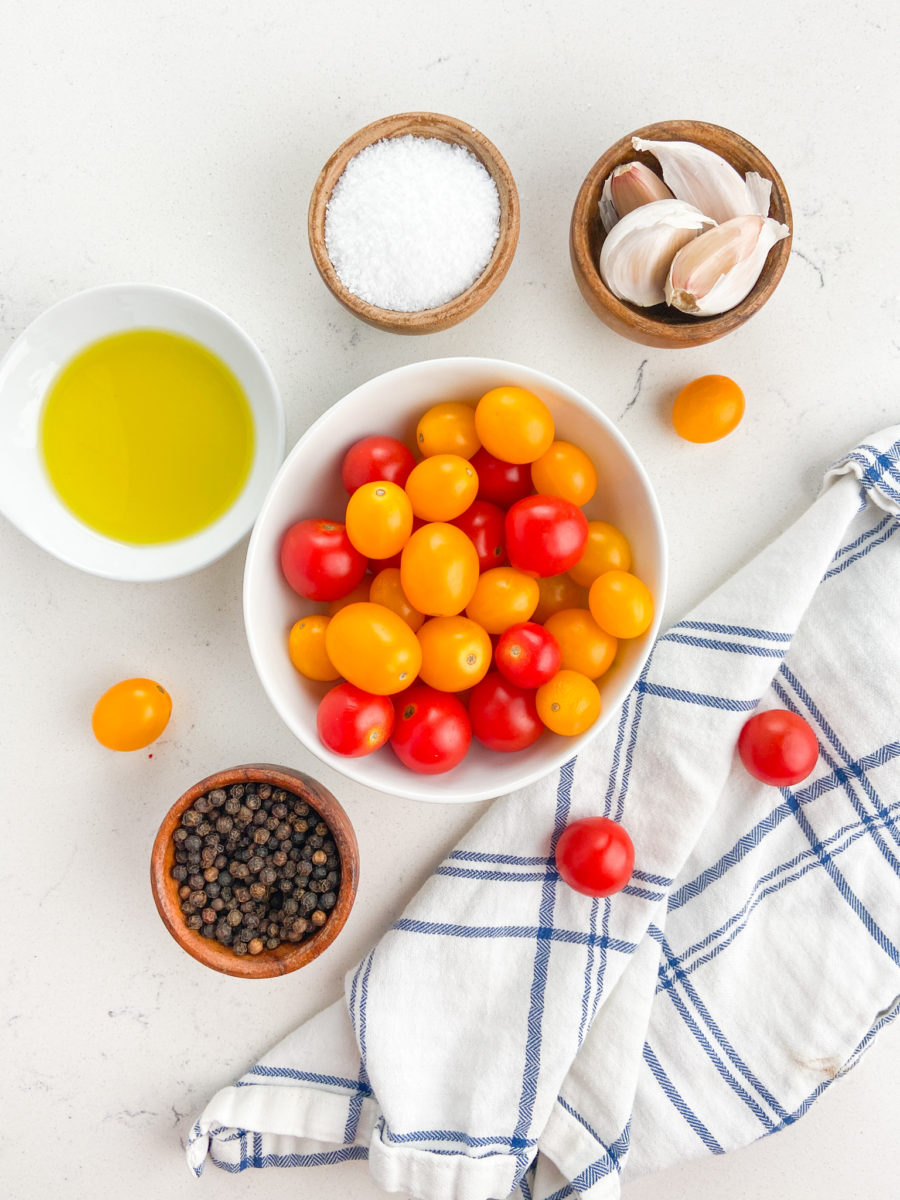 CHERRY TOMATOES: I like to use smaller tomatoes when roasting. You can use any small variety you can find. For this recipe I used a combination of both red cherry tomatoes and sun golds.
OLIVE OIL: Extra virgin olive oil works best for this recipe.
SALT: Will help bring out the tomato flavor.
PEPPER: Optional but I like to add just a bit of a peppery kick.
GARLIC: Just a subtle sweet garlic flavor takes these tomatoes to another level.
Step by Step Photos and Instructions:
These Oven Roasted Tomatoes are a cinch to make! They take just a little bit longer than some of the other recipes out there because they are roasted at a slow temperature. But I find it gives the roasted tomatoes a juicier bite. Just follow along with these step by step photos and instructions.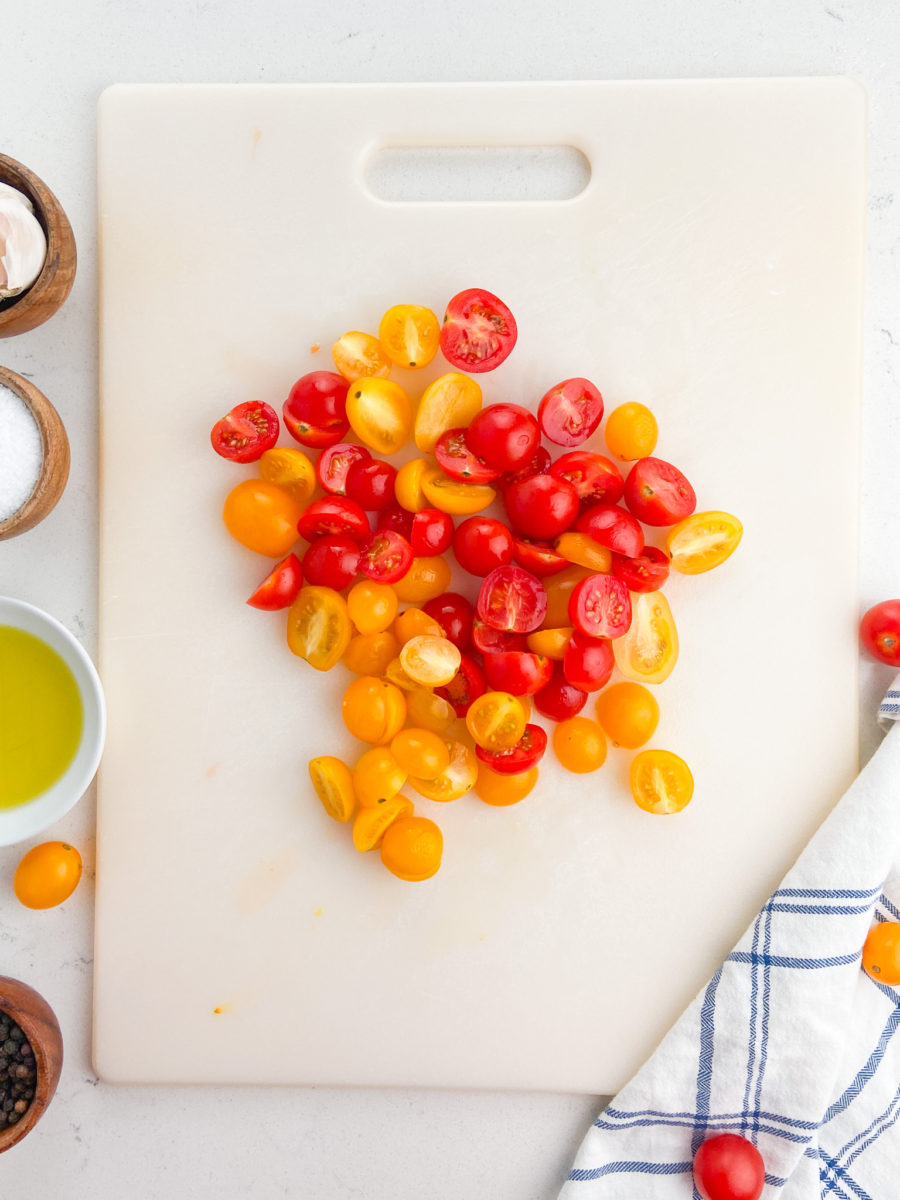 STEP #1: Preheat oven to 250 degrees. Halve the tomatoes. I like to use a serrated knife to cut tomatoes, it makes it them a bit easier to slice.
STEP #2: Place tomatoes in a bowl and toss with olive oil, salt, pepper and garlic.
STEP #3: Spread tomatoes out in a single layer on a large baking sheet. And bake in preheated oven for 70 – 90 minutes.
STEP #4: Remove from oven and cover with aluminum foil. Allow to cool slightly, drizzle with another tablespoon of olive oil and serve.
Now I am a big tomato lover so I will just snack on these but they are also great when added to pastas, salads and sandwiches.
Storage and Leftovers:
These will keep for several days in the refrigerator.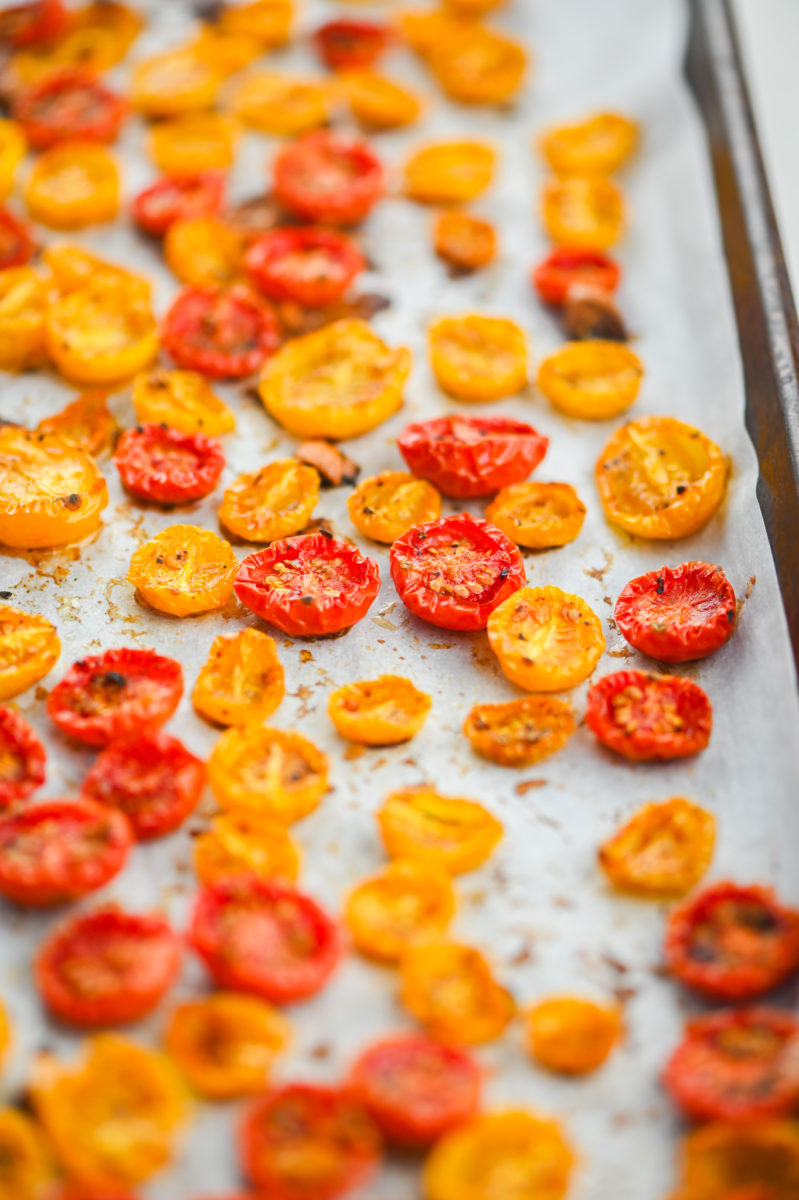 Want more tomato recipes? Try these:
Tomato Sandwich, a classic and one of my favorite things to make every summer!
Simple Tomato Salad makes a great side dish to just about any meal.
Small Batch Tomato Jam is a great way to make summer tomatoes last a little longer!
Note: This recipe was originally published in 2009. Updated in August 2023.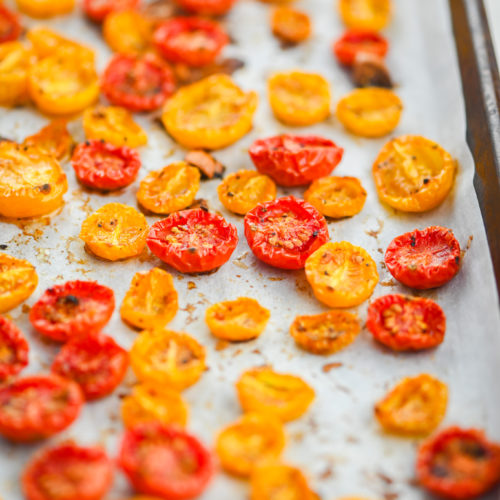 Slow Roasted Tomatoes
Perfect, plump, juicy tomatoes slow roasted to perfection.
Nutrition information for estimation purposes only. 
Calories:
94
kcal
Carbohydrates:
7
g
Protein:
2
g
Fat:
7
g
Saturated Fat:
1
g
Polyunsaturated Fat:
1
g
Monounsaturated Fat:
5
g
Sodium:
600
mg
Potassium:
376
mg
Fiber:
1
g
Sugar:
4
g
Vitamin A:
833
IU
Vitamin C:
39
mg
Calcium:
21
mg
Iron:
1
mg
Keywords:
cherry tomatoes, garlic, olive oil, roasted tomatoes, snack, summer, tomatoes, vegetable, Vegetarian