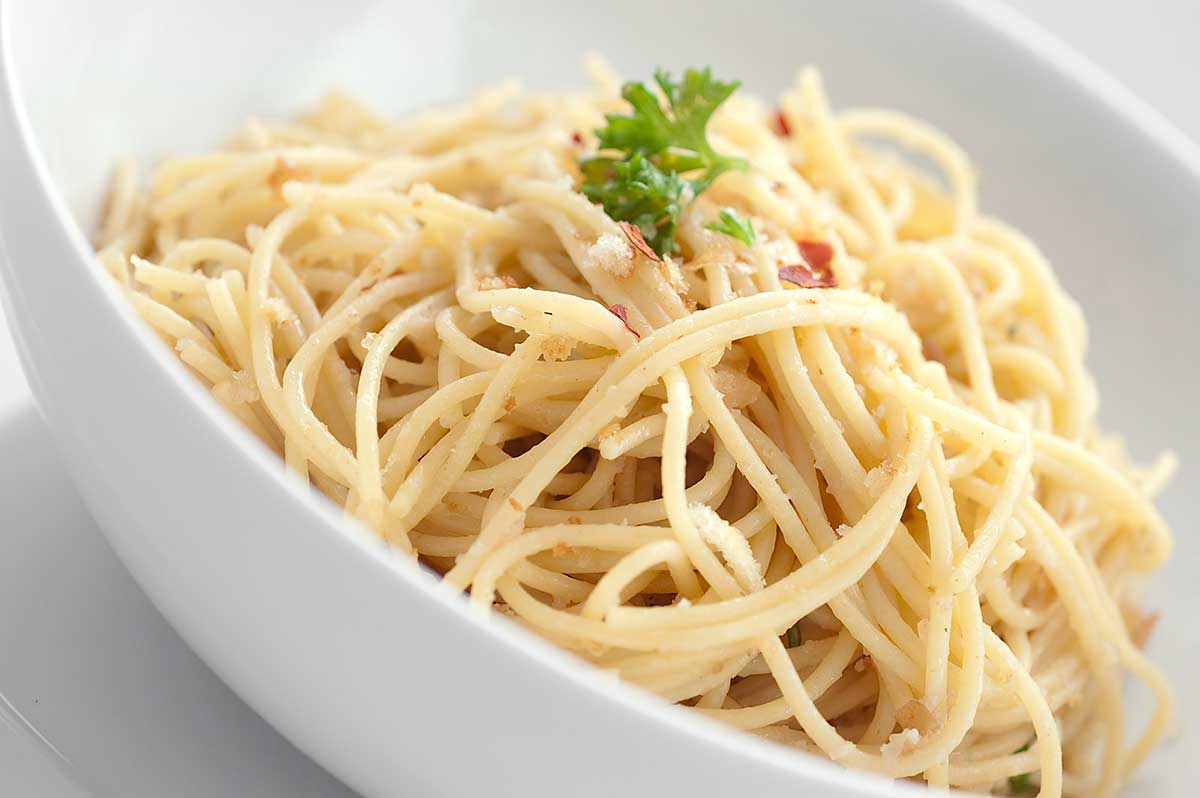 Spaghetti with Bread Crumbs and Anchovies
Someone recently asked me to add some more quick fix meals to the blog. I got to thinking about things I could experiment with and pasta was the first thing to come to mind. Of the endless varieties of pasta meals out there, most can be prepared in the same amount of time it takes you to boil the pasta and today I'm introducing you to yet another one. A quite scrumptious one in fact with garlic, crushed red pepper, anchovies and golden toasted bread crumbs.
Ok, Ok, I know that having the "anchovies" in the title of this recipe is going to scare a few of you off. But don't run away just yet. You see, much like the anchovies in my Spaghetti Puttanesca recipe, the anchovies in this recipe are minced fine and sauteed in olive oil until they dissolve. This process removes any of the "fishy" taste that some may associate with anchovies and instead it adds a savory dimension to the dish that I just can't get enough of. So even if you think you aren't an anchovy fan I say give this a shot, it just might surprise you.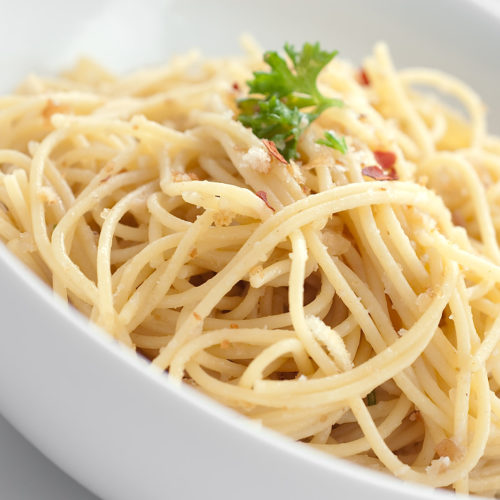 Spaghetti with Bread Crumbs and Anchovies
A quick fix pasta with garlic, crushed red pepper, anchovies and golden toasted bread crumbs.
Heat 2 tablespoons of olive oil in a small sauce pan. Cook bread crumbs until browned and toasted, about 3 - 4 minutes. Remove from heat and set aside.

Bring a large pot of water to boil and cook pasta according to package directions. Drain, reserving 1/4 cup of pasta water.

While pasta is cooking, heat 1/3 cup olive oil over medium heat, add anchovies and cook 2 minutes. Stir in garlic and pepper. Cook until anchovies dissolve, about 2 more minutes. Stir frequently and do not allow the garlic to burn. Add hot pasta and reserved pasta water. Toss to coat.

Sprinkle toasted bread crumbs and parsley over the pasta. Toss once more. Season to taste with salt if needed.

Serve with plenty of grated Parmesan cheese and some more crushed red pepper.
Keywords:
anchovies, anchovy pasta, bread crumbs, crushed red pepper, dried pasta, Food, garlic, italian, olive oil, parmesan cheese, pasta, Recipe, spaghetti, toasted bread crumbs