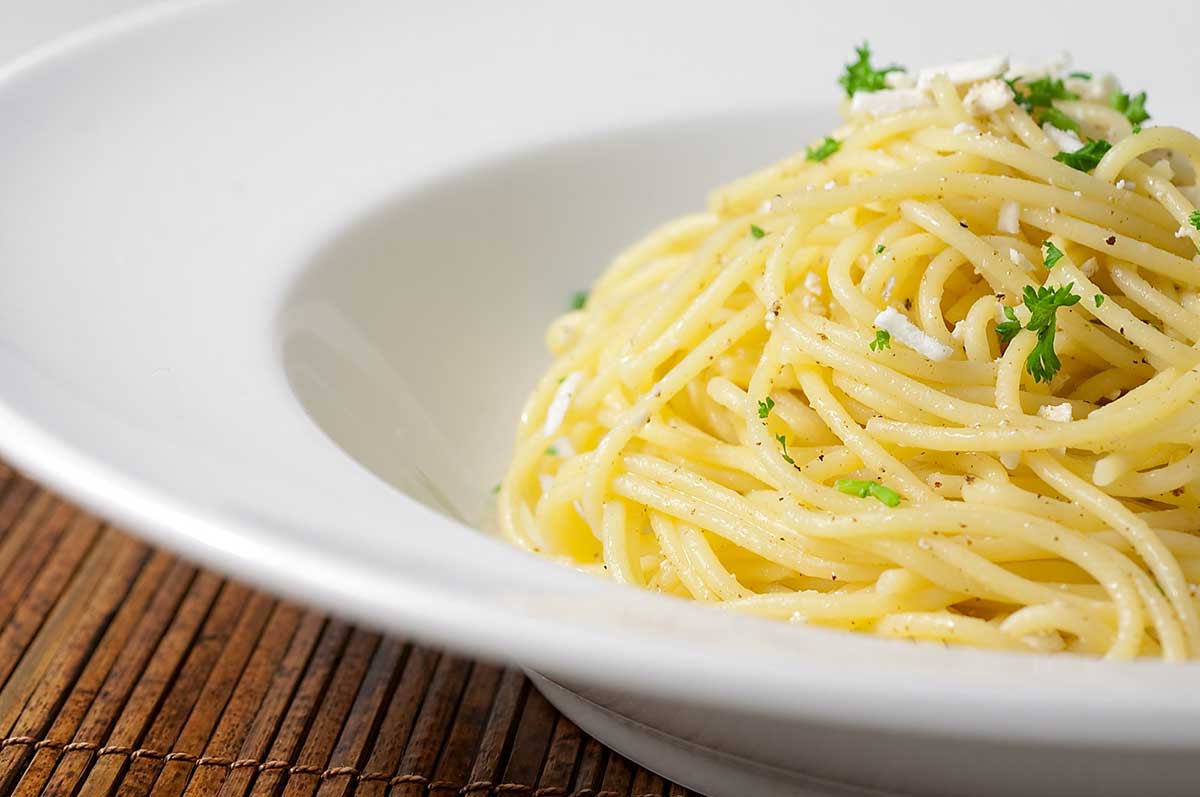 Spaghetti with Browned Butter and Mizithra
Do you ever have one of those things that once you discover it, you don't know how you ever lived without it? That just happened to me. I, believe it or not,  just discovered browned butter and I think I'm in love. It's so nutty and delicious  that it's absence from my recipe repertoire for so long is pure blasphemy.  What do you do with browned butter you ask? Well, when you take the deliciously nutty concoction, pour it over steaming hot pasta and toss it with mizithra cheese you have an easy, scrumptious pasta that you won't be able to get enough of.
Of course I had heard of browned butter before but had never made it at home. With a little research I discovered that it is really not that difficult to make. All you need is some butter, a pan without a black bottom so you can see butter browning and the patience to stand in front of the stove to watch the butter melt and turn brown. That last part is particularly important. If you don't stand there and watch it, it can go from perfectly browned butter to not-so perfect black butter in a very short time. Black butter is used for some dishes but will have an entirely different taste than the nutty browned butter that you want for this recipe.  Simply watch your butter really closely and you will have an amazingly simple, delicious dinner.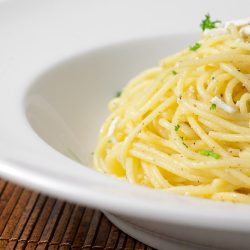 Spaghetti with Browned Butter and Mizithra
Spaghetti with Browned Butter and Mizithra Cheese. I just discovered browned butter and I think I'm in love.
Ingredients:
1

pound

dried spaghetti

1/2

cup

1 stick plus 1 tablespoon unsalted butter, cut into tablespoons

1

cup

grated mizithra cheese

fresh cracked black pepper and kosher salt

chopped fresh parsley
Cook pasta according to package directions. Meanwhile, brown your butter.

In a stainless steel skillet or pot, heat butter over medium heat, As butter melts, it will foam slightly. Continue to cook until you notice little brown bits forming at the bottom of the pan. Stir the butter or shake the pan and continue cooking until the butter is a tan color and has a nutty aroma. Remove from heat and set it on a cool surface because it will continue to cook in the pan.

Strain your pasta and return it to the pasta pot. Pour browned butter over the top and sprinkle with mizithra cheese. Toss to combine. Season to taste with fresh cracked pepper and kosher salt.

Transfer to platter. Sprinkle with parsley and serve.
Note: The mizithra cheese doesn't really melt. So that is something to keep in mind when you are shredding it. I prefer the the medium sized shreds but you can also do a fine grate if you'd like. Enjoy!
Keywords:
browned butter, butter, cheese, dried spaghetti, Food, italian, mizithra, parsley, pasta, Recipe, spaghetti, Spaghetti Factory, unsalted butter