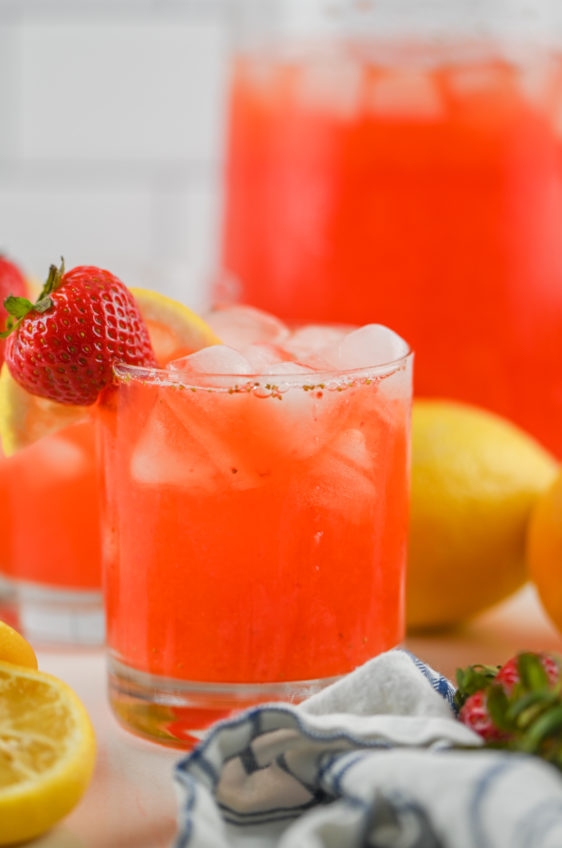 Sparkling Strawberry Lemonade
Sparkling strawberry lemonade is a refreshing summer drink made with fresh strawberries. This easy drink recipe is a little sweet and a little tart, with a lot of delicious fruit flavor!
If you are looking for the perfect way to cool down on hot summer days, you're going to need to try this Sparkling Strawberry Lemonade recipe. It's a sweet, refreshing treat that everyone will love!
Now I don't know about you but I'm one of those people who is miserably hot when it gets above 80. I blame growing up in the Pacific Northwest for that. Sure we deal with a lot of rain throughout much of the year but our summers? Man are they perfect. Usually sunny and it doesn't often get hotter than 80 – 85.
That doesn't mean that a hot one doesn't sneak in every so often, and when it does I want a refreshing drink to cool me down.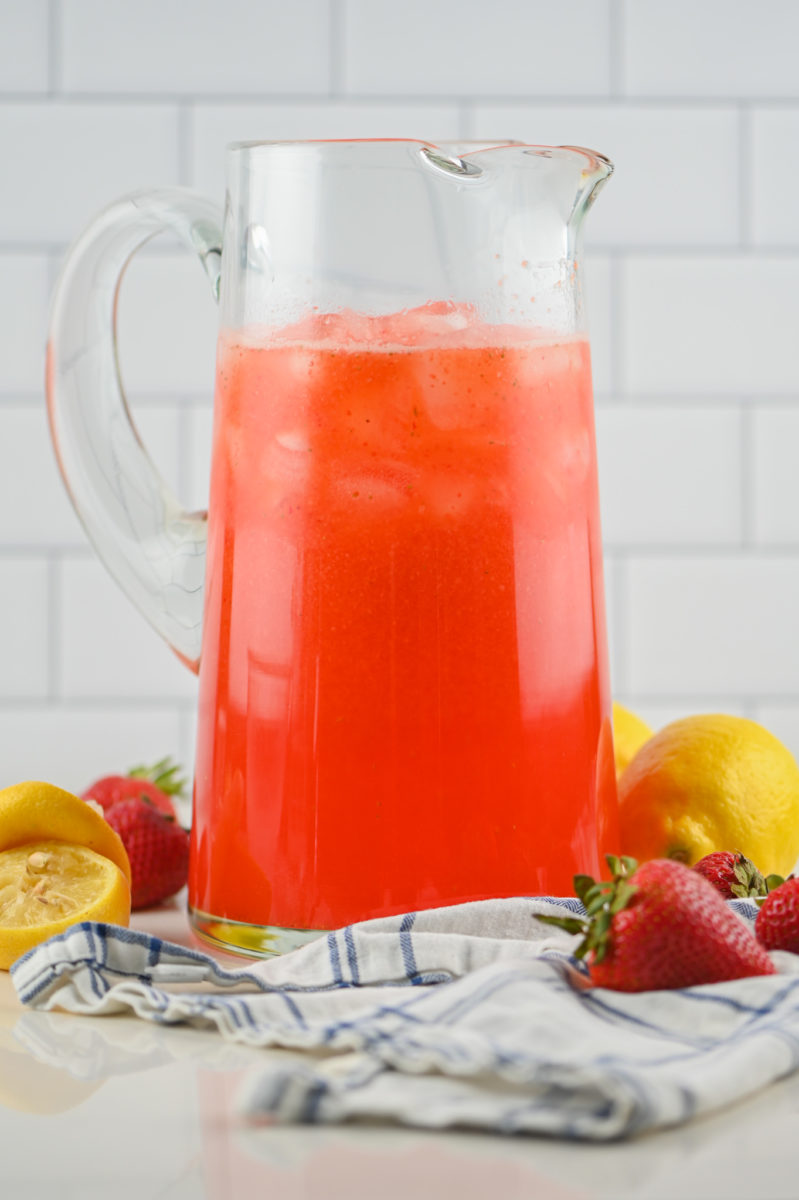 And what says summer time more than lemonade? How about sparkling strawberry lemonade? It's pretty. It is sparkly. It's perfect for hot summer days. Bridal and baby showers. And with a splash of vodka, it makes a great afternoon cocktail too.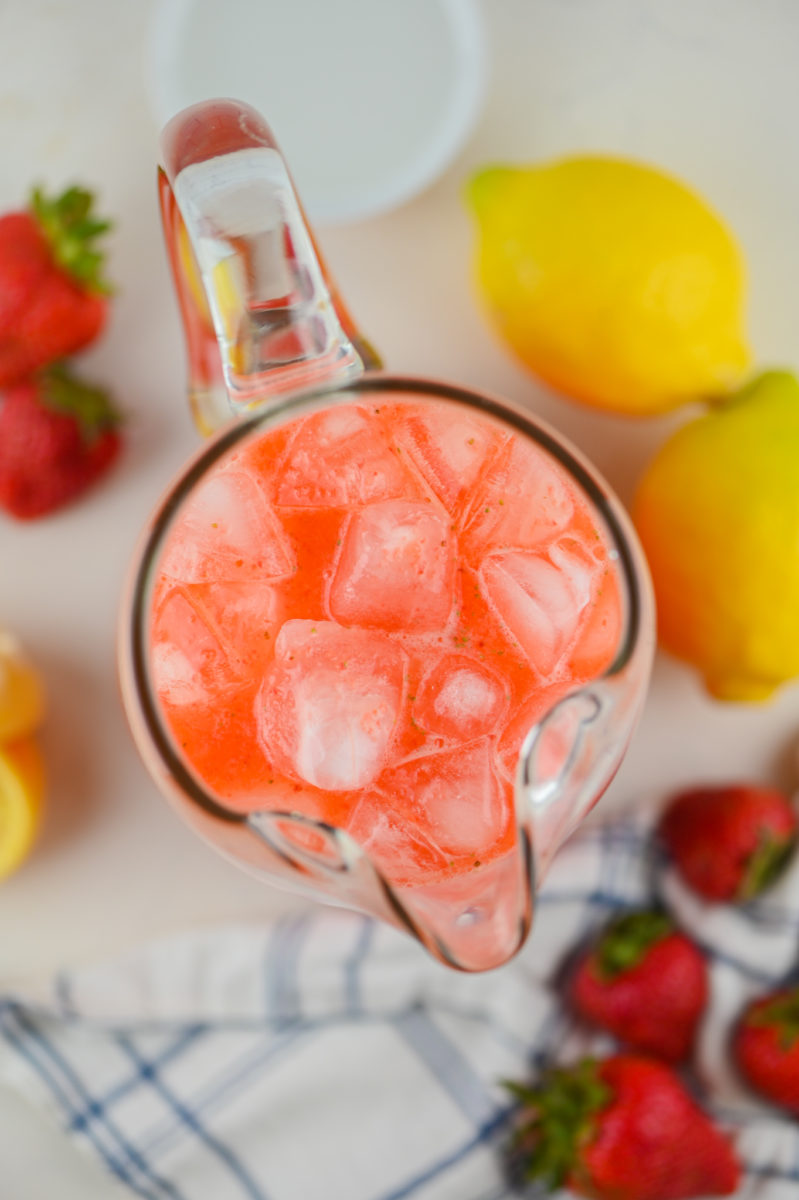 What ingredients do you need to make sparkling strawberry lemonade?
Growing up, I was always a fan of the powdered lemonade stuff. Blasphemy, I know. I have since found it way too sweet for me. Making it at home allows you to adjust it to your tastes. For this recipe, I used fresh strawberries, lemons, simple syrup and some sparkling water. A little sweet, a little tart and very refreshing.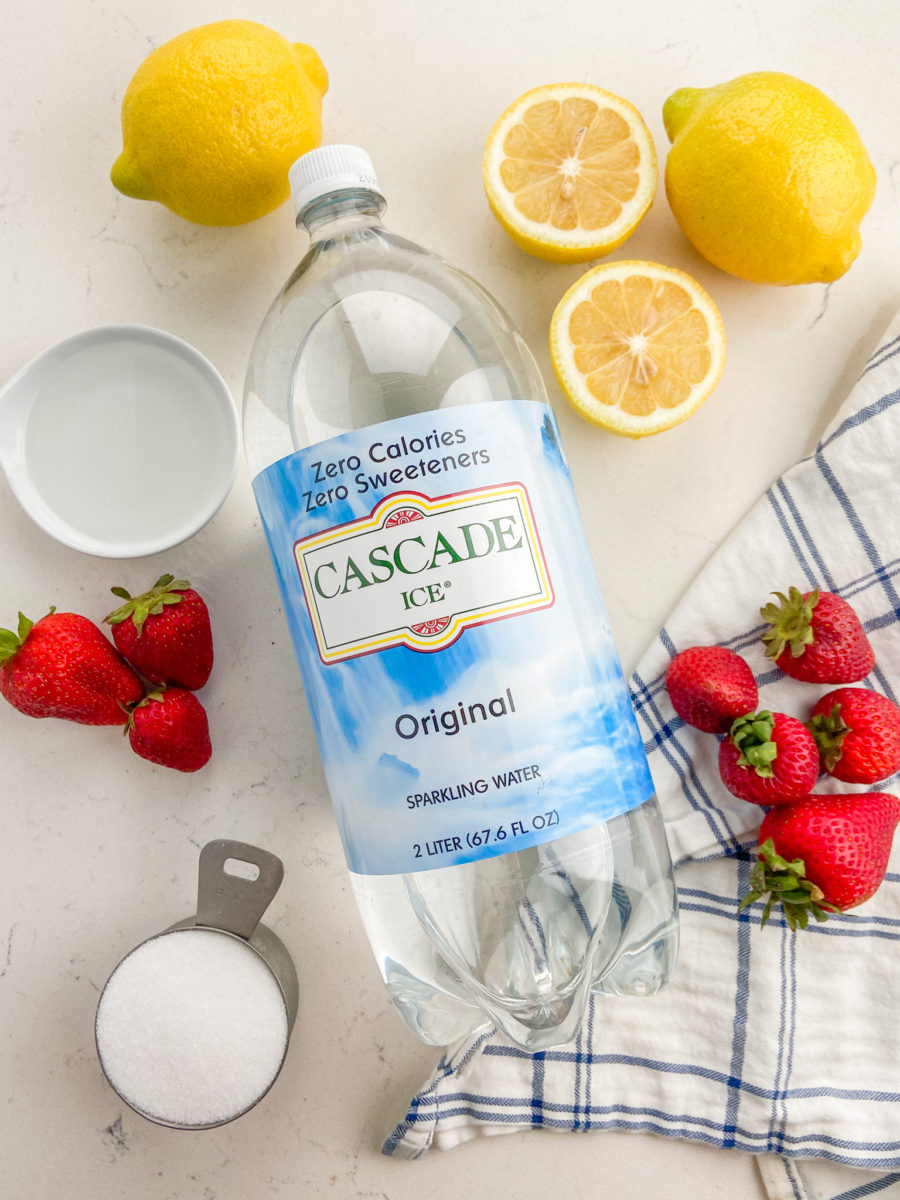 How do you make sparkling strawberry lemonade?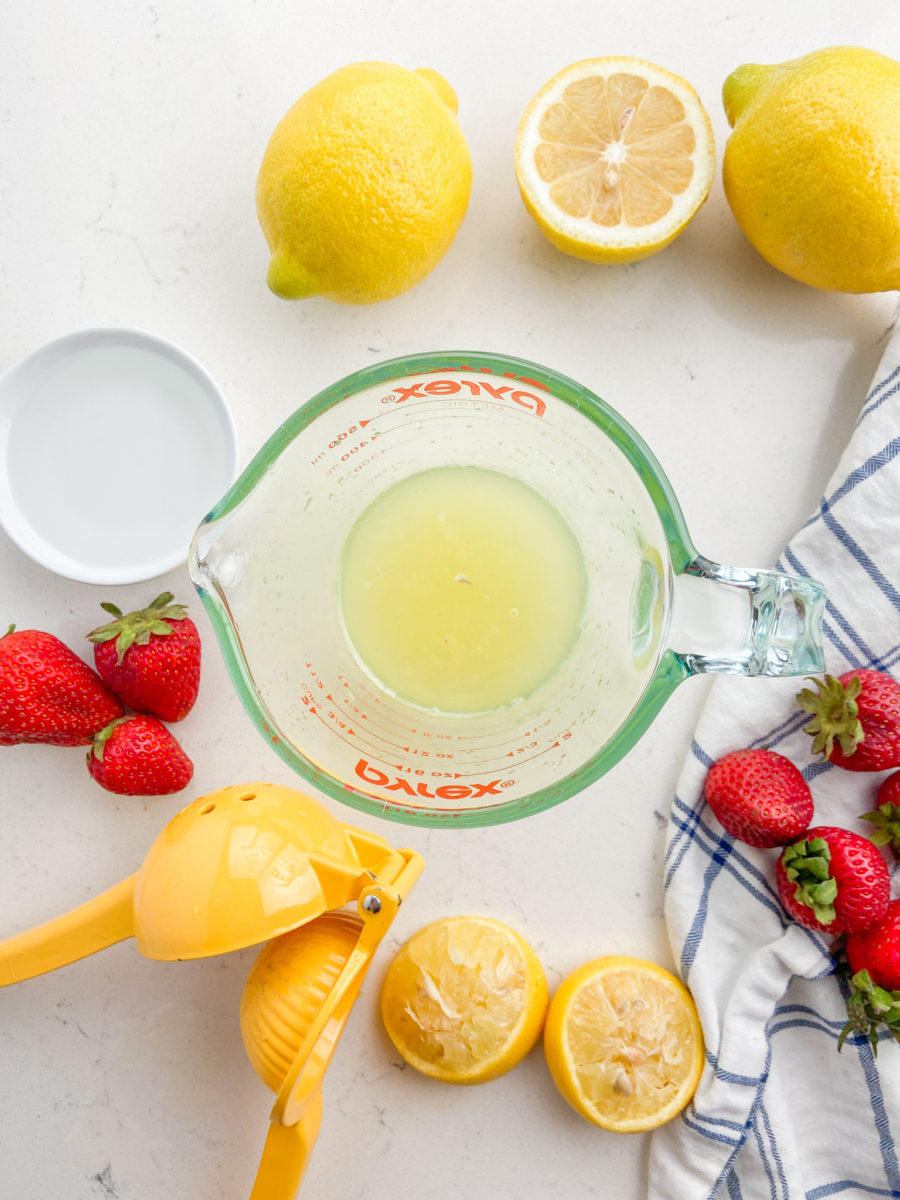 For this recipe, you will need a cup of lemonade. To do that you will need to juice about 6 lemons. Although it may seem easier to use a jar of lemon juice, it is really better to make it with fresh lemons.
For the strawberry part of this lemonade, you will need to puree the strawberries and simple syrup together. You may notice seeds in my picture, and that is because I chose not to strain the strawberries after I pureed them. I like the little pieces of fresh fruit. If it's not for you feel free to strain yours.
The sparkling part of this lemonade is from unflavored sparkling water. Add it to the lemonade mixture slowly so that it doesn't foam up too much on you. If you're not a fan of the fizz, you can skip the sparkling part and use still water.
Storage and Leftovers:
Because of the nature of the carbonated water, this is really best when enjoyed the day it is made. If you use still water, it'll last a couple of days.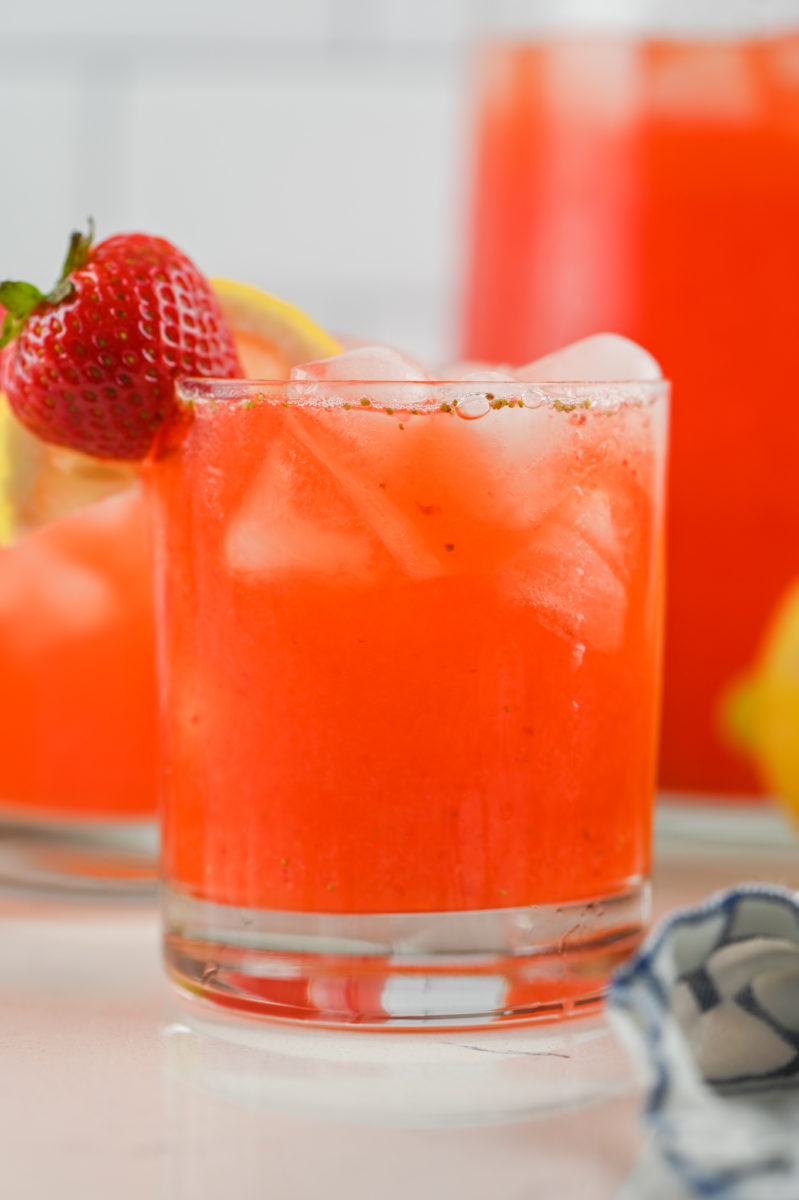 Recipe FAQ:
How do you make simple syrup?
Simple syrup is a 1:1 ratio of sugar and water. Simply heat it and stir until the sugar dissolves. Allow to cool before using it in any drinks. Store in a refrigerator and should last about a month. Toss when it starts to get cloudy.
Do I need to strain the seeds from the strawberry puree?
You do not. That is a personal preference.
Can I use store bought lemon juice?
I cannot recommend using store bought lemon juice to make this strawberry lemonade. You're going to get a much better flavor by using fresh lemons.
Can you make this lemonade with still water?
Yes! You can totally make this with water that has not been carbonated. I like the fizz that carbonated water adds but it would be just as good without.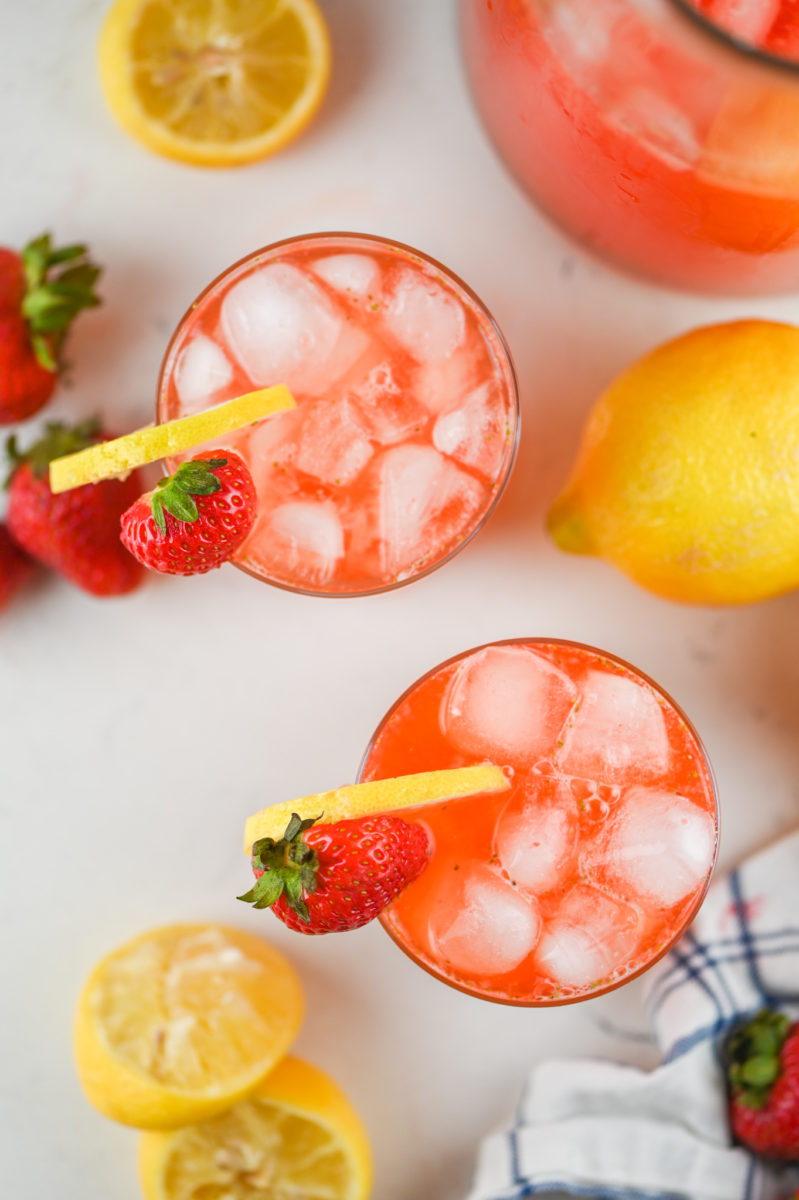 Looking for more refreshing summer drinks? Try these:
Blackberry Mojito Tea Lemonade
This recipe was originally published 2009 and was updated in 2022.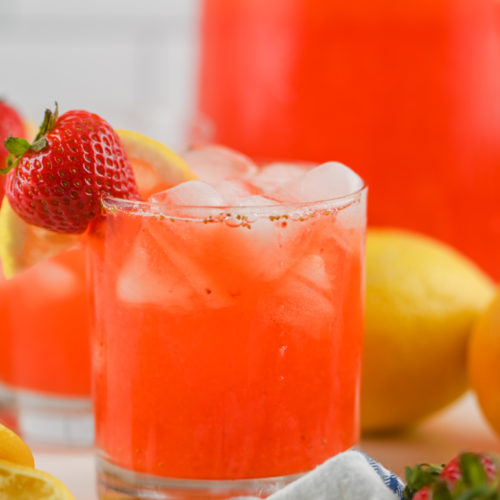 Sparkling Strawberry Lemonade
Sparkling strawberry lemonade is a refreshing summer drink made with fresh strawberries. This easy drink recipe is a little sweet and a little tart.
To make simple syrup combine sugar and water in a saucepan over medium heat.

Bring to a boil. Stir until sugar has dissolved.

Cool completely.

Roll the lemons back and forth a couple of times on the counter to release the juices. Cut the lemons in half juice into a bowl. Remove any seeds that may have fallen into the juice. You should get about 1 cup of lemon juice.

Using an immersion blender or regular blender, blend the strawberries with the 1/2 cup of the simple syrup, until smooth.

Pour lemon juice, strawberry puree, 1/2 cup simple syrup and sparkling water into a pitcher. Add more simple syrup if you want a little more sweetness. Add ice cubes. Chill until ready to drink.

Place more ice cubes in a glass, pour in chilled lemonade, garnish with mint sprig. Enjoy!
Calories:
202
kcal
Carbohydrates:
50.9
g
Protein:
0.8
g
Fat:
0.6
g
Saturated Fat:
0.3
g
Sodium:
48
mg
Fiber:
1.7
g
Sugar:
4.6
g
Keywords:
4th of July Recipes, carbonated, classic recipe, drink, homemade lemonade, lemonade, mint, Recipe, simple syrup, sparkling water, strawberry, summer