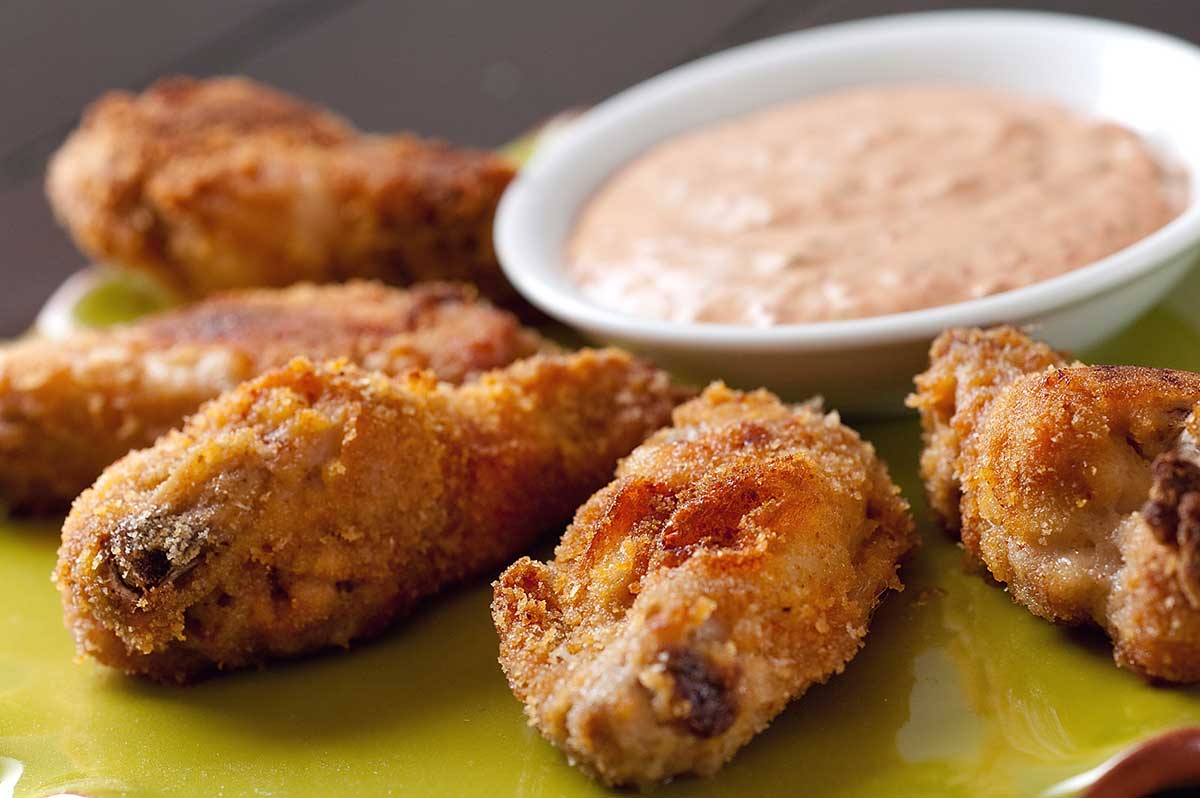 Spiced Chicken Wings with Chipotle Lime Dipping Sauce
Before the blog my chicken wing world was dark. Well bright red is more like it. I thought the only kind of chicken wings were those slathered in a neon red spicy butter sauce and dunked in ranch (never blue cheese for me). But since I began blogging and experimenting with various recipes, my chicken wing world has brightened. So far I have tried Sweet Thai Chili Wings, Cajun Chicken Wings, Garlic Pepper Chicken Wings and now these Spiced Chicken Wings with Chipotle Lime Dipping Sauce. With all this experimenting I think I might change my name from Des to "Chicken wing Queen." Whaddya think?
Like a couple of my other chicken wing recipes, these wings are baked. The difference this time is that I decided to use a combination of plain dry and panko bread crumbs for a coating. The mixture made for a crispy wing without having to fry them, which make these quite a bit healthier than your regular fried butter sauce slathered chicken wing. Not that those aren't good of course ;-)
Along with my chicken wing world expansion, my chicken wing dip world has also grown. While ranch might be good with these, I wanted to add a little kick so I made a quick chipotle dipping sauce. It was so good I may have dunked my finger in it a couple of times once I ran out of wings.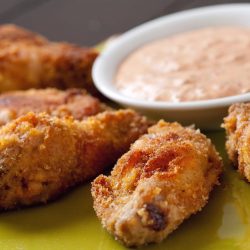 Spiced Chicken Wings with Chipotle Lime Dipping Sauce
Expanding my chicken wing world with these baked spicy wings with chipotle lime dipping sauce.
Ingredients:
1 1/2

pound

chicken wings

cut at the joint and tips trimmed

1/2

teaspoon

garlic powder

1/2

teaspoon

onion powder

1/2

teaspoon

cumin

1/2

teaspoon

chili powder

1/4

teaspoon

cayenne pepper

1

teaspoon

kosher salt

1

tablespoon

olive oil

1/2

cup

panko bread crumbs

1/2

cup

plain dry bread crumbs

1/2

cup

mayonnaise

3

chipotle peppers in adobo sauce

juice of 1 lime

1

teaspoon

vinegar

1/2

teaspoon

kosher salt
Rinse and pat dry the chicken wings.

In a bowl combine garlic powder, onion powder, cumin, chili powder, cayenne pepper, salt and olive oil in a bowl. Sprinkle over the chicken wings and toss to coat completely. Cover and refrigerate for at least 1 hour.

After the wings have marinated, preheat oven to 400 degrees.

Mix panko and plain dry bread crumbs in a bowl. Press marinated wings into the bread crumbs to coat completely.

Place on a baking sheet and bake 20 minutes. Turn and bake for 20 more minutes or until chicken is cooked through and bread crumbs are golden brown. Transfer to a serving platter and serve.

While chicken wings are baking, combine mayonnaise, chipotle peppers, lime juice, vinegar and kosher salt in a food processor. Process until smooth. Transfer to a bowl. Serve.
Keywords:
chicken, chicken wings, chipotle, Food, lime, man food, mexican, Recipe, sauce, superbowl