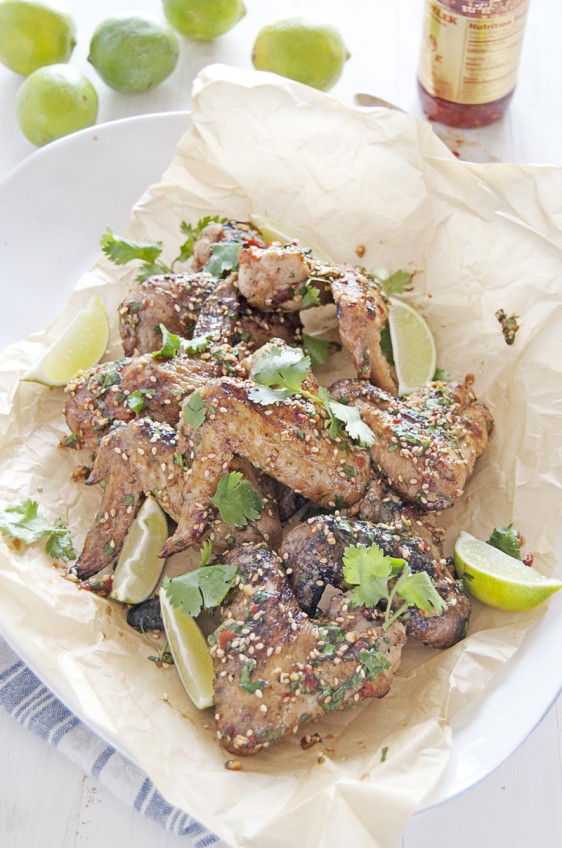 Spicy Grilled Thai Chicken Wings
Hello, everyone! My name is Sarah, from The Charming Detroiter! I am a food blogger, medical resident, and lover of all things Disney. I believe that glamorous gourmet food should be accessible to the at-home chef, and today I'm sharing with you a beautifully simple summer recipe for the grill: spicy grilled Thai chicken wings!
This post may contain affiliate links. Please click here to read my full disclosure policy.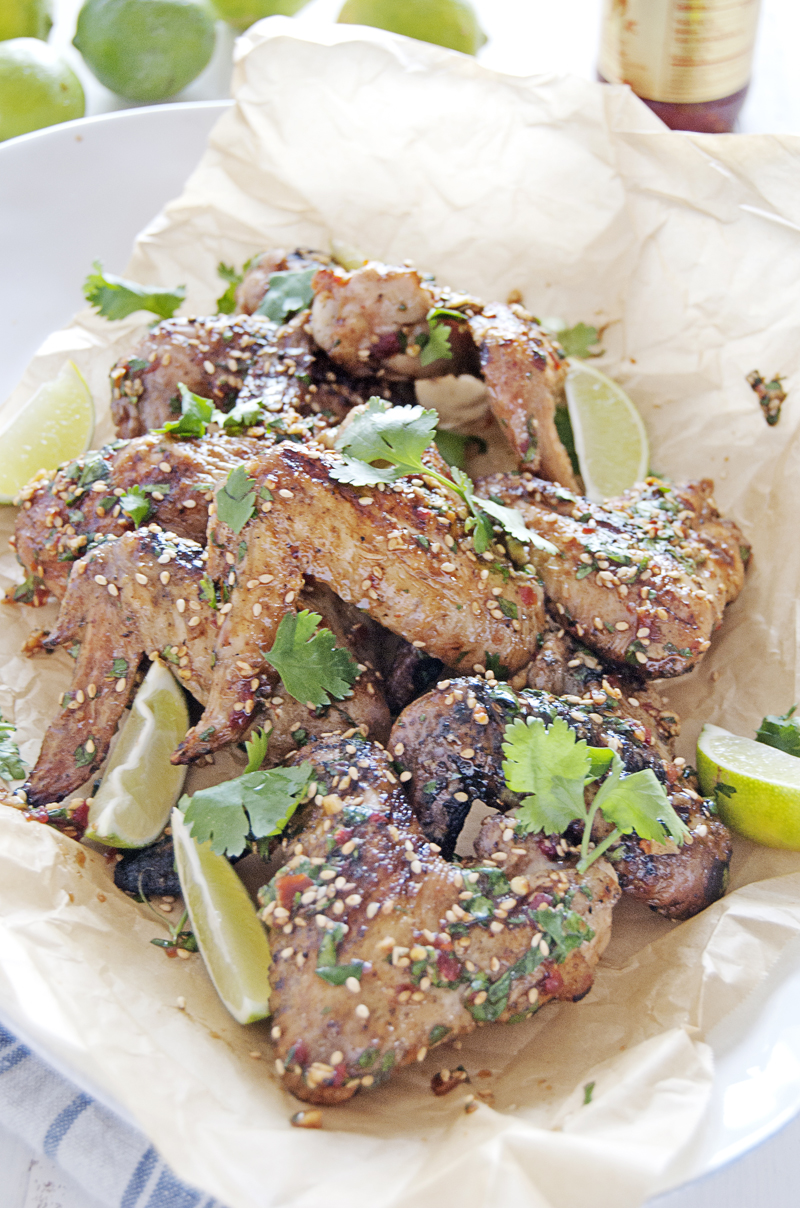 Is there anything more amazing in these warm summer months than grilling outside with friends and family gathered around the deck? For your next cookout, these deliciously spicy Thai chicken wings will give your guests that great grill flavor that we all know and love, paired with some bright Asian flavors.
Okay guys and gals, let's talk about Thai chili paste. This strikingly beautiful concoction is a staple of Thai cuisine, and is one of my favorite Asian flavors. It's made from roasted red chilis mixed with a plethora of delicious Thai spices that commonly include garlic, ginger, cumin, and coriander. I love love love it because it doesn't have that insane level of spiciness where you feel like your mouth is on fire! That's just the worst. Thai chili paste instead gives you a beautiful balance between heat and sweet, making it a winner in my book!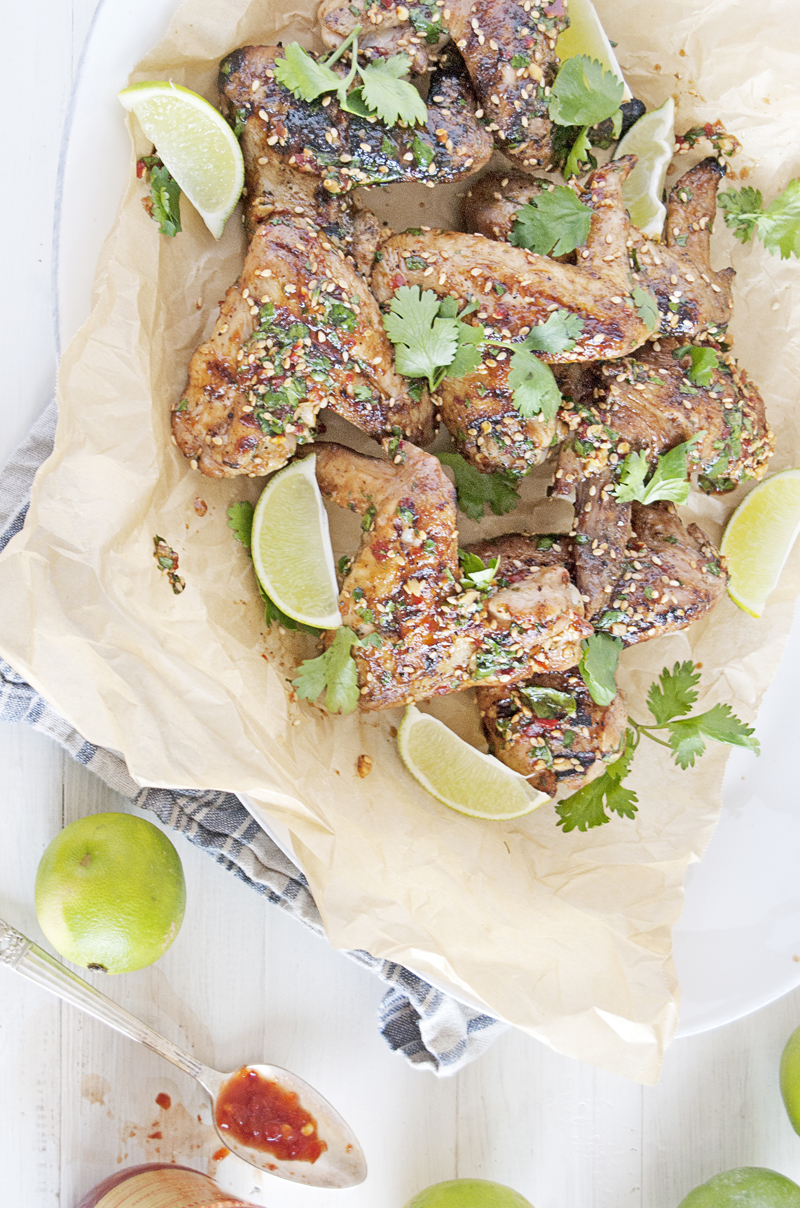 For this sauce, I paired the Thai chili paste with some other great flavors that are prominent in Asian cuisine, including garlic, fresh lime juice, fish sauce, and sesame seeds. The sauce is rounded out with a bit of brown sugar, which I love because it helps bring out the sweet note of the chili paste.
Be sure to load up on lots of fresh squeezed lime juice and cilantro when serving these babies: the brightness of these garnishes pairs perfectly with the charred grill flavor from the wings and the pepperiness of the sauce!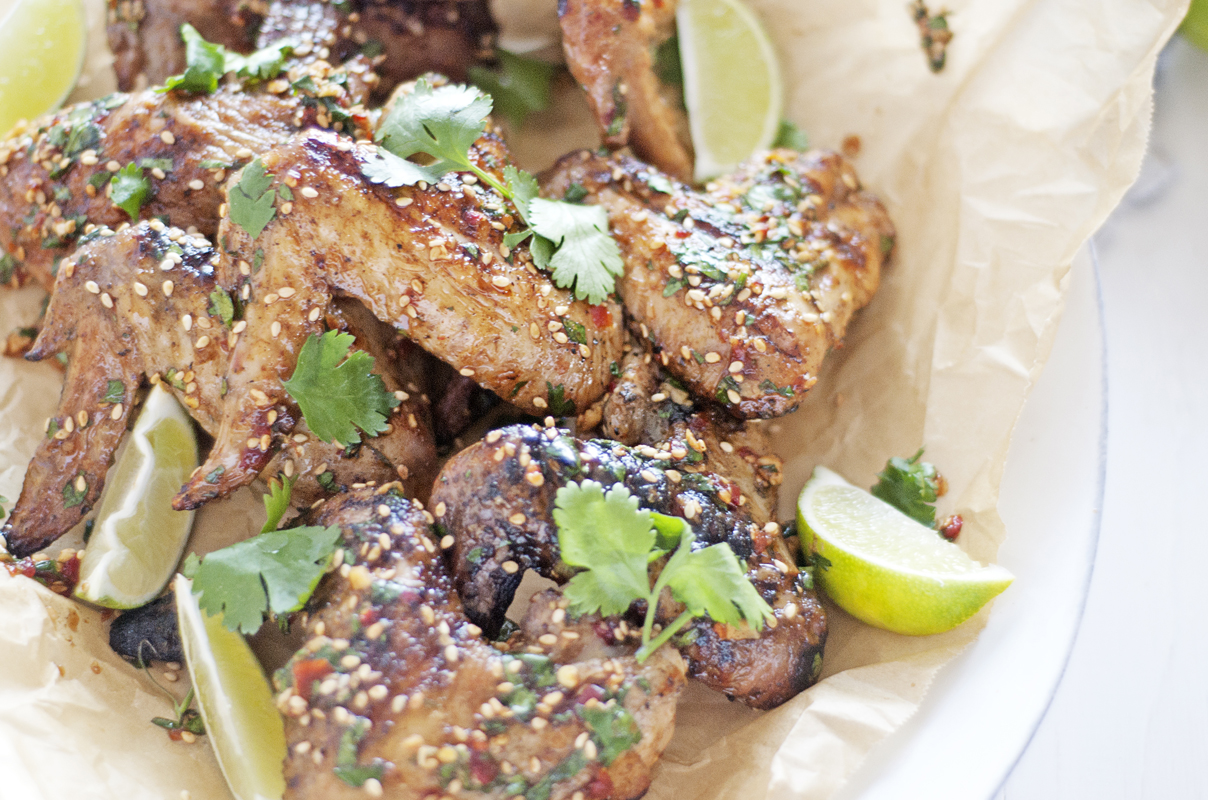 It's so important to have great, refreshing side dishes and cooling cocktails to pair with a grilled entree like these Thai chicken wings! Check out these recipes below for some ideas: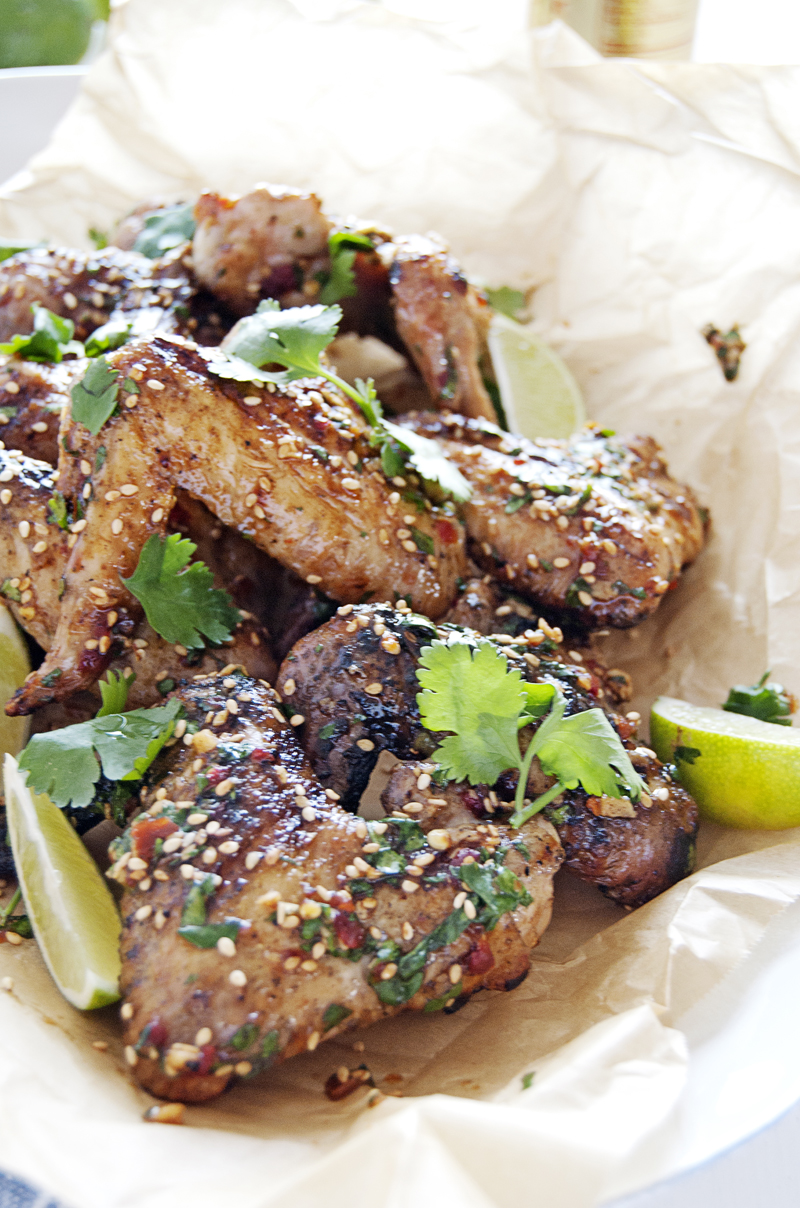 Now it's your turn: What's your favorite grilled entree to share with friends and family during the summer? Share with me by commenting below!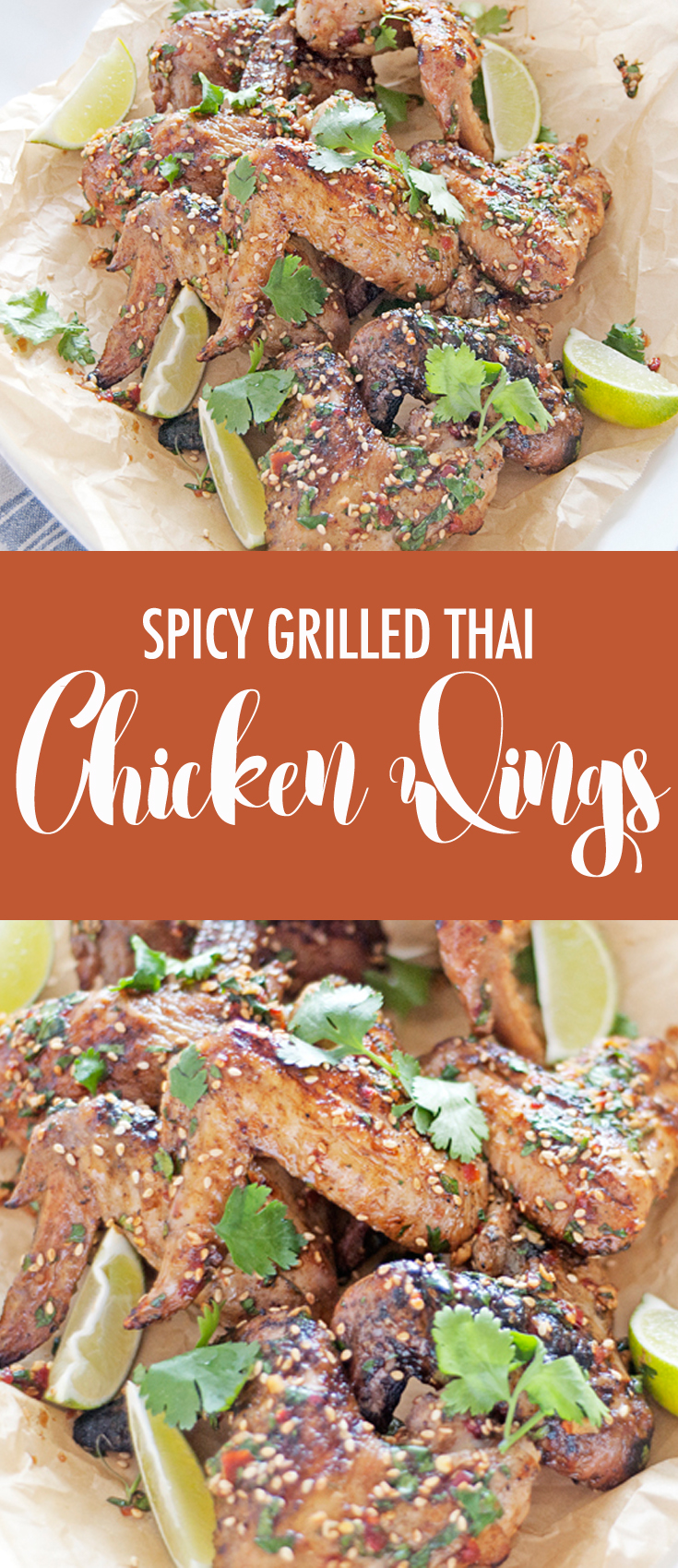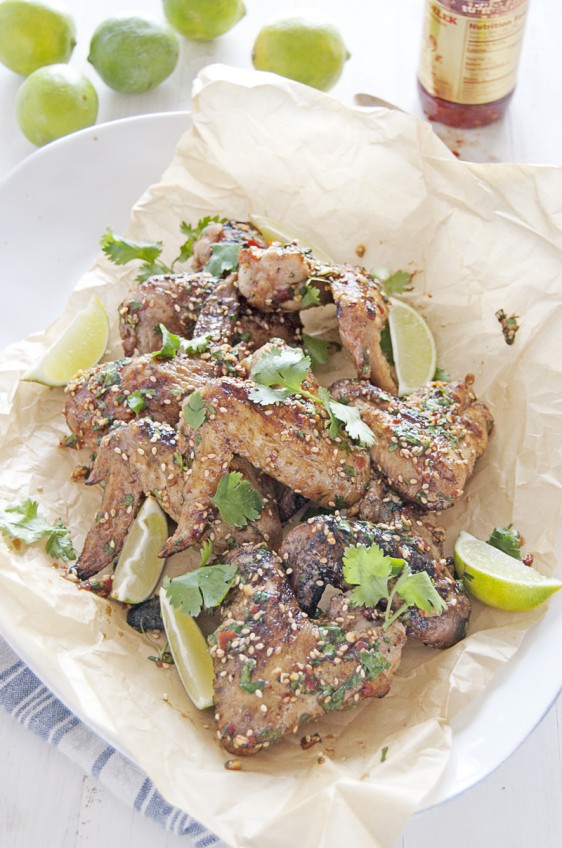 Spicy Grilled Thai Chicken Wings
These Thai chicken wings are perfect for those warm summer grilling nights, and feature a beautifully spicy Thai sauce and lots of fresh cilantro!
Heat grill to high heat. Season chicken wings with olive oil, kosher salt, and black pepper. Grill over high heat for about 12-15 minutes total, turning about halfway through.

While chicken wings are grilling, prepare sauce. In a small bowl, whisk together Thai chili paste, fish sauce, lime juice, garlic, brown sugar, cardamom, sesame seeds, and cilantro until combined.

When chicken wings are finished cooking, toss in a large bowl with prepared sauce until evenly coated. Serve with lime wedges and lots of fresh cilantro. Enjoy!
Keywords:
asian, asian chicken wings, chicken wings, grilled chicken, spicy, spicy chicken wings, thai, thai food, Thai seasoning