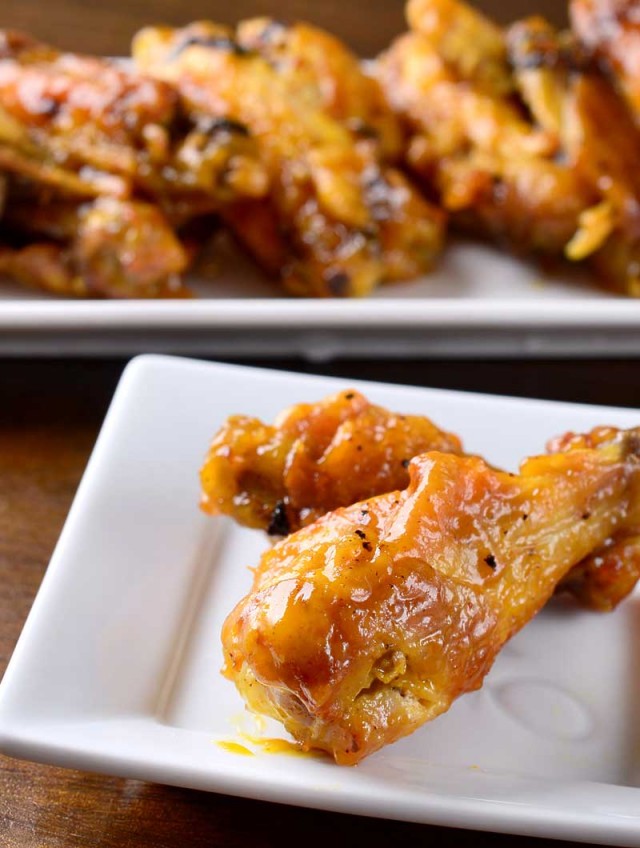 Spicy Honey Mustard Chicken Wings
Big Game Day yesterday. Well big in our house anyway. Big Game Days mean some big game day food. Like dips, chips, beer and of course the almighty chicken wing. These Spicy Honey Mustard Chicken wings were our wing of choice this game day. And they may just be a new family favorite.  The wings are oven baked and crispy. The sauce it sweet, tangy and gets a nice kick from some cayenne pepper and hot sauce.
Every football season our house becomes the chicken wing house. I probably test out a different chicken wing recipe every week during the season. I tend to be more of a crispy chicken wing fan. Wings like these Cajun Chicken Wings. It's always been that way. It's probably because I simply love fried chicken any and every way I can get it.
Ryan on the other hand, is not the biggest fan of simple fried chicken and he prefers his chicken wings messy and saucy. Wings like these Spicy Honey Mustard Chicken Wings. In fact, Ryan was such a fan of these, that I made them on Thursday night and then just made them again last night for the big game ( GO HAWKS!).
And I'm not gonna lie, while I do seem to prefer the crispy chicken wings, these saucy wings have won me over. I found myself licking my fingers and er…the plate…just to get one more taste of the sauce.
I'm guessing once you try this you might be doing the same thing.
No judging. We're all friends here.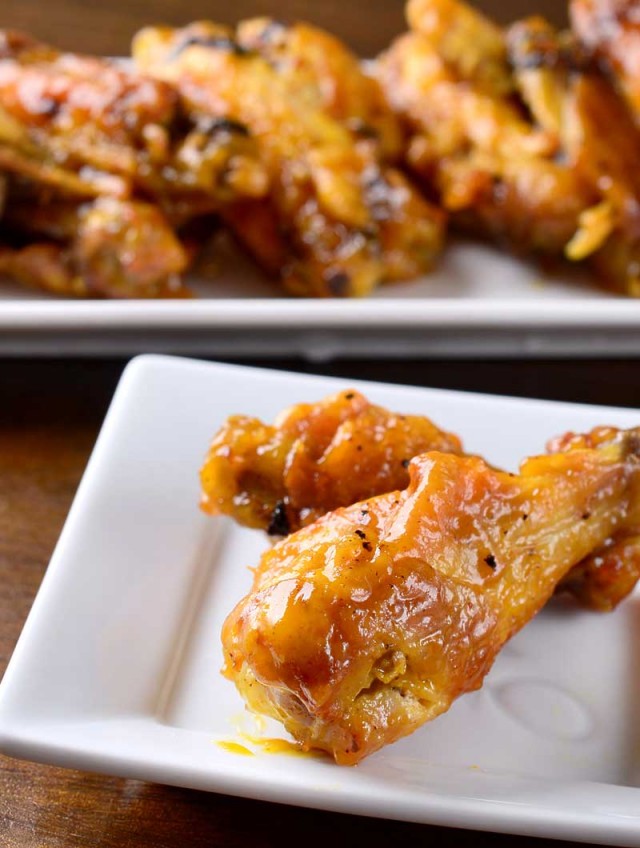 Spicy Honey Mustard Chicken Wings
Oven baked chicken wings tossed in a spicy honey mustard sauce. A must for your game day spread!
Ingredients:
2 1/2

pounds

chicken wings

tips removed

2

tablespoons

butter

1/4

cup

prepared yellow mustard

3

tablespoons

honey

1/4

teaspoon

salt

1/4

teaspoon

garlic powder

1/4 - 1/2

teaspoon

cayenne pepper

1

teaspoon

hot sauce

i.e. Tabasco
Preheat oven to 425 degrees.

Lightly season the chicken wings with salt and pepper. Place in a single layer on a baking sheet and bake for 15 minutes on one side. Turn and bake for another 10 - 15 minutes or until the chicken is cooked through and the skin is crispy.

While the wings are cooking prepare the sauce by melting the butter in a pan over medium heat. Once butter has melted, whisk in mustard, honey, salt, garlic powder, 1/4 teaspoon cayenne pepper and hot sauce. Mix well, bring to a boil and reduce heat to low and simmer until the wings are done. Taste and add the remaining 1/4 teaspoon of cayenne pepper if you want more of a kick.

Once wings have cooked, transfer hot wings to a bowl. Pour spicy, honey mustard sauce over the top. Place a cover over the bowl and shake to coat the wings in the sauce. Serve immediately.
Keywords:
chicken, entree, Food, game day snacks, honey mustard, hot wings, Recipe, spicy, super bowl food