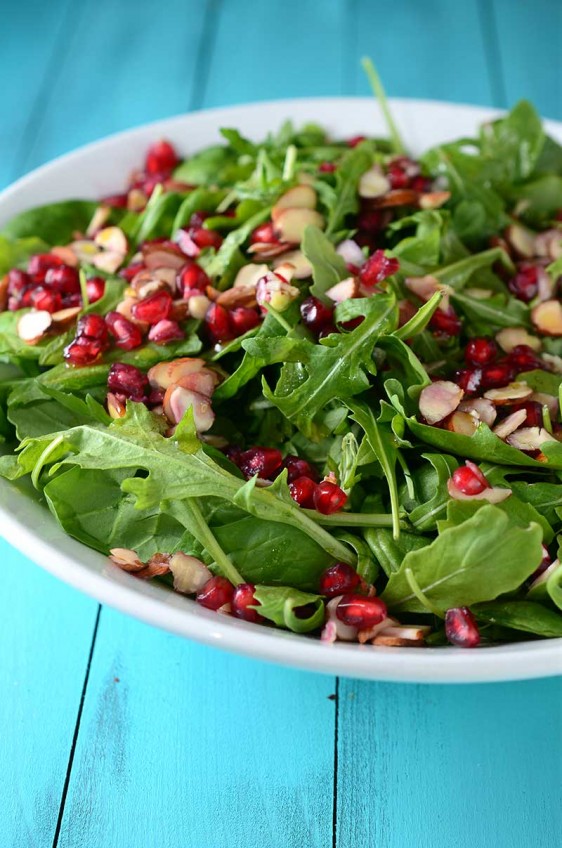 Spinach, Arugula, Almond and Pomegranate Salad
With Thanksgiving just two weeks (GAH!) from today and Christmas shortly after that, I am getting lots of requests for recipes to add to holiday celebrations. It makes sense, most Thanksgivings we like to have all the traditional sides and then maybe add one "new" one to the mix. It's nice to change things up a bit by adding one we've never tried before. If you're thinking of doing the same, can I suggest adding this Spinach, Arugula, Almond and Pomegranate Salad to your holiday spread? It's quick, easy, delicious and adds a gorgeous pop of holiday color to any table.
Thanksgiving is one of my favorite holidays. I mean, it is all about food after all. You've got your turkey. You've got your stuffing. Your mashed potatoes. Gravy. Green Beans. And usually a salad too. Salads are, after all, a great way to add veggies to your plate. But truth be told, at least in our house on Turkey day,  the salads are always the last minute dish that are pushed off to the side for the more exciting stuff.
Not this salad.
It's too pretty to be pushed aside. It deserves a spot right next to your turkey.
It's simple, yes, with just spinach, arugula, almonds and pomegranate seeds all tossed in a quick lemon garlic vinaigrette.
But seriously, pomegranate seeds are just so pretty.
I used to be intimidated by pomegranates. I mean, it's kind of a weird looking fruit and then when you cut into it there's so many seeds. I've eaten them many times before. And I adore pomegranate juice, but the idea of picking out all of the little seeds from the inside of the fruit just seemed like so much work so for the longest time I avoided them.
Sad news for me because I've been missing out. You see, it's not a lot of work to get out the seeds. Like at all. It's actually really easy. If you're not quite sure how to do it, Elise from Simply Recipes has a great tutorial here.
Seriously, it took me just a few minutes to get them all out and into the salad. What I managed to put in the salad instead of directly into my mouth, anyway.
I should mention that in addition to being pretty, pomegranate seeds are also addicting.
Thankfully, I did manage to save enough to add to this salad because this salad is the bees knees, friends. Trust me, you need it in your life. And on your Thanksgiving table.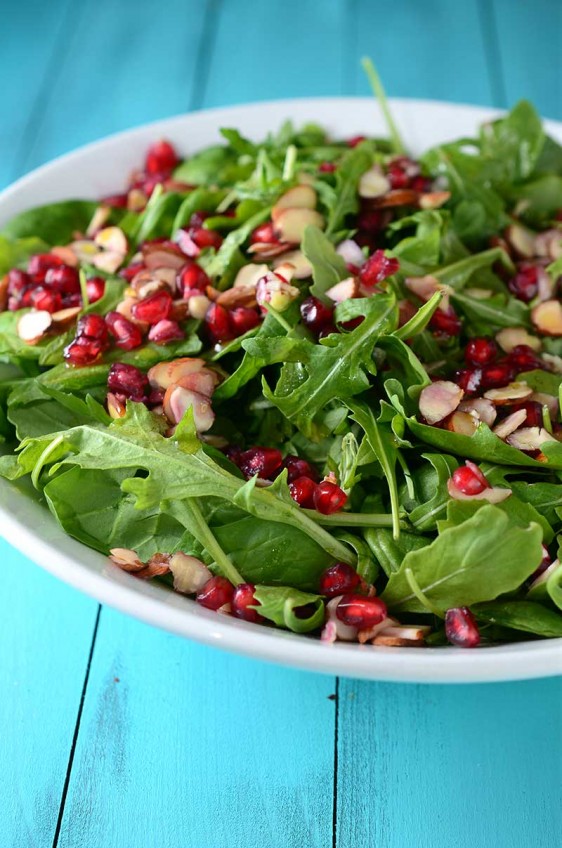 Spinach, Arugula, Almond and Pomegranate Salad
A delicious, colorful salad, perfect for your holiday spread.
Make the dressing first by whisking together garlic, lemon juice, olive oil and salt and pepper just until combined. Let set at room temperature for 30 minutes.

Combine spinach, arugula, almonds and pomegranate together in a bowl. Whisk the dressing once more and drizzle over the top. Toss. Adjust seasoning with salt and pepper. Serve.
Keywords:
Christmas, gluten free, pomegranate, salad, thanksgiving