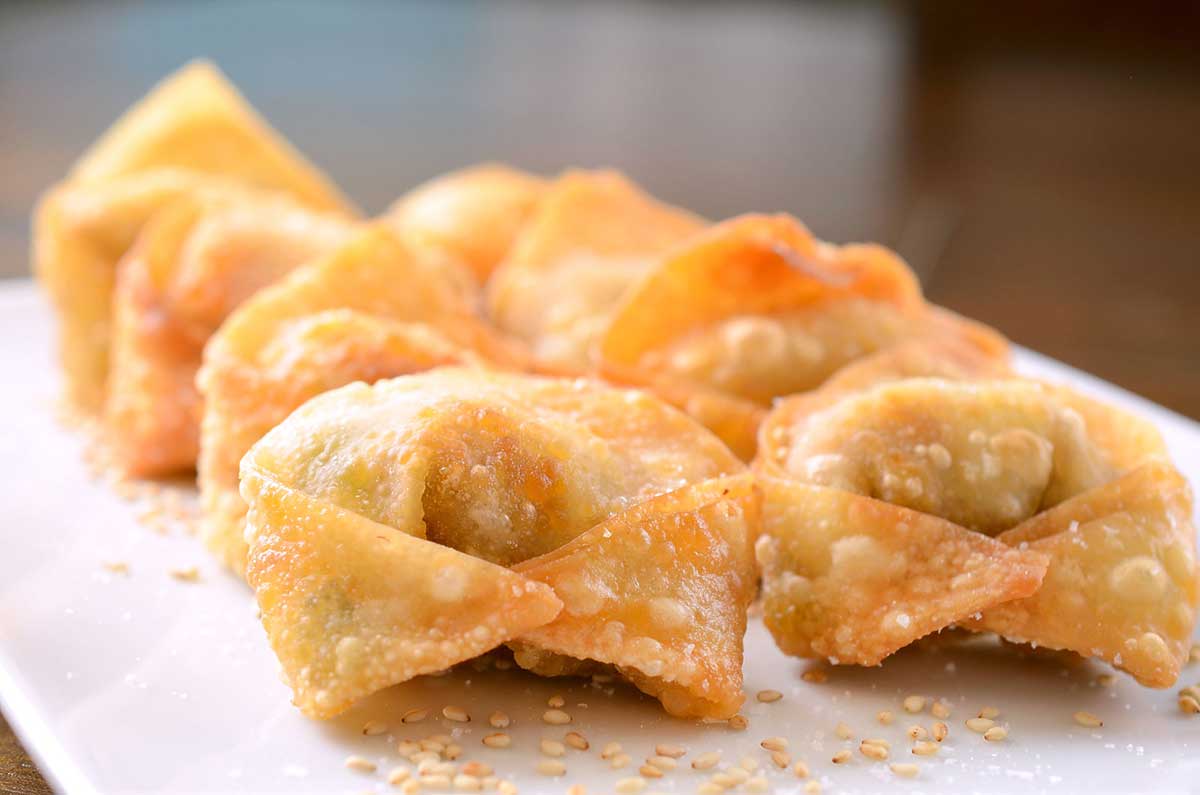 Sriracha Pulled Pork Wontons
I've been making a lot of pulled pork lately. A lot. It's just so easy to do so many different things with it. Be it enchiladas, sandwiches, tacos or pizza. Pulled pork has so many different uses and I am happy to introduce you to one more: Sriracha Pulled Pork Wontons. Imagine succulent pulled pork, spicy sriracha sauce and nutty sesame seeds all wrapped up and fried until crispy and golden. Yeah. It's the stuff dreams are made off.
If you haven't jumped on the sriracha bandwagon yet WHERE ARE YOU??  I was first introduced to it at the Mongolian grill restaurant where Ryan and I had our first date almost 14 years ago. And I've been in love ever since. With Ryan and Sriracha ( just in case that wasn't clear).
If you do not know, Sriracha is spicy, garlicky and really does go with just about every type of food there is out there. I squeeze it on pizza, dip french fries in it, put it on stir fry. And now in these wontons. In the beginning I could only find it at my local Asian market but now that it has become so popular you can find the bottle with it's bright green lid just about anywhere. I even stocked up recently at Costco.  So there is no excuse for you not to have a bottle in your home. Go now. Get one. Then make these.
Note: These come together really quickly but they do require that you have some pulled pork on hand already.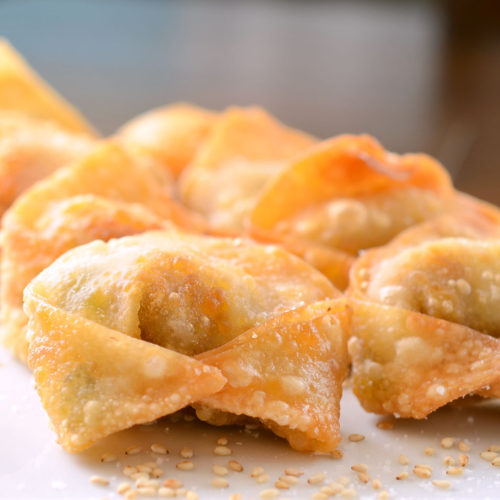 Sriracha Pulled Pork Wontons
Succulent and spicy sriracha pulled pork wrapped in a crispy wonton shell. It's the stuff dreams are made of.
Heat olive oil in a skillet over medium heat. Add pulled pork. Cook until warmed through. Mix in sriracha, ginger, garlic powder, soy sauce and sesame seeds. Remove from heat. Stir in green onions.

To make the wontons, place 1 heaping teaspoon of the pork mixture in the center of the wonton wrapper. Dip your finger into a bowl of water and run your finger along the edges of the wrapper. Fold bottom corner of the wrapper over the filling and press all edges to close the wrapper, you'll have a triangle. For presentation purposes, with the top of the triangle facing away from me, I folded the left and right corners in, but it is not necessary, you just want to make sure it is closed.

When you are ready to fry them, heat a 1 inch of oil in a pot over medium-high heat. Once it reaches 375, fry the wontons, in batches if necessary until golden brown. Use a slotted spoon to transfer to a paper towel lined plate. Sprinkle with kosher salt. Serve hot, with more sriracha on the side of course.
Keywords:
appetizer, Food, football food, man food, pulled pork, Recipe, snacks, sriracha, super bowl food, super bowl snack, superbowl, wontons