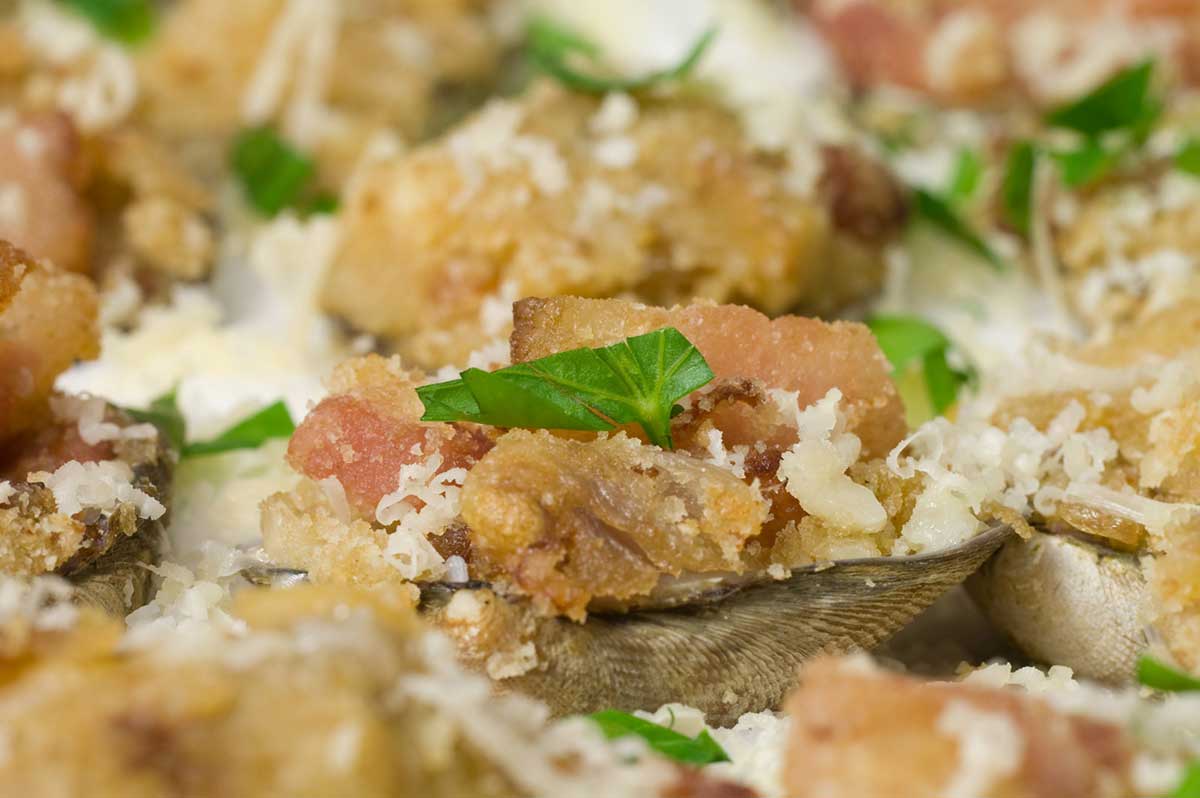 Stuffed Baked Clams
If you are looking for a elegant appetizer then this is it. These little devils are delicious and not to mention beautiful to present. Imagine a mixture of chopped clams mixed with bacon, shallots, bread crumbs, garlic, and white wine stuffed into beautiful clam shells, topped with freshly grated Romano cheese and then baked to perfection on a bed of kosher salt. Sounds like a show stopper huh?
With that said, it should also be known that these are definitely a labor of love, but totally worth all the work. Make sure you get some nice fresh clams from your fish monger. I used Manila clams for this recipe but you can use whatever are freshest in your area.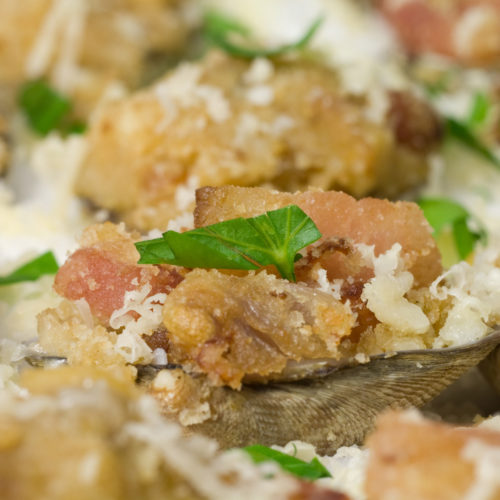 Stuffed Baked Clams
Chopped clams, bacon, cheese, shallots, garlic and white wine mixed, stuffed in clam shells and baked to perfection.
Ingredients:
2

slices

bacon

diced small

1

pound

Manila clams

rinsed and scrubbed

1/4

cup

water

1/4

cup

white wine

1

clove

garlic

minced

1/4

cup

minced shallot

1/2

cup

dry plain breadcrumbs

kosher salt and pepper to taste

plus approximately 3/4 cup kosher salt to cook clams on

1/4

cup

freshly grated Romano cheese

2

tablespoons

chopped Italian parsley
Preheat oven to 350 degrees.

In a small pan brown the bacon pieces. Strain and set aside.

Place clams in a saute pan. Add water, wine and garlic. Cover and cook over medium heat until opened about 3-5 minutes. (Note: Discard any that do not open, that means that they were dead to begin with and not safe to eat.). Remove clams and set aside to cool. Reserve liquid in a bowl.

Once your clams have cooled enough for you to touch them, remove the clam meat from the shell. (Note: I like to do this over the bowl of reserved liquid so that I can keep the yummy clam juice.) Roughly chop the clam meat.

Separate the clam shells at the hinges. Rinse and reserve about 15 of the nicest shells.

In a bowl combine the chopped clam meat, bacon, shallots, bread crumbs and 3 tablespoons of the reserved liquid . Mixture should be wet, add more liquid if mixture seems too dry or more bread crumbs if it seems to wet. Using about a teaspoon of the mixture, spoon the mixture into the reserved clam shells.

In a pie pan or a dish big enough to hold all of the shells, make a layer of kosher salt. Set the stuffed shells on top of the salt. Sprinkle with grated Romano cheese. Bake for 15-20 minutes or until stuffing turns golden brown.

Remove from oven, sprinkle with fresh parsley. Serve. I like to serve these in the baking dish because I think the salt bed makes a beautiful presentation.
Keywords:
bacon, breadcrumbs, clams, Food, fresh clams, Recipe, shallots, shellfish, stuffing