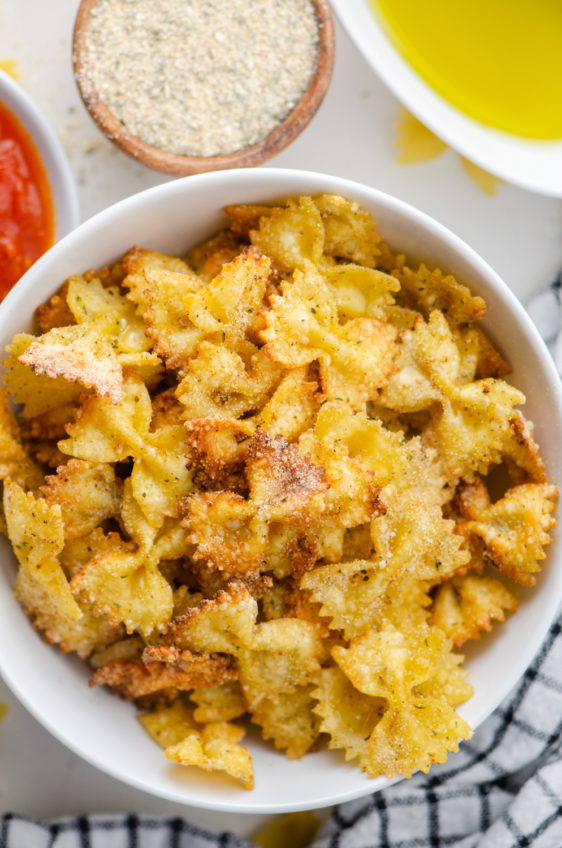 Air Fryer Pasta Chips
Easy, crispy and oh so addicting! Air Fryer Pasta Chips are a TikTok trend that you just HAVE to try. This version needs only 3 ingredients!
I am not usually one to jump on food trends but after seeing Pasta Chips on FeelGoodFoodie's Instagram, I just couldn't resist. I mean, pasta chips?! How could I not!
Once you see how unbelievably easy these are you're going to want to make them too! And then once you do, these Air Fryer Pasta Chips will be on repeat in your house, trust me.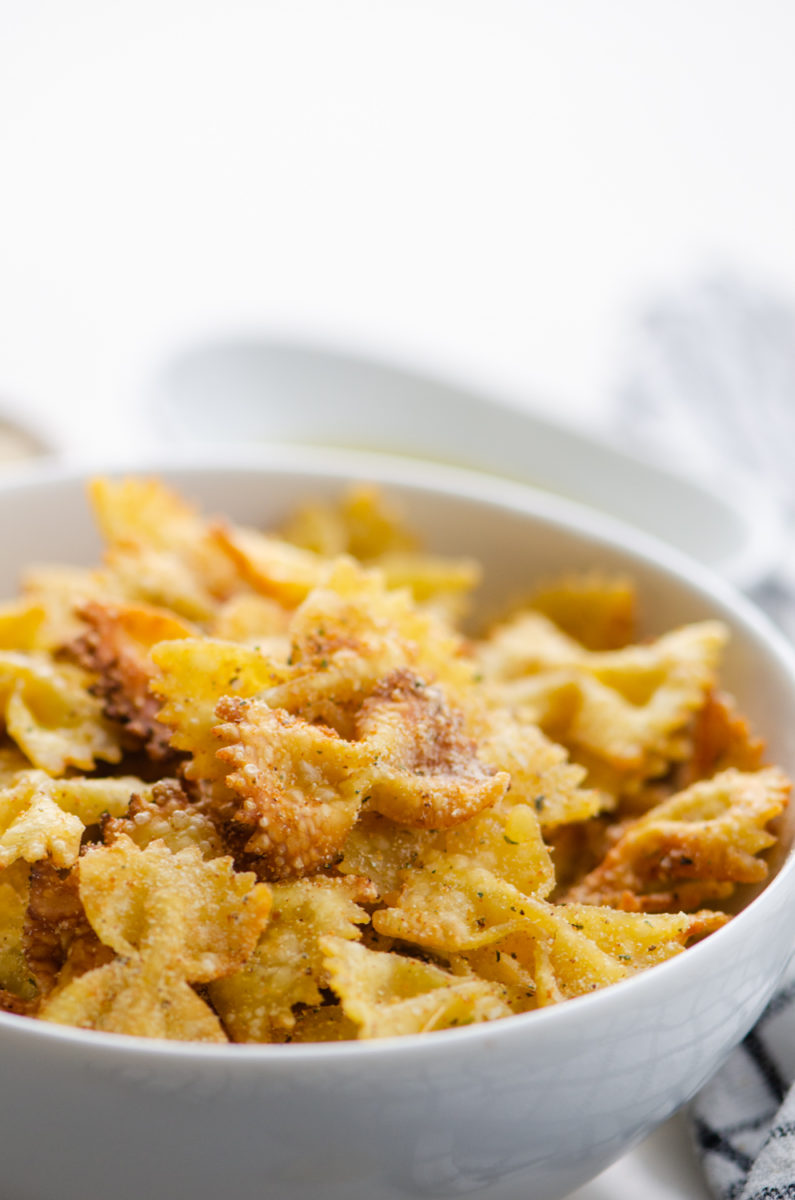 What ingredients do you need to make Pasta Chips?
When I first saw these chips, I loved how easy they were. Few steps and few ingredients. You simply cook pasta, coat it with olive oil and a blend of seasonings. Easy peasy!
And, with the help of Garlic Spread Seasoning, I've made it even easier! Seriously, 3 ingredients is all you need to make these Pasta Chips. How fabulous is that?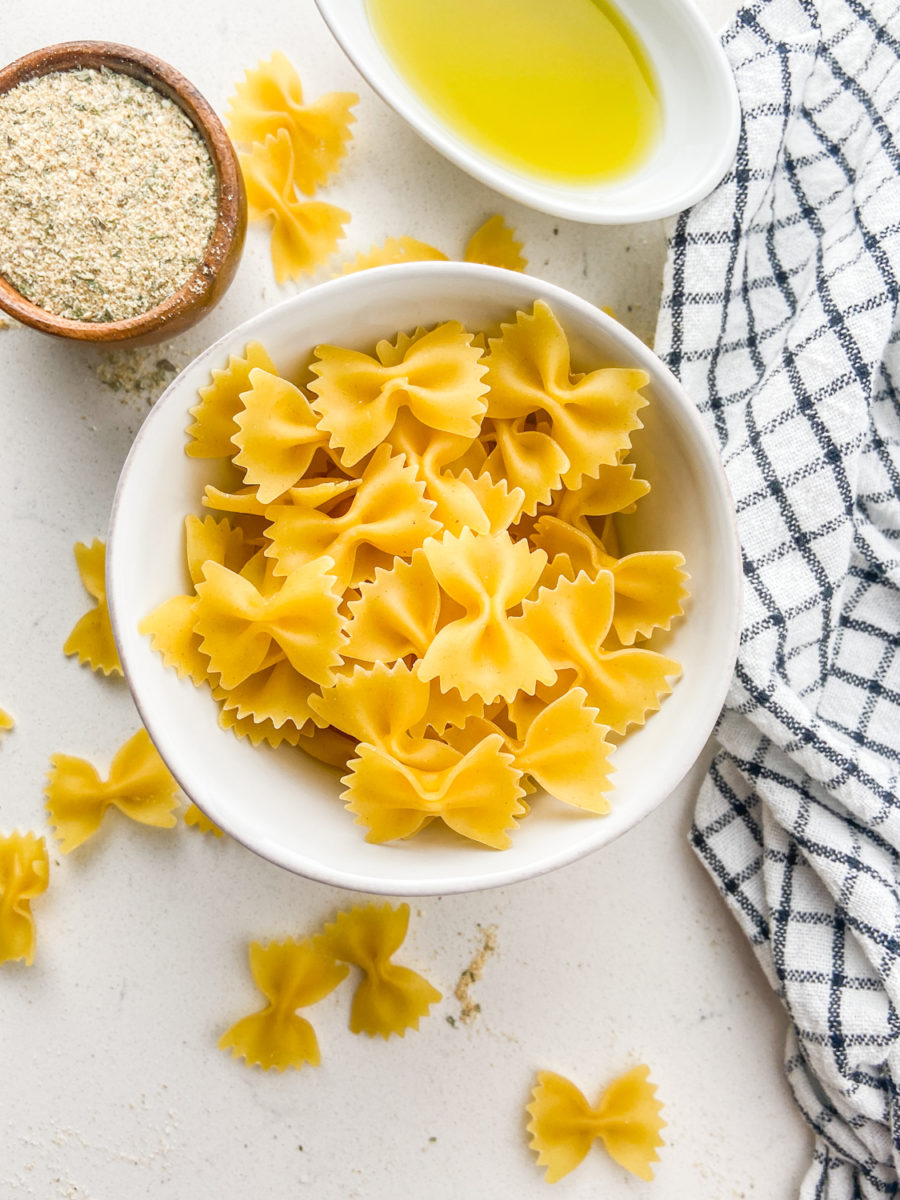 FARFALLE PASTA: I just love the way the little bowties look when they are air fried. You can use other pasta shapes that you have on hand as well like rigatoni or penne. If you want even more of a "chip" feel, lasagna noodles would be perfect!
GARLIC SPREAD SEASONING: This is a blend of parmesan, garlic, spices and parsley. I use Johnny's Seasoning Brand but McCormicks, Lawry's and Weber all make variations. It may be called Garlic Bread Seasoning or Garlic Parmesan Seasoning.
OLIVE OIL: I used extra virgin.
How do you make Pasta Chips in the Air Fryer?
Remember when I mentioned above that it was easy to make these? I wasn't kidding! Here's some step by step photos and instructions to guide your way through.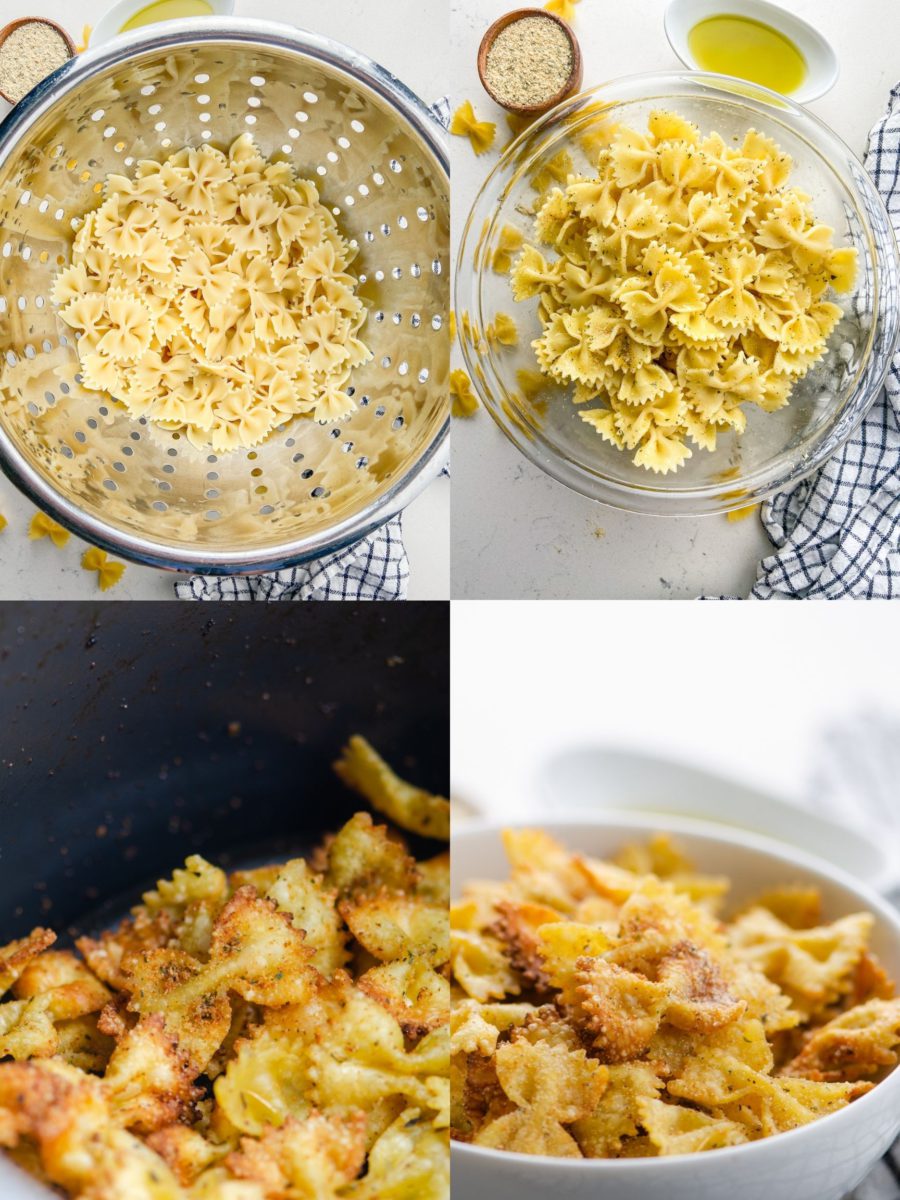 STEP #1: Cook pasta according to package directions for al dente. That was 11 minutes for farfalle.
STEP #2: Season the pasta with olive oil and garlic spread seasoning.
STEP #3: Cook the pasta chips, in batches if necessary, at 400 degrees for 10 minutes. Shaking halfway through.
STEP #4: Sprinkle with a little more garlic spread seasoning and serve immediately.
These pasta chips are best eaten right away. They tend to get a bit chewy after a while.
What is the best dip for Pasta Chips?
My first choice is marinara sauce or if you've got the time Easy Pizza Sauce is a great choice. If you'd prefer to go the creamy route try Garlic Aioli , Whipped Feta or Homemade Ranch Dip.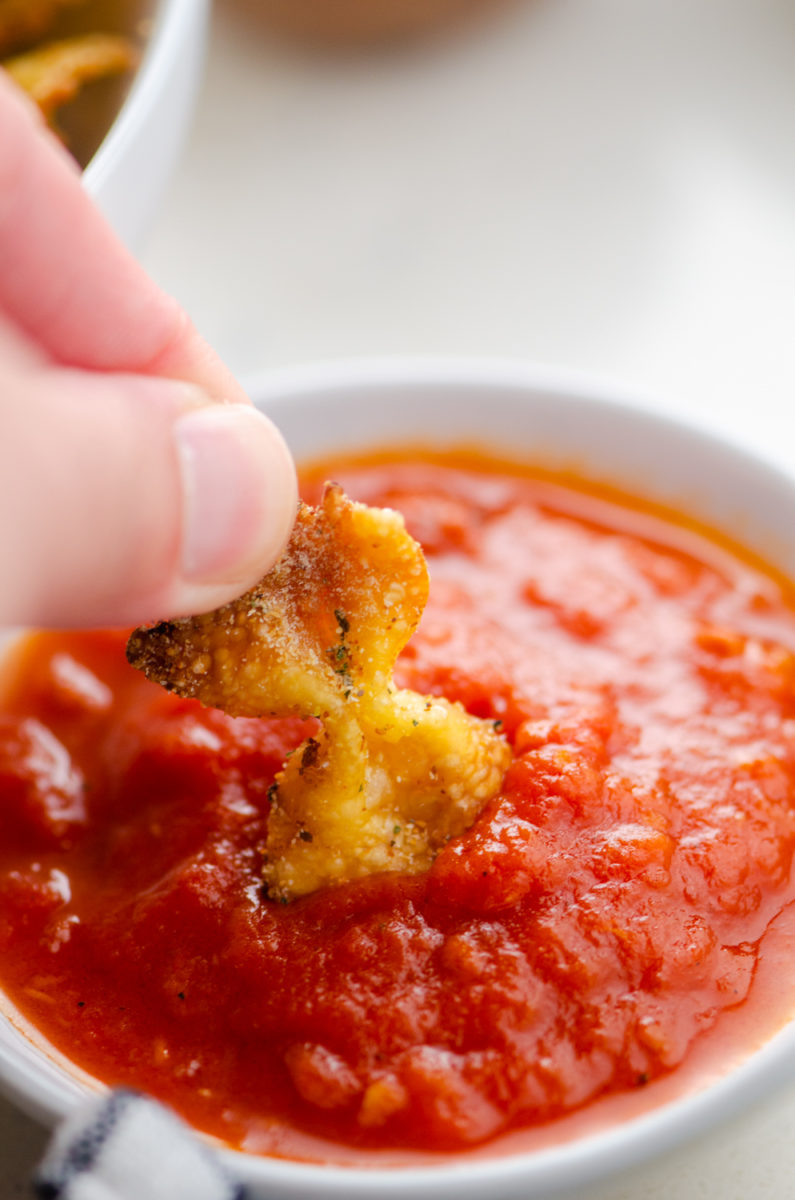 My family adored these Air Fryer Pasta Chips and they are a snack that I'll be serving up anytime I get the chance!
Air Fryer Pasta Chips Recipe
Ingredients:
8 ounces dried farfalle pasta
2 tablespoons olive oil
1 tablespoon plus 1 teaspoon Garlic Spread Seasoning
Instructions
1
Cook pasta according to package directions. Drain well.

2
In a bowl combine pasta, olive oil and 1 tablespoon of seasoning. Toss to coat pasta well.

3
Depending on the size of the air fryer, you may need to cook your pasta in two batches. Cook 1/2 of the pasta at 400 degrees for 10 minutes. Shaking halfway through. Repeat with the second batch. Sprinkle remaining garlic spread seasoning on top. Serve immediately.
Notes
Make sure the pasta is drained well, this will help get it crispy.

The pasta doesn't need to be in a single layer but you don't want to add too much at one time that air doesn't circulate very well. This will result in chewy pasta.

These are best eaten right away.

Nutrition information is for estimation purposes only.
Nutrition information
Amount per serving: Pasta chips without dip
Calories: 175 , Total Fat: 5.1g , Saturated Fat: 0.7g , Cholesterol: 0mg , Sodium: 40mg , Carbohydrates: 26.9g , Fiber: 0.8g , Sugar: 0g , Protein: 4.2g