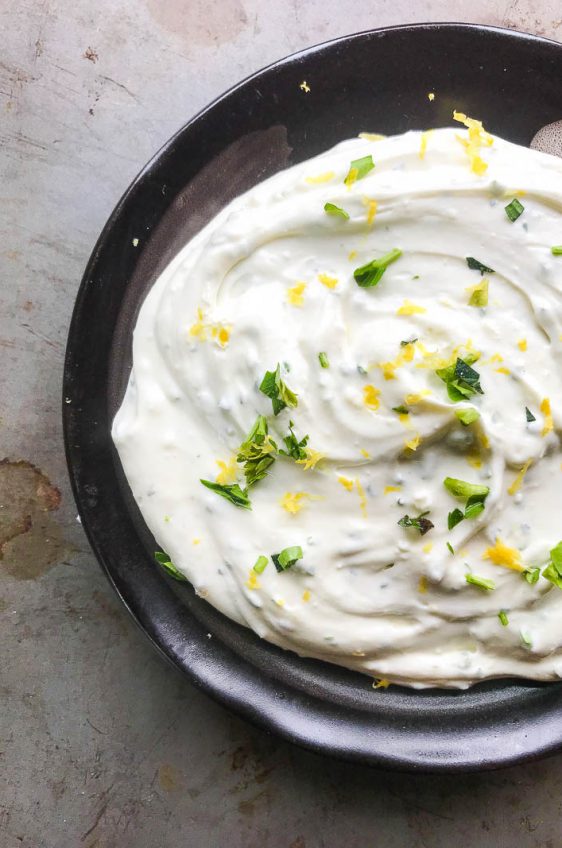 Whipped Feta
Creamy, dreamy, whipped feta is the cheese spread you NEED in your life. It's great on crackers, as a sandwich spread or fresh veggies. 
You guys, this spread. It is amazeballs.
Seriously, it's so simple (read: 6 ingredients), requires no cooking time and is great to serve with so many things. You are going to love it.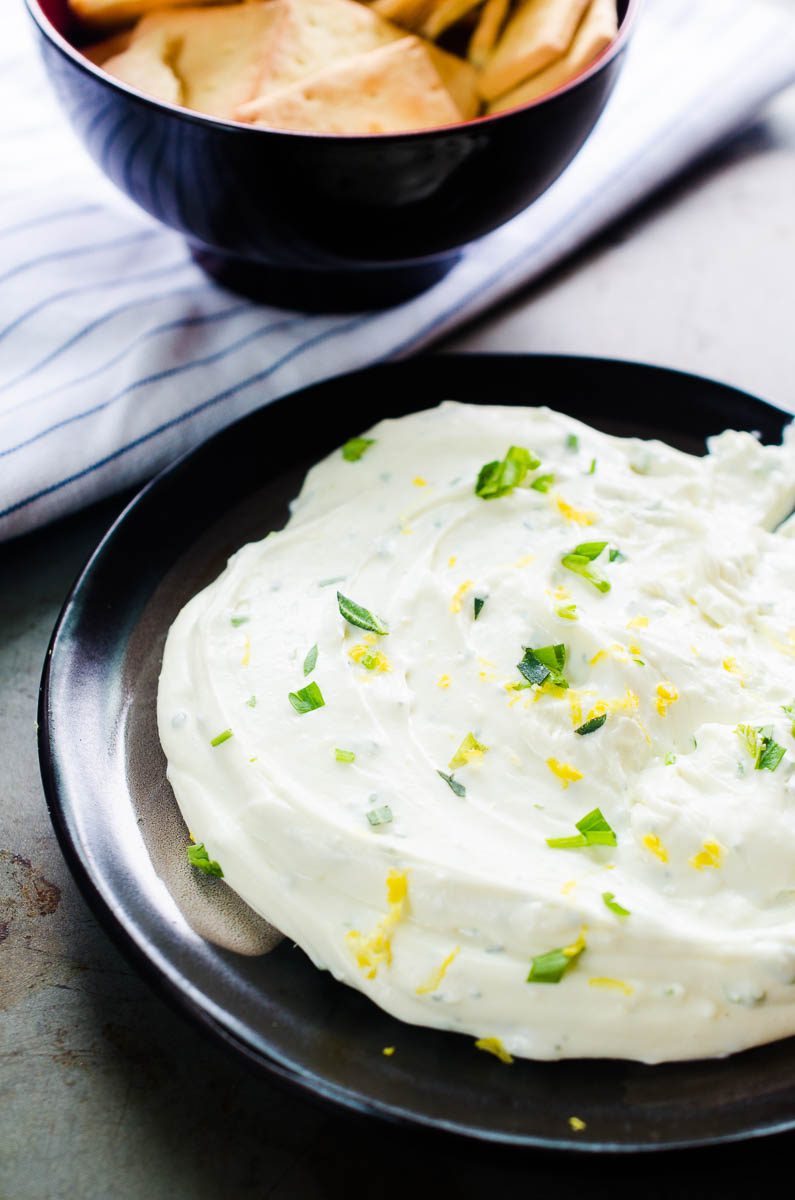 Confession time: I am a big time snacker. And when I snack it's usually something salty. I reach for chips, crackers, cheese, cured meats. You put any kind of salty snack in front of me and chances are I'll eat it. Even if I just ate dinner.
I told you, I'm a snacker.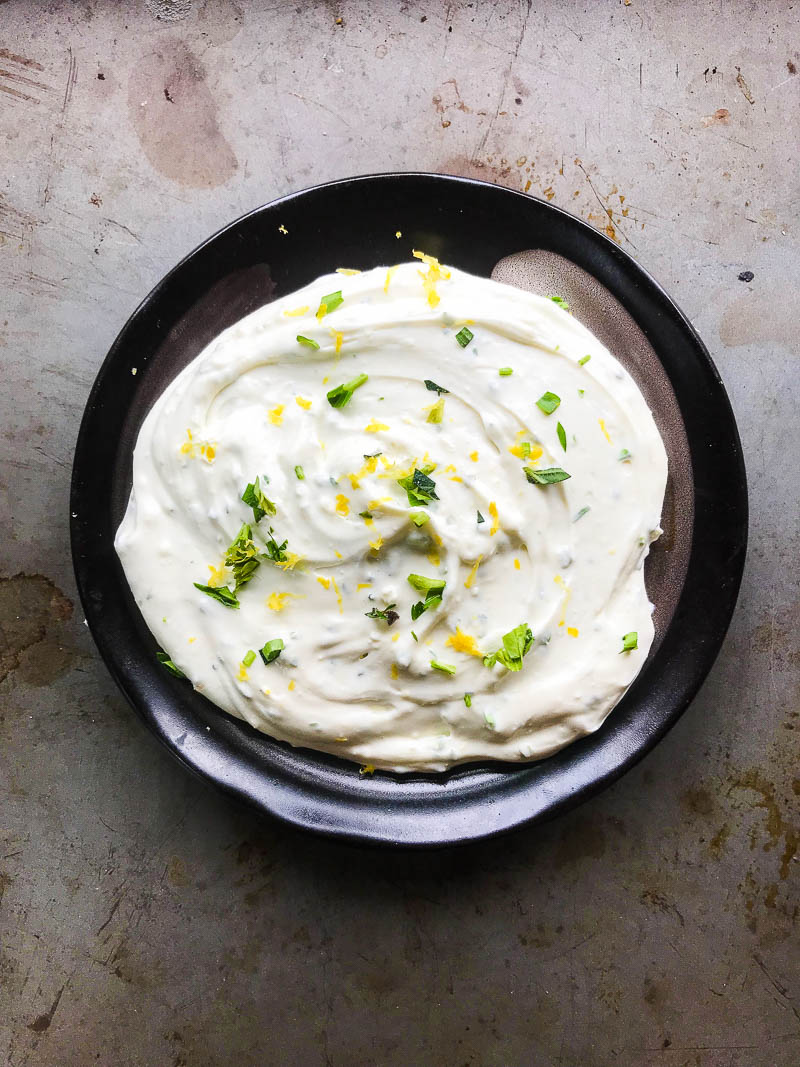 And now I've got this Whipped Feta in my snacking arsenal and I know that I'm going to have it on hand at all times.
How do you make whipped feta spread?
Contrary to the name, it's not only feta. Feta itself is a pretty crumbly cheese so in order to get the creamy, luciousness that is whipped feta, it needs to be whipped with cream cheese first.
I use a food processor to blend the cheeses together until they are smooth.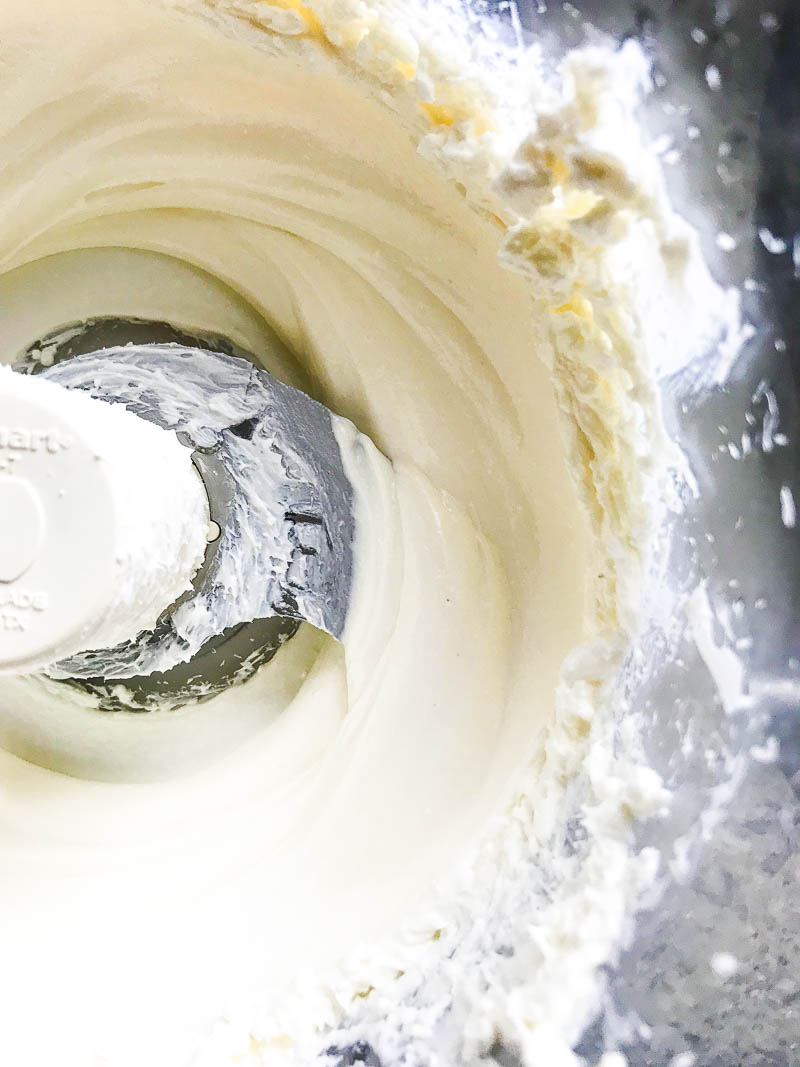 Next, you can stop right there and eat it. It's pretty good on it's own. Spread it on crackers. Use a spoon. What have you. But I like to add a bit more flavor. For this whipped feta recipe, I add fresh lemon juice, lemon zest, fresh oregano and garlic.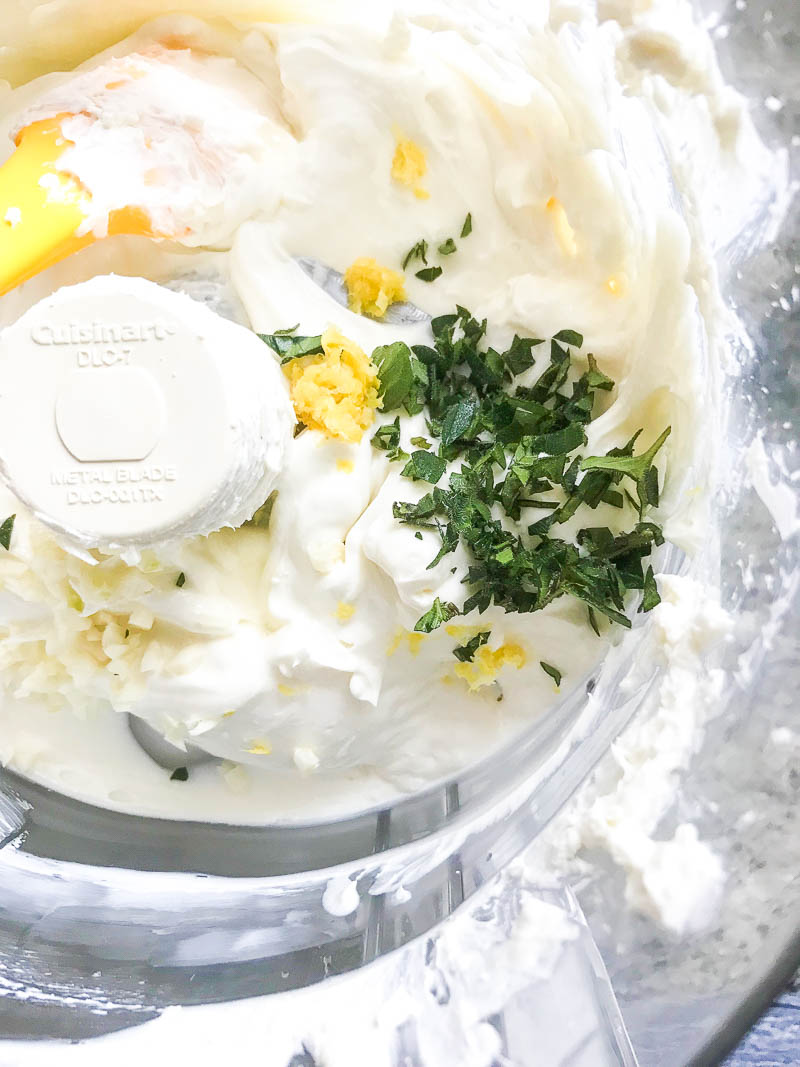 The flavor is light and bright but still super creamy.
Like I said, you're going to love it.
What do you serve with whipped feta?
Whipped feta will be right at home on any cheese board. It's also great with crackers, veggies and of course, crusty bread. I am having visions of it used as a spread on a burger too. I'll get back to you on that one!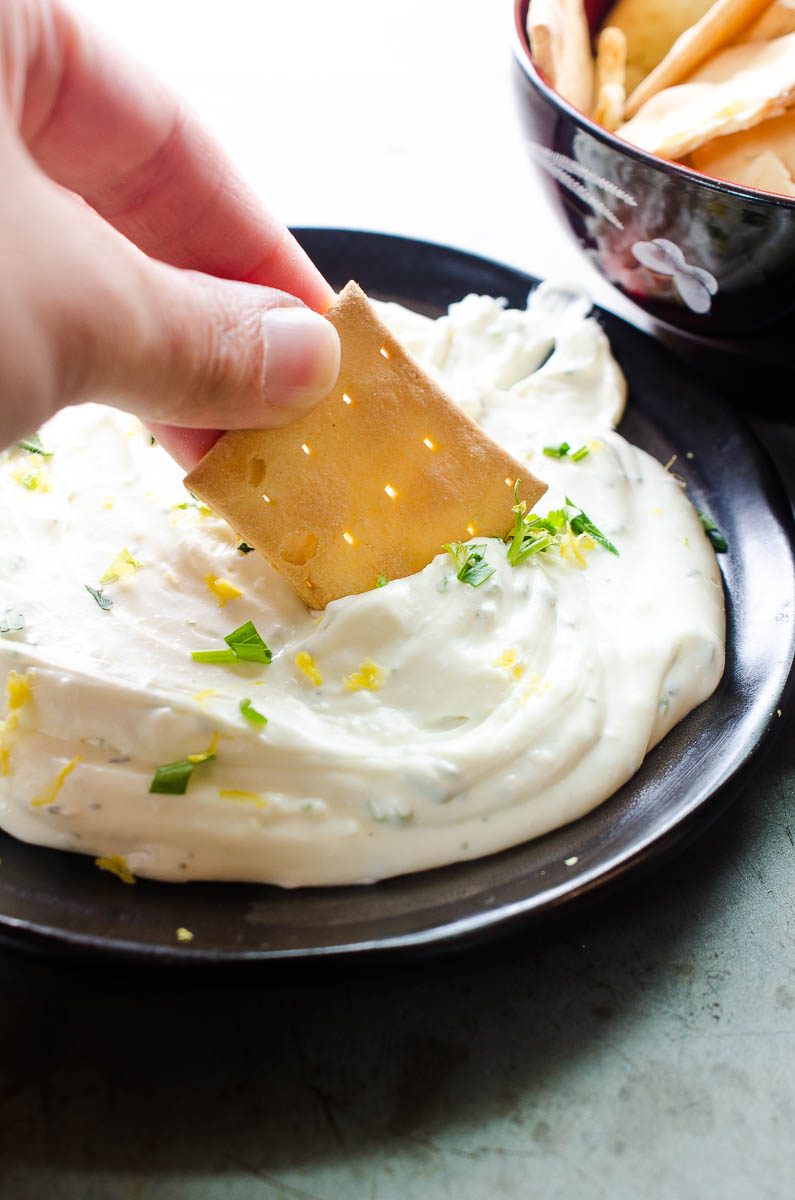 You can make this spread a day or two in advance, just make sure that you take it out of the refrigerator 30 minutes before serving so it has a chance to come up to room temperature. It will be easier to spread that way.
Other Recipes Using Feta: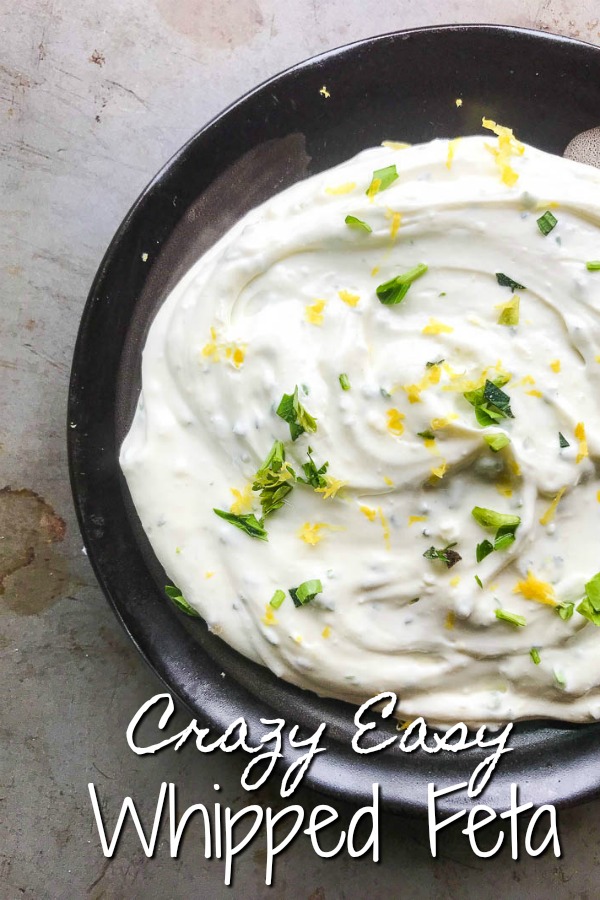 Other Appetizer Recipes that are perfect for Cheese Boards:
Whipped Feta Recipe
Ingredients:
8 ounces cream cheese, at room temperature
8 ounces feta cheese (crumbled or a block is fine), at room temperature
1 tablespoon fresh oregano
2 cloves garlic, minced
1 tablespoon lemon juice
1 teaspoon lemon zest
Instructions
1
Place cream cheese in a food processor and process until smooth. Add in feta and process until smooth and creamy.

2
Add in remaining ingredients. Pulse a couple times to combine. Serve with crackers, bread or veggies.
Notes
Nutrition facts not guaranteed.
Nutrition information
Calories: 177 , Total Fat: 16g , Saturated Fat: 10.5g , Cholesterol: 56mg , Sodium: 401mg , Carbohydrates: 2.6g , Fiber: 0.3g , Sugar: 1.3g , Protein: 6.3g