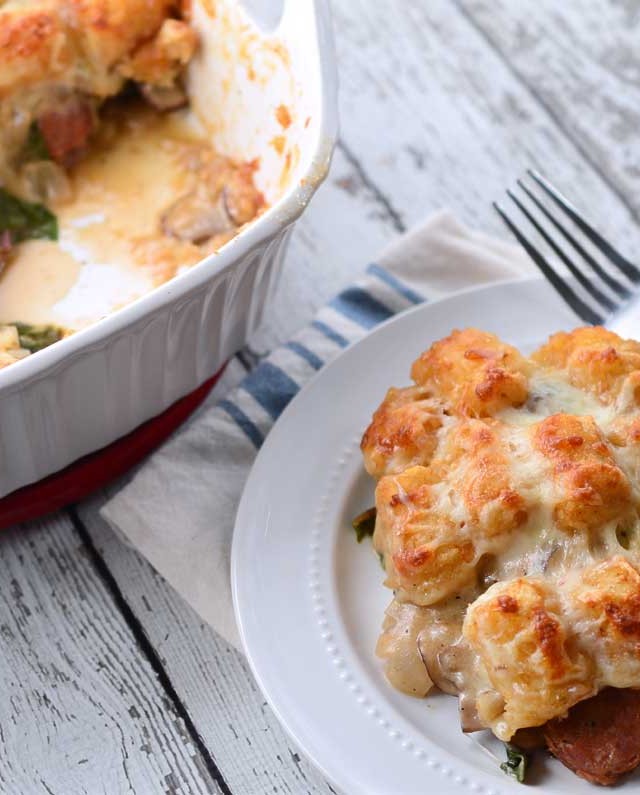 Andouille and Chard Tater Tot Casserole
Ok, I know it's May. Time for lighter food. But the other day in Seattle it looked like November so I made this tummy warming comforting casserole. I was going to wait and share it later on in the fall when the rains start and the temperatures drop. That is, until I took to Facebook asking if people would like me to wait or share it now. Every person that responded said they wanted it now. So here you go. A scrumptious, stick to your ribs andouille sausage and rainbow chard tater tot casserole fit for a fall day but just as good on a spring one.
I know I can't be the only person who craves certain things on hot days and other things on cold days. When the sun is shining and temperatures are rising I want something light. Something like a salad. Or grilled shrimp tacos. Or guacamole.
And a Corona. Always a Corona.
When it is cold it's a different story. I want mashed potatoes. I want gravy. I want fried chicken and green beans. That is why spring is a difficult time for me. Take Monday for instance, it was so dark I had to turn on the light at 1:30 in the afternoon. Then it started raining sideways. Then by 6:00 the sky was blue and the sun was out. But by then it was too late, I had been trying to get warm and cozy all day and this tummy warming dinner was already in the oven.
Not that I regret it though. I mean this casserole is good. Stick to your ribs good. And there are tater tots on top. Really, it can't get much better.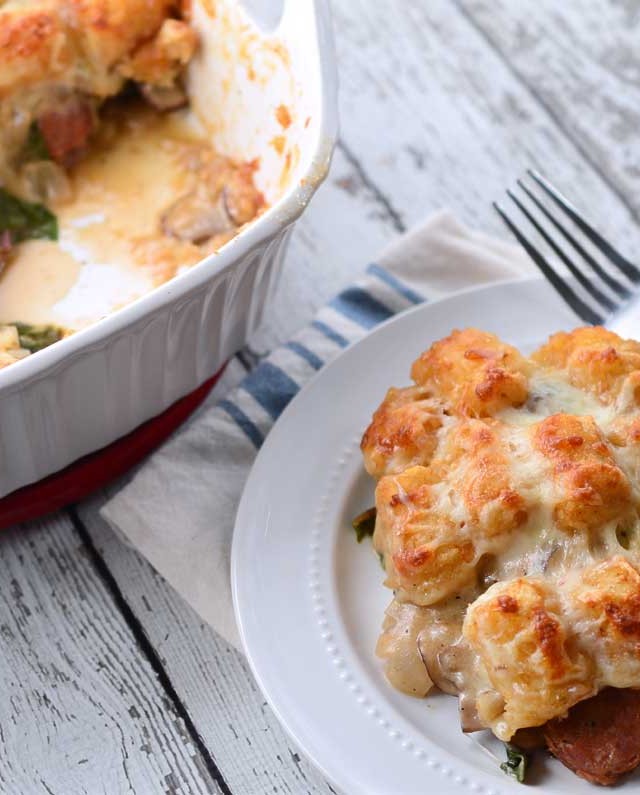 Andouille and Chard Tater Tot Casserole
A twist on tater tot casserole with andouille sausage, sauteed chard and spicy mushroom gravy.
Preheat oven to 425 degrees. Butter a 9 inch deep dish pie pan.

Heat 1 tablespoon olive oil in a skillet over medium heat. Add in chard and minced garlic. Cook just until chard wilts, 2 - 3 minutes. Season to taste with salt and pepper. Transfer to a plate and set aside.

In the same skillet heat remaining tablespoon of olive oil and butter over medium heat until butter melts. Stir in onions and mushrooms. Cook until they are soft and begin to caramelize, about 10 minutes. Sprinkle the flour over the top, cook one minute. Slowly whisk in broth, slowly whisk in milk. Cook until it thickens slightly, about 3 minutes. Whisk in cajun seasoning. Season with salt and pepper as needed. Remove from heat.

Layer sliced andouille sausage on the bottom of the prepared pie pan.

Combine pepper jack and mozzarella cheese together in a bowl.

Now that the chard has had a chance to cool, use paper towels to squeeze out the excess water from the chard. Layer the chard over the top of the sausage. Pour the mushroom gravy over the top. Sprinkle 1/2 of the cheese over the top. Layer tater tots on top. Bake in preheated oven for 25 minutes. Remove from oven, top with remaining cheese. Return to oven and bake for 10 more minutes or until cheese is melted, edges are bubbly and tater tots are brown and crispy.

Allow to set for 5 minutes. Serve.
Keywords:
andouille sausage, casserole, comfort food, cream sauce, entree, fall recipes, Food, rainbow chard, Recipe, tater tot casserole, tater tots