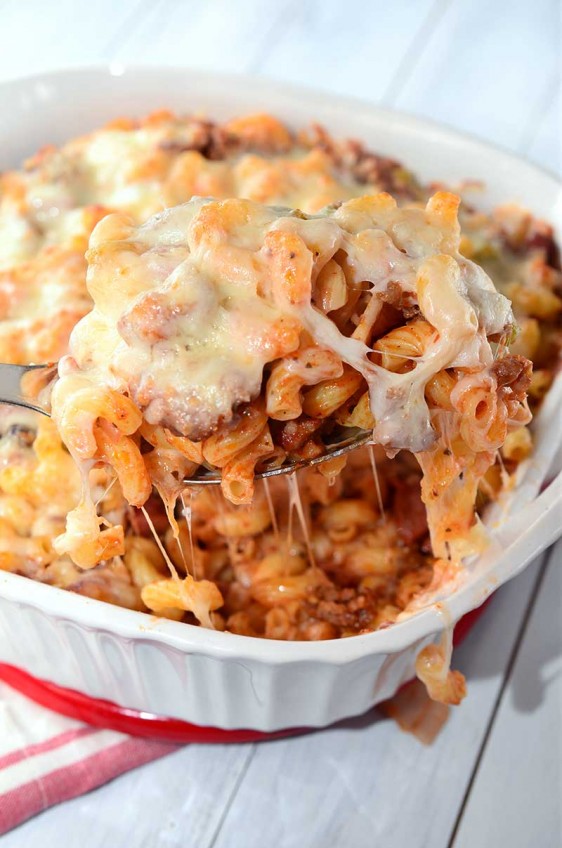 Pizza Casserole
If you like pizza you will love this casserole. Pepperoni, sausage, green peppers, mushrooms, onions and homemade pizza sauce are tossed with rotini pasta, topped with mozzarella and baked until bubbly. Just think of it as your favorite combination pizza turned into a tummy warming dish fit for a Sunday supper.
Casseroles gained popularity in the 1950s because of their simplicity. They are easy, one dish meals that can feed an army and as a bonus they freeze quite well. This pizza casserole is no exception. This recipe makes enough to fill two 8″ x 8″ inch casserole dishes. That way you can bake one casserole one night and freeze the other casserole to use for another night when you just don't have much time to spend in the kitchen.
Note: For this recipe, the cheese that is added to the top before baking is left off of the casserole that you freeze. When you are ready to bake the second casserole you will need 2 cups of freshly shredded mozzarella and 1/4 cup freshly shredded Parmesan cheese.
Pizza Casserole Recipe
Ingredients:
1 pound dried rotini pasta
kosher salt
1 pound hot or mild ground Italian sausage
1 green bell pepper, ribs and seeds removed, diced
1/2 cup chopped red onion
1 cup chopped button mushrooms
1/2 cup diced pepperoni
1 cup pizza sauce
2 cups shredded mozzarella
1/4 cup shredded Parmesan cheese
Instructions
1
Preheat oven to 350 degrees.

2
Bring a large pot of water to boil. Season liberally with salt, about 1 tablespoon. Cook pasta for 6-7 minutes. Strain. Pasta will be firm.

3
In a large skillet brown Italian sausage, about 5 minutes. Strain.

4
In the same pan you cooked the sausage stir together bell pepper, red onion, mushrooms and pepperoni. Cook for 3-4 minutes or until vegetables soften. Return sausage to pan. Stir to combine. Add in pasta and pizza sauce. Mix well. Remove from heat.

5
To bake one casserole: Place half of the casserole mixture into a 8" x 8" glass casserole dish. Sprinkle 1 1/2 cups of shredded mozzarella cheese on top. Bake for 15 minutes. Remove. Top 1/2 cup shredded mozzarella and 1/4 cup Parmesan cheese. Place under the broiler for 1-2 minutes or until cheese starts to brown. Serve immediately.

6
To freeze one casserole. Line a 8" x 8" casserole dish with foil, making sure to leave enough hanging off the sides to wrap around the casserole.Spoon remaining half of casserole mixture into prepared pan. Set pan on top of ice water to cool rapidly. Then freeze for a couple of hours or until firm. Lift the frozen casserole out of the dish, wrap in foil and place in a plastic freezer bag. Cook within 2-3 months.

7
When ready to bake, place frozen casserole in casserole dish and thaw in the refrigerator for 24 hours.

8
Preheat oven to 350 degrees. Unwrap the casserole. Sprinkle 1 1/2 cups of shredded mozzarella cheese on top and bake for 20-25 minutes or until mozzarella is melted and casserole is heated through. Remove from oven sprinkle 1/2 cup shredded mozzarella and 1/4 shredded Parmesan on top. Place under the broiler for 1-2 minutes or until the cheese starts to brown.