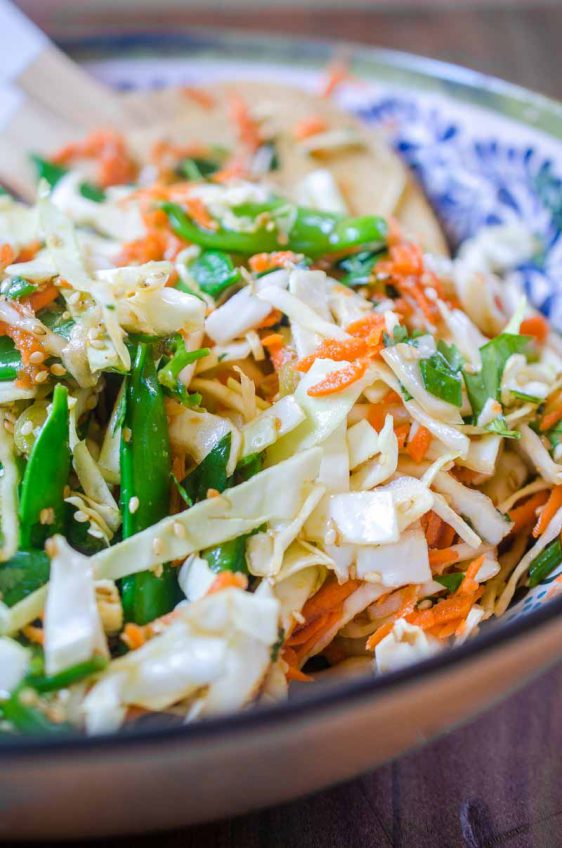 Asian Cabbage Salad
This Asian Cabbage Salad is a quick, easy and refreshing salad with cabbage, snap peas and carrots in a savory ponzu dressing.
This recipe was originally posted in 2014, photos updated in 2018. 
Now that the new year has begun, I am all about the big salads. Lunches are just begging to be big salads. Whether it be a crispy chickpea & arugula salad, a tarragon shrimp salad or this Asian Cabbage Salad, I cannot get enough.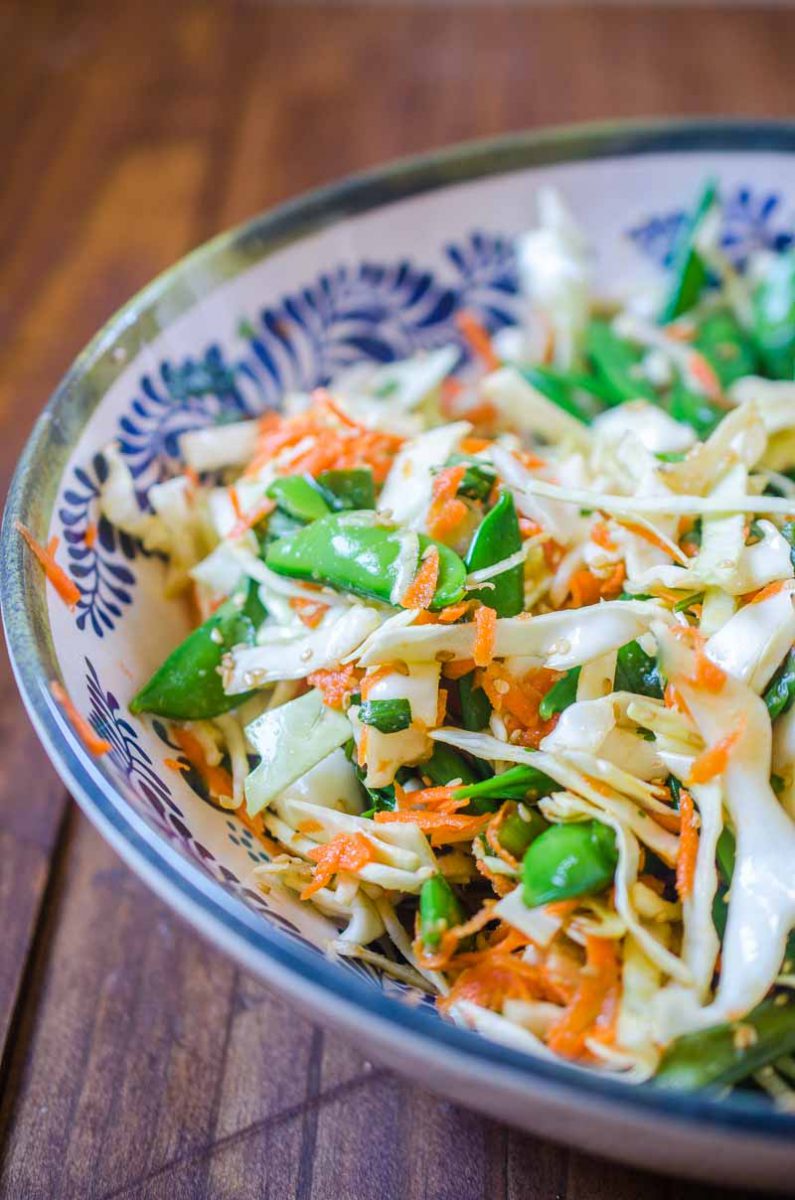 This Asian Cabbage Salad has become one of my go to when I'm looking for something a bit different. It comes together so easy. Just a quick cook of the snap peas. Mix it all together, pour the dressing over the top and voila! A super delicious salad that is perfect as a dinner side dish or a light lunch.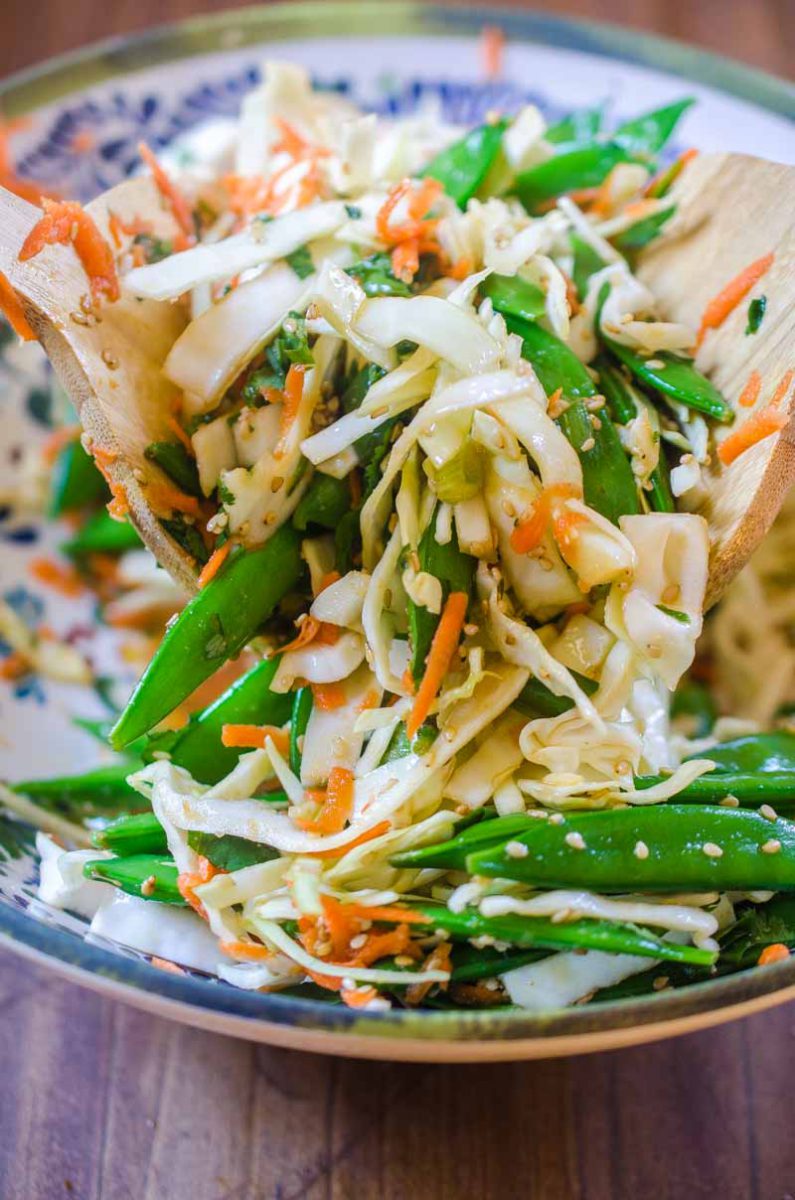 If you aren't sure what ponzu is, it is a citrus based sauce that is popular in Japanese cooking. I have loved using it as a dip for years. I like dipping potstickers or egg rolls in it. But until recently, I never really thought to use it as a dressing. I'm not quite sure why. I mean it says dressing on the side of the bottle. I did doctor it up a bit for this recipe. Instead of using it straight out of the bottle I mix in a little sesame oil, sesame seeds and garlic powder. It just adds a nutty, garlicky flavor to the citrus sauce and works very well as a salad dressing. And as much as I enjoyed the crisp fresh veggies, I must say that the dressing is my favorite part.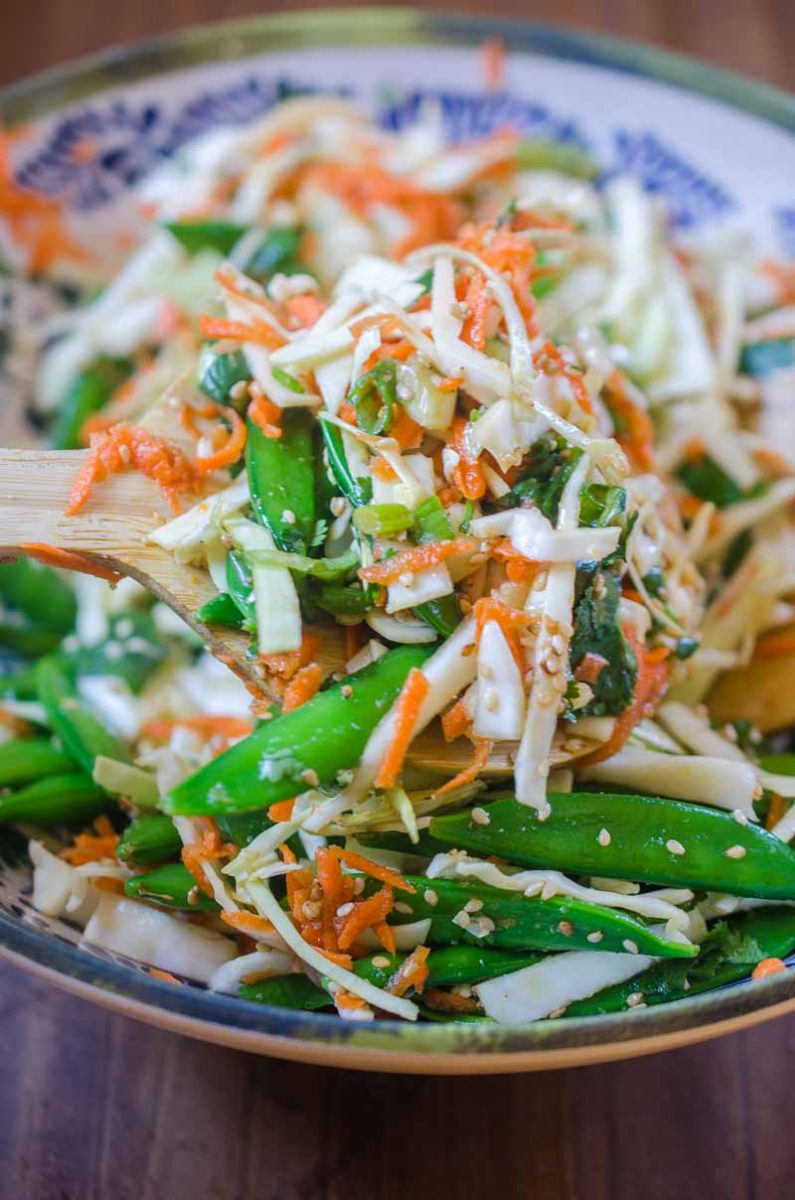 I'm not going to lie, I actually made the salad a second time in as many days just so I could have an excuse to make the dressing again. It is that good.
And now that I'm thinking about it, I think I might try to make this into a meal by adding some shredded cooked chicken, or maybe even some shrimp.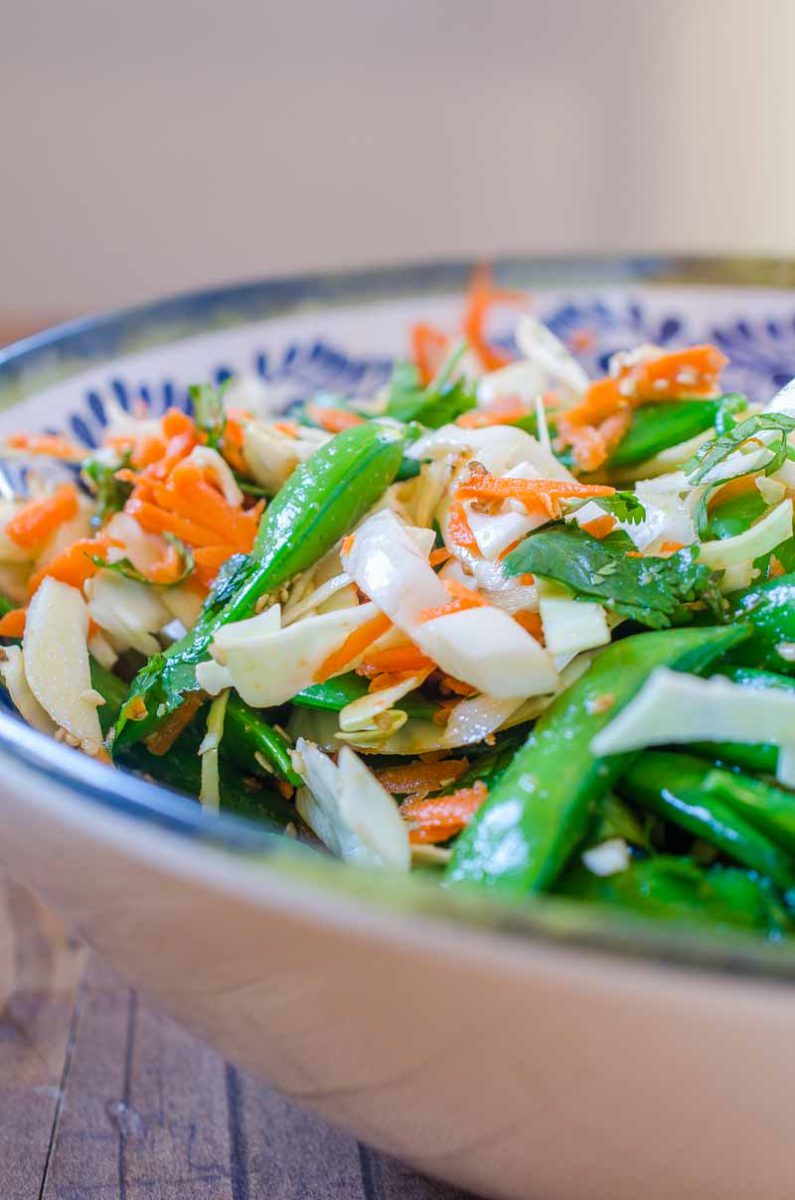 Yay! More recipe testing means more chances to enjoy the dressing!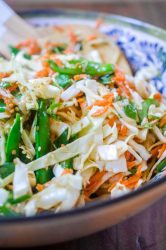 Asian Cabbage Salad
A quick, easy and refreshing cabbage salad with cabbage, snap peas and carrots in a savory ponzu dressing.
Cabbage Salad Ingredients:
8

ounces

snap peas

4

cups

shredded cabbage

1

shredded carrot

2

green onions

diced

1/4

cup

chopped fresh cilantro
Ponzu Dressing Ingredients:
1/4

cup

Ponzu sauce

1

tablespoon

sesame seeds

1

teaspoon

garlic powder

2

teaspoons

sesame oil
Mix all of the dressing ingredients together. Let set at room temperature while you prepare the salad.

Bring a small pot of water to a boil. Add in the snap peas and cook 2 -3 minutes or just until bright green. Drain and run quickly under cool water.

Combine all of the salad ingredients together in a bowl. Toss with dressing and serve.
Keywords:
cabbage, ponzu, salad, Vegetarian