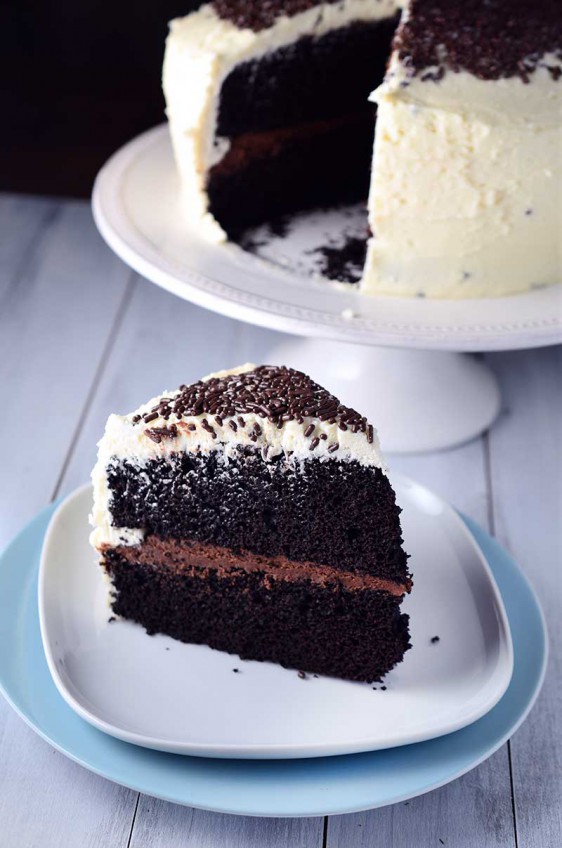 Black and White Chocolate Cake
Black and white chocolate cake is a rich, decadent chocolate layer cake with a center of chocolate ganache and creamy white chocolate frosting on top. Perfect for chocolate lovers!
Chocolate cake is one of my favorite desserts of all time. I mean really. On just about any occasion, nothing beats a slice of decadent chocolate cake. Celebrating? Eat cake! Sad your favorite TV show is ending? Eat cake. Craving something out of this world chocolatey just because it's Friday? Eat this Black and White Chocolate Cake.
Apparently next Tuesday is National Chocolate Cake Day. Did you know that? I had no idea. Then it popped up in my Facebook feed. There are so many "national insert favorite food" days that I lose track. But when I saw that I thought to myself "This is perfect timing! I have the most insanely scrumptious chocolate cake to share on the blog and now there is a day dedicated to it. It's fate!"
Ok maybe I didn't think it was fate. But I did think it was the perfect time to share this recipe with you.
So I penciled it in my planner to share with you next week.
But, yeah… I'm not patient. And I really, really, really wanted to share this with you ASAP.
And besides, if I waited until National Chocolate Cake Day to share this recipe with you then you likely wouldn't be able to make it on said cake day and therefore wouldn't get to celebrate it.
And not celebrating a day that celebrates cake? Well, that is a travesty.
Not making this black and white chocolate cake is also a travesty.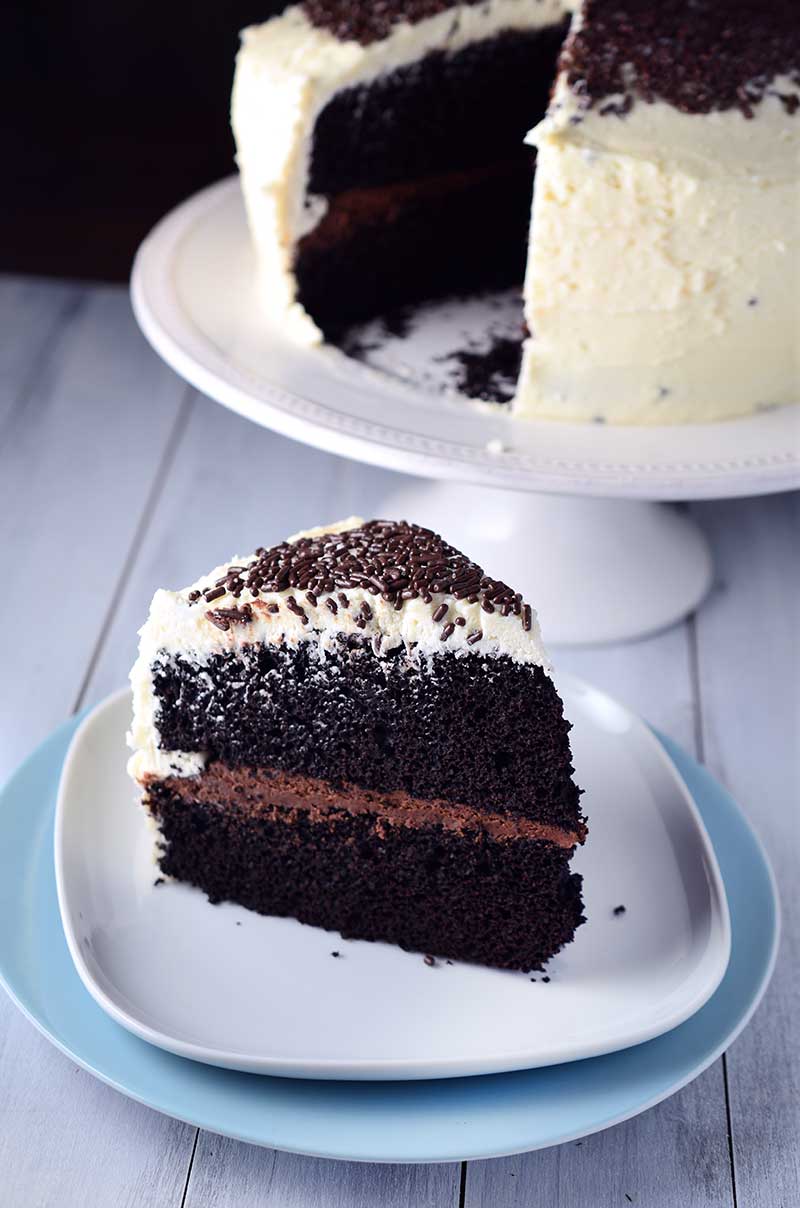 So why not kill two birds with one stone and make this cake this weekend? That way you can celebrate National Chocolate Cake day all weekend long leading up to it. Because, in all actuality, there shouldn't be just one day dedicated to the deliciousness that is chocolate cake.
And for more chocolate cake goodness, you can make my recipe for dark chocolate raspberry cupcakes, too!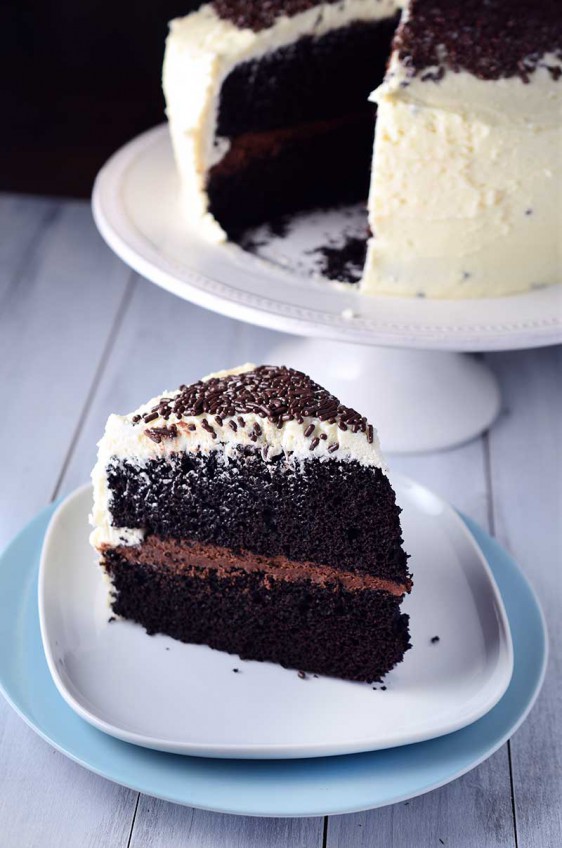 Black and White Chocolate Cake
Black and white chocolate cake is a rich, decadent chocolate layer cake with a center of chocolate ganache and creamy white chocolate frosting on top.
Chocolate Cake Ingredients:
Dark Chocolate Ganache Ingredients:
2/3

cup

heavy whipping cream

2/3

cup

dark chocolate chips
White Chocolate Buttercream Ingredients:
1

cup

unsalted butter

softened

11

ounces

white chocolate

melted and cooled

1

teaspoon

vanilla

4 1/2 - 5

cups

powdered sugar
Preheat oven to 350 degrees. Butter and flour two 8 inch round cake pans.

In the bowl of a stand mixer mix together sugar, cake flour, cocoa powder, espresso powder, baking powder, baking soda and salt. Add in eggs, canola oil, sour cream and vanilla beat on medium speed for 2 minutes. Turn mixer down to stir and slowly pour in boiling water. Beat for 2 minutes. Batter will be thin.

Pour cake evenly into prepared baking pans. Bake in preheated oven 25 - 30 minutes or until skewer inserted comes out with just a few crumbs. Allow to cool several minutes. Remove from pan, transfer to a cooling rack and allow to cool completely.

While cake is cooking, make ganache by heating cream just until steaming. Place chocolate chips in a bowl and pour hot cream over the top. Stir until melted and smooth. Cool to room temperature, about 2 hours. Using a stand mixer or hand beater, beat until lightened in color and fluffy.

Make butter cream by beating butter until light and fluffy. Beat in cooled white chocolate and vanilla. Beat in powdered sugar 1/2 cup at a time until a stiff but spreadable mixture forms.

Use a serrated knife to cut the tops off the cake just so they are level.

Place one cake on your cake stand or serving platter. Spread ganache filling over the top. Place other cake on top.

Using about 1/3 of the buttercream frosting, spread a thin layer on the top and sides of the cake to form a crumb coat. Refrigerate for 20 minutes.

Once chilled, spread the remaining frosting over the top and sides of the cake. Sprinkle jimmies over the top of the cake. Slice and serve.

Refrigerate any leftovers. Remove from refrigerator about an hour before serving.
Keywords:
cake, chocolate cake, dark chocolate, dessert, national chocolate cake day, white chocolate