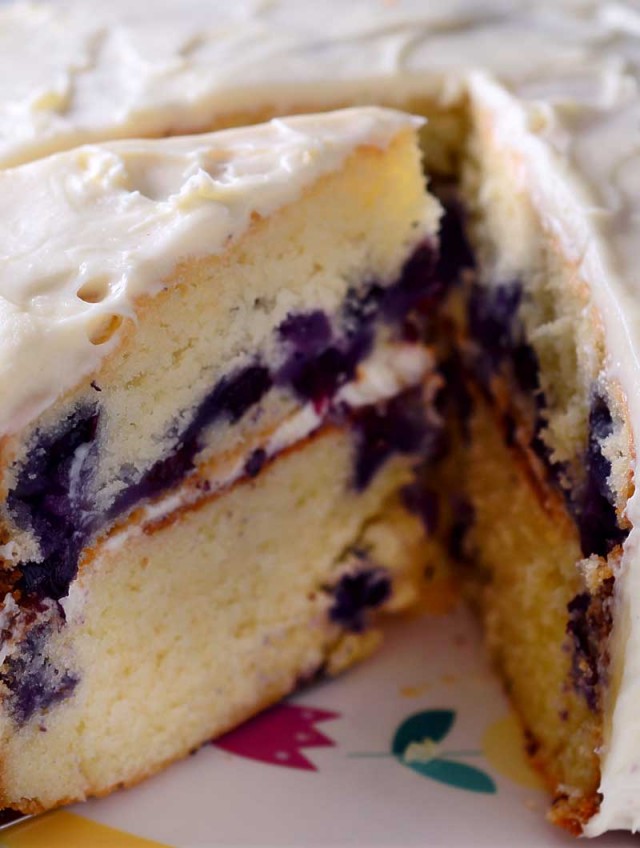 Blueberry Lemon Cake with Cream Cheese Frosting
Happy Friday Friends! I took to Facebook again to ask what I should post today and of the four options I gave that also included a pizza, dressing and a pasta, this cake won out. I just love asking you guys what you would like to see on the blog. The feedback really helps me. Especially when I have no idea what to share. And now, onto this cake. This sweet, lemony, berry filled cake.
I got an email a couple weeks back telling me that Whole Foods was going to have a one day organic blueberry sale. They were going to be selling pints for $1.99. A steal right? I knew I had to get in on it so I made sure I was there to snatch up a few pints for myself.  It's like that shirt that you totally don't need and probably won't wear but must buy because it is on sale. So I bought them. And then I got them home and realized I had no idea what I was going to do with them.
I initially thought muffins but, let's be honest, there isn't a shortage of blueberry muffin recipes.
Then I thought about something chocolatey so I took to Facebook and Twitter to ask what people thought. While some said "yay" there was an overwhelming amount of  "nay"s so I decided against it.
I thought ice cream but I don't have an ice cream maker. I should get one.
I've tried blueberry cookies before. Not really a fan.
What was left?
Cake.
Once I decided that I was going to bake a cake with the blueberries, adding lemon to the batter and frosting it with a cream cheese frosting just seemed right.
And it was. It worked together beautifully. In fact I am going to go ahead and say I loved this cake. And that is saying something because I am usually a chocolate cake kinda girl. So if you're a fan of blueberries you'll want to try this cake, and even if you're not crazy about them I bet you'll like it too.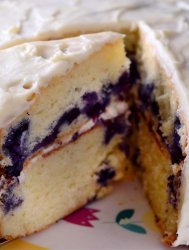 Blueberry Lemon Cake with Cream Cheese Frosting
A moist lemony cake filled with blueberries and frosted with a delectable cream cheese frosting.
Blueberry Cake Ingredients:
1

cup

2 sticks unsalted butter

2

cups

granulated sugar

4

whole eggs

3/4

teaspoon

pure lemon extract

3

cups

sifted cake flour

1

tablespoon

baking powder

1/2

teaspoon

salt

1

cup

buttermilk

3

cups

blueberries

2

tablespoons

all purpose flour
Cream Cheese Frosting
8

ounces

cream cheese

softened

1/2

cup

1 stick unsalted butter

1

teaspoon

vanilla

3

cups

powdered sugar
Preheat oven to 350 degrees. Grease and flour two 9 inch round cake pans.

In the bowl of stand mixer with a paddle attachment, beat together butter and sugar until fluffy. Beat in eggs one at a time, scrapping down the sides of the bowl after each egg. Beat in the lemon extract.

In another bowl combine cake flour, baking powder and salt.

Add 1/3 of the dry mixture to the wet mixture. Once mixed, add in 1/3 of the buttermilk. Continue to alternate adding 1/3 of each at a time just until mixed. Turn off mixer.

Combine blueberries with two tablespoons all purpose flour. Gently fold blueberries into the cake batter. Pour cake batter evenly into prepared pans. Bake 35 - 40 minutes or until a toothpick inserted in the center comes out clean.

Remove cake from the oven and allow to cool several minutes in the pan. Carefully slide a butter knife around the edges to loosen the cake and turn over onto a cooling rack. Cool completely.

While cake is cooling prepare the frosting by creaming together cream cheese and butter. Once smooth beat in vanilla. Finally beat in the powdered sugar one cup at a time. Frosting should be stiff but spreadable.

Place one layer of the cake on your serving plate. Spread 1/3 of the frosting over the top. Place the other layer on top of the frosting. Use the remaining frosting to frost the cake. Slice and serve.

Cover and refrigerate any leftovers. Remove from the refrigerator about 1 hour before serving.
Keywords:
blueberries, blueberry cake, cake, cream cheese frosting, dessert, Food, Recipe, sweet, treat