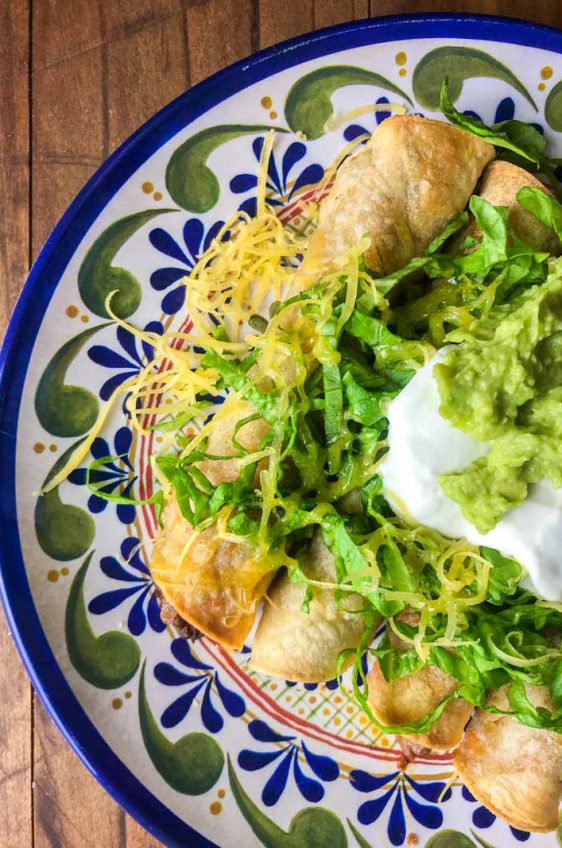 Chorizo & Black Bean Taquitos
Chorizo & Black Bean Taquitos are crispy oven baked taquitos filled with chorizo, black beans and pepper jack cheese.
Who loves taquitos?! Apparently they are a huge favorite because I asked on my Facebook page if you would want to see Chorizo & Black Bean Taquitos and the answer was clearly "HECK YES!".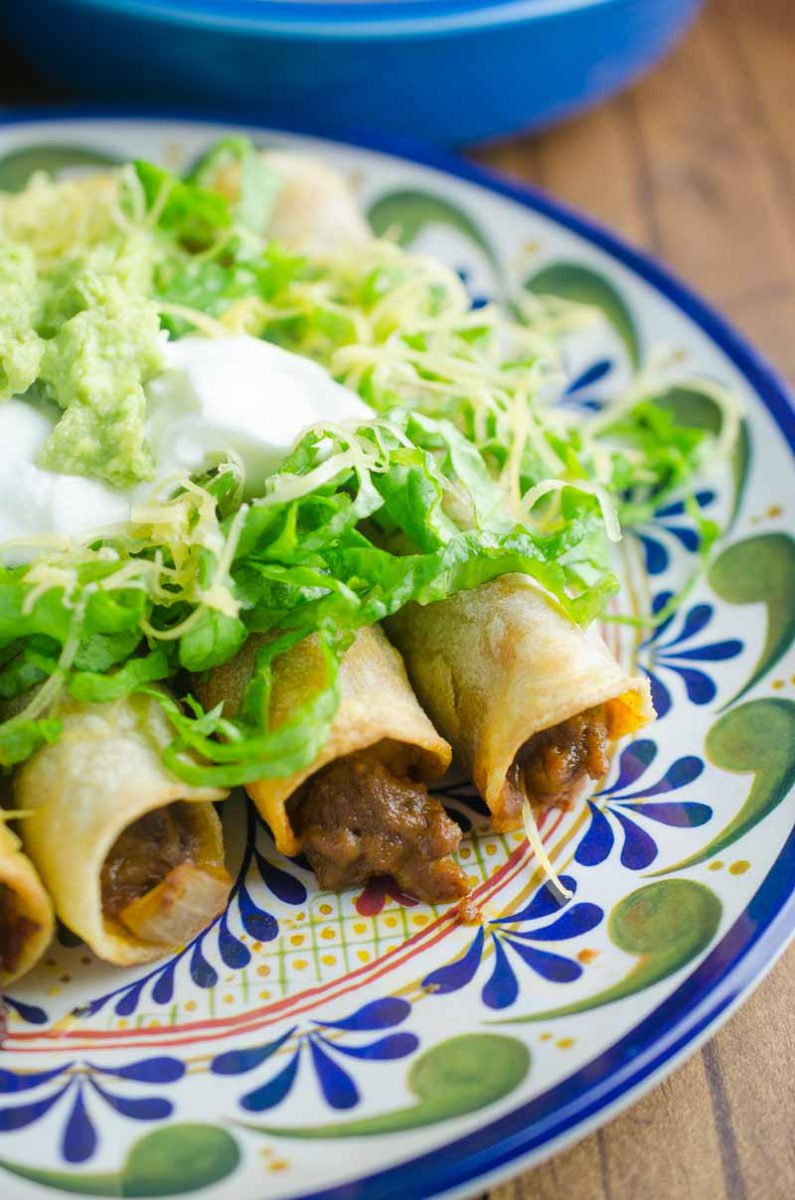 And I totally get it and wouldn't expect anything else. Honestly, crispy corn tortillas filled with spicy chorizo, refried black beans and loads of pepper jack cheese? Yes, please. Plus they are dipped in guacamole and that is always a win.
On the other hand, some people might have been a little bit like "What is a taquito?" and "What is the difference between a taquito and a flauta?"
Basically it's a savory filling rolled in crisp corn tortillas. You'll often see them on a menu as taquitos or rolled tacos.  To make things even more confusing, flautas might also be on the menu. The difference between taquitos and flautas is simple: size. Flautas are simply bigger taquitos.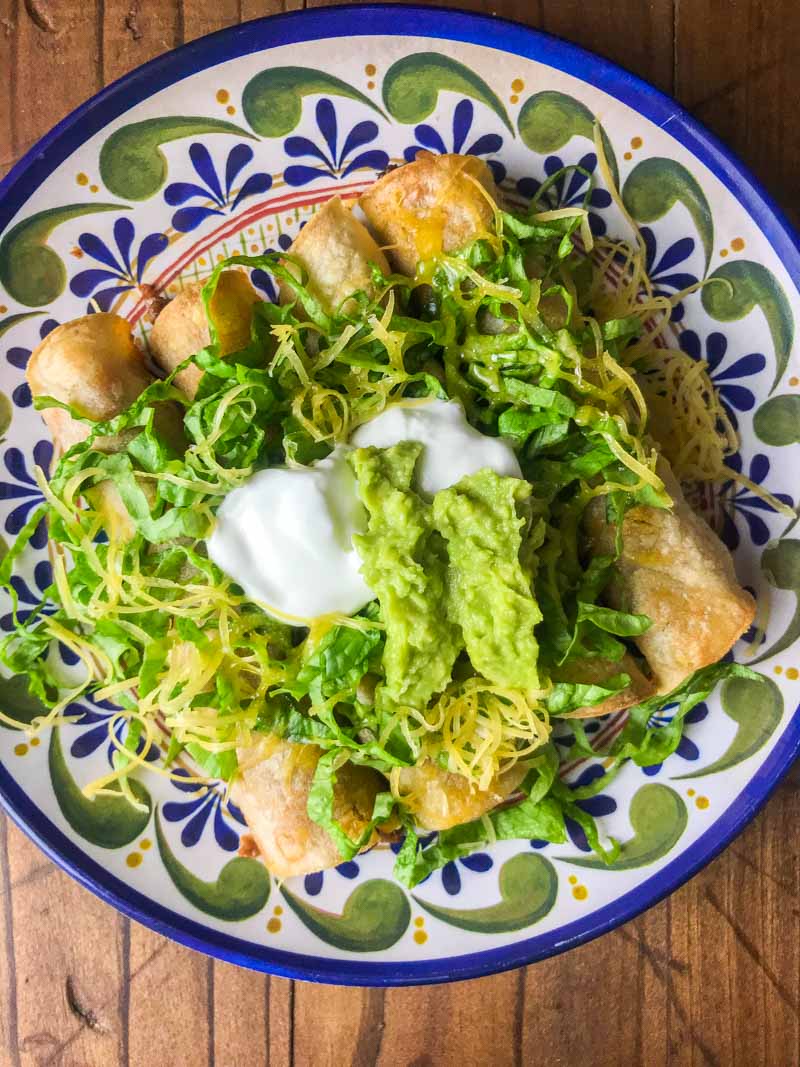 The filling variations are endless: Chicken, pulled pork and steak are all great options. For this recipe, I turn to chorizo for the main ingredient. I just LOVE chorizo and use is almost weekly in tacos, enchiladas and now these. In addition to the chorizo I also use onions, refried black beans and pepper jack cheese. Including the corn tortillas, the grand total of ingredients in this recipe is 5 plus any toppings that you might want. Pretty easy for a weeknight meal if you ask me.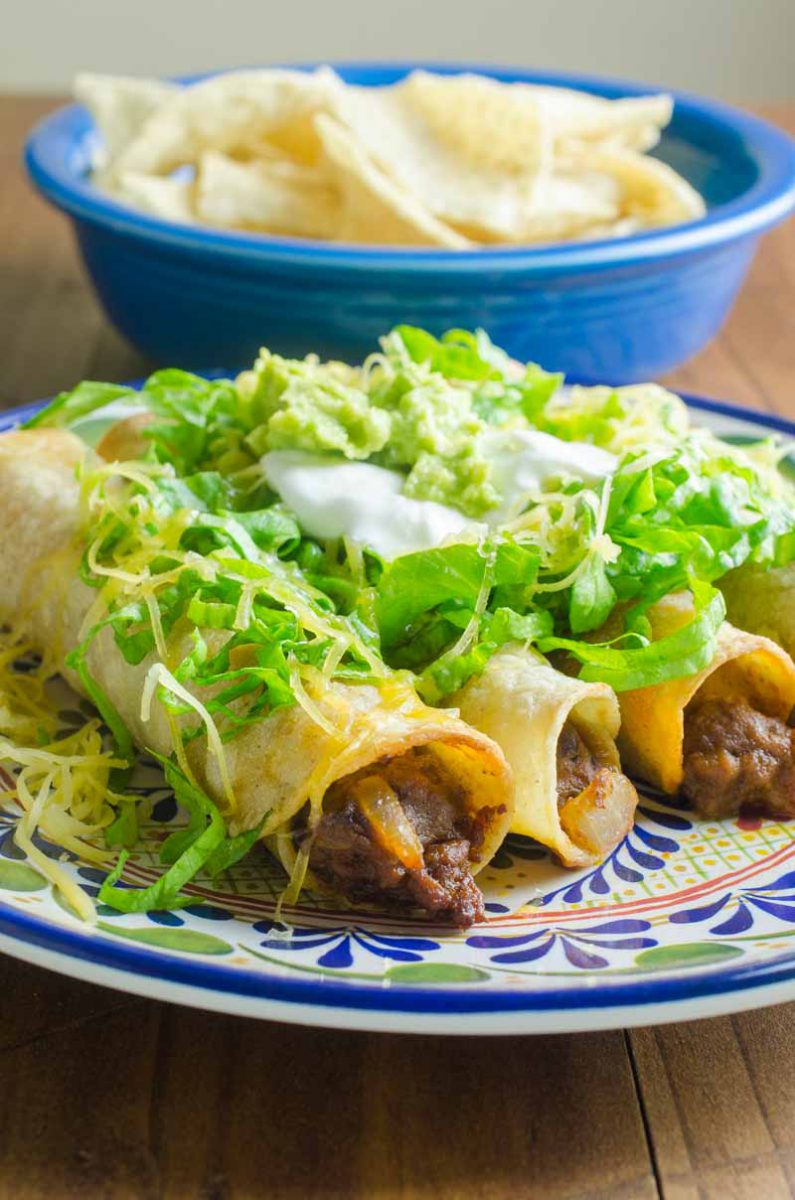 Unlike many traditional recipes, these taquitos are baked, not fried. I've been baking them ever since I shared my first shredded beef taquito recipe back in 2009. It's just easier. Less messy, and I personally think they taste better. You do cook the tortillas in a little bit of oil first to make them soft enough to roll. This step allows them to crisp up really nicely in the oven.
To break it down:
Only 5 ingredients: check.
Baked not fried: check.
Crispy tortillas: check.
Spicy chroizo: check
Creamy black beans: check
Melty, gooey, pepper jack cheese: check
A crispy, cheesy, chorizo and black bean filled vehicle for guacamole: check.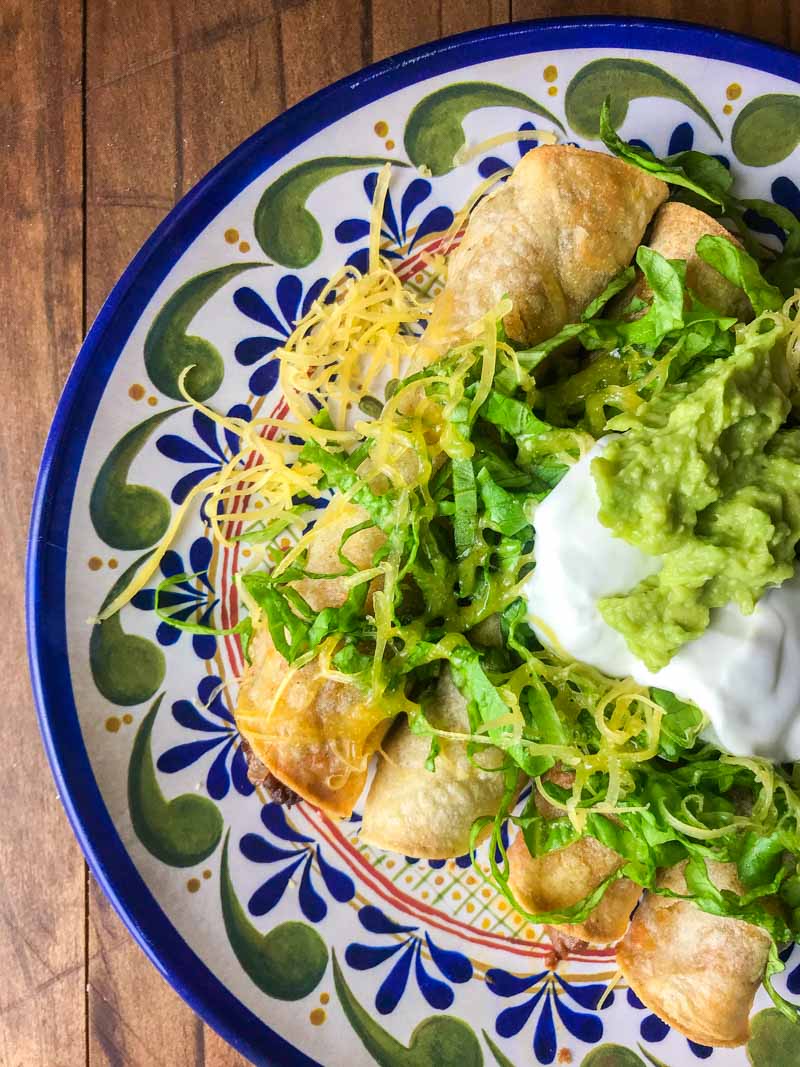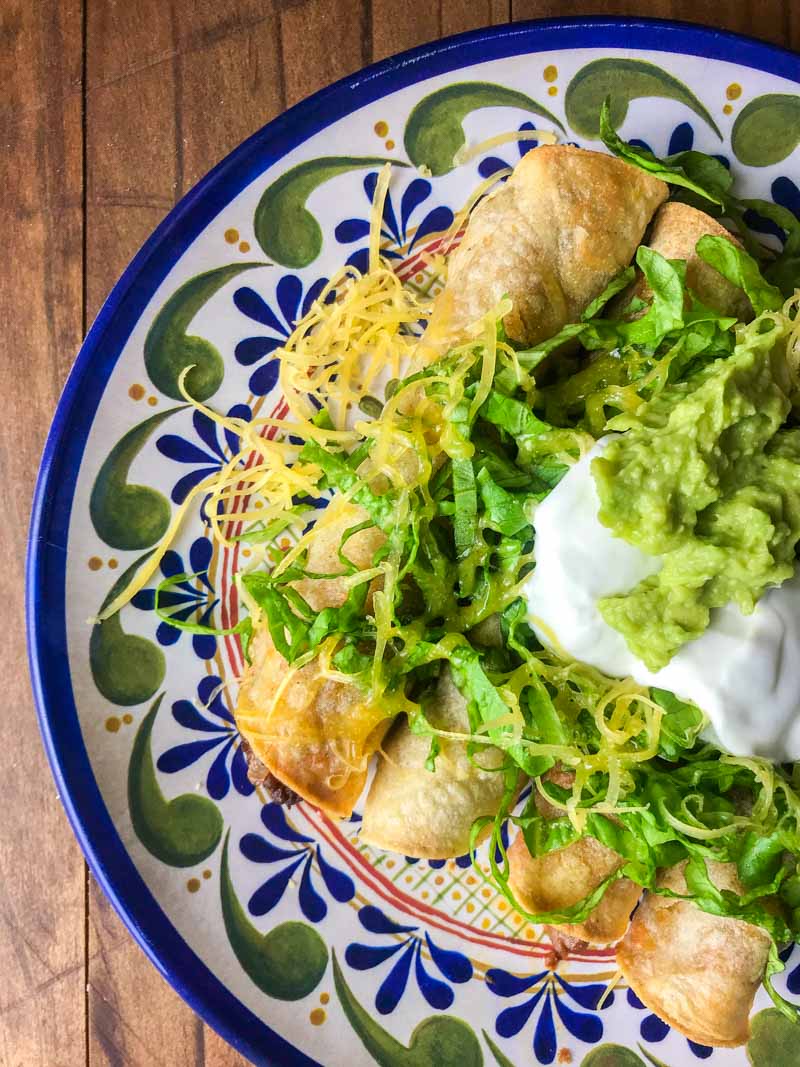 As you can see these Chorizo & Black Bean Taquitos have a lot going for them. They were a hit in our home and I'm guessing they will be in yours too.

Chorizo & Black Bean Taquitos Recipe
Ingredients:
1 pound ground chorizo
1/2 medium yellow onion, diced
1 (14.5 ounce) can refried black beans
1 cup pepper jack cheese
15 - 18 taco sized corn tortillas
oil
guacamole
shredded lettuce
shredded cheese
sour cream
Instructions
1
Preheat oven to 425 degrees.

2
Cook chorizo and onions together in until chorizo is browned and cooked through. Add in refried beans. Mix well. Mix in pepper jack cheese and cook until cheese melts. Remove from heat.

3
Heat a thin layer of oil in a skillet over medium heat. Cook tortillas one at a time until they are soft and pliable, about 30 seconds per side.

4
Place a heaping tablespoon of the filling in the center of each corn tortilla and roll up. Place the tortillas, seam side down, on a baking sheet. Repeat with remaining ingredients.

5
Bake taquitos in preheated oven for 10 - 15 minutes or until tortillas are crisp. Remove from oven, top with shredded lettuce, shredded cheese, sour cream and guacamole.