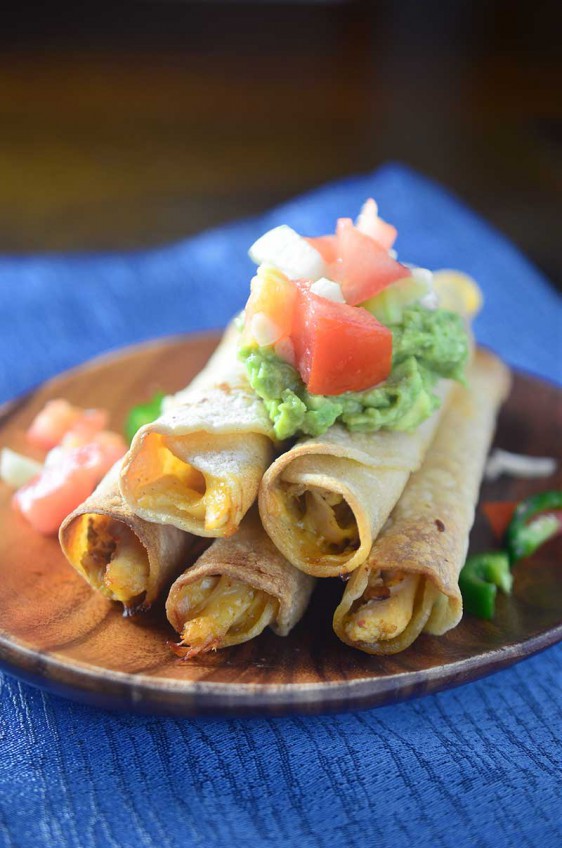 Chipotle Chicken Taquitos
Happy Taco…er…Taquito Tuesday, friends! Taquitos are becoming quite the popular dish in our home. I think it has something to do with the fact that they are perfect for little hands to hold. This mama also happens to like them because they are super easy to make and extremely versatile. These Chipotle Chicken Taquitos are our latest fave.
Now that my boys are starting to eat a bit more. I am finding my grocery bill sneaking up. Like A LOT. So much so that where I used to buy one of something, I now buy two. This increase in the grocery bill has me searching for deals where ever I can find them. I'm using coupons more, but only for stuff that we actually already buy. And I'm doing more shopping at Costco.
Now, not everything is a good deal at Costco. Especially if you haven't got enough storage. If there is a particularly good deal on meat, I'll pick it up but again, I don't have a whole lot of storage so that is usually out. There are a few things though that I absolutely have to buy there: Tillamook cheddar, wheat bread, peanut butter, jelly, avocados and my olive oil.
But, wanna know what the best deal ever is?
The Costco Rotisserie Chicken.
I swear $5 for chicken that is cooked, delicious and, if you use it right, you can get at least 2 or maybe even 3 meals out of it.  I cannot find a better deal. You can't even buy a raw chicken at the local grocery store for that price. It is definitely my favorite shortcut in the kitchen and is quite the time and money saver. For me, this time around, it meant chicken salad for lunches for the week and these Chipotle Chicken Taquitos.
These couldn't be easier to make. All you do is take the cooked shredded chicken, mix it with some cheddar cheese, a chipotle pepper, a little adobo sauce that the chipotle pepper is in and some seasonings. Then you warm up some tortillas, pile a little of the chicken mixture in the center, roll 'em up and bake 'em. Then BAM dinner is on the table in about 30 minutes. Top them with a little pico de gallo and some guacamole and you are good to go.
Note: I was a little worried that adding the chipotle pepper would be too spicy for my guys but they ate it just fine. If you are concerned start by adding half of the pepper then taste it and add the rest if you'd like more heat.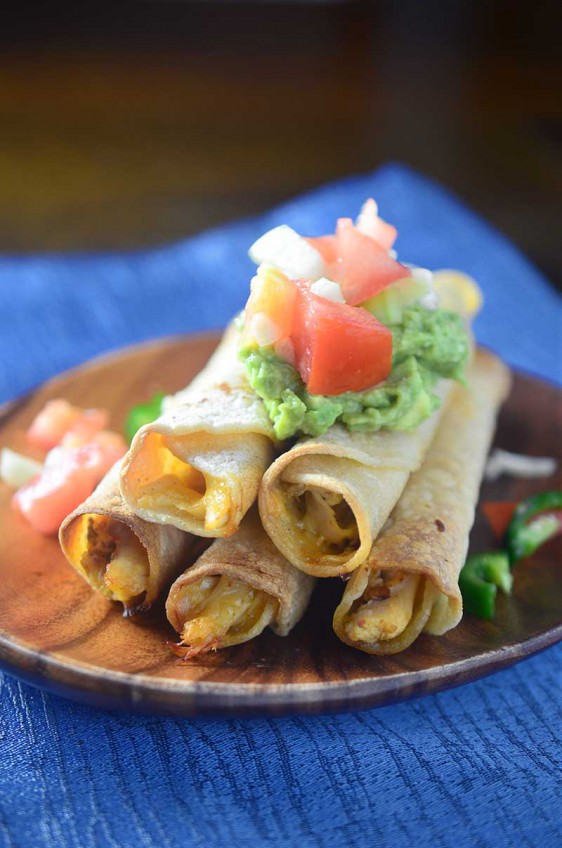 Chipotle Chicken Taquitos
Chipotle Chicken Taquitos are an easy, toddler friendly dinner ready in about 30 minutes.
Preheat oven to 425 degrees.

Combine chicken, cheddar, chipotle pepper, adobo sauce, cumin and garlic powder together in a bowl. Mix well. Season to taste with salt.

Heat a thin layer of oil in a skillet over medium heat. Cook tortillas one at a time until they are soft and pliable, about 30 seconds per side.

Place a heaping tablespoon of the chicken mixture in the center of each tortilla and roll up. Place the taquitos seam side down on a baking sheet. Repeat with remaining ingredients until you've made 15 taquitos.

Bake in preheated oven for 15 minutes or until crisp.

Remove from oven, top with pico de gallo and serve.
Keywords:
cheese, chicken, tacos, taquitos