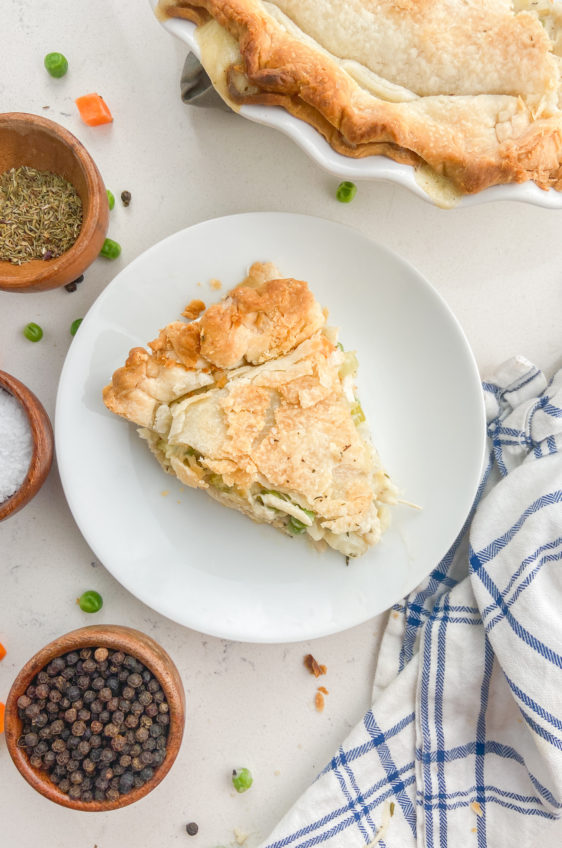 Easy Chicken Pot Pie
Jump to Recipe
This Easy Chicken Pot Pie is pure comfort food. This classic savory pie is filled with chicken, vegetables and a creamy herb gravy.
When it comes to classic comfort food, it doesn't get any more comforting than Chicken Pot Pie. Each slice of this pie is loaded with shredded chicken and vegetables simmered in a creamy gravy inside a buttery pie crust.
Like I said, it is pure heaven.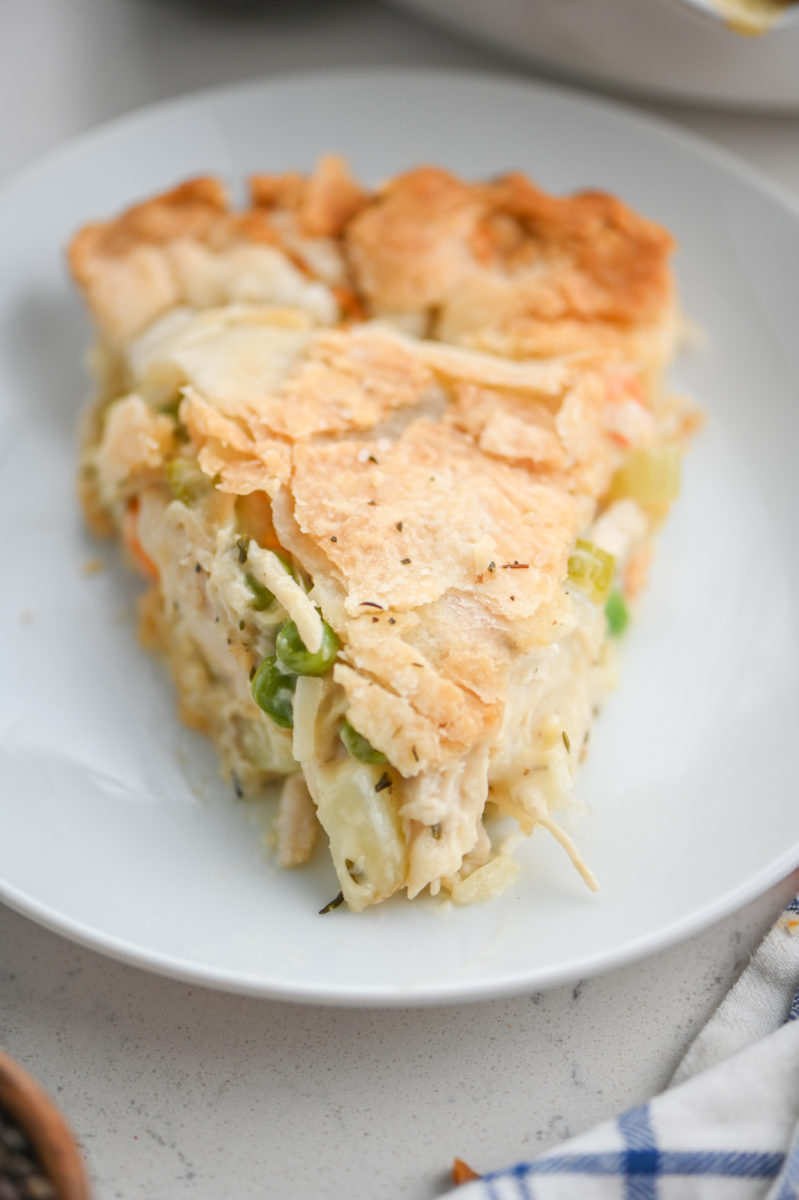 When you think Chicken Pot Pie what comes to mind first? Is it the buttery, flaky pie crust? Or is it the savory creamy filling. For me? It has always been the filling! Way back to the days that we used to eat the Marie Callender's frozen pot pies. It was always the filing that got me. And how could it not? I mean just look at it: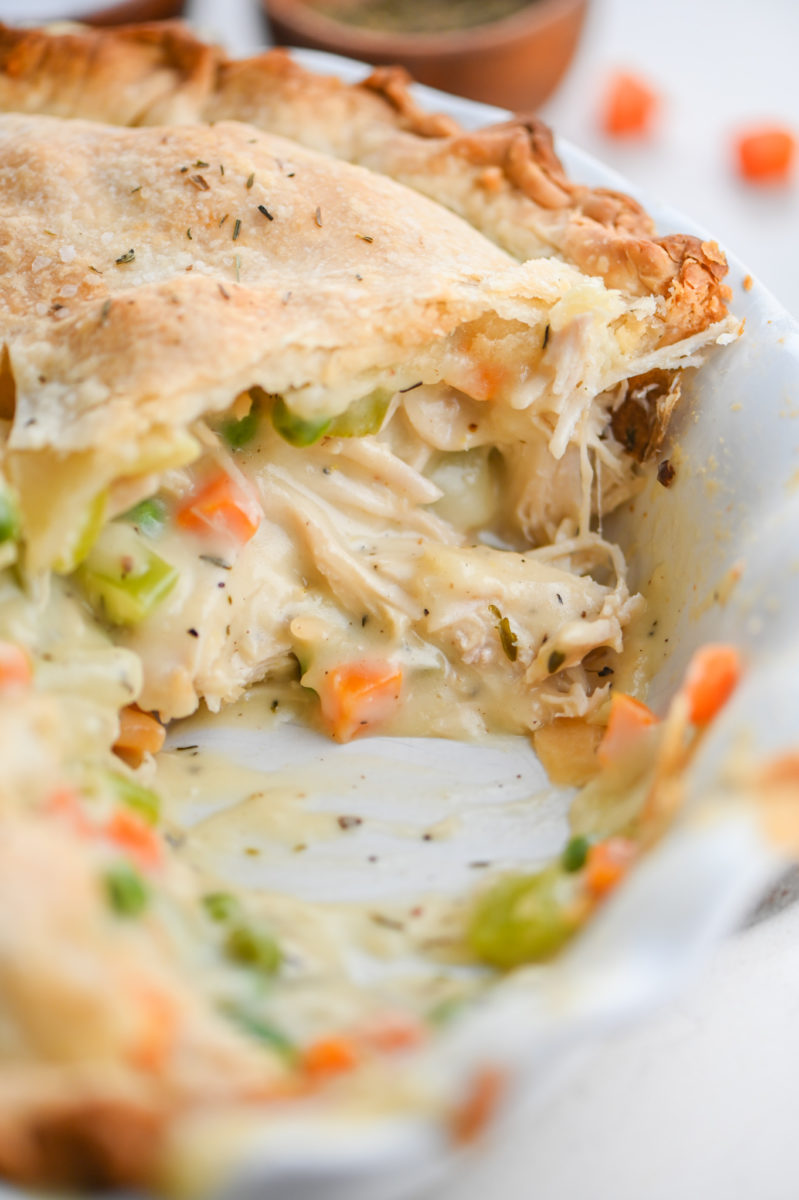 Now over the years, I shied away from making these because I thought they would be too hard. But you guys, guess what, Chicken Pot Pie is incredibly easy to make. Especially with the use of store-bought pie crust. One bite and you'll never buy the frozen ones again. Trust me.
First let's talk about the ingredients that you'll need to make it.
Ingredients For Chicken Pot Pie:
PIE CRUST: It's not chicken pot pie without the pie crust! To make things easier I use store-bought pie crust. If you have time, making your own is a great option. You'll need two crusts: one for the top and one for the bottom.
CHICKEN: This recipe is great for using leftover or rotisserie chicken. It is also great for leftover Thanksgiving Turkey.
VEGETABLES: This is where pot pies sometimes vary. For this recipe you'll need onion, celery, potatoes and frozen peas and carrots.
CHICKEN BROTH: Use low sodium chicken broth so that you can better control the saltiness of the dish.
HEAVY CREAM: This will give your gravy that luscious decadence that you're used to with pot pie.
FLOUR: Used to help thicken the gravy.
GARLIC: Fresh is best!
THYME: To me, this is what takes the gravy to the next level. It has that peppery herb flavor that just makes this dish!
BUTTER: You'll use this to cook the veggies and brush on top of the pie crust.
How to Make Chicken Pot Pie:
I used to be intimidated by chicken pot pie but that is before I realized how incredibly easy it is to make at home. Follow along with these step by step photos and instructions to see just how simple it is.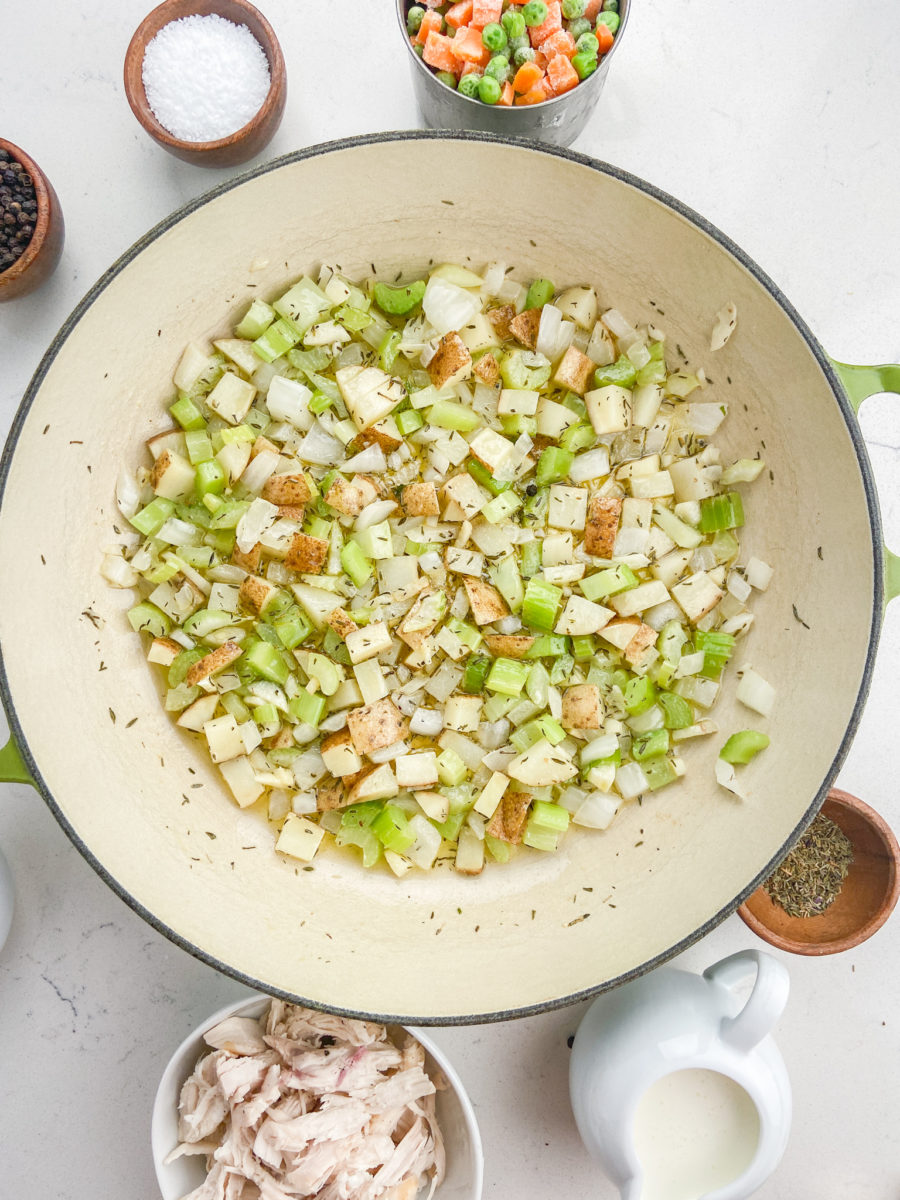 It might be hard to resist but it is important to let the pie rest before you slice into it. That will help the filling set so it won't seep out when you cut your first slice. 10 – 15 minutes should do it.
Truth be told, I cut into one too soon one time and it was still delicious. My eldest, who can be quite picky said "Mom, it doesn't look pretty but man, it tastes SO good!" I had to agree.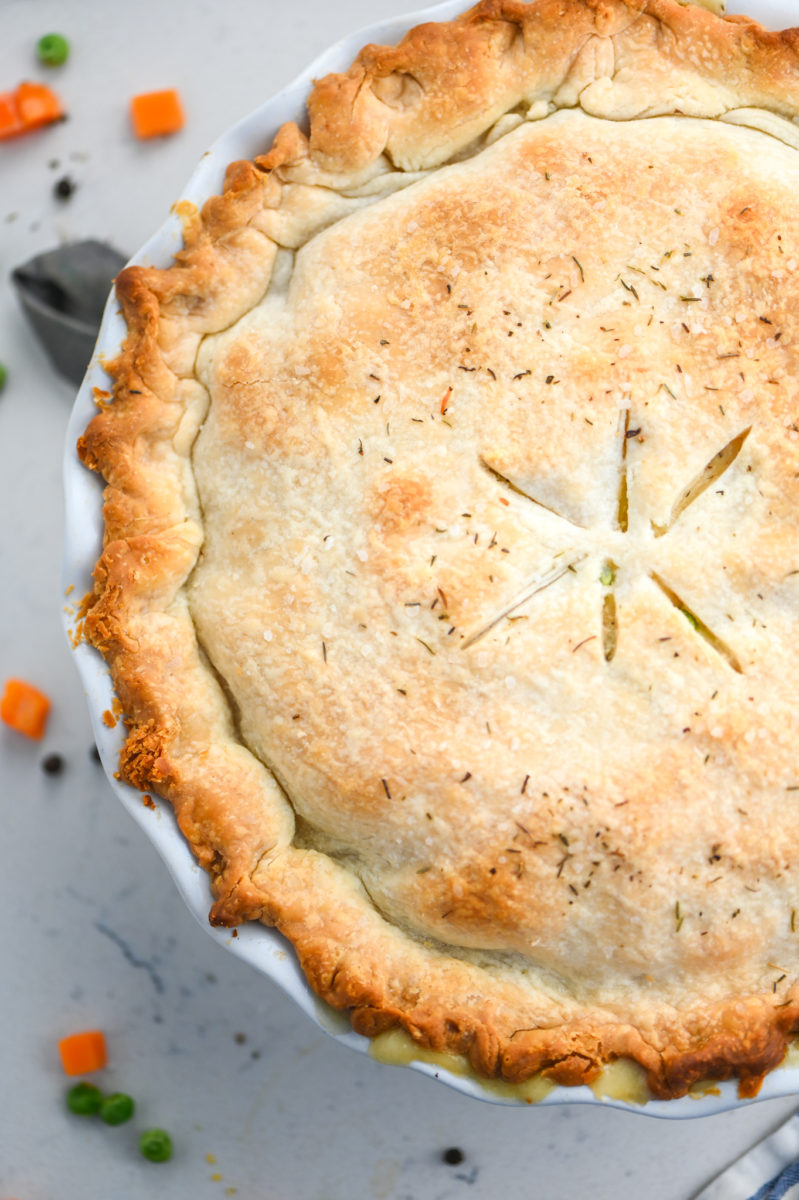 Storage and leftovers:
This chicken pot pie will last for a few days in the refrigerator. Don't forget to keep it covered so that the filling doesn't become too dry.
To reheat the pie, allow it to come to room temperature and then heat in a 300 degree oven 20 – 30 minutes or until heated through.
Recipe FAQ and Tips:
Why do you cut slits in pie crust?
When you are making a two crust pie crust, cutting slits to vent the pie will allow the steam to escape while it's cooking. This can help prevent soggy crust.
How do you stop pie crust from over-browning?
If the crust starts to get too brown, simply place some aluminum foil along the edges.
Can you make the filling in advance?
Yes! You can make chicken pot pie filling in advance. Refrigerate it and fill the pie crusts when you're ready.
What is the sauce in chicken pot pie?
The sauce is made with butter, chicken broth, flour and heavy cream.
Why do you need to allow the pie to cool before cutting?
Giving the pie a chance to cool before cutting will allow the filling to set. If you cut too soon the filling will spill out, it will still taste fabulous but won't be as pretty. 10 – 15 minutes should be good.
This chicken pot pie has all of your veggies, carbs and protein in one so you really don't need to serve it with anything else. But a green salad drizzled with a light garlic vinaigrette would be a great side!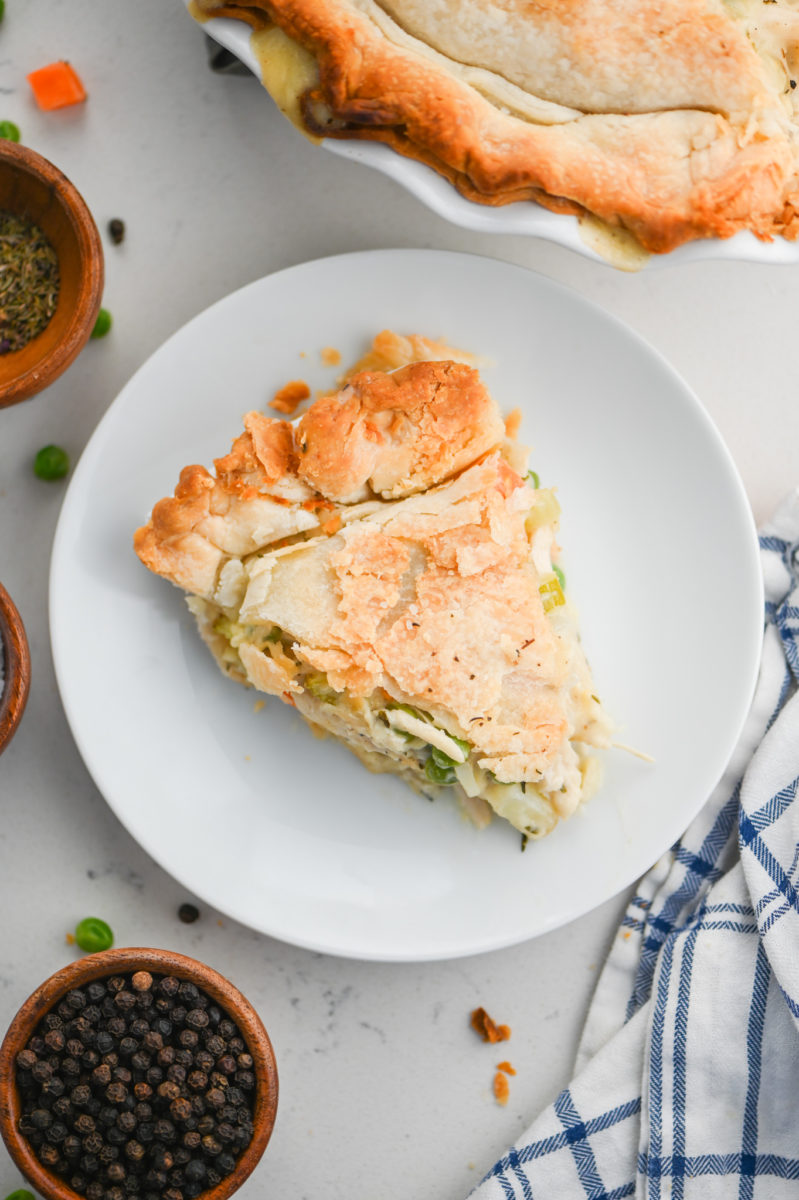 Looking for more recipes that use leftover chicken? Try these:
This Creamy Dill Chicken Salad is an all time favorite around here! Anytime I have leftover chicken we have these for lunch the next day.
Try this twist on enchiladas with Green Chile Chicken Enchiladas.
Another chicken salad here but with twist! Curry Chicken Salad is sure to liven up your lunches!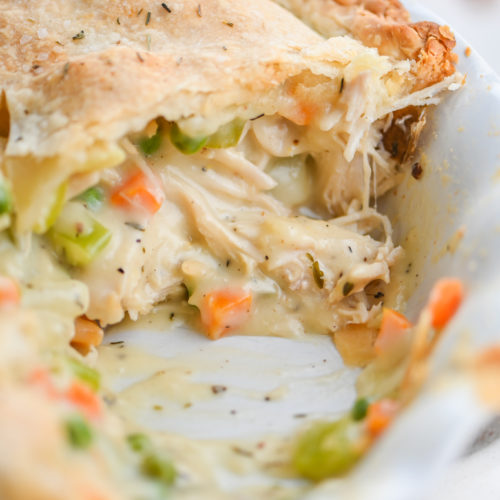 Easy Chicken Pot Pie Recipe
This Easy Chicken Pot Pie is pure comfort food. This classic savory pie is filled with chicken, vegetables and a creamy herb gravy.
6

tablespoons

unsalted butter

1

cup

diced yellow onion

1

cup

diced celery

1

teaspoon

dried thyme

6

cloves

garlic

2

russet potatoes

2 small or 1 medium

1/3

cup

all purpose flour

2

cups

low sodium chicken broth

1/2

cup

heavy cream

1/2

cup

frozen peas and carrots

4

cups

shredded chicken

2

pie crusts

1

tablespoon

butter

melted

salt and thyme

optional
Preheat oven to 425 degrees.

Place butter in a large skillet over medium heat. Cook just until melted. Add in onion, celery, thyme, garlic and potatoes. Cook just until vegetables start to soften, about 5 minutes.

Add in flour. Stir to coat the veggies and allow to cook one minute.

Slowly whisk in chicken broth and heavy cream. Allow to thicken about 5 minutes. Fold in shredded chicken and peas and carrots.

Place one pie crust into the bottom of a 9 inch pie pan. Pour filling into pie crust. Top with other pie crust and press the crusts together so it is sealed. Flute edges if desired. Use a paring knife to cut slits into the pie crust. Brush crust with melted butter and sprinkle with salt and thyme (if desired). Bake for 35 – 45 minutes or until crust is browned. Allow to cool 10 – 15 minutes before slicing and serving.
If the crust starts to brown too much, loosely cover the pie with aluminum foil. 
You can also use leftover shredded turkey. 
Nutrition information for estimation purposes only. 
Calories:
702
kcal
Carbohydrates:
53
g
Protein:
32
g
Fat:
40
g
Saturated Fat:
18
g
Polyunsaturated Fat:
4
g
Monounsaturated Fat:
14
g
Trans Fat:
1
g
Cholesterol:
123
mg
Sodium:
363
mg
Potassium:
784
mg
Fiber:
4
g
Sugar:
3
g
Vitamin A:
1876
IU
Vitamin C:
9
mg
Calcium:
79
mg
Iron:
4
mg
Keywords:
leftover chicken, pie, Pot pie