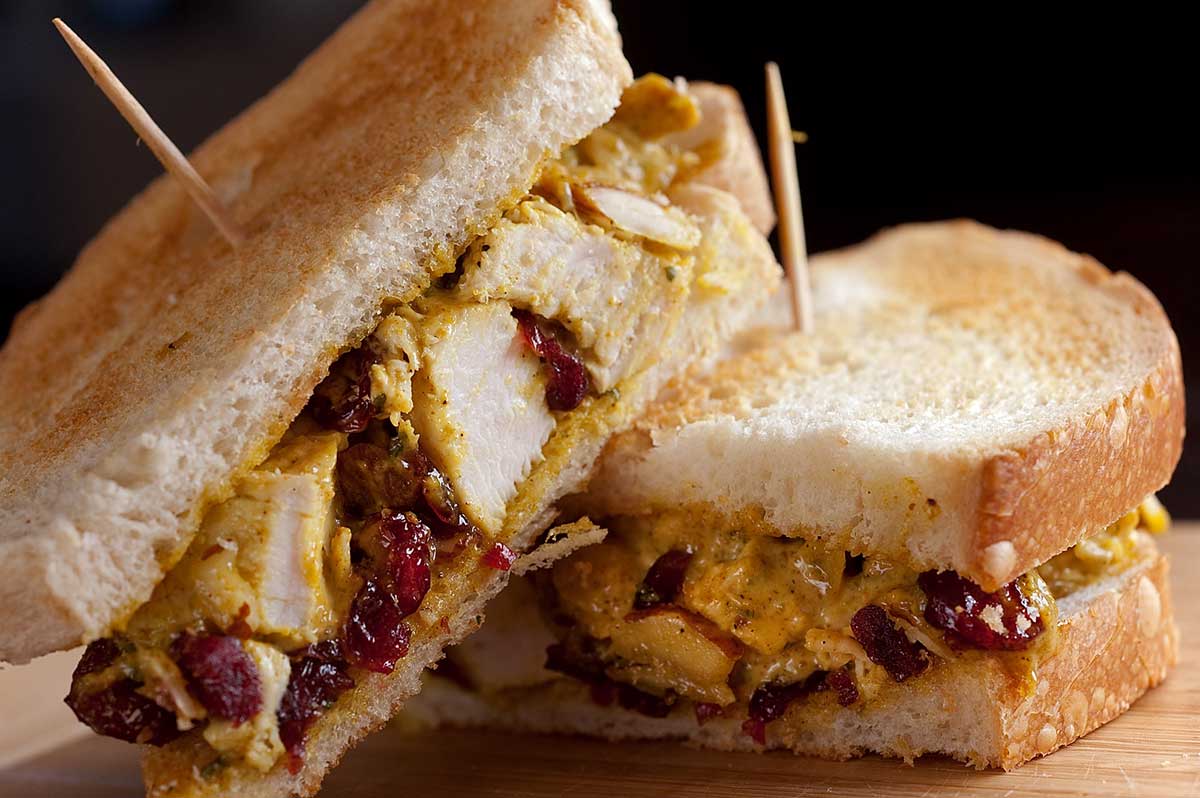 Curried Chicken Salad Sandwich
Exciting times in our house I tell ya', emphasis on the word house. That's right, Ryan and I just bought our first home! It's cute, it's the perfect starter and it needs some work which is why I have been MIA for the past couple of days. It is also why I decided to make these curried chicken salad sandwiches with curry, cranberries and almonds. They are easy, super flavorful and most important to us new homeowners who don't yet live in our new home because we are fixing it up, they are also very portable.
I am a giant fan of curried chicken. Well I'm not a giant in the literal sense, although that would be pretty cool, I just really like chicken curry. Generally when I have it the chicken is simmered in a spicy curry sauce and spooned over jasmine rice like this, but that's not feasible right now, plus its going to be like a bajillion degrees here this week. FYI in Seattle terms 95 degrees =  a bajillion degrees and I just don't like cooking when it is that hot. That is why these sandwiches are perfect, they use already prepared chicken so I don't have to spend much time on dinner and can concentrate on more important things like what color to paint the dining room.
Curried Chicken Salad Sandwich Recipe
Ingredients:
1/2 cup mayonnaise
1 tablespoon curry powder
1 tablespoon white wine vinegar
1 tablespoon chopped fresh cilantro
1/4 teaspoon cumin
1/4 teaspoon garam masala
1/3 cup dried cranberries
1/4 cup sliced almonds
2 cups diced cooked diced chicken breast
salt to taste
4 slices sourdough bread
Instructions
1
Whisk first six ingredients together in a bowl. Stir in cranberries, almonds and diced chicken. Cover and refrigerate for 30 minutes to let the flavors meld. Season to taste with salt.

2
Toast sourdough bread if desired. Spoon mixture onto bread. Serve.