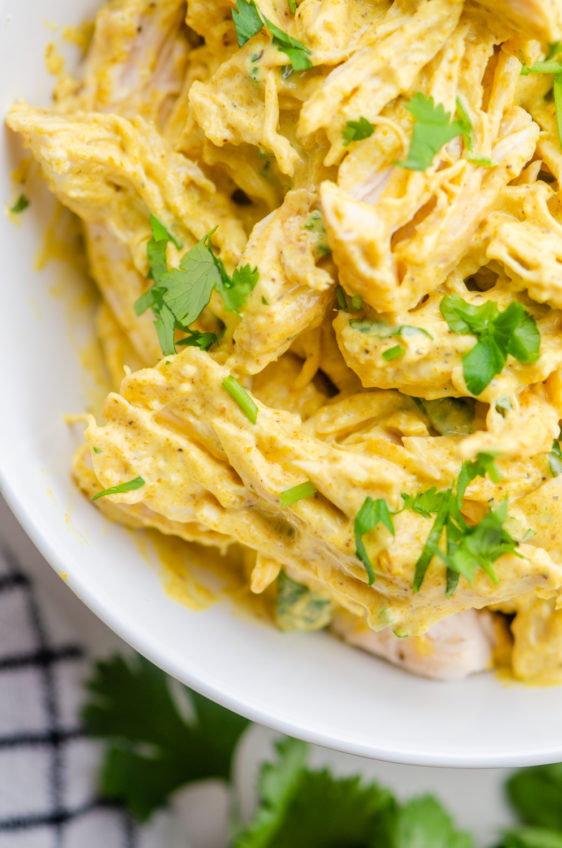 Curry Chicken Salad
Curry Chicken Salad is a flavorful twist on classic chicken salad! This chicken salad recipe is made with shredded chicken and in a creamy curry dressing.  
When it comes to lunches, chicken salad is always at the top of my list. Whether you serve it on top of salad greens, on crackers, or my favorite, bread, chicken salad is always a winner.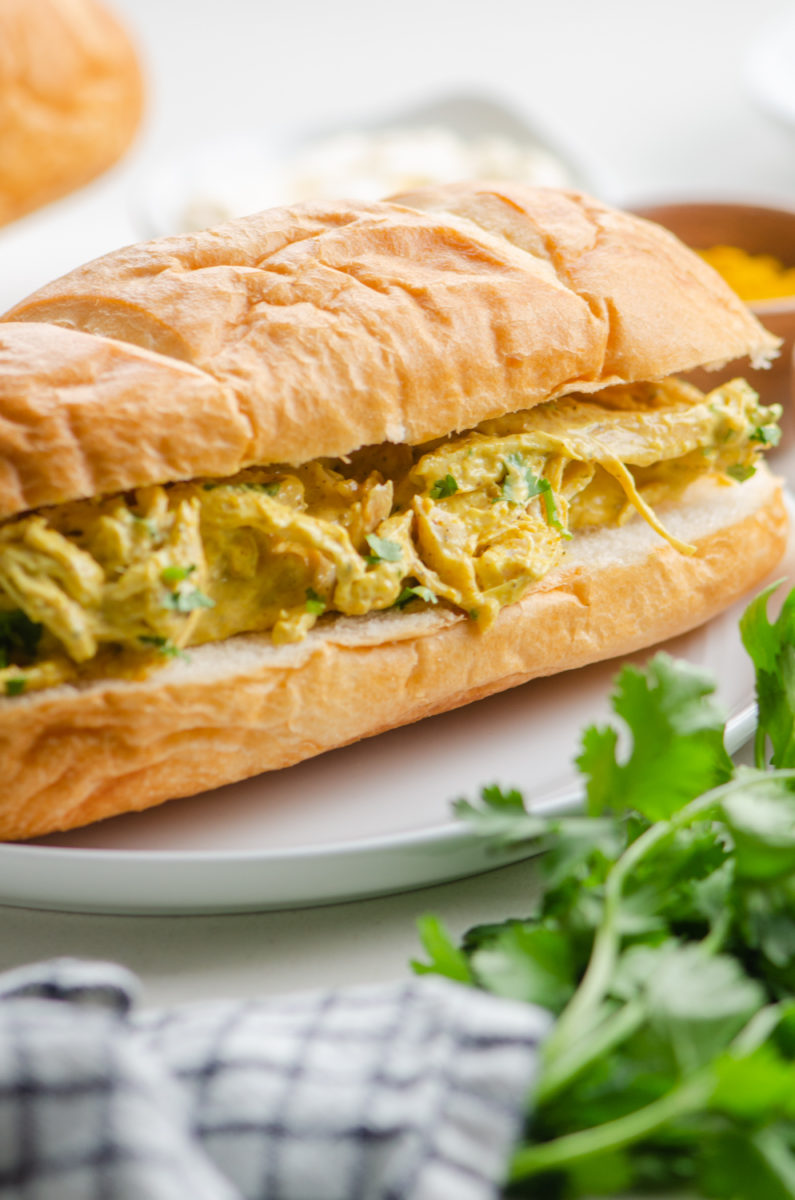 I've made Creamy Dill Chicken Salad, Moroccan Chicken Salad and Lemon Pepper Chicken Salad and now, Curry Chicken Salad. Like the others, this recipe uses pre-cooked shredded chicken so it is the perfect way to use up that leftover rotisserie chicken you've got laying around.
Ingredients: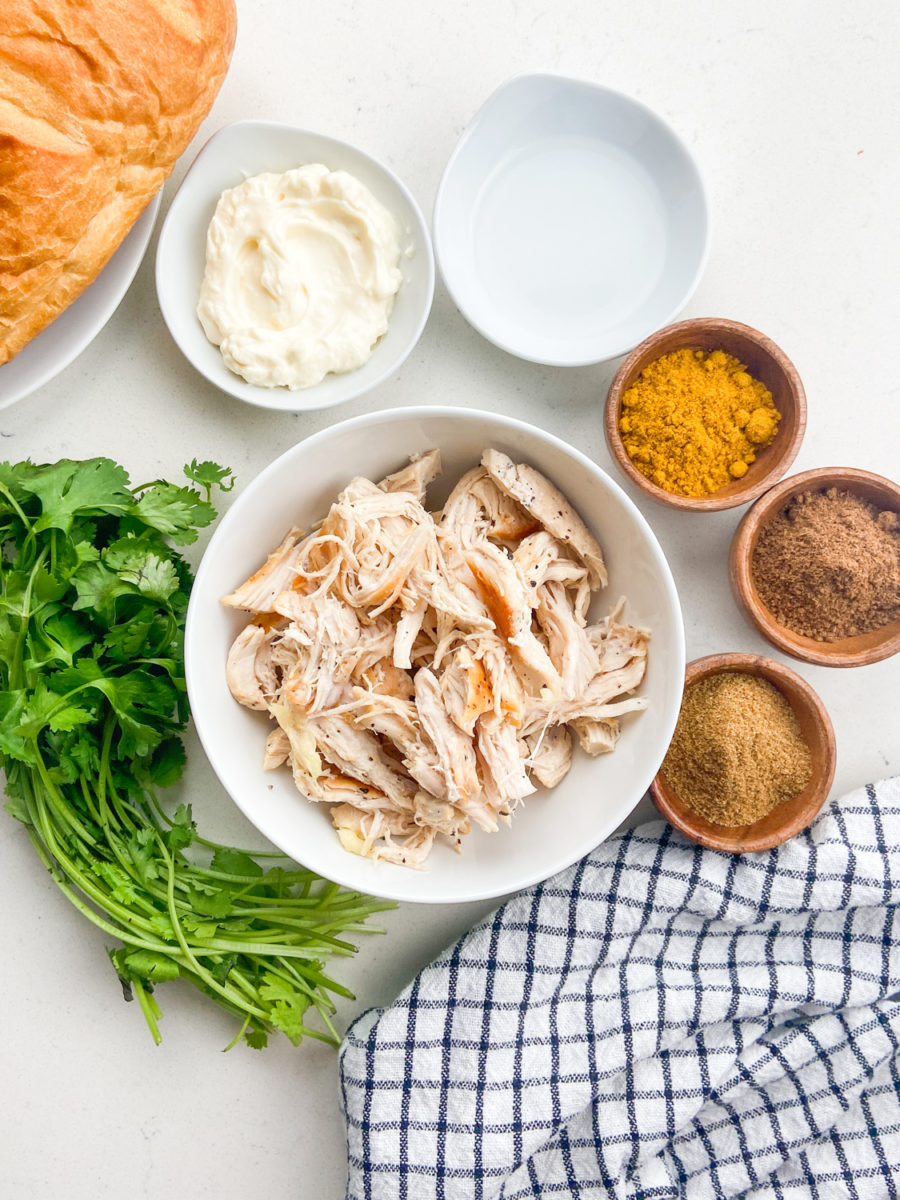 CHICKEN: I love to use leftover rotisserie chicken for this, simply shred or dice it. If you don't have any on hand, just cook a large chicken breast or a couple chicken thighs.
MAYONNAISE: Adds creaminess to the dressing.
CURRY POWDER: If you're not familiar with it, it is a deep, warm flavor. Some curries are spicy and some are not. For this recipe, I use a mild curry blend. Spice Islands Curry Powder is a favorite.
GARAM MASALA: This is another favorite spice blend. It is popular in Indian Cuisine and has a lot of the same warm flavors that curry powder has but it has a touch more spice.
CUMIN: Adds a smokiness to the dressing.
WHITE WINE VINEGAR: Adds a touch of acidity and thins out the dressing a bit.
CILANTRO: Totally optional if you don't like cilantro simply leave it out!
How to make Curry Chicken Salad:
Literally two steps! How easy is that?
STEP #1: Whisk together the ingredients for the dressing.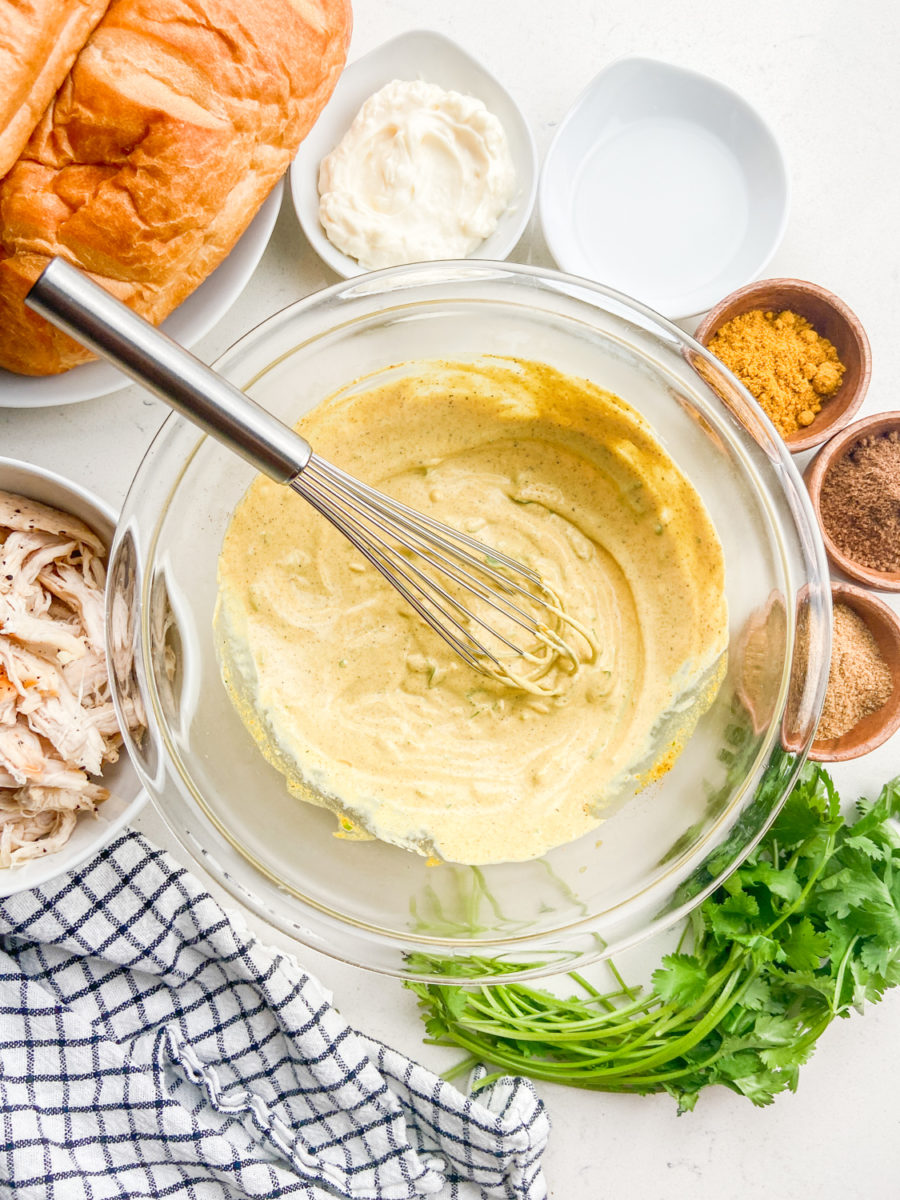 STEP #2: Fold in the chicken. Cover and refrigerate for 30 minutes or so until the flavors meld. Serve with on bread, with crackers, in lettuce leaves or on top of salad greens.
Variation Options:
If you want to add a little sweetness, dried cranberries or grapes are always a great option. For crunch, try adding sliced almonds or celery.
This Curry Chicken Salad is great to make a day in advance too because the longer the flavors have to meld, the more flavorful it is!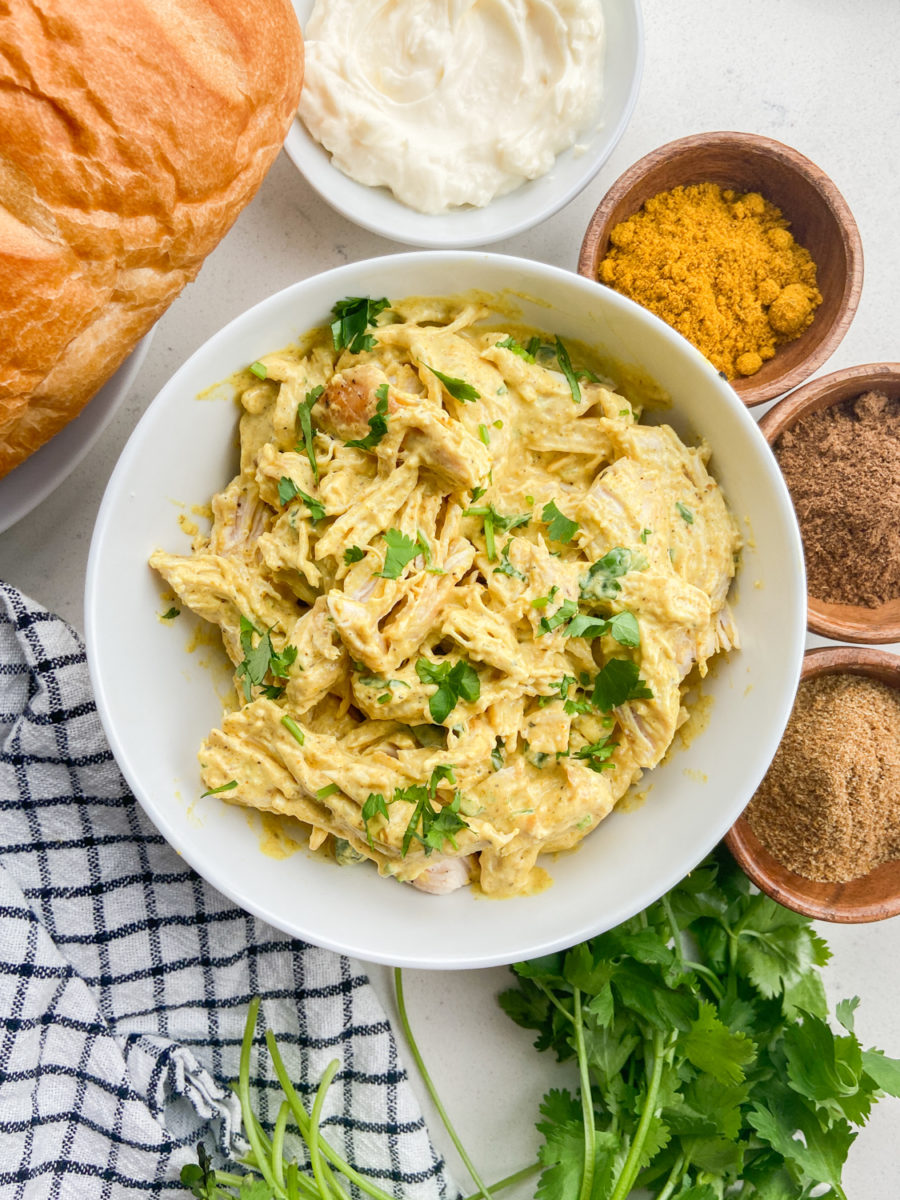 Looking for more lunch ideas? Check out these options:
Love curry? I've got a few recipes you have to try!:
Note: This recipe was originally written in 2010. It was updated in 2021 with a modified recipe, nutrition information and photos in 2021.
Curry Chicken Salad Recipe
Ingredients:
1/2 cup mayonnaise
1 tablespoon curry powder
1 tablespoon white wine vinegar
1 tablespoon chopped fresh cilantro
1/4 teaspoon cumin
1/4 teaspoon garam masala
2 cups diced cooked shredded chicken
salt to taste
Instructions
1
Whisk first six ingredients together in a bowl. Stir in diced chicken. Cover and refrigerate for 30 minutes to let the flavors meld. Season to taste with salt.

2
Toast sourdough bread if desired. Spoon mixture onto bread. Serve.
Notes
Nutrition information for estimation purposes only.
Nutrition information
Amount per serving: Chicken Salad alone
Calories: 227 , Total Fat: 12.2g , Saturated Fat: 2.1g , Cholesterol: 62mg , Sodium: 293mg , Carbohydrates: 8g , Fiber: 0.5g , Sugar: 1.9g , Protein: 20.8g