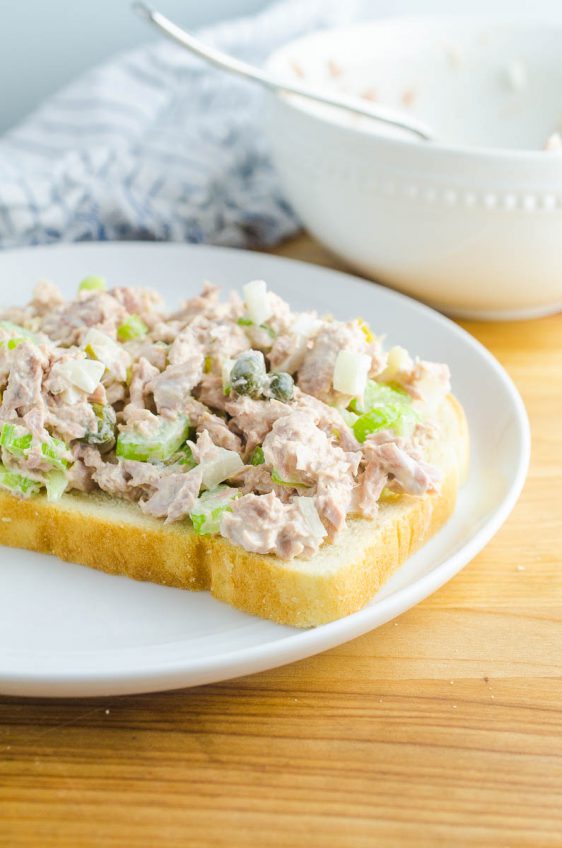 Tuna Salad
Classic Tuna Salad is a great, protein packed option for lunch. Serve it on sandwiches, crackers or with lettuce for wraps. It's full of flavor and ready in a flash!
When it comes to sandwiches, I'll admit they are not the first thing I reach for. I do love a good Italian Sub from time to time, BLTs of course, chicken salad and this tuna salad.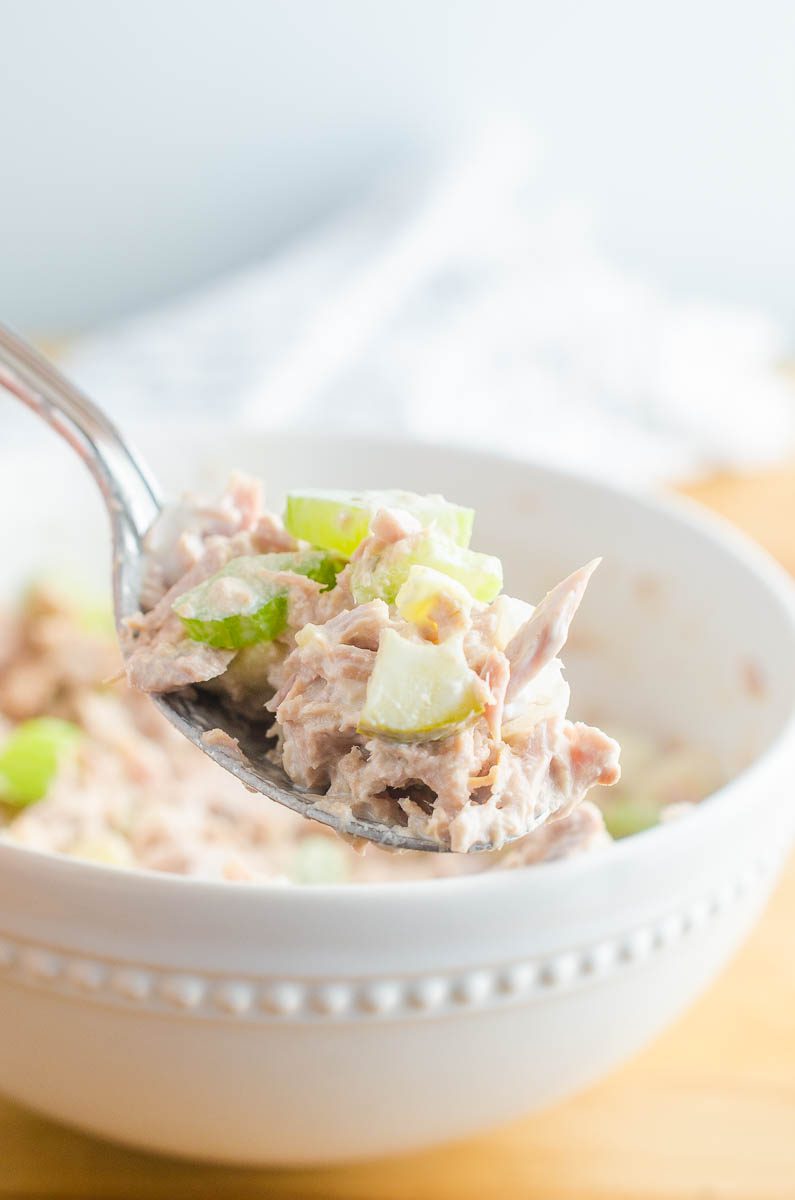 Tuna salad has long be one of my favorites. I remember it being one of my favorites as a kid, I always had my mom put pickles in it of course. Oh and creamy mayo, Best Foods (Hellman's for you east coasters) to be precise.
It was one of my favorites. And as I've grown, I always keep a can of tuna in the pantry to make it whenever I get the craving.
What ingredients go in tuna salad?
First, let's talk tuna. When I am going to make a cream based tuna dish, I prefer to use the tuna that is packed in water vs tuna that is packed in oil. Tuna that is packed in oil and then tossed with mayonnaise tends to take on a greasy feel that I'm not too fond of. So water packed tuna it is!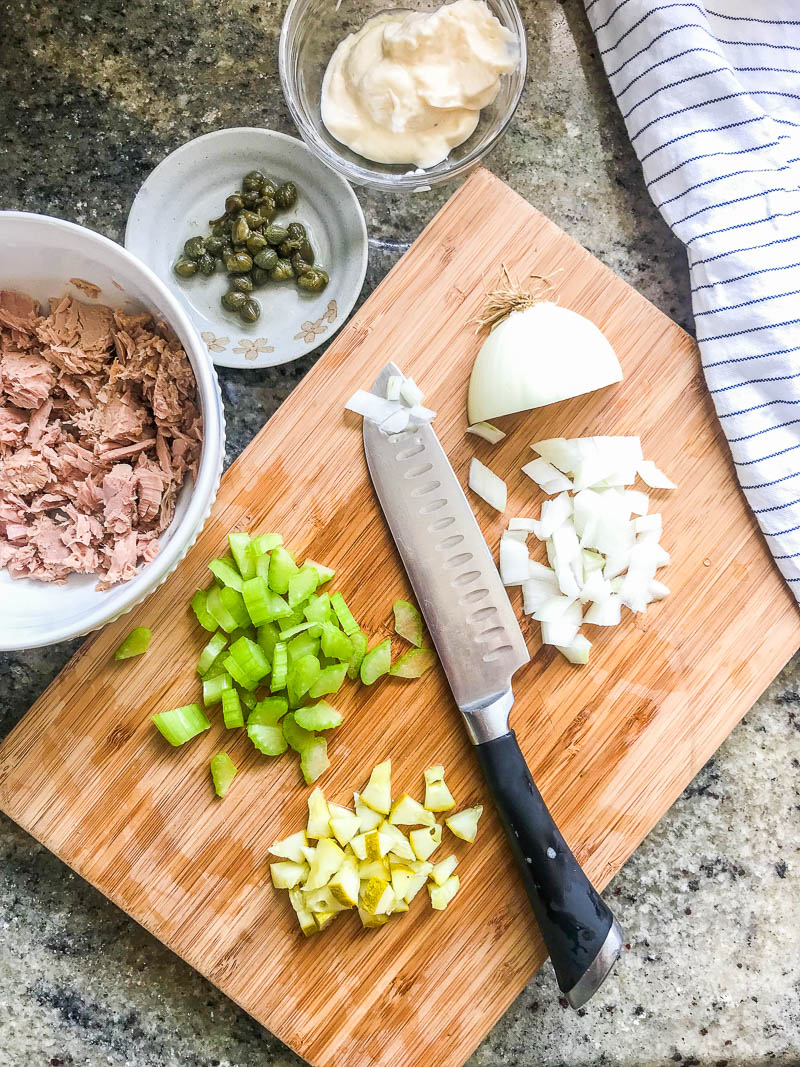 As far as mix-ins go. Mayonnaise and pickles have been a favorite since childhood. However, as I've grown up I've also realized that you can put just about anything that you like. You could add tomatoes, basil and lemon. You could make a curried version. Or add some lime, cilantro and jalapeno for a taco version!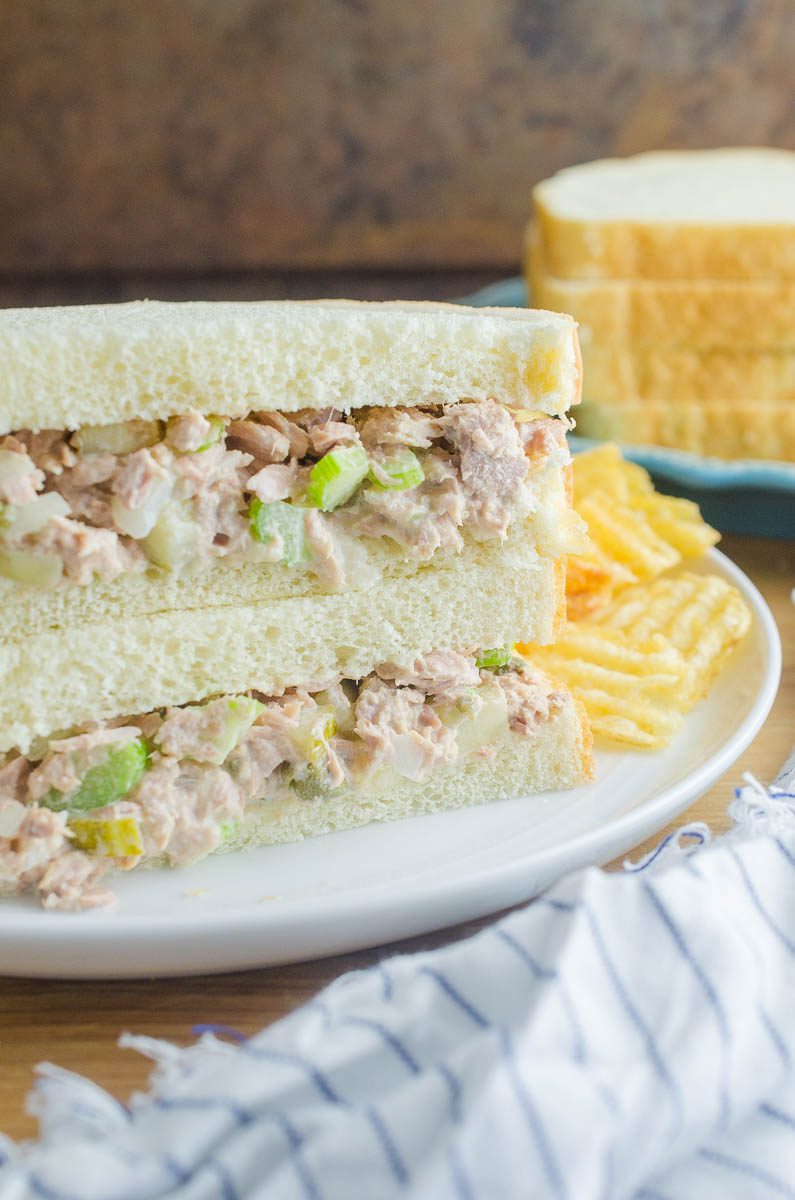 For this Tuna Salad Recipe, I add mayonnaise, pickles, celery, white onion and capers.
What are capers?
For those of you that don't know, capers are the buds of a flower. They are often found packed in salt or vinegar. They are salty and briny. You can add them to dressings, pastas and in this case tuna salad.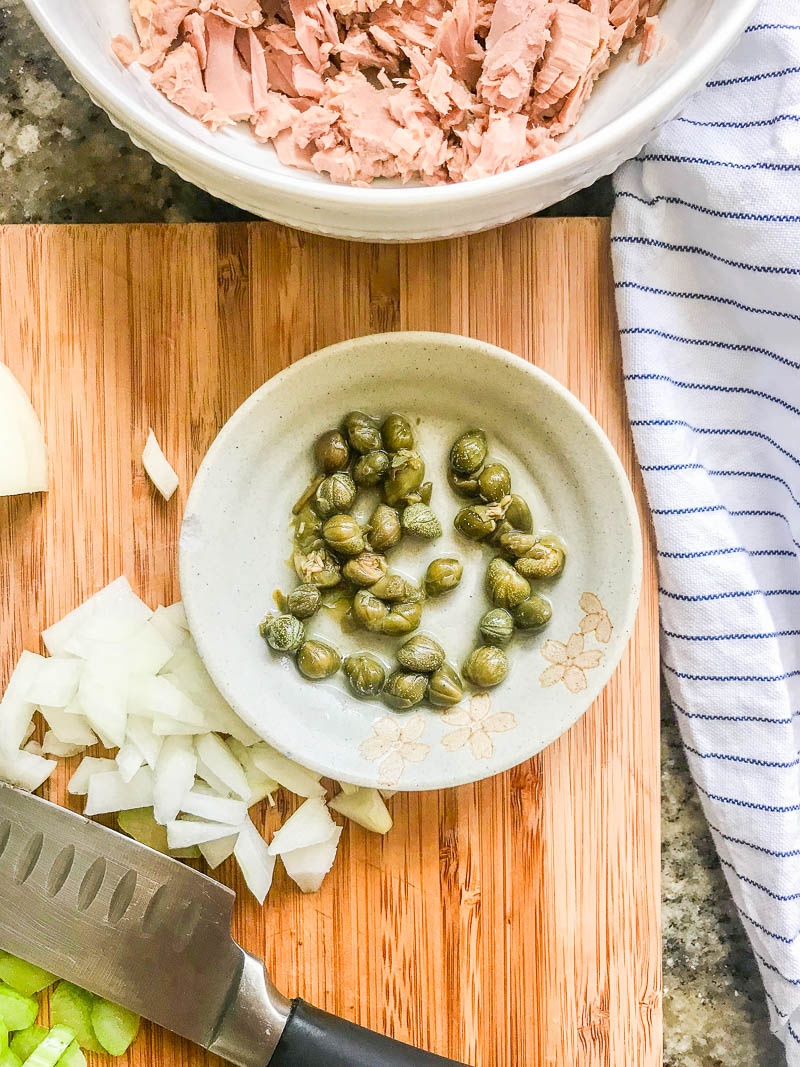 Capers can be a bit salty if you don't give them a quick rinse before eating them too. But they add a great flavor to so many dishes!
How do you serve tuna salad?
My favorite way to serve tuna salad is in a sandwich. It's fabulous with soft sour dough bread. You can also serve it with crackers or in lettuce wraps.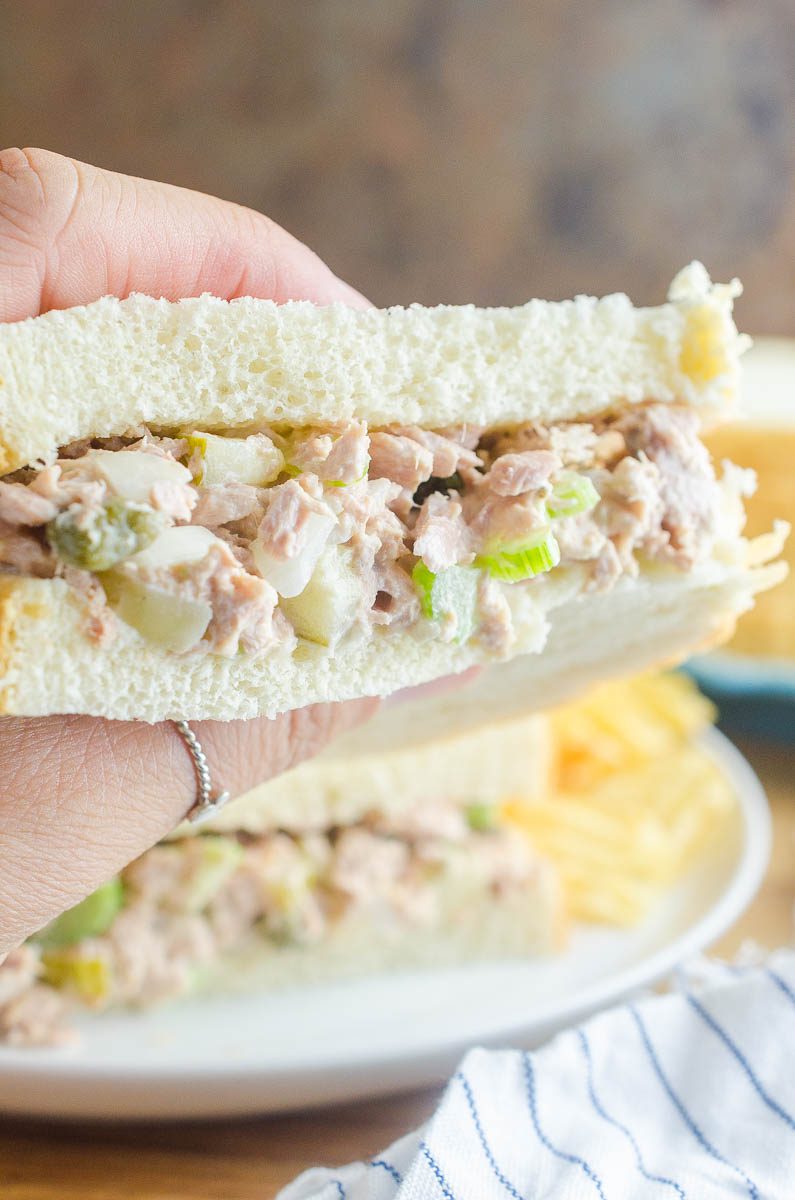 The best part of this recipe is that it comes together in 5 minutes. That means that it is perfect for quick lunches, no matter how you serve it!
Check out these other Sandwich Recipes for more lunch ideas: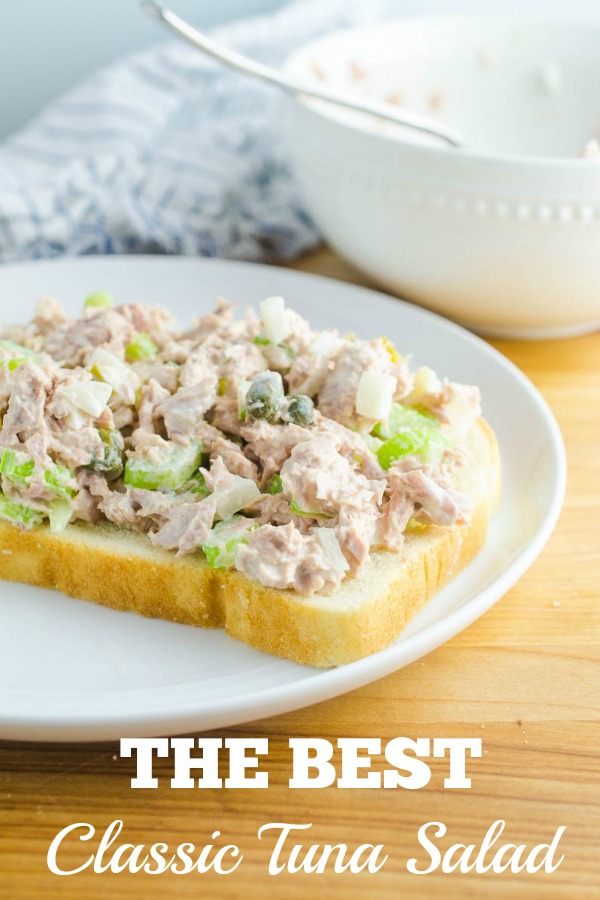 More Tuna Recipes:
Tuna Pasta Salad with Spring Vegetables
Seared Ahi Tuna with Wasabi Cream 
Tuna Salad Recipe
Ingredients:
6 ounces chunk light tuna packed in water, drained
1/4 cup chopped celery
2 tablespoons chopped pickles
2 tablespoons minced onion
3 tablespoons mayonnaise
1 tablespoon capers, rinsed (optional)
Instructions
1
Combine all ingredients together in a bowl. Mix well.

2
Serve as sandwiches, on crackers or lettuce wraps.
Notes
Nutrition facts not guaranteed
Nutrition information
Amount per serving: 1/2 cup tuna salad
Calories: 229 , Total Fat: 9g , Saturated Fat: 1.1g , Cholesterol: 66mg , Sodium: 952mg , Carbohydrates: 7g , Fiber: 0.7g , Sugar: 2.1g , Protein: 30.5g