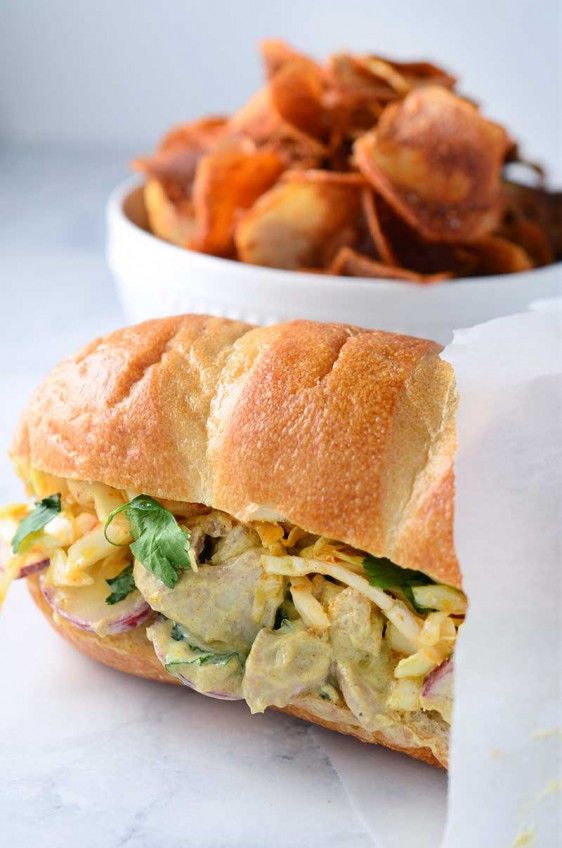 Moroccan Chicken Salad Sandwich
Everyone loves a good chicken salad sandwich am I right? The tender chicken in creamy sauce sandwiched between bread just totally hits the spot. I decided to mix up the flavors with this version though and do a little bit of a Moroccan twist. What does that mean exactly? Well that means lemon, cumin, turmeric, cinnamon, ginger and that's just the chicken salad. I also made a tangy Harissa slaw to go on top because lately my motto is "PUT HARISSA ON ALL THE THINGS!"
I told you in my post for Harissa Potato Chips that Harissa is slowly creeping it's way to the top of my hot sauce list. I might have to say it has finally tied sriracha. It has not surpassed because I still love me some of the red rooster but harissa is really good.
So good in fact that I decided to find a place for it in a chicken salad sandwich.
I have to watch where I add harissa because it's a bit too spicy for my little guy so I couldn't just make a Harissa Chicken Salad Sandwich if I wanted him to eat dinner. Instead I made a creamy Moroccan Chicken Salad Sandwich and then made a harissa slaw to go on top.
I know you don't usually see slaw on top of a chicken salad sandwich but in addition to putting harissa on all the things, I'm also a fan of putting slaw on all the sandwiches and all the burgers.
It's kind of my thing.
It worked like a charm in this sandwich. The crunchy slaw and the creamy chicken salad just meshed so well together. I am pretty sure that all of my chicken salad sandwiches will have to have slaw on them from now on.
Look at new thing!
Finally, I keep on talking about creamy chicken salad this and creamy chicken salad that but guess what? Where your standard chicken salad gets it's creaminess from mayo, this chicken salad gets it's dose of creamy goodness from Greek yogurt.
BOOM.
This is a healthified chicken salad sandwich too!
BUT WAIT THERE'S MORE.
It's even better the next day :)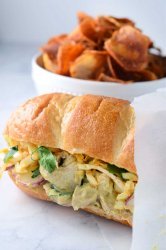 Moroccan Chicken Salad Sandwich
This Moroccan Chicken Salad sandwich is a twist on the classic. Creamy chicken salad with turmeric, Greek yogurt, cumin & ginger. Topped with Harissa slaw.
Moroccan Chicken Salad Ingredients:
Harissa Slaw Ingredients:
Heat olive oil in a skillet over medium heat. Toss chicken liberally with salt and pepper. Cook chicken until cooked through, about 8 - 10 minutes. Allow to cool.

Meanwhile, whisk together greek yogurt, salt, cumin, ginger, turmeric and cinnamon. Add in cooled chicken, radishes and cilantro. Mix well. Cover and refrigerate for at least 30 minutes.

Make the coleslaw by whisking together lemon juice, olive oil, harissa and salt. Mix in cabbage and toss to coat. Cover and refrigerate for at least 30 minutes.

When ready slice hoagie rolls in half lengthwise. Spoon chicken salad on bottom half. Top with harissa slaw and top half of roll. Serve.
Keywords:
chicken, lunch, moroccan, sandwich