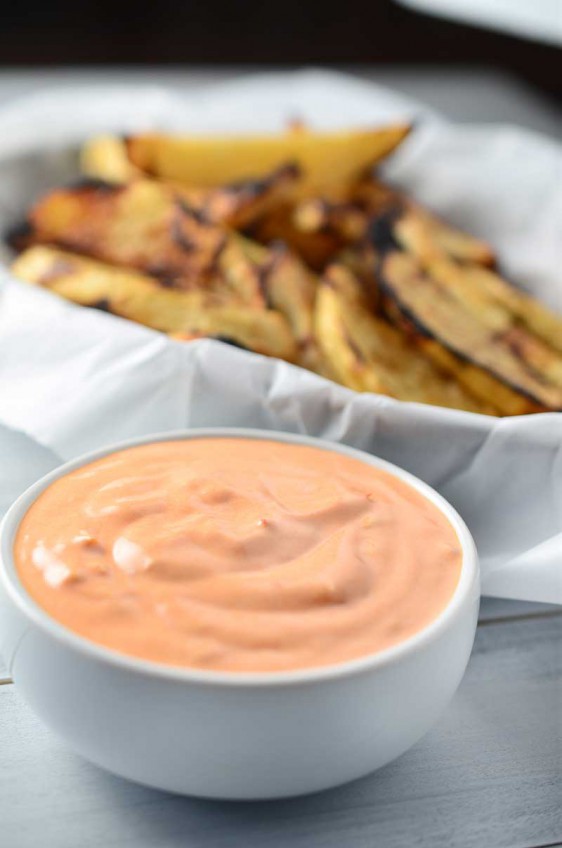 Harissa Aioli
Happy Friday! Today I have a quick and easy aioli recipe to share with you: Harissa Aioli. It's creamy, spicy, comes together in a flash and is good on just about anything. From fries, to burgers to chicken and chips, you are going to want to dip all the things in it.
But first, a story from my week.
As a stay-at-home mama, I am always trying to find stuff to do during the days with the boys after we take Ryan to work. This week Kellan wanted to go to a local indoor play area. It has a play area with tubes the kids can climb in and slides and trampolines. The kids can run around and have a blast. There is only one way in so I sit at the front with Preston, who is too young to play, and make sure Kellan doesn't leave the area. It's a fun time. Really it is.
That is until you're nursing your youngest child and a woman comes to you carrying your older child telling you that he fell down the slide.
That is when it becomes not so fun. That is when mommies panic.
It doesn't help when you can't seem to comfort your child. And he cries and cries. That's when you know something is wrong.
That is when you strap your infant in the ergo and carry your 3 year old on your hip and book it to the doctors office.
And is it just me or when you are 20 minutes from the doctors office and you have an injured child do people just drive incredibly slow?
It felt like it took FOR. EV. ER. (Don't worry, mom, I didn't speed)
Finally, we made it to the doctor. He had some x-rays done and the results showed a possible fracture but they had to have the head radiologist look at it to be sure. In the meantime they put a brace on him, gave him some pain medicine and told me that he can't walk on it until we go in and have it checked again today.
Fast forward to that night and the doctor called and told us that the radiologist said it was just normal bone and it wasn't broken, but he still had to wear the brace for two days.
My poor little dude. He's doing amazingly well with it. We've spent our time reading, watching movies and playing on the arcade (a toy Ryan bought for himself in his bachelor days). Fingers crossed that when we go in today to have it looked at all goes well and he no longer needs the brace.
Did I mention that today is also the day that he's suppose to tart t-ball? Yep. Of course it is.
There is really no good way to connect this story to this Harissa Aioli recipe except to say that when I've had a rough day like that, I love little guilty pleasures like dipping fries in creamy aioli. Especially a quick and easy one like this harissa aioli. Like the bacon aioli in Jalapeno Egg Burger Recipe, I use mayo as the base and whisk in the other ingredients and voila! Harissa Aioli.
It's so good guys. Creamy, spicy and full of flavor. We dipped grilled fries in it but I can't wait to use it on sandwiches… burgers…chips…onion rings…a spoon.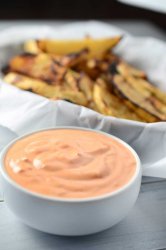 Harissa Aioli
This harissa aioli is quick, easy and good on just about anything!
Ingredients:
1/2

cup

mayonnaise

2

garlic cloves

minced

1

tablespoon

olive oil

1

tablespoon

lemon juice

2 - 3

teaspoons

harissa paste

salt to taste
Whisk together mayonnaise, garlic, olive oil, lemon juice and harissa. Season to taste with salt. Cover and refrigerate for at least 30 minutes.

Store leftovers in a covered container and use within a few days.