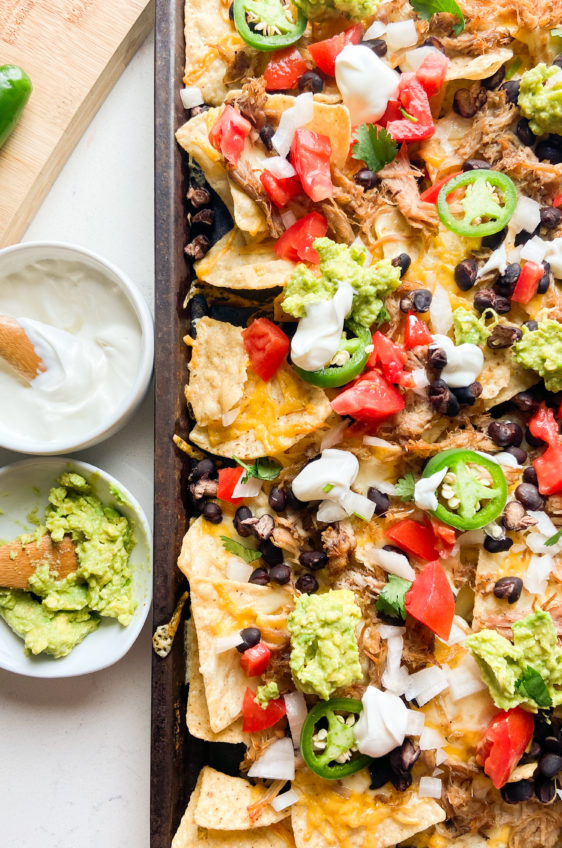 Pulled Pork Nachos
Use leftover pulled pork to make these loaded Pulled Pork Nachos. Topped with two kinds of cheese and all the fixins' these are a party hit!
What is it about the combination of crunchy tortilla chips, melty cheese and a smorgasbord of toppings that is just SO good? There is so much goodness piled high on a plate of nachos that it is virtually impossible for them to be anything but amazing.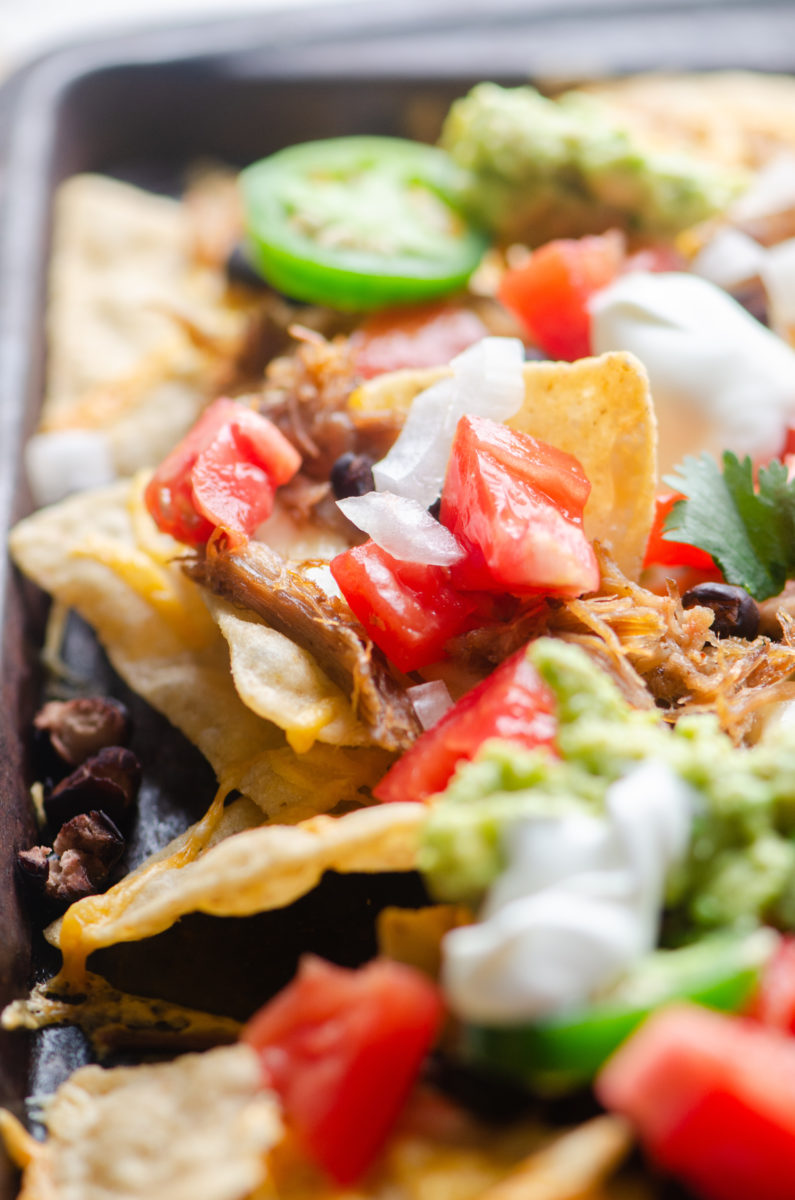 Take these nachos for instance. They are loaded with shredded pulled pork, cheddar cheese, jack cheese, black beans, guacamole, sour cream, onion, tomatoes, jalapenos and cilantro! Like I said, loaded.
And as good as a plate of nachos is, a sheetpan of nachos is even better! So of course, that is the recipe I have got for you today.
What ingredients do you need: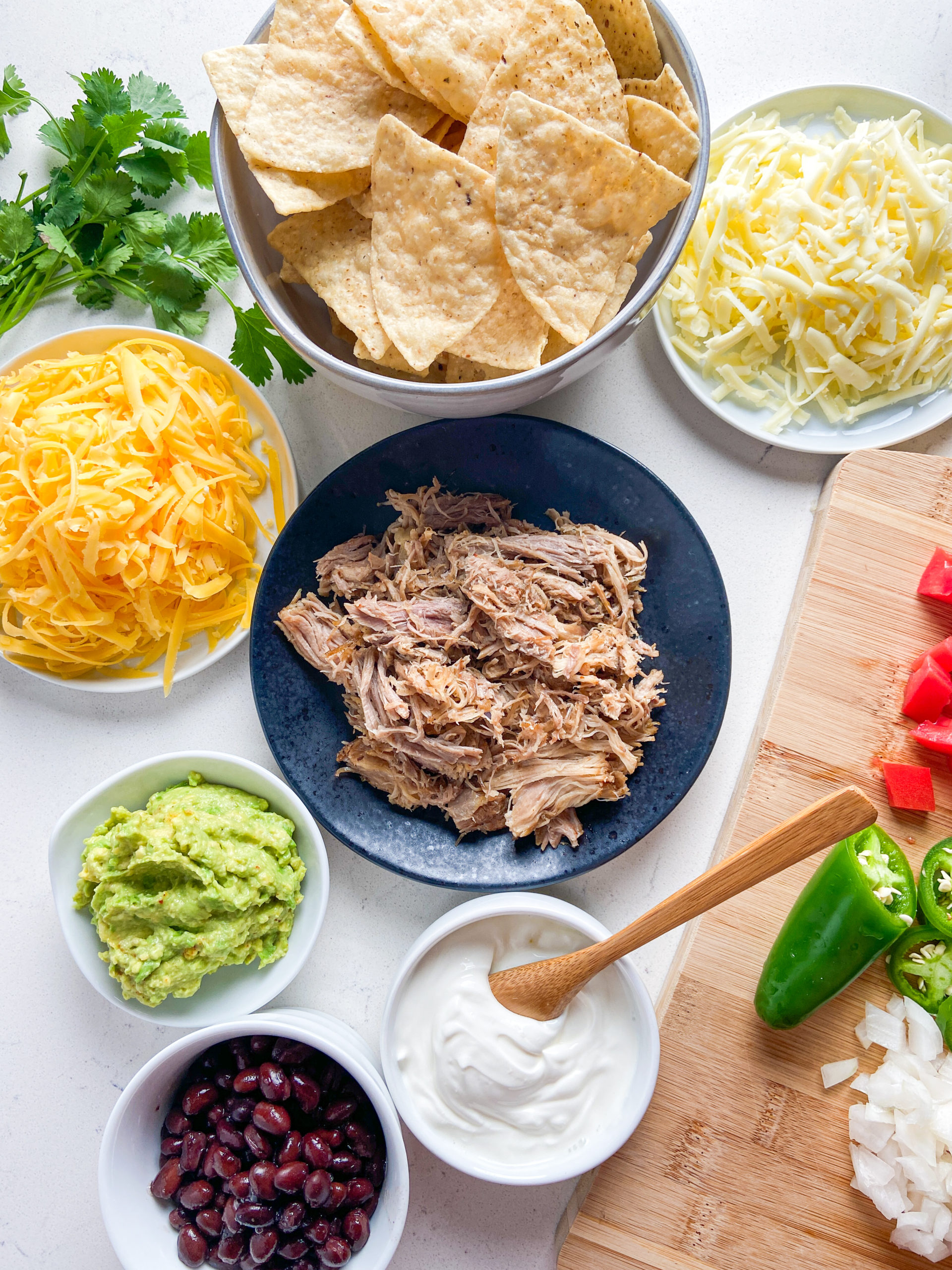 TORTILLA CHIPS: When it comes to nachos, I think the triangles are the best. There is more surface area for all the goodies than you'd get with tortilla strips.
CHEDDAR/JACK CHEESE: You can't have nachos without cheese! I like the blend of cheddar and jack, but you can use any kind of melty cheese (read: cheddar, jack, mozzarella, colby etc) that you like!
PULLED PORK: I will often make this pulled pork recipe on Sunday and use it for recipes throughout the week. Nachos is one of our favorite ways to use the leftovers!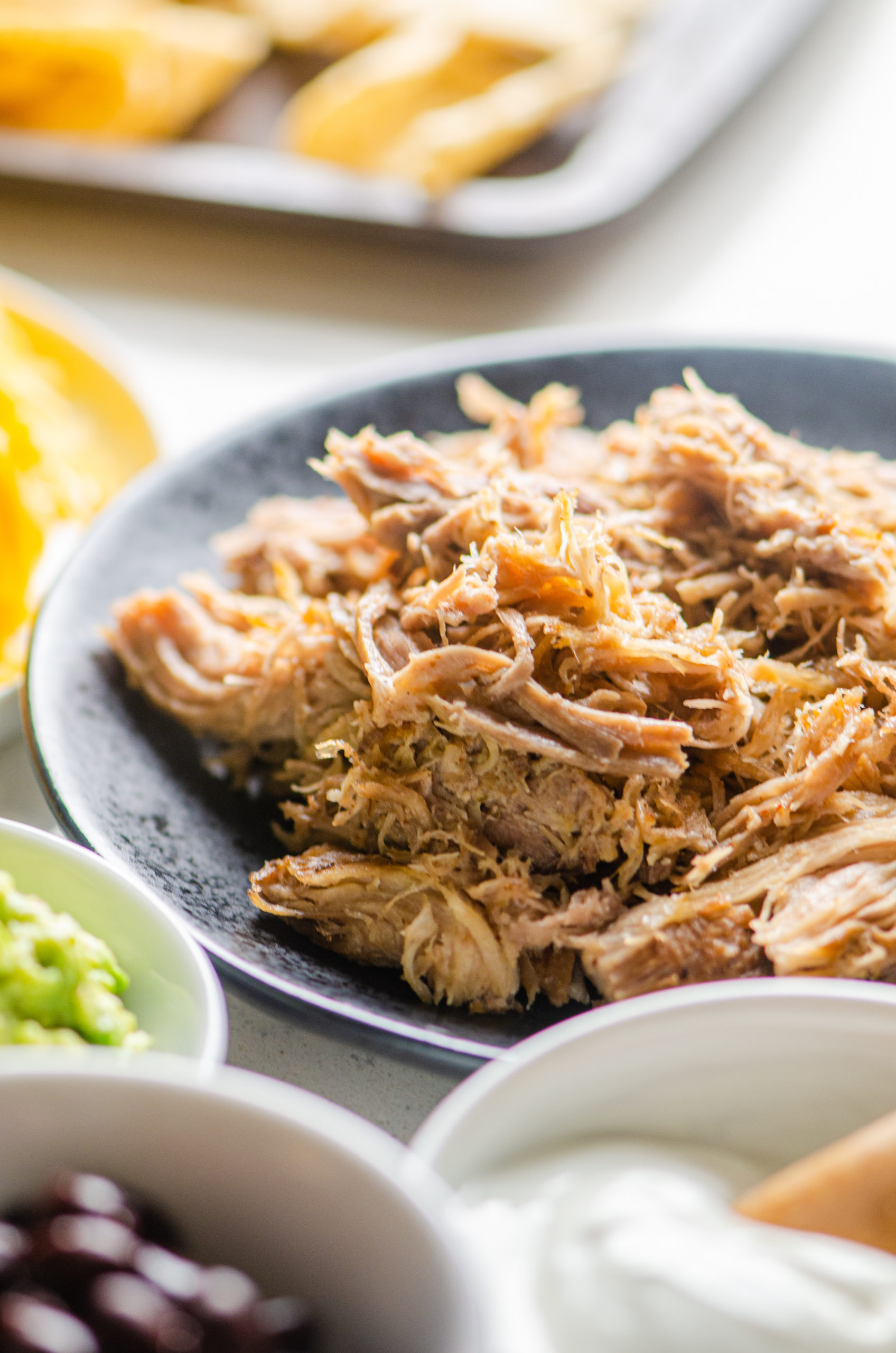 GUACAMOLE: Use your favorite store bought kind or make your own easy homemade guacamole.
SOUR CREAM: A must on nachos IMHO.
ONION, TOMATOES, JALAPENOS, CILANTRO: These are all the ingredients that you'd find in pico de gallo or fresh salsa. If you want to use one of those instead of them as separate ingredients that would be just as good.
How do you make sheetpan pulled pork nachos?
STEP #1: Preheat the oven to 350 degrees fahrenheit.
STEP #2: Spray a 10 x 15″ baking sheet with non-stick spray. Place chips in a layer on the sheet pan and top with shredded cheese, pulled pork and black beans.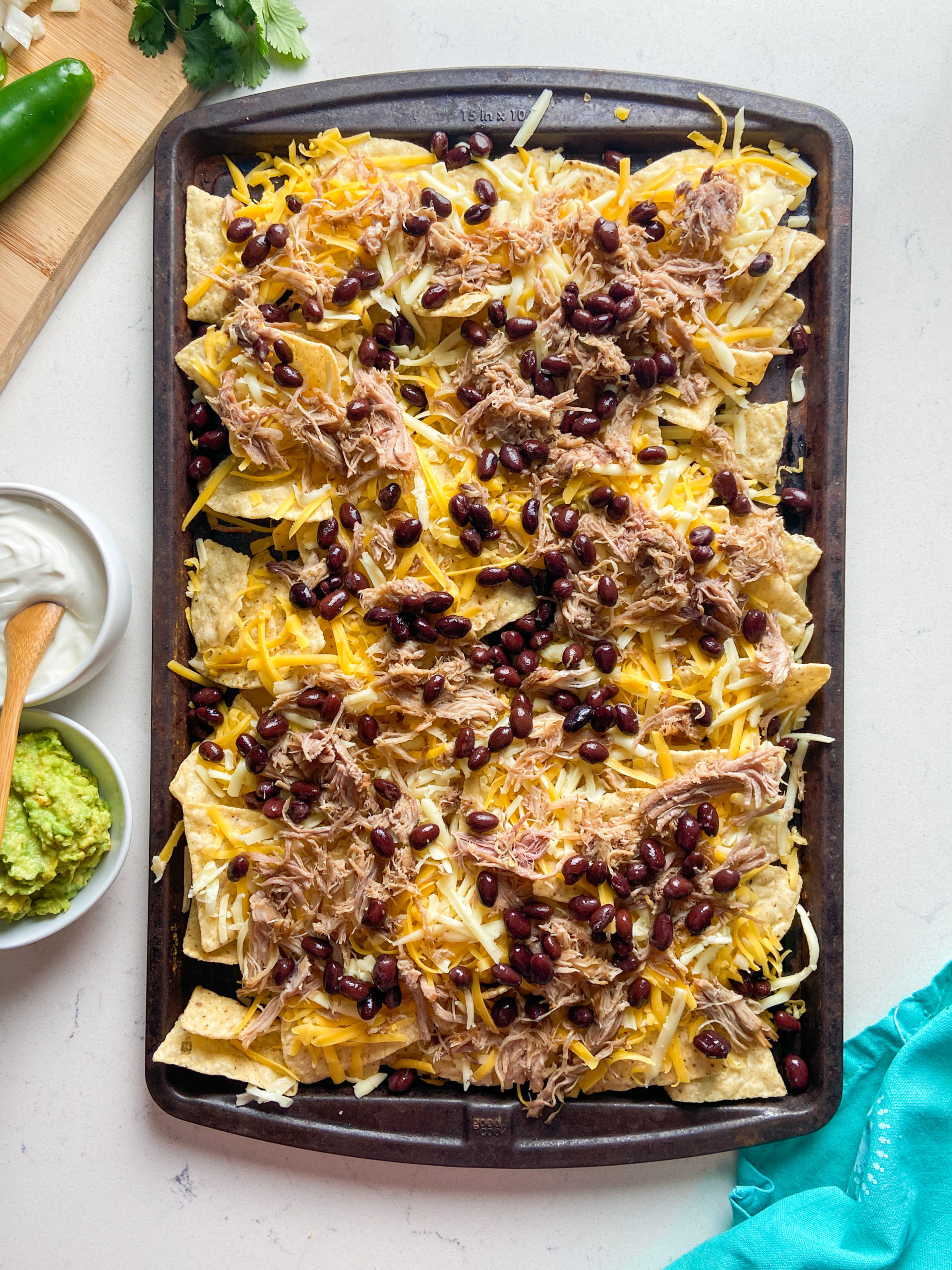 DES' TIP: When I make nachos I like to put everything on first that I want to be warm/hot: meat, cheese, beans. If you prefer your onions or jalapenos to be cooked too to make them a little more mild, add them in this step as well.
STEP #3: Remove the nachos from the oven and top with all of your favorite toppings. I suggest using guacamole, sour cream, onions, tomatoes, jalapenos and cilantro. Serve hot!
I love these Pulled Pork Nachos because they make using leftovers so easy! However, one of the beautiful things about nachos is you can really put anything you want on top of them. Think of the tortilla chips as your blank canvas. Ground beef, chorizo heck, I've even made LOBSTER NACHOS. All of it is good!
You really can't go wrong with a tortilla chip loaded with goodies can you?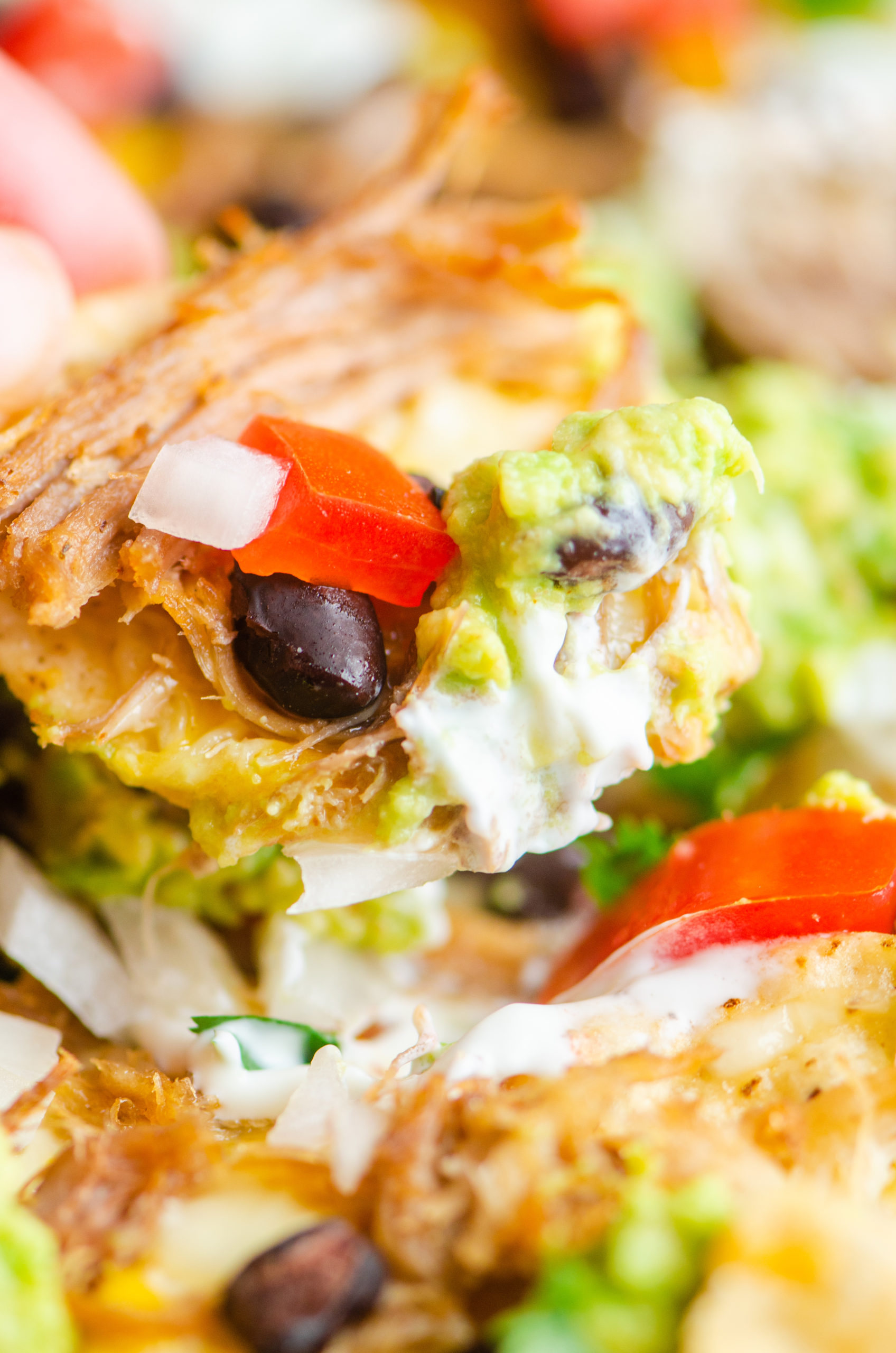 Are you looking for more ways to use leftover pulled pork? Let me help you, here are my favorite ways to use it!
Looking for more nacho variations? Here are a few!
BLT Chicken Nachos from Lemon Tree Dwelling
Ultimate Brisket Nachos from Oh Sweet Basil
Pulled Pork Nachos Recipe
Ingredients:
16 ounces tortilla chips
1 cup shredded cheddar cheese
1 cup shredded jack (or pepper jack)
1 cup shredded pulled pork
1/2 cup guacamole
1/4 cup sour cream
1/4 cup chopped yellow onion
1/2 cup diced tomatoes
1 - 2 jalapenos, sliced
cilantro, chopped
Instructions
1
Preheat oven to 350 degrees.

2
Spray a 10x15" sheet pan with non-stick spray. Lay tortilla chips in a layer on the pan. Top with cheddar cheese, jack cheese, shredded pulled pork and black beans. Bake in preheated oven for 7 - 8 minutes.

3
Remove nachos from the oven, top with guacamole, sour cream, yellow onion, tomatoes, jalapenos and cilantro. Serve hot.
Notes
Nutrition facts for estimation purposes only.
Nutrition information
Calories: 664 , Total Fat: 37.3g , Saturated Fat: 17g , Cholesterol: 91mg , Sodium: 619mg , Carbohydrates: 57.9g , Fiber: 10.1g , Sugar: 3.3g , Protein: 30.1g