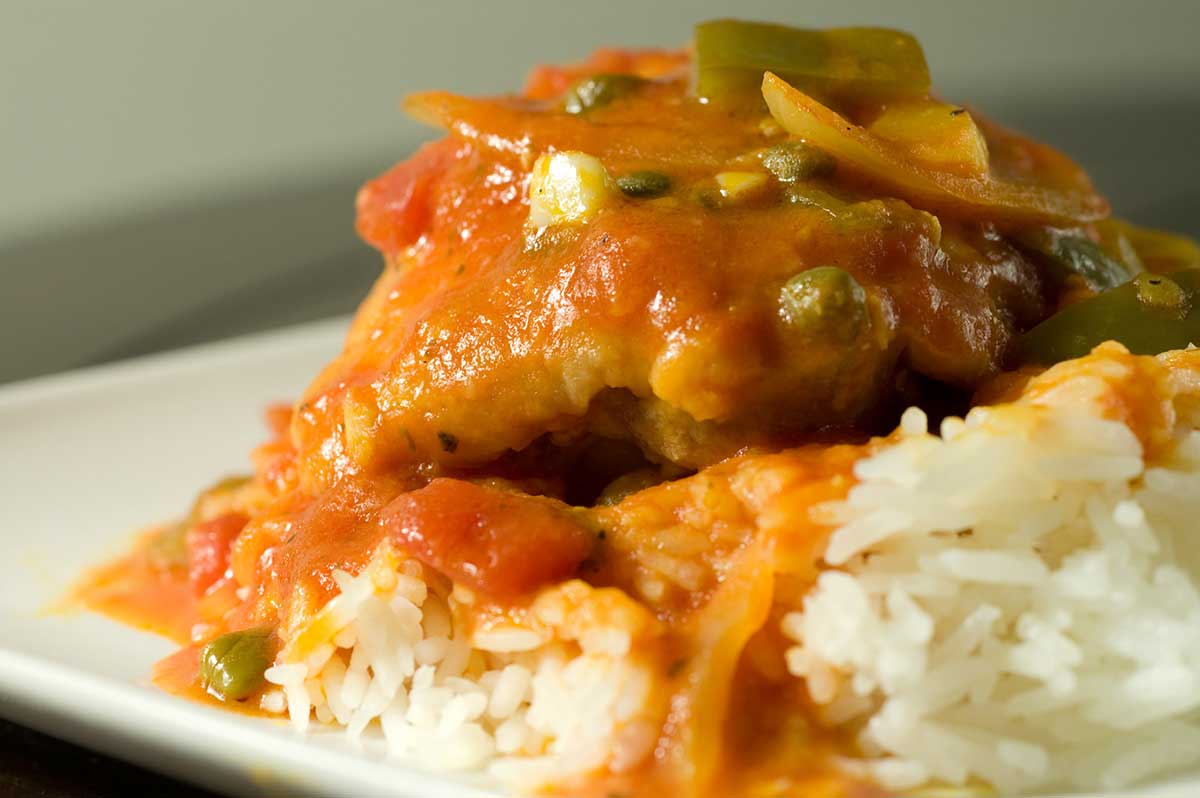 Chicken Cacciatore
Also known as Hunter's Stew, this dish made with pan fried chicken thighs simmered in a rich tomato sauce with flavors of white wine, capers and oregano makes a great weeknight supper.
Growing up my mom often made this dish and I am not sure why now, but back then I did not like it.  No offense to my mom, I love her cooking, I mean if it wasn't for her I probably wouldn't like it so much :) But I just did not like Chicken Cacciatore. Maybe it was because we always had it with rice and at that time I just didn't get the idea of serving tomato sauce with my rice. However, as I have grown up and my taste buds have some what matured, I find myself really enjoying and actually craving this classic Italian dish.
Chicken Cacciatore Recipe
Ingredients:
1 tablespoon olive oil
1 pound chicken thighs (about 4 thighs)
1/4 cup flour
kosher salt and pepper
1/2 onion, sliced
2 cloves garlic, chopped
1 green bell pepper, ribs and seeds removed, sliced
1/2 cup dry white wine (I used Pinot Grigio)
1 (14.5 ounce) can diced tomatoes
2 tablespoons non-peril capers
1/2 cup chicken broth
1/2 cup tomato sauce
1/2 teaspoon dried oregano
1 1/2 cups prepared rice
Instructions
1
Heat olive oil in a large pan over medium heat.

2
Dredge chicken in flour seasoned with salt and pepper. Brown on both sides, about 5 minutes per side. Cover and set aside.

3
Reserve two tablespoons of pan drippings, add onion, garlic and bell pepper, cook 3 minutes. Add wine, cook another 3 minutes. Add diced tomatoes, capers, chicken broth, tomato sauce and oregano. Return chicken to pan, turn in sauce to coat. Cover and cook for 25 minutes. Uncover and cook another 15 minutes or until the chicken is cooked through and the sauce has thickened. Serve over rice.
Notes
This recipe can easily be doubled to serve 4. If you want to switch it up a bit you can serve this with pasta, or you can even serve it on its own with some crusty Italian bread. Also, check out my other Chicken Recipes. Enjoy!