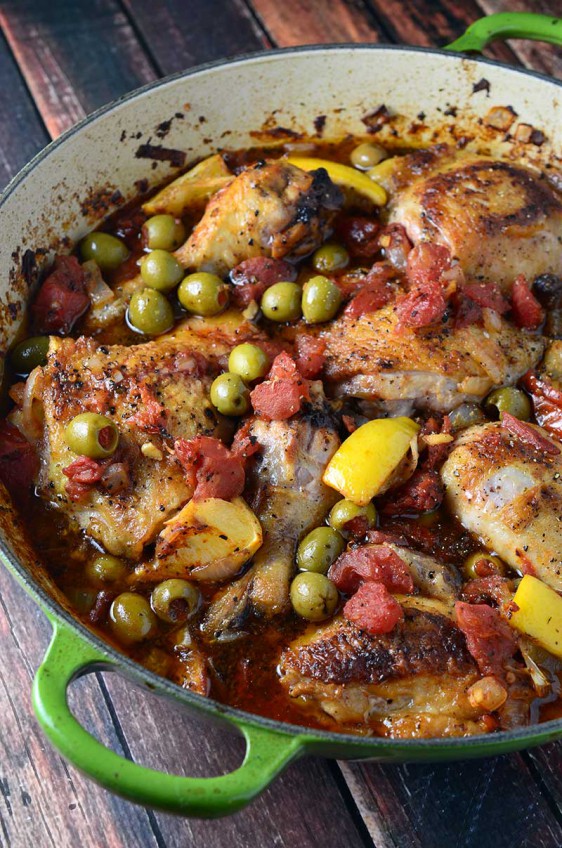 Chicken with Tomatoes & Olives
I have been trying to experiment in the kitchen at little more lately. Do a few things that I wouldn't normally do. Cook with ingredients that I don't normally cook with. Use flavor combos that I don't normally use. Because the truth of the matter is, I was getting a little bored in the kitchen. Especially when it came to chicken. So I decided it was time to shake things up a bit. This Chicken with Tomatoes & Olives was the delicious result.
Let's talk about getting bored in the kitchen.
It happens. In fact I think that is why a lot of people don't cook all that often. They always cook the same things so it gets a little ho-hum.
Boredom in the kitchen is exactly why I started this blog in the first place. I found myself always buying the same things at the grocery store week in and week out. I had a few solid good recipes that I would make throughout the week. Other nights we'd eat sandwiches. Or eat out.
Boring.
Once I started the blog, cooking became fun again. But even now, even with trying all of these new recipes all the time, I still find myself getting a little bit bored. I think the reason is that I was using ingredients and flavor combos that I was super comfortable with. I mean, why not? I KNEW the recipe would always turn out.
But again. I got kinda bored.
This dish isn't totally out there. It doesn't change the book on chicken. But it does bring out a new flavor profile that I wasn't that familiar with.
Of course I've cooked with chicken before. And tomatoes. And lemon. And olives. What I had never done before, however, is put them all together in one dish.
I was a little unsure how it was going to work out. I was a little unsure that the lemon would be too lemony. That the olives would make it a little too briney but, guys, it totally worked. I could not get enough of the the tomatoes and the chicken. And I found myself hunting for every last olive.
In fact, if I wasn't so worried about teaching my boys good manners, I may have licked the plate clean. That is how good this Chicken with Tomatoes and Olives is.
I recommend serving it over rice so that you get every last little bit of the saucy goodness.
Chicken with Tomatoes & Olives Recipe
Ingredients:
1 tablespoon unsalted butter
1 tablespoon olive oil
8 chicken pieces (4 thighs, 4 drumsticks)
Salt and pepper
1/2 medium yellow onion, diced
4 cloves garlic, minced
1 (14.5 ounce) can diced tomatoes with juice
1/4 cup chicken broth
1 teaspoon dried oregano
1/2 lemon cut into wedges
3/4 cup green olives with pimentos
Instructions
1
Preheat oven to 350 degrees.

2
Heat butter and olive oil together in a large oven proof skillet over medium heat until butter melts.

3
Season chicken liberally with salt and pepper. Cook chicken just until browned, about 4 minutes per side. Transfer to a plate. Set aside.

4
Reserve 2 tablespoons pan juices. Add onion and garlic. Cook 1 minute. Pour in tomatoes and chicken broth. Stir in oregano. Return chicken to the pan. Scatter lemon around chicken.

5
Cover and bake in preheated oven for 15 minutes. Remove from oven, add olives.

6
Turn oven up to 400 degrees. Cook chicken uncovered for 10 - 15 more minutes or until chicken is cooked through. Serve.