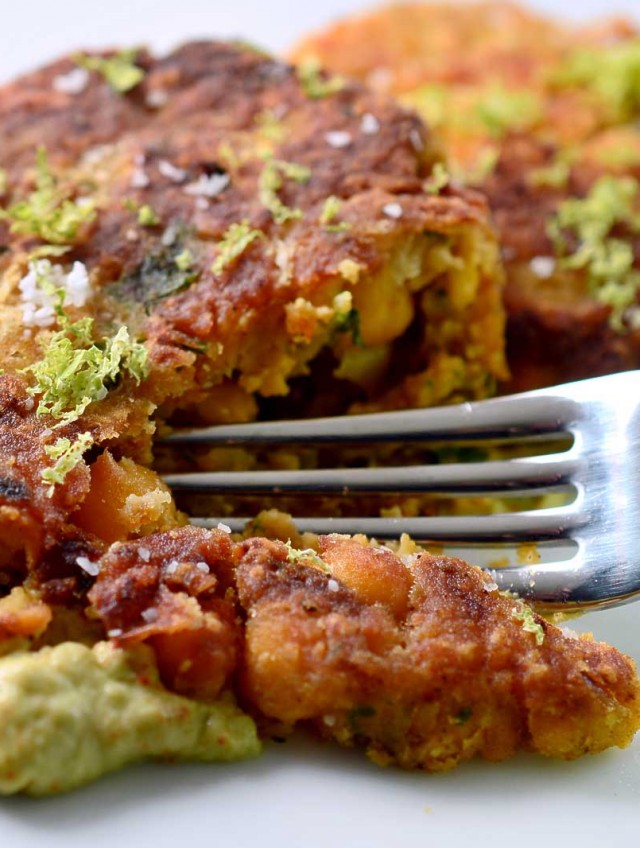 Chickpea Cakes with Chipotle Avocado Cream
So today is the day. I'm 30. I always remember thinking 30 was so old. I still remember when my mom turned 30. It seemed like it was so far away because at the time it was. But now it's here. And I'm not as upset about it as I thought I would be. I'm actually kind of excited about it. I hear the 30s are great. I was going to bake a cake to celebrate the occasion, but since it's my birthday, I thought I'd let someone else do the baking and I'd share a different kind of cake instead. Savory chickpea cakes to be exact. They might not satisfy your sweet tooth but they will satisfy your belly!
I first had these at a local restaurant a few weeks back. It's actually the same restaurant that we are going to celebrate my birthday this weekend. And these chickpea cakes are one of the reasons that we're going there.
They were so good.
Those and the PB&J Bon Bons. (Note to self: Attempt those soon!)
What I like about these is that sometimes I like to serve meatless dinners, but it is always a hassle with Ryan. I always get the comment "What no meat?"
He says that because he runs 3 miles, pretty much 5 days a week, that he needs the meat or he doesn't get full. It's understandable, if I ran that much I'd be hungry all the time too.
Truth is, I don't run that much and I'm hungry all the time. But that is beside the point.
That is where these lovely little chickpea cakes come in handy. They are so packed with protein that despite running just before dinner, he didn't even complain that the meat was missing.  Total win in my book!
It probably helped that these things are super yummy, especially with the chipotle avocado cream.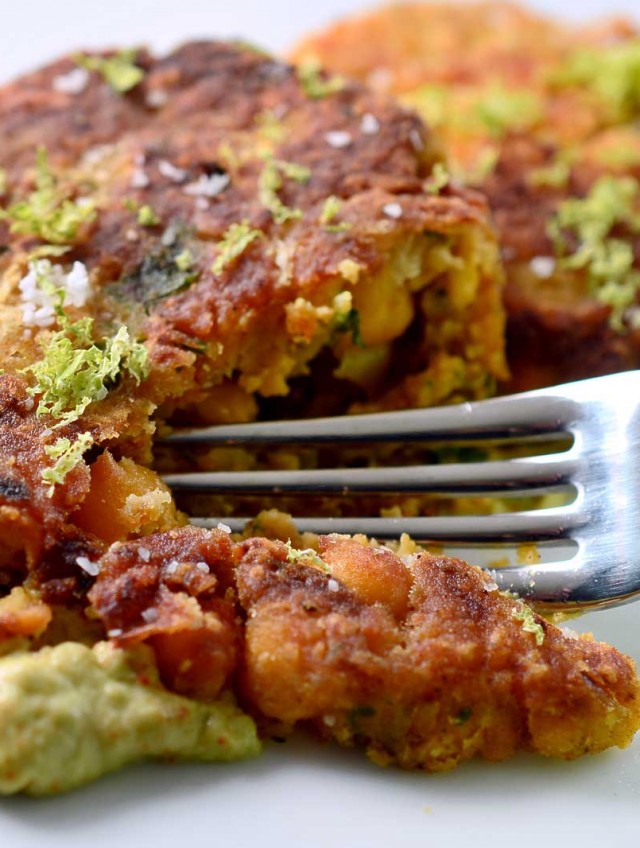 Chickpea Cakes with Chipotle Avocado Cream
Savory chickpea cakes pan fried until golden and served with chipotle avocado cream sauce.
Chickpea Cakes Ingredients:
Chipotle Avocado Cream Ingredients:
1

large avocado

2

teaspoons

lime juice

3

tablespoons

sour cream

1/2

teaspoon

chipotle powder

1/4

teaspoon

salt
Combine all ingredients for chickpea cakes, except for flour, oil and lime zest, in a food processor and process just until chunky. You don't want it totally smooth. You want to be able to roll into a ball but texture is good.

Using about 1/4 cup of the mixture, roll into a ball and then gently press the ball into a patty. Repeat with remaining mixture. Cover and refrigerate for 30 minutes.

Meanwhile, make the chipotle avocado cream sauce by combining all ingredients together in a food processor and processing until smooth. Transfer to a bowl and refrigerate until ready to use.

After the patties have chilled, use enough oil to lightly coat the bottom of a skillet and heat over medium-high heat. Dredge the patties in flour and fry until golden brown. 4 - 5 minutes per side. You may need to do this in batches to avoid over crowding the pan. Remove from oil, sprinkle with salt and lime zest. Serve with chipotle avocado cream sauce.
Keywords:
appetizer, avocado, chickpea cakes, chickpeas, Food, garbanzo beans, meatless monday, Recipe, Vegetarian