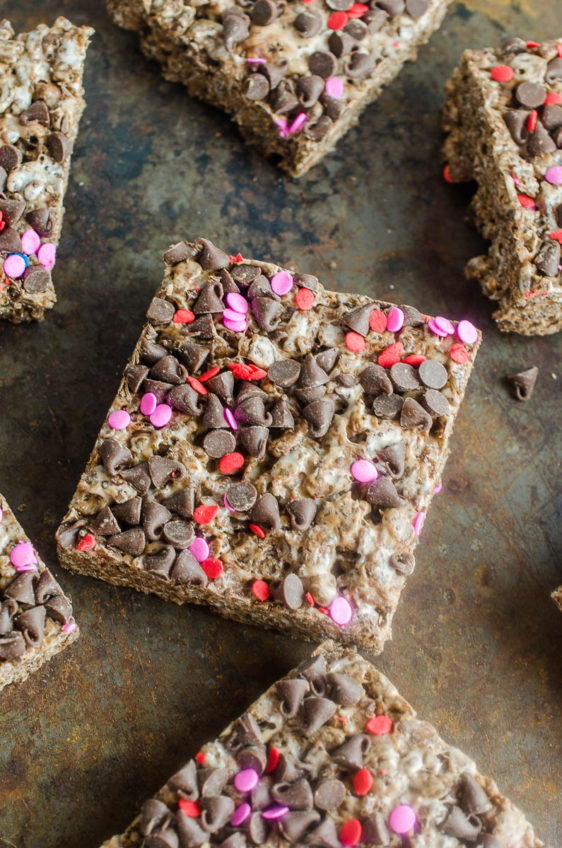 Cocoa Pebble Krispie Treats
A chocolatey twist on Rice Krispie Treats made with Cocoa pebbles cereal, marshmallows and mini chocolate chips. Great for lunches and after school snacking!
With two kiddos and a husband with a sweet tooth in the house, it is essential that I have a dessert on hand at all times. But, honestly, I don't always have the time to bake something. That is when marshmallow cereal treats come in handy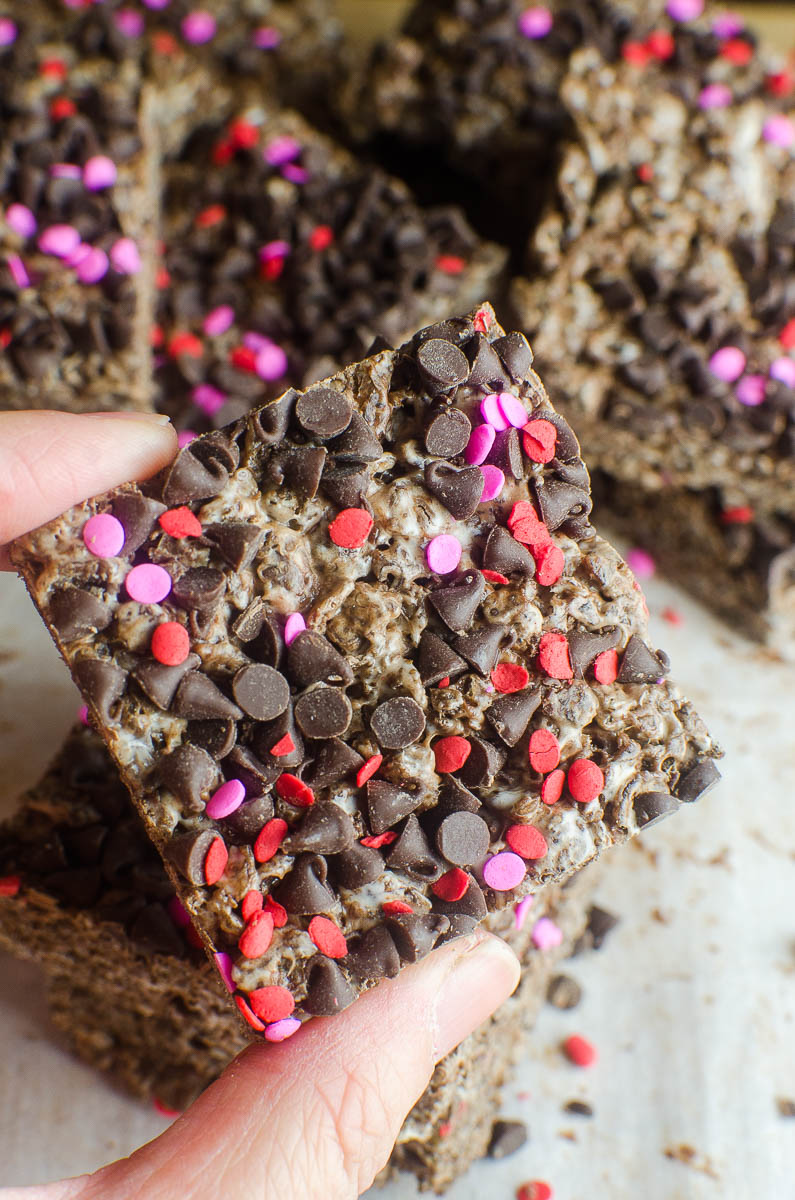 To be 100% truthful though, I am not a huge fan of the traditional rice krispie treat. I just find them kind of blah. And after talking to a few friends, I was surprised to hear they felt the same way. So I was on a mission to make them better.
And I am happy to say that with a few twists and an extra ingredient, these Cocoa Pebble Treats, were a hit with the family and the dinner party I took them too.
How are these different than rice krispie treats?
Well obviously, instead of traditional rice krispies, these are made with cocoa pebbles. And they aren't just made with cereal, butter and marshmallows either. These treats get extra chocolate flavor from some mini-chocolate chips.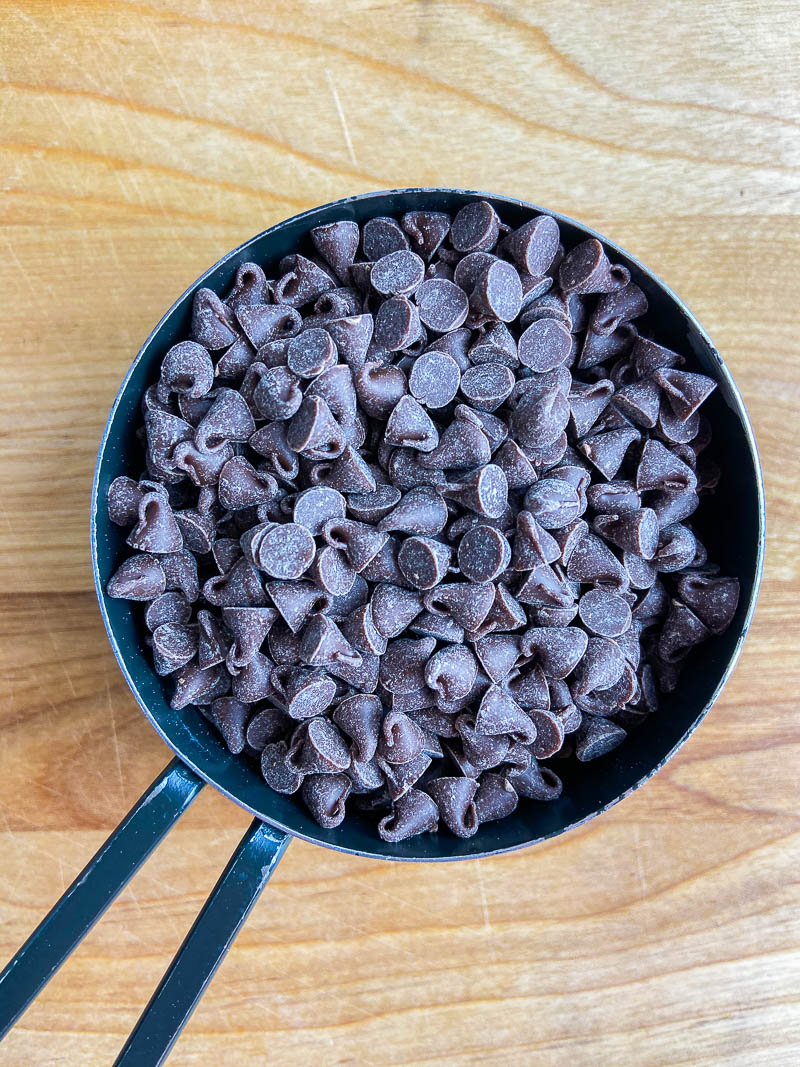 But, the thing that makes these? A pinch of salt. The salt in this recipe enhances the flavor of all the ingredients. This means you'll get even more chocolatey goodness, with just a hint of salt.
And we all know how fabulous that salty sweet flavor combo is!
How do you make Cocoa Pebble Krispie Treats?
Step 1: Melt the butter in a large pot over medium heat.
Step 2: Add in marshmallows and allow to melt.
Step 3: Stir until mixture is smooth.
Step 4: Mix in cocoa pebbles and 1/2 of the mini chocolate chips. Mix well so that all of the cereal is coated in the marshmallow mixture.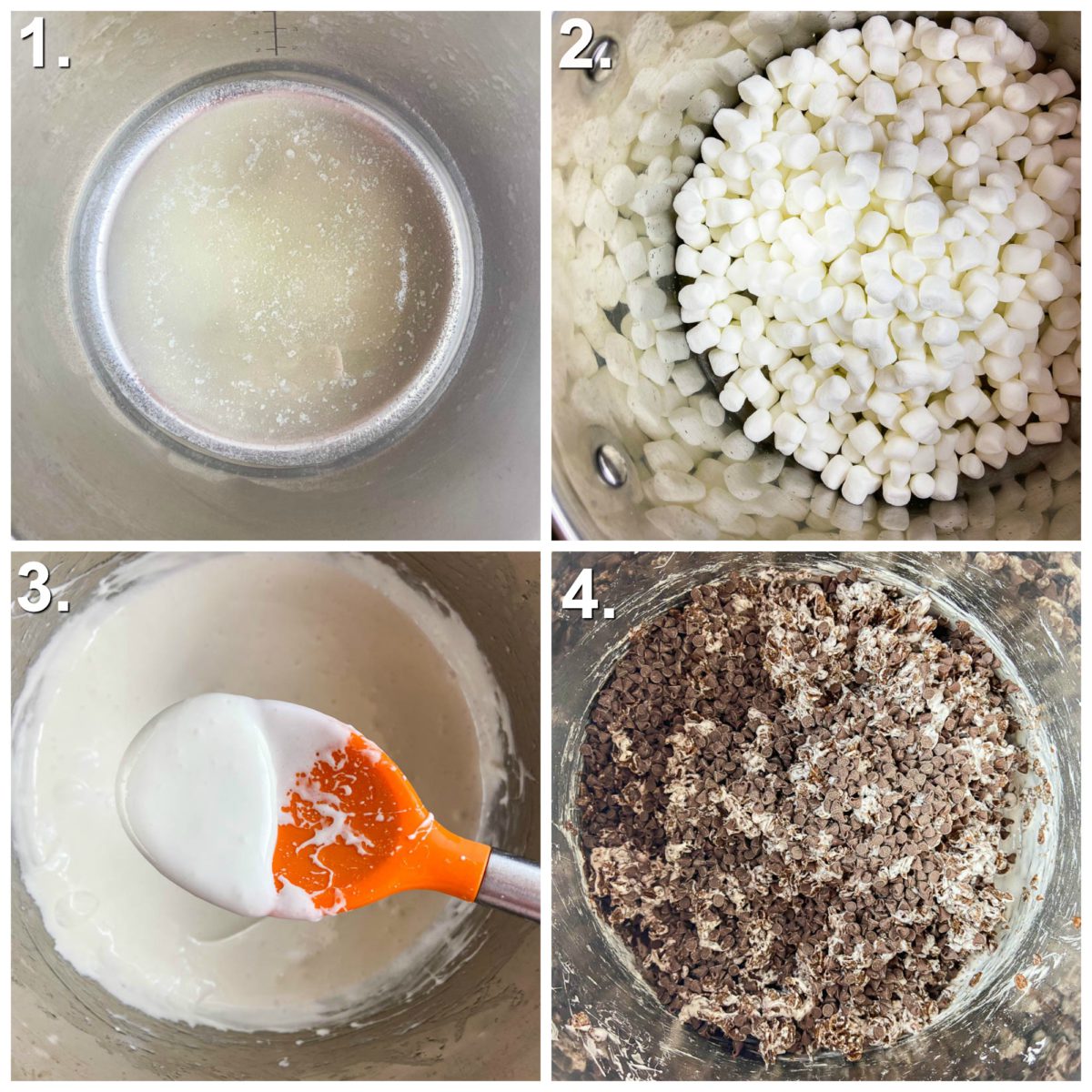 Step 5: Press mixture into a pan, top with remaining marshmallows and sprinkles (if using). Allow to cool before cutting into squares.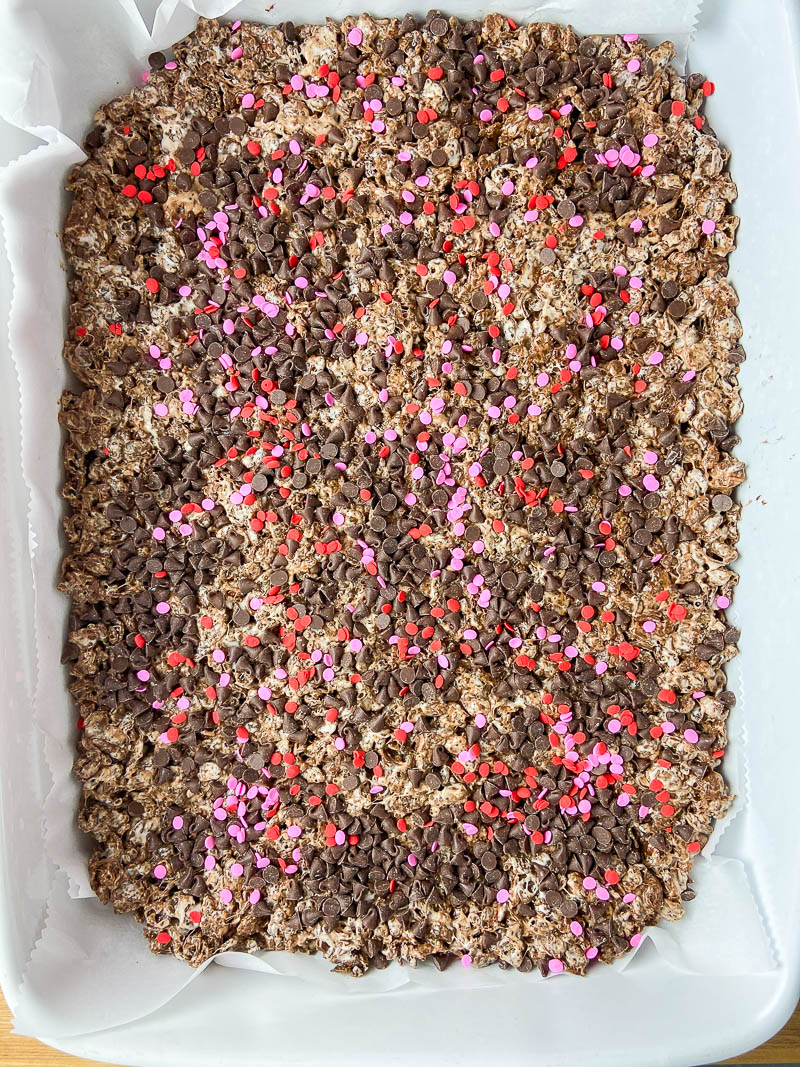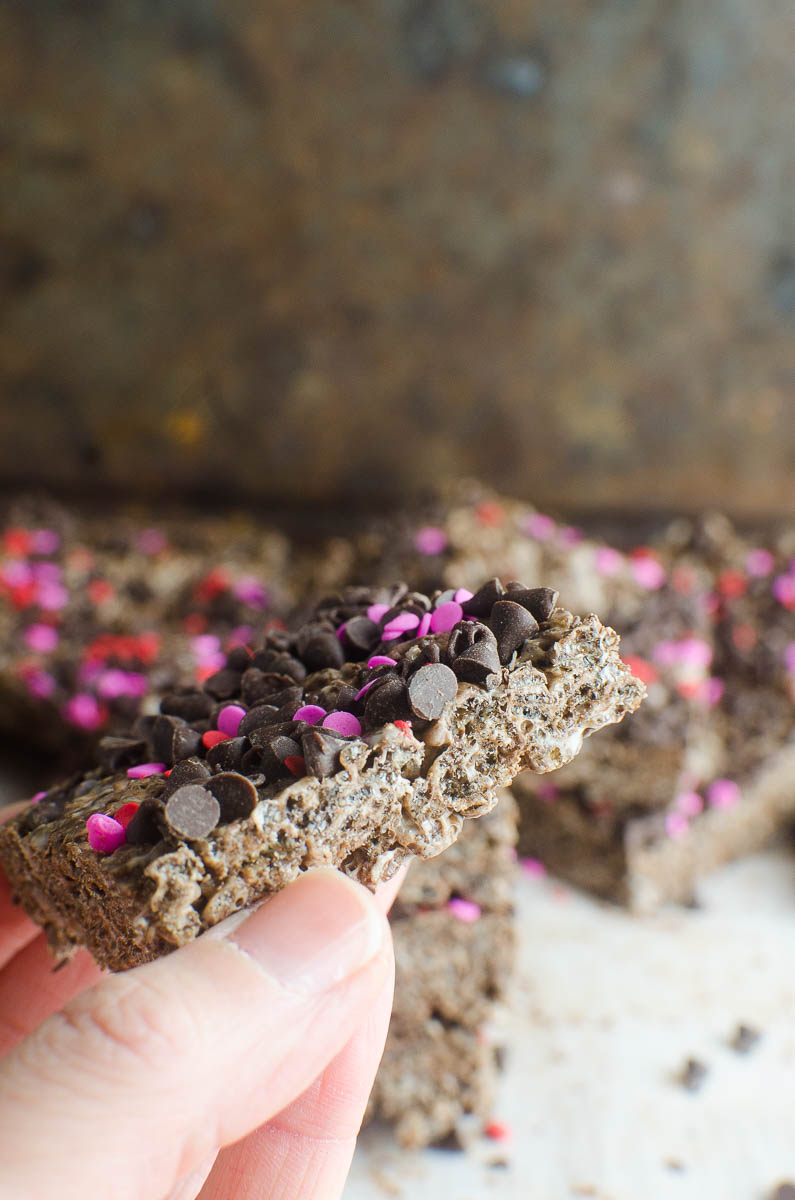 Pressing the chocolate chips and sprinkles into the treats is an important step because you want to ensure that they adhere to the treats. You can use any color of sprinkles you like! Pick green and red for Christmas, pink and red for Valentines or pastel for Easter.
You could even stir in different candies! Keep with the mini versions though so that they don't change the texture of the treats too much.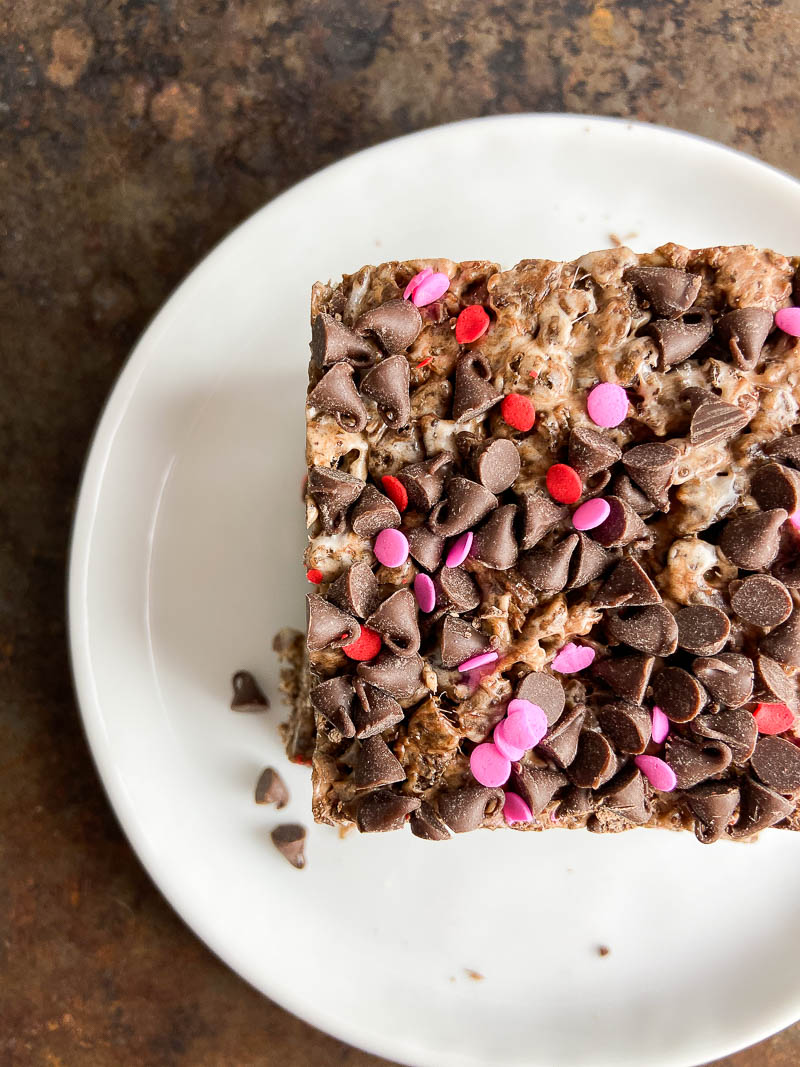 The possibilities are endless with these fun, crowd pleasing treats!
Looking for more easy dessert recipes? Try some of my favorites!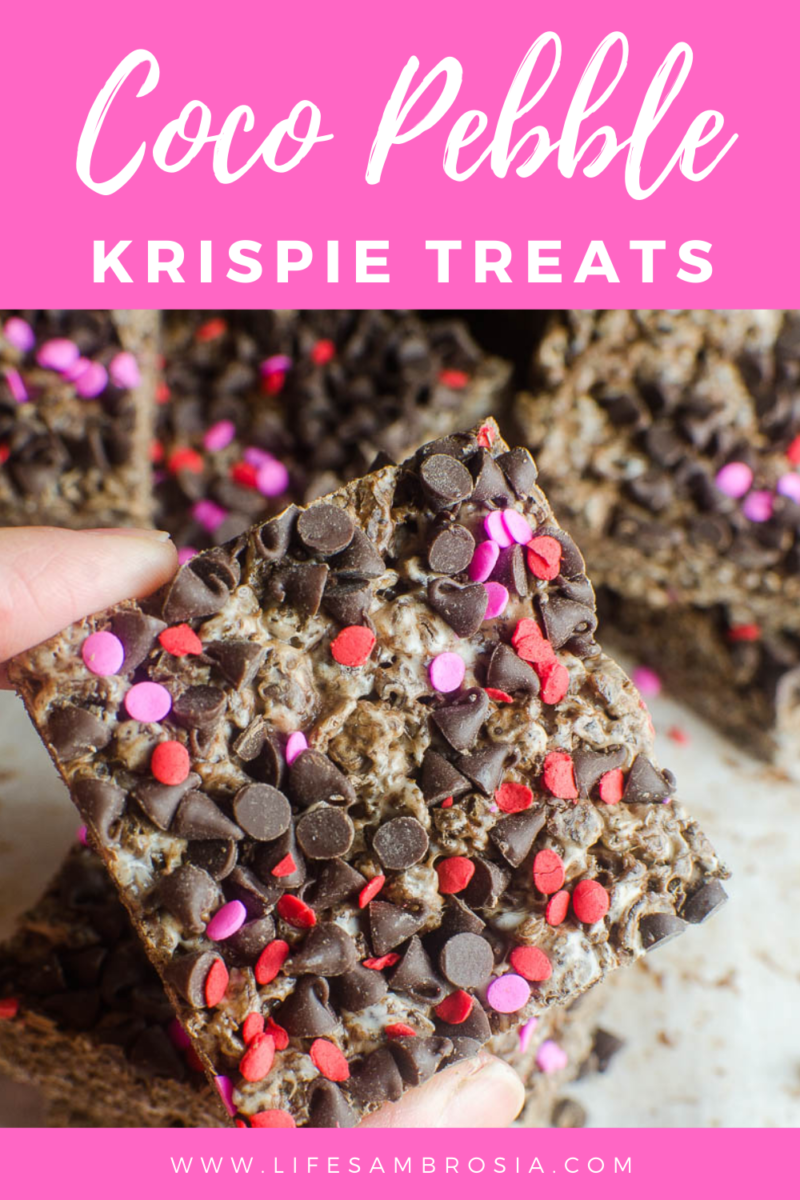 Cocoa Pebble Krispie Treats Recipe
Ingredients:
6 cups cocoa pebbles
10 ounces mini marshmallows
3 tablespoons butter
1/2 teaspoon salt
1 cup mini chocolate chips
Instructions
1
Melt butter in a large pot over medium heat.

2
Add in marshmallows and stir until marshmallows melt and mixture is smooth.

3
Mix in cocoa pebbles, 1/4 cup mini chocolate chips and salt .

4
Press mixture into 13 x 9 inch dish. Sprinkle with remaining mini chocolate chips and sprinkles (if using) press into treats so they stick. Allow to cool before cutting. Best when eaten the day of, but can be kept in an air-tight container for a few days.

Notes
Nutrition facts for estimation purposes only.
Nutrition information
Calories: 163 , Total Fat: 3.8g , Saturated Fat: 2.5g , Cholesterol: 8mg , Sodium: 218mg , Carbohydrates: 32g , Fiber: 0.3g , Sugar: 17.7g , Protein: 0.8g