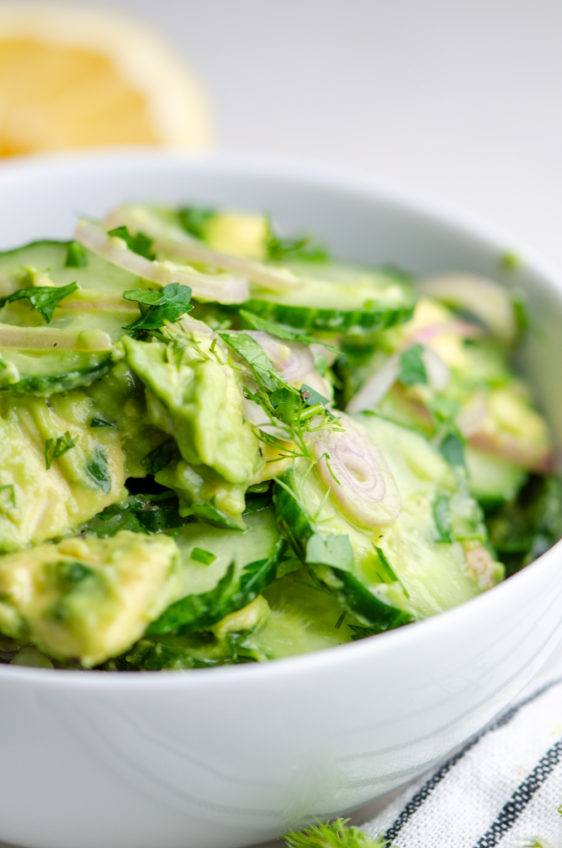 Cucumber Avocado Salad
Cucumber Avocado Salad is a light, fresh, flavorful salad. It's crisp and creamy. Perfect for hot summer days, backyard BBQs and potlucks!
Cucumbers are one of my absolute favorite vegetables to use. Especially in the summer. They are crisp and cool. They are perfect for adding to green salads, sparkling water and of course using them to make refrigerator dill pickles.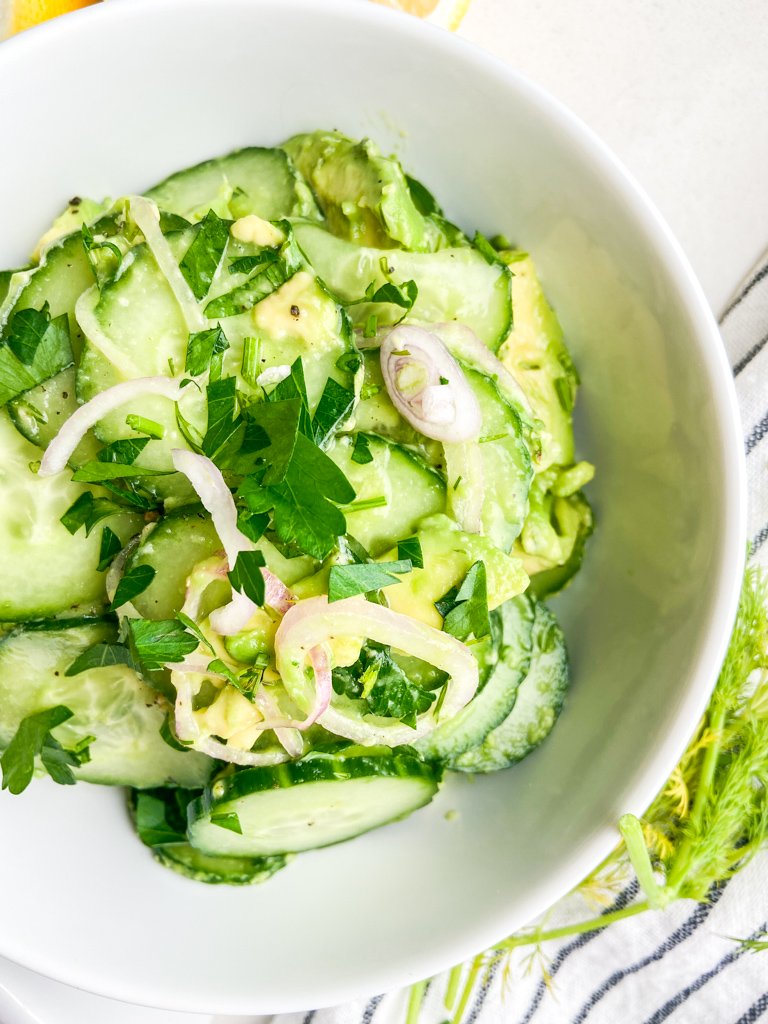 This Cucumber Avocado Salad combines the crispy, coolness of cucumbers with the creamy richness of avocados. With a little lemon juice, shallots and herbs, it is a perfect light salad for hot summer days.
What ingredients do you need?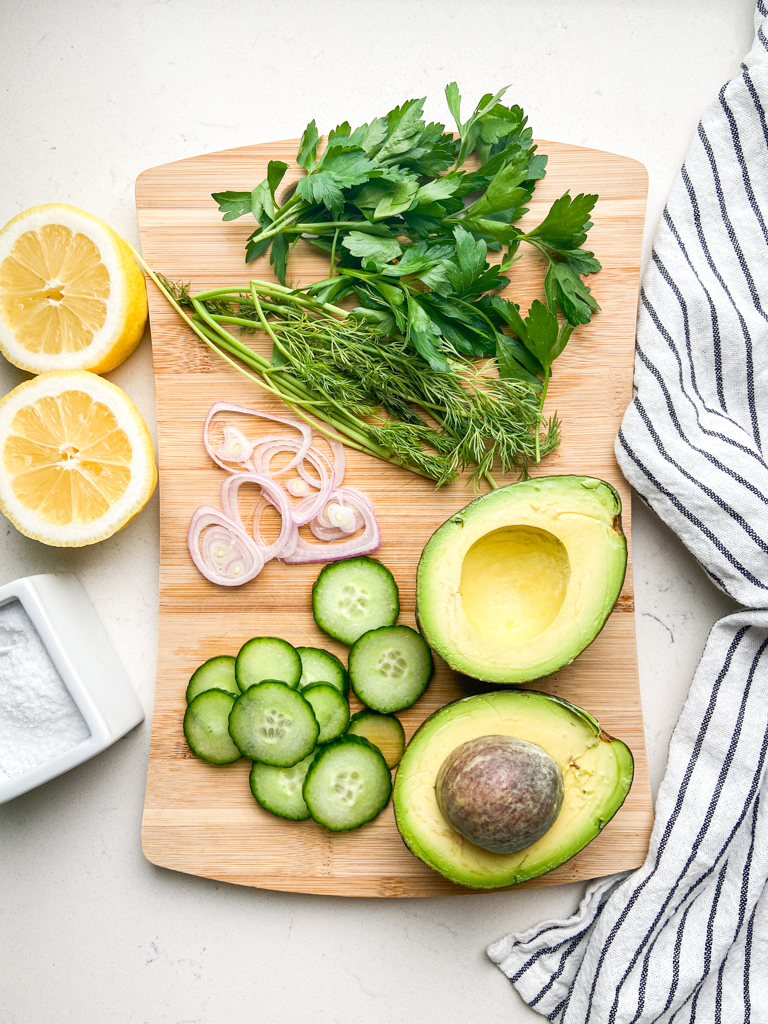 ENGLISH CUCUMBERS: I prefer to use english cucumbers in this salad because there is no need to peel them. You can use regular cucumbers too, but I find the skin a little too tough and would recommend peeling them first.
AVOCADO: You can chose to slice this thin like the cucumber or serve it in bite sized pieces. If you want the avocado to hold its shape in the salad, pick one that is a little on the firmer side. Not too firm and not too soft. Use your inner Goldilocks.
SHALLOTS: I prefer to use shallots in this recipe because they are much more mild than red or yellow onion and they add a nice pop of pink color.
FRESH DILL: Cucumbers and dill are just a match made in summer heaven. Don't leave it out!
ITALIAN PARSLEY: Fresh chopped parsley adds just a touch more freshness to the salad.
LEMON JUICE: The acid adds a bit of brightness. And bonus, it'll help keep the avocado from turning brown.
SALT
How do you make cucumber avocado salad?
Doesn't get much easier than this! All you need to do is combine all of the ingredients together in the bowl. You'll want to toss it gently so that the avocado doesn't break apart.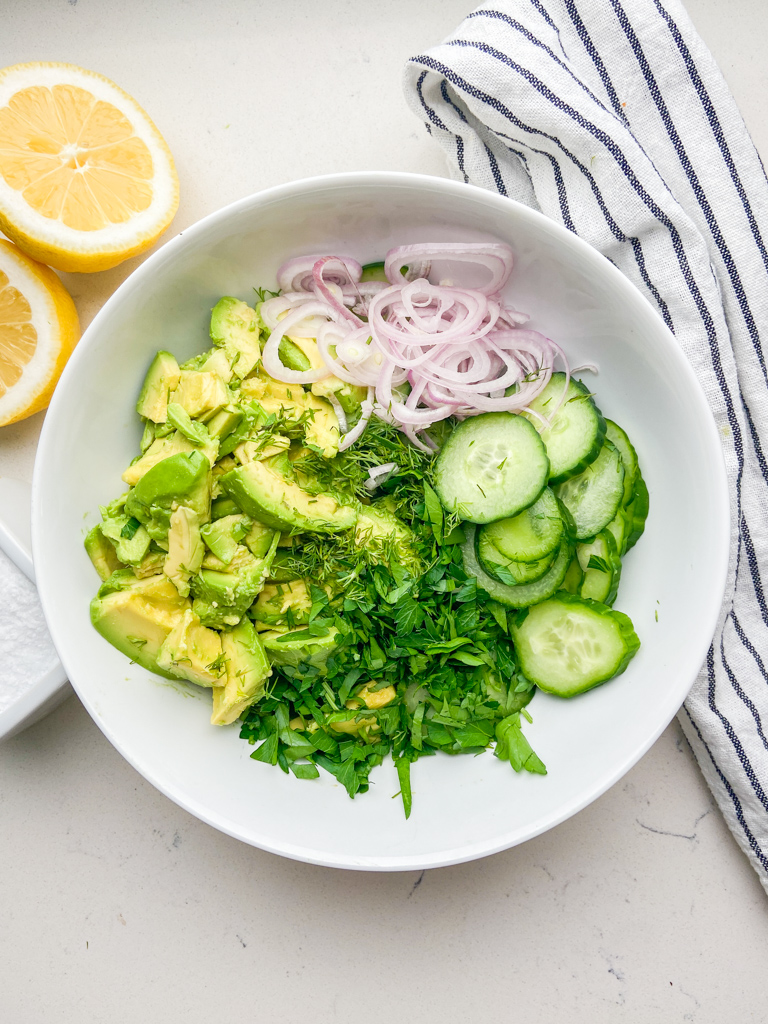 The hardest part is waiting for the flavors to meld and even that isn't too long only 30 minutes.
Can you make this salad ahead of time?
Because of the avocado, I wouldn't make this salad anymore than a few hours in advance. It's best eaten the day of.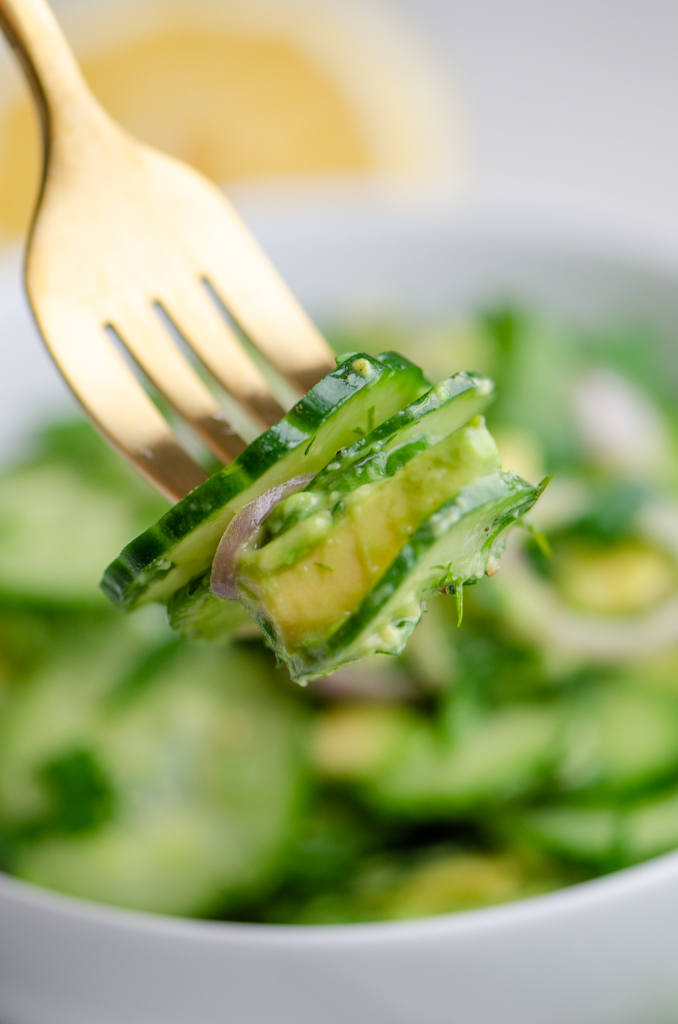 Looking for more cucumber recipes? Here are some of my favorites!
Cucumber Avocado Salad Recipe
Ingredients:
1 English cucumber, thinly sliced
1 large avocado, diced
1/4 cup thinly sliced shallots
1 tablespoon fresh dill, chopped
1/4 cup chopped fresh Italian Parsley
2 tablespoons fresh lemon juice
1/2 teaspoon kosher salt, plus more to taste
Instructions
1
Combine all ingredients in a bowl. Toss gently to coat.

2
Refrigerate for 30 minutes to let the flavors meld then serve. This salad is best eaten the day of.
Notes
Nutrition facts for estimation purposes only.
Nutrition information
Calories: 126 , Total Fat: 10g , Saturated Fat: 2.2g , Cholesterol: 0mg , Sodium: 302mg , Carbohydrates: 9.6g , Fiber: 4g , Sugar: 1.7g , Protein: 2g