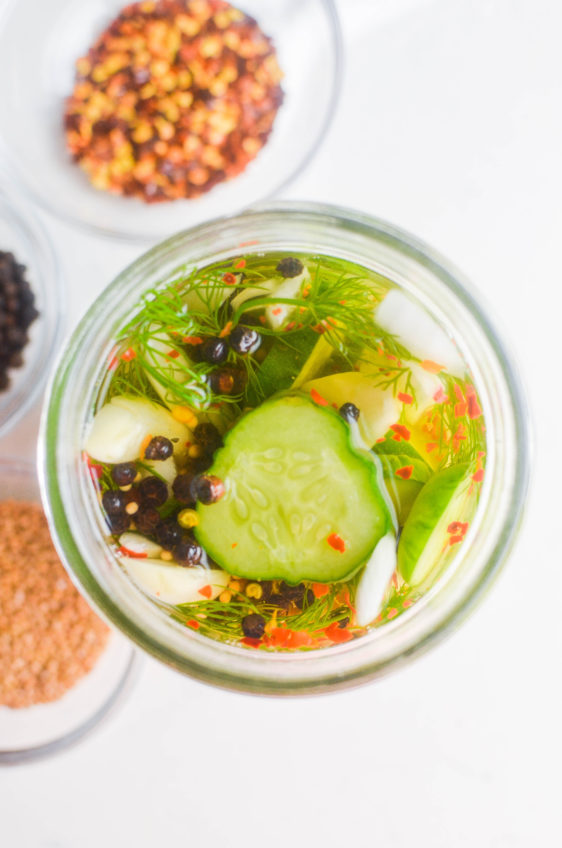 Refrigerator Dill Pickles
No time for canning? You can still make pickles! This easy dill pickles recipe yields salty, sour, crunchy pickles that can be made in your refrigerator.
If you love a good, briny, crunchy pickle. If you've always thought about making your own but never wanted to, or had the time or space to can, then I have got the perfect recipe for you today.
Refrigerator Dill Pickles.
They are flavorful, easy to make and so perfectly crunchy!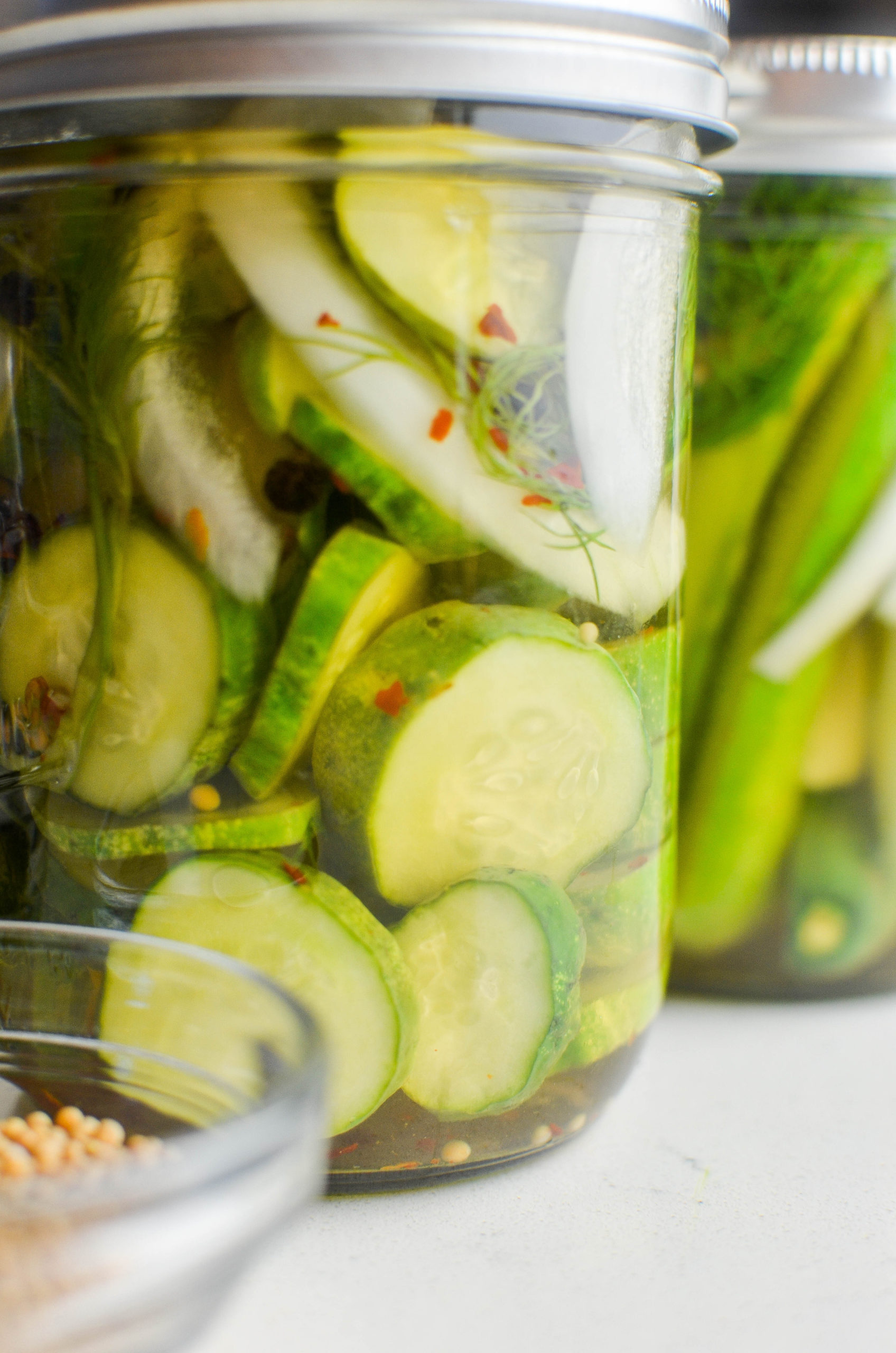 Let's talk about the ingredients first:
To make these pickles you'll need: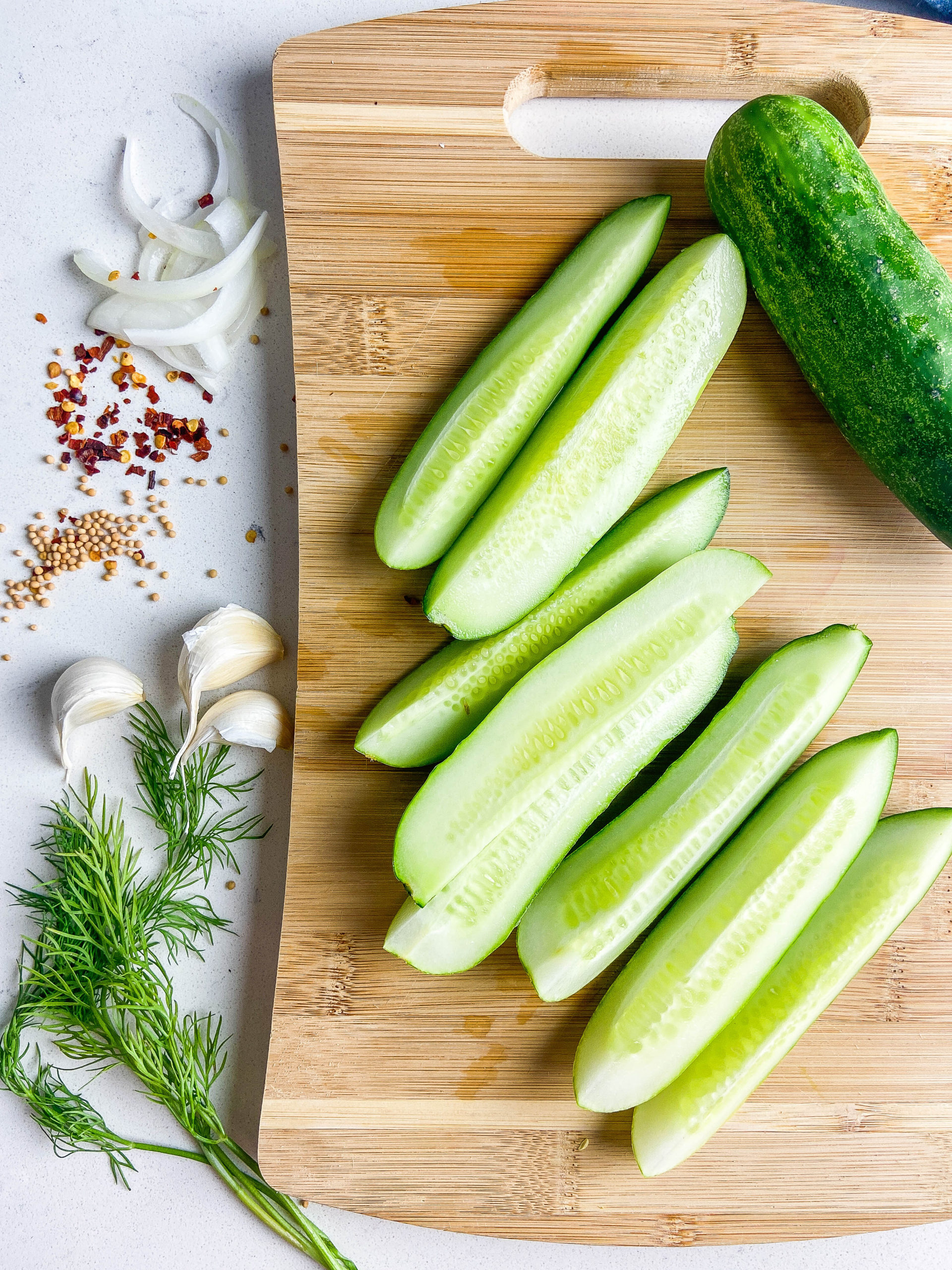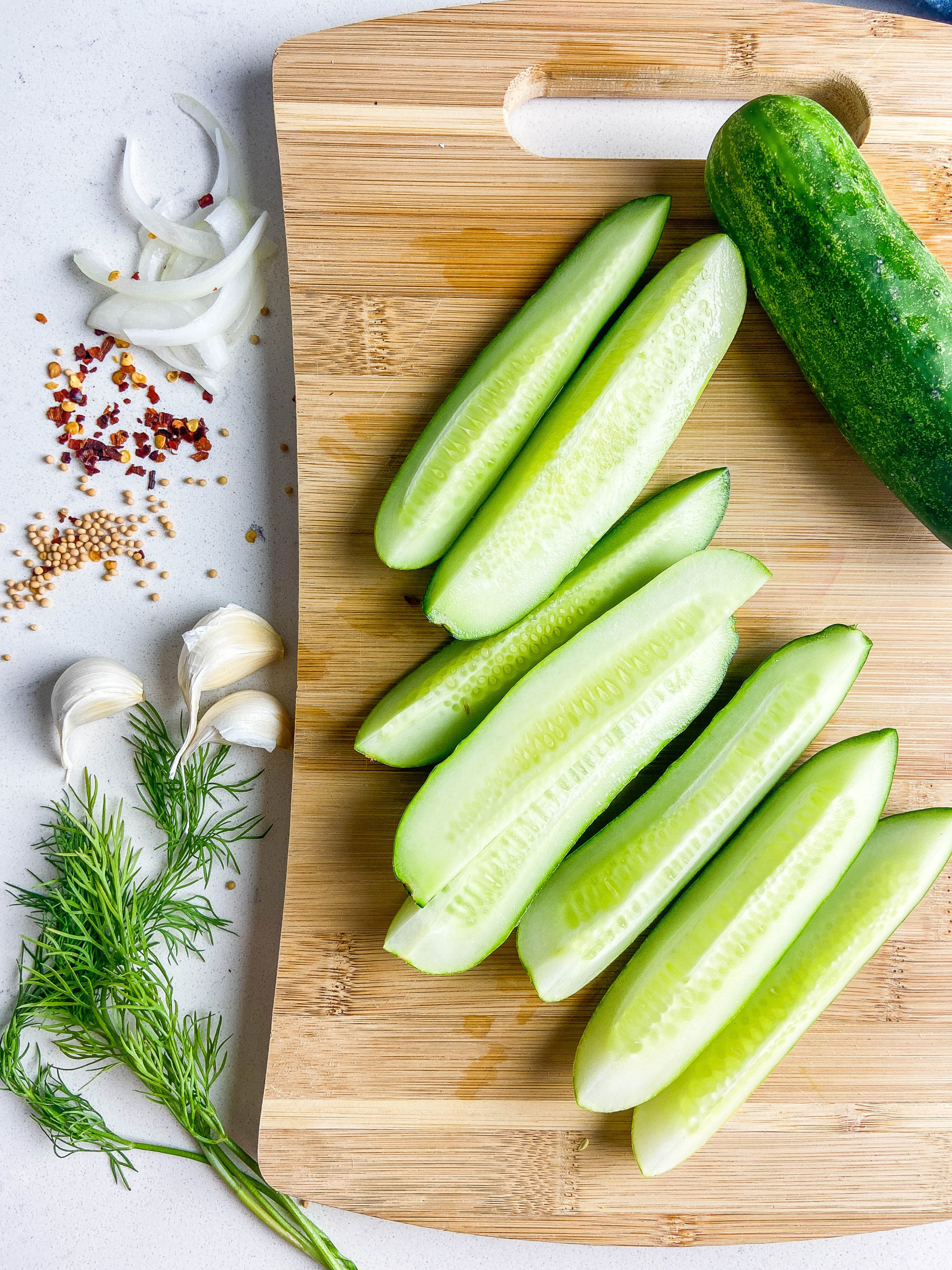 PICKLING CUCUMBERS: Kirby cucumbers are the most common variety for pickles. I have tried this with regular cucumbers, English cucumbers and pickling cucumbers. Throughout my trial and error, I have discovered that pickling cucumbers will yield the crunchiest pickles.
ONION: Thinly sliced yellow or white onion is perfect for this recipe.
GARLIC: A few cloves per jar is plenty.
FRESH DILL: I always have freeze dried dill on hand so I tried it with this recipe, it just doesn't work as well as the fresh stuff . The dried dill simply floated to the top of the jar. Fresh sprigs on the other hand, will hold together in the brine giving you just the right amount of dill flavor.
The liquid that pickles are packed in is called a brine. To make the brine for this recipe you'll need: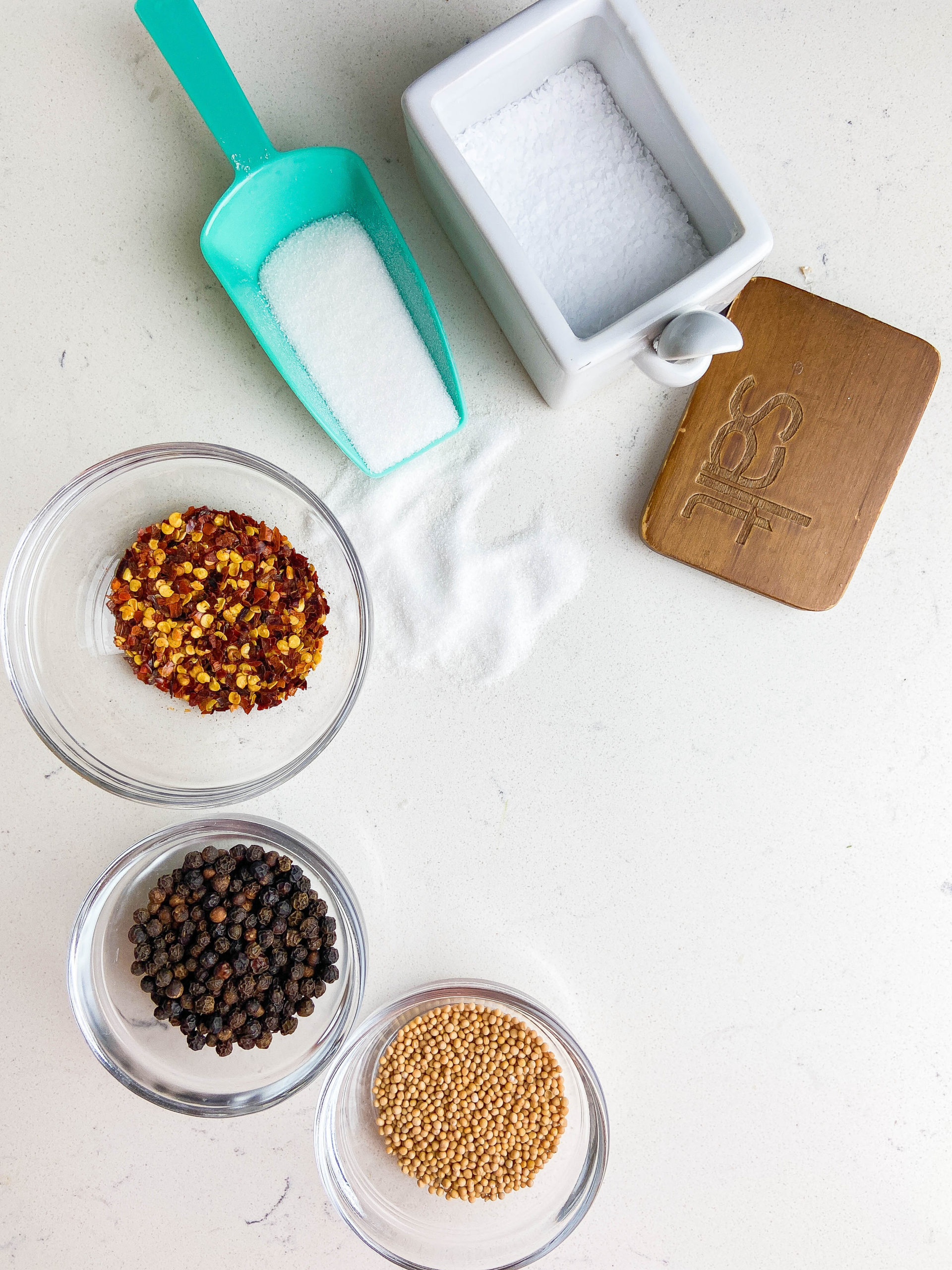 DISTILLED VINEGAR: Vinegar gives pickles that classic sour taste you're used to. Most recipes will use either distilled or apple cider vinegar. I prefer distilled. Apple cider will give a much more acidic pickle and cloudier brine than distilled.
SALT: No special salt needed, kosher works fine.
SUGAR: For a touch of sweetness and to calm down the acidity.
MUSTARD SEEDS: Gives the pickles a bit of a bite.
WHOLE BLACK PEPPERCORNS: Leave them whole, you just want them to give pepper flavor to the brine but you don't want ground pepper all over your pickles.
CRUSHED RED PEPPERS: I like to add these for a little bit of heat. You can leave them out if you prefer.
WATER
Step by Step Photos and Instructions:
Step #1: Cut the cucumbers. Depending on your preferences, you can cut them in spears or in rounds. Since this recipe makes 2 jars of pickles, I did one of each.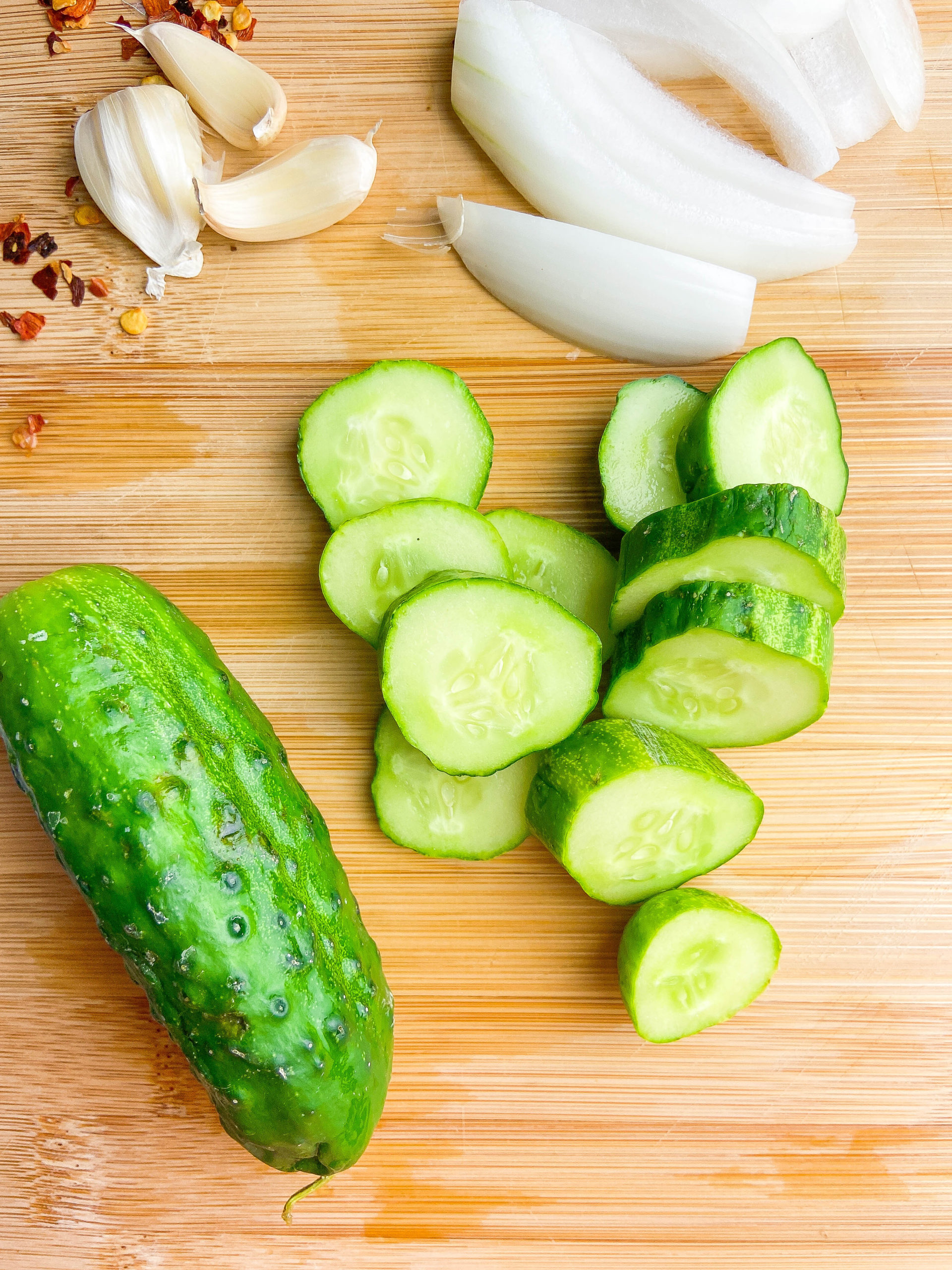 Step #2: Divide the cucumbers, onions, dill and garlic evenly between 2 clean jars.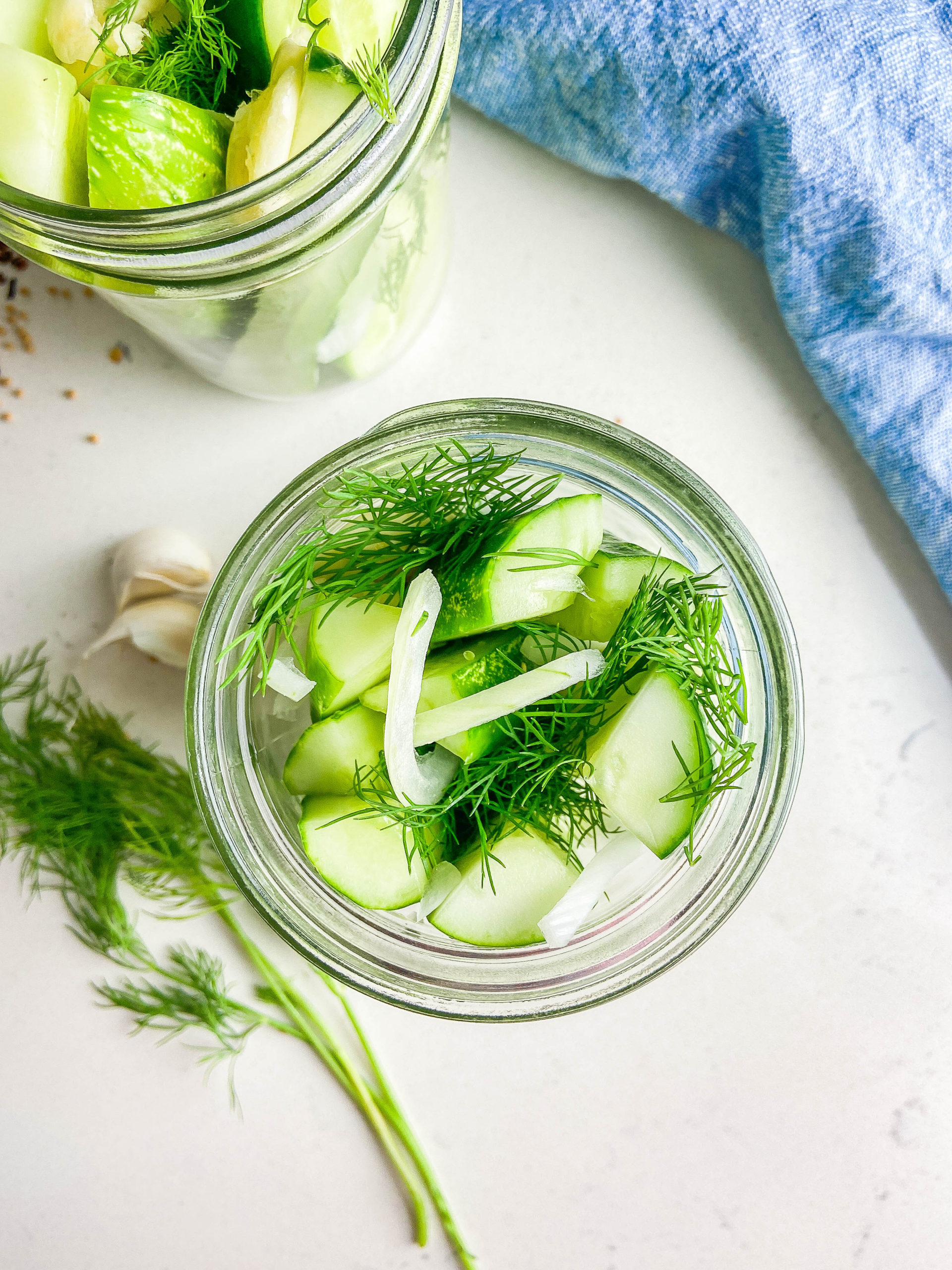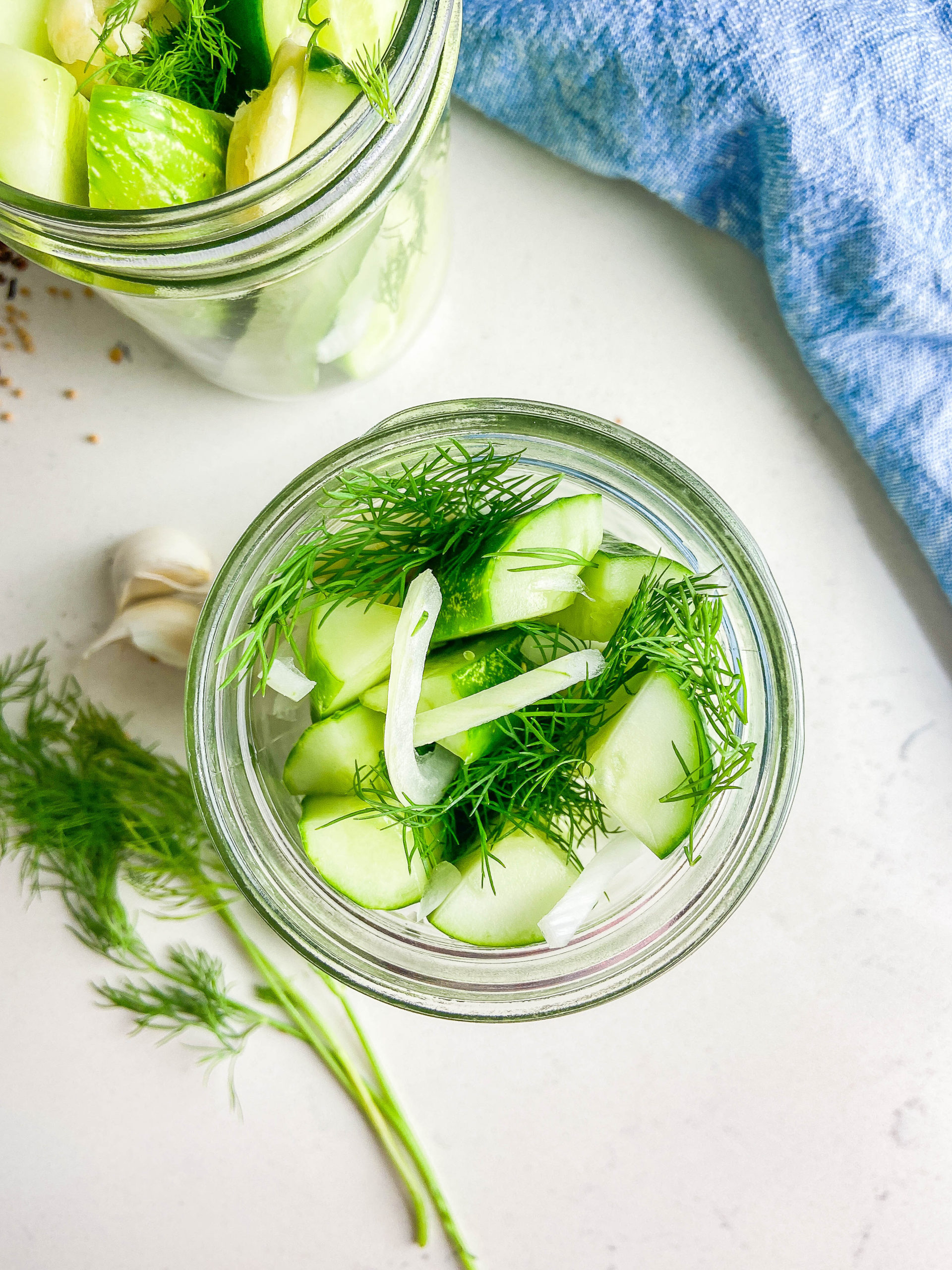 Step #3: Make a brine by combining water, vinegar, salt, sugar, crushed red pepper, peppercorns and mustard seeds. Simmer until sugar and salt have dissolved.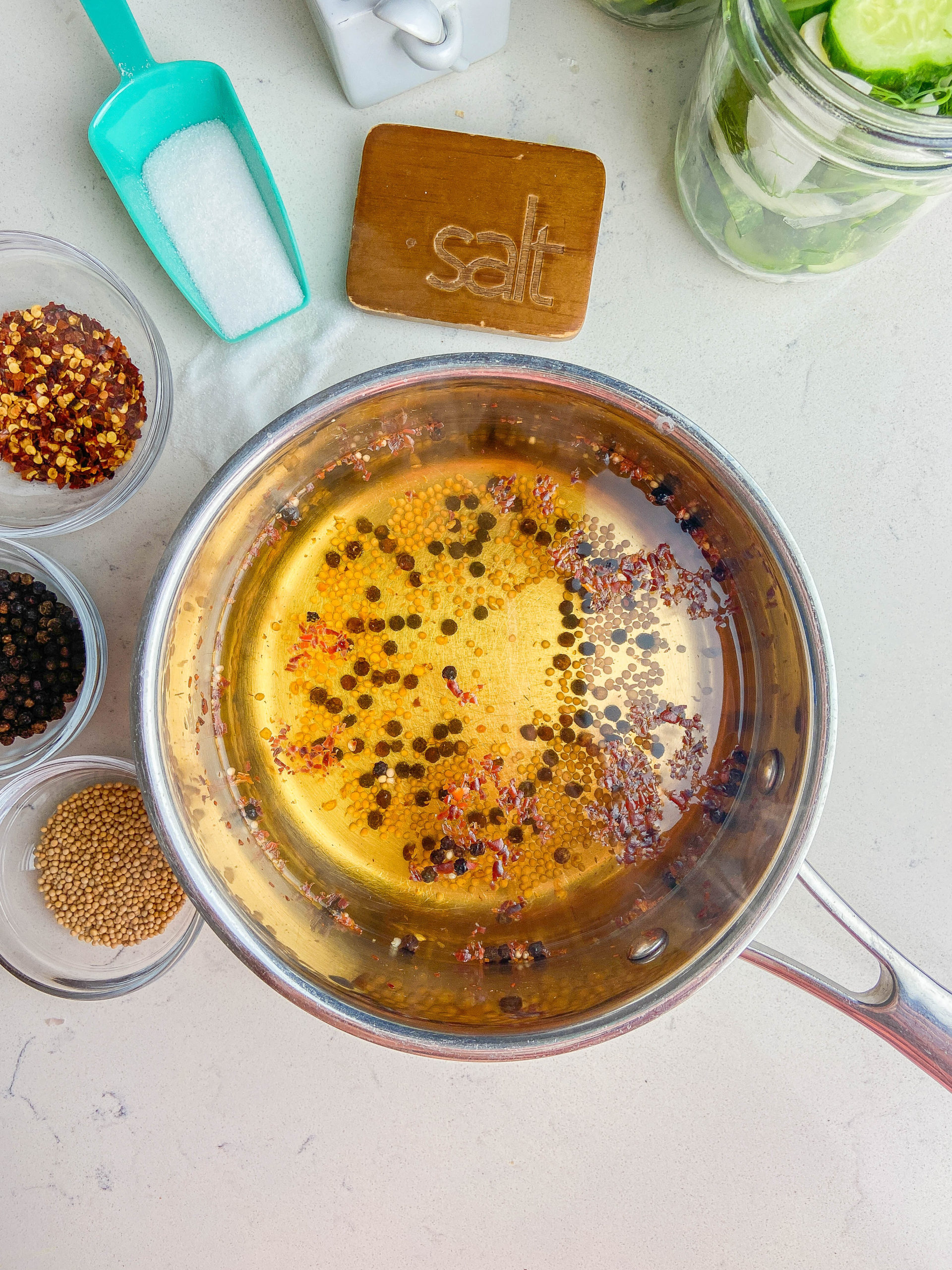 Step #4: Pour brine over the top of the pickles. Seal with a lid and allow to refrigerate for 24 hours before serving.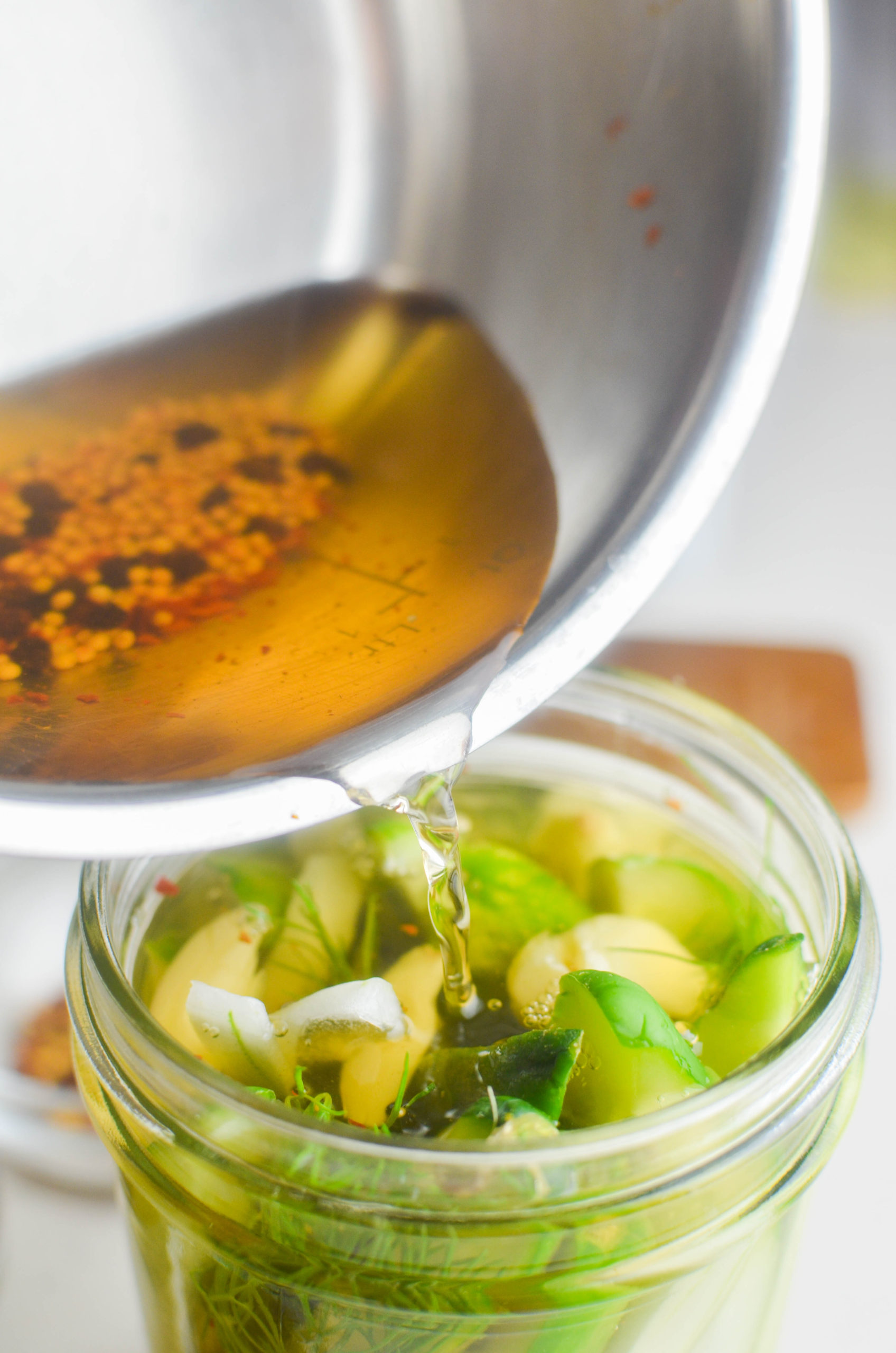 How long will these last?
Homemade pickles will last about a month or so in the refrigerator. Keep in mind, that the longer that they sit the softer they will get. They'll stay pretty crunchy for about a week.
Can you can these pickles?
This recipe is not meant for canning. If you're looking for a canning recipe check out these Canned Dill Pickles from Natasha's Kitchen.
See how easy they are? My whole family loved how crunchy these refrigerator pickles are. And I am sure, if your family loves pickles, they will love these too!
Big fan of dill pickles? ME TOO! Here are some of my favorite recipes using dill pickles or their brine:
Looking for more ways to use cucumbers? I've got you covered there too!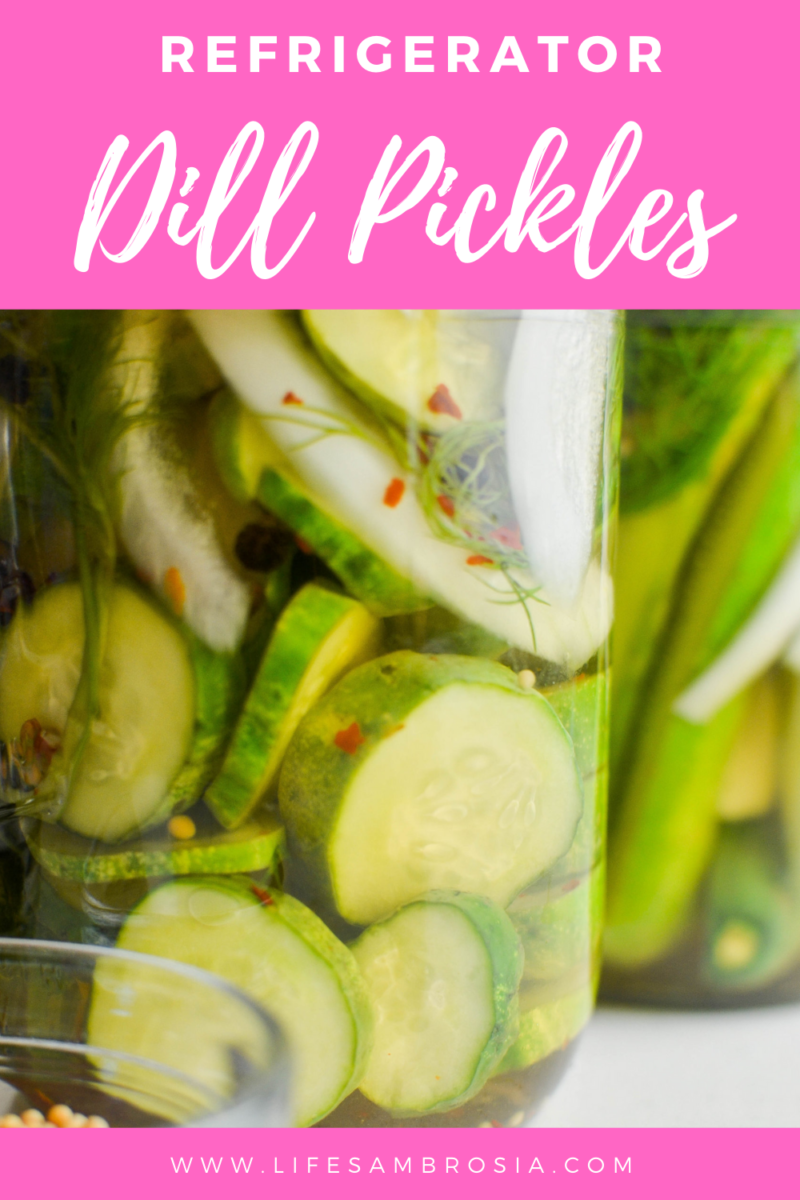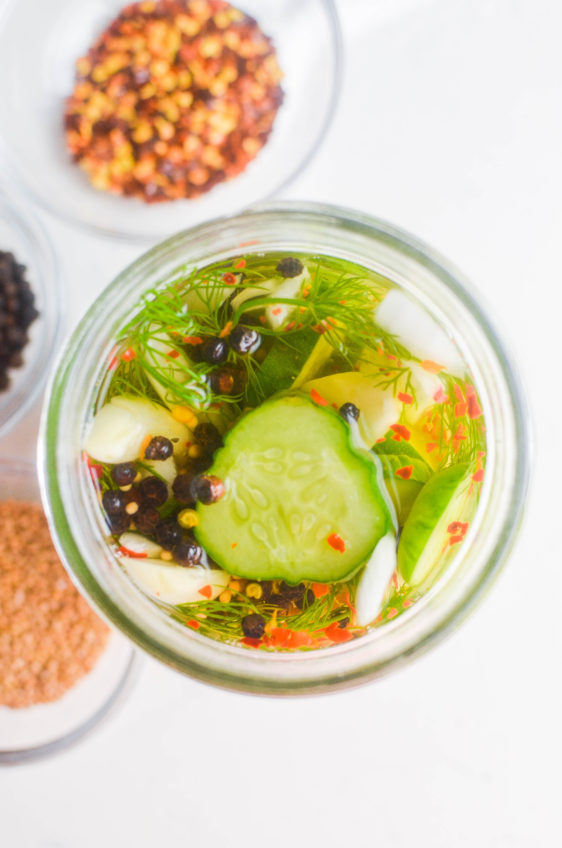 Refrigerator Dill Pickles
No time for canning? You can still make pickles! This easy dill pickles recipe yields salty, sour, crunchy pickles that can be made in your refrigerator.
Evenly divide cucumbers, onions, garlic and dill into two pint sized glass jars.

In a small saucepan combine water, vinegar, kosher salt, sugar, black peppercorns, mustard seeds and crushed red pepper. Heat until sugar and salt dissolve.

Pour brine over cucumbers in jar. Seal and refrigerate for at least 24 hours.

Store sealed in refrigerator for up to a month.
Nutrition facts are for estimation purposes only.
Calories:
25
kcal
Carbohydrates:
4.1
g
Protein:
0.9
g
Fat:
0.2
g
Sodium:
876
mg
Fiber:
0.9
g
Sugar:
2
g