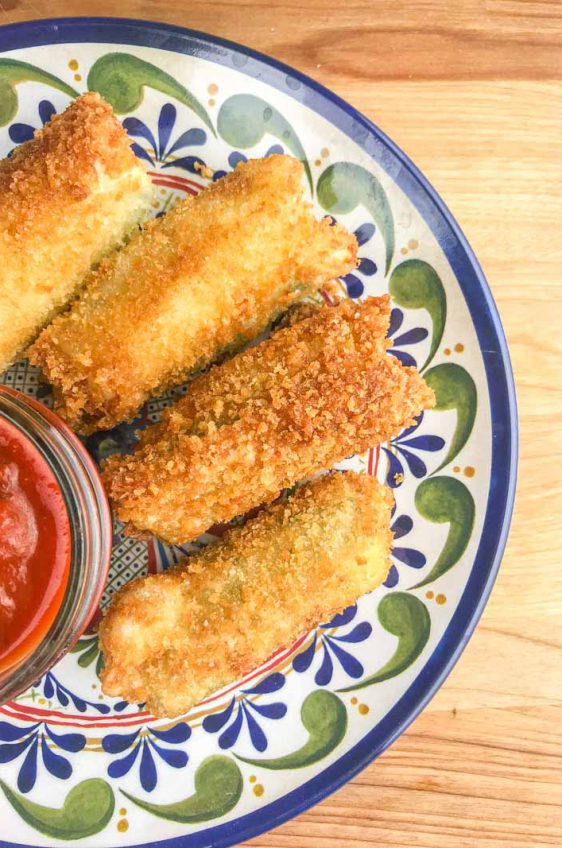 Jalapeno Mozzarella Sticks
Jalapeno Mozzarella Sticks are crispy and crunchy on the outside and cheesy and spicy on the inside. Party appetizer perfection!
Whether or not it's football season, basketball season or baseball season, I'm pretty much looking for any and every excuse I can find to eat game day snacks. Gimme all the dips, the wings and the dogs.
When you are looking for the perfect game day eats, look no further than these Jalapeno Mozzarella Sticks. They are quick, easy to make, loaded with flavor and best of all: cheesy and spicy.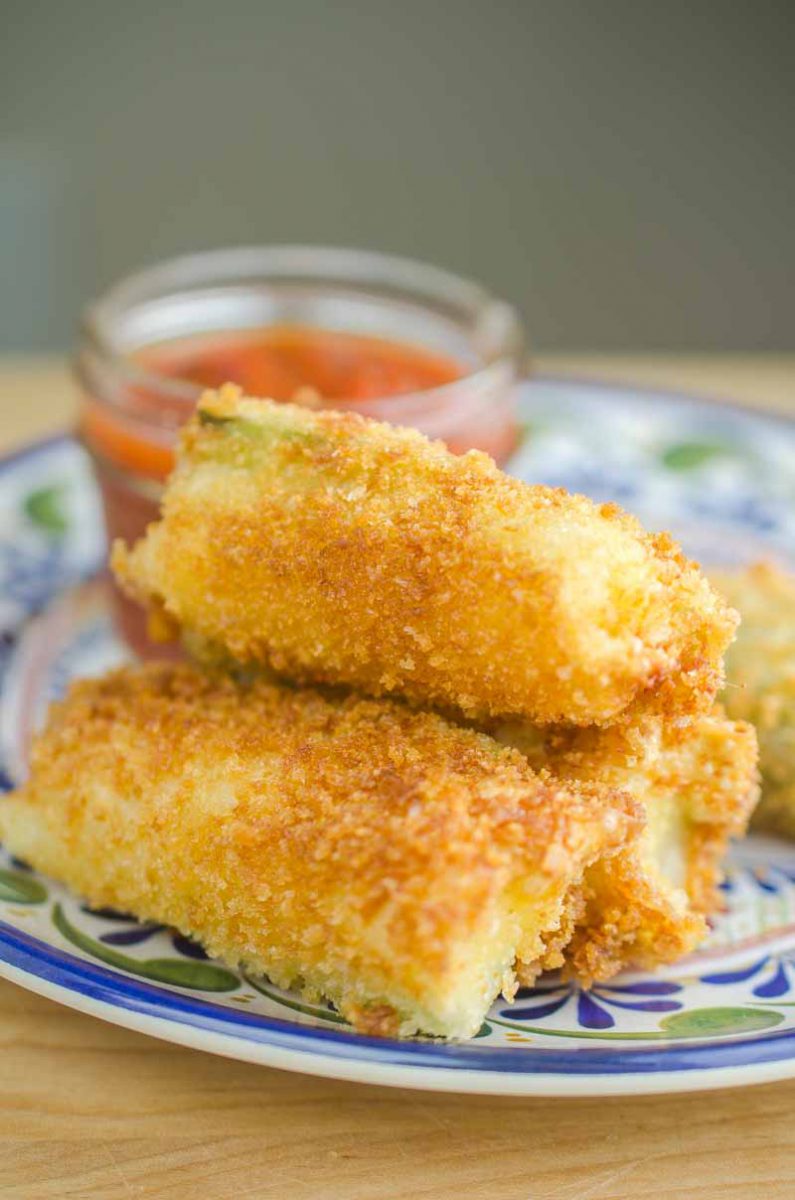 I have used this technique of wrapping the mozzarella in a wonton wrapper before. It worked really well. So well that I didn't think I could improve on it but I thought I'd give it a try by adding some jalapenos to the mix. It worked well too. Really well. In fact, it may be my new favorite way to eat mozzarella sticks. They are crispy and crunchy on the outside. Creamy, melt-y and spicy on the inside. The perfect game day snack.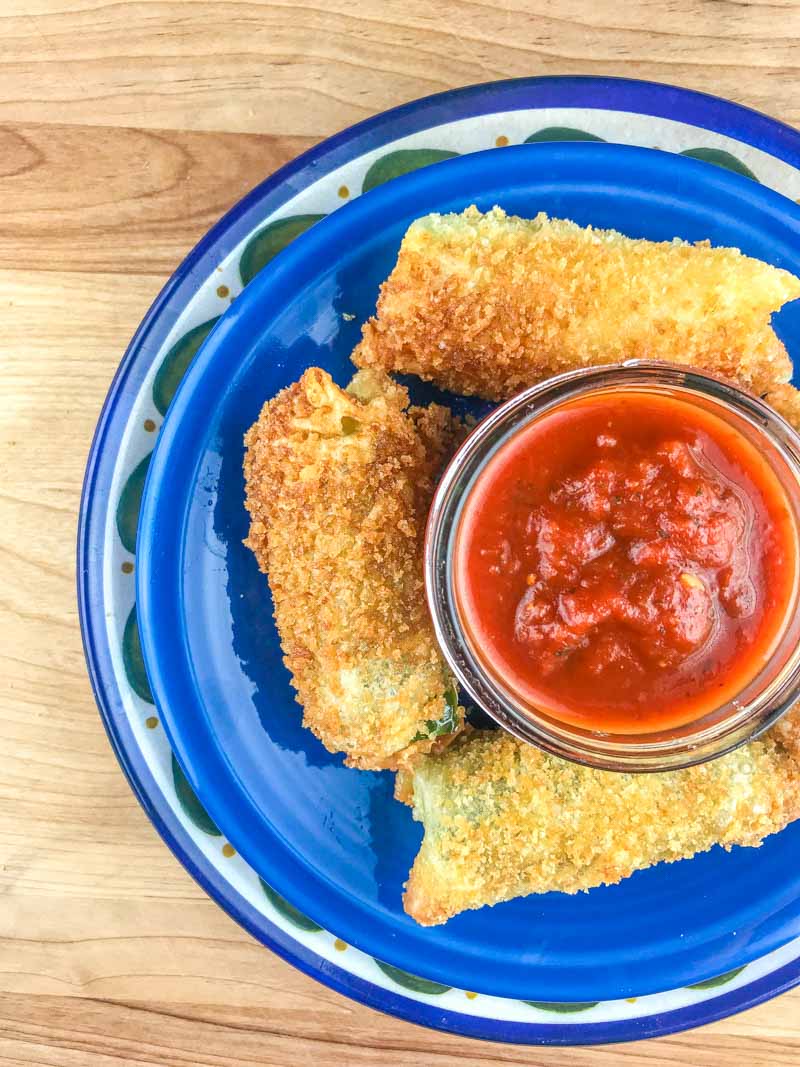 You should be able to find wonton wrappers in the produce or frozen section of your grocery store. My grocery store keeps them next to the egg roll wrappers and kimchi. If you cannot find wonton wrappers, you could cut egg roll wrappers into quarters.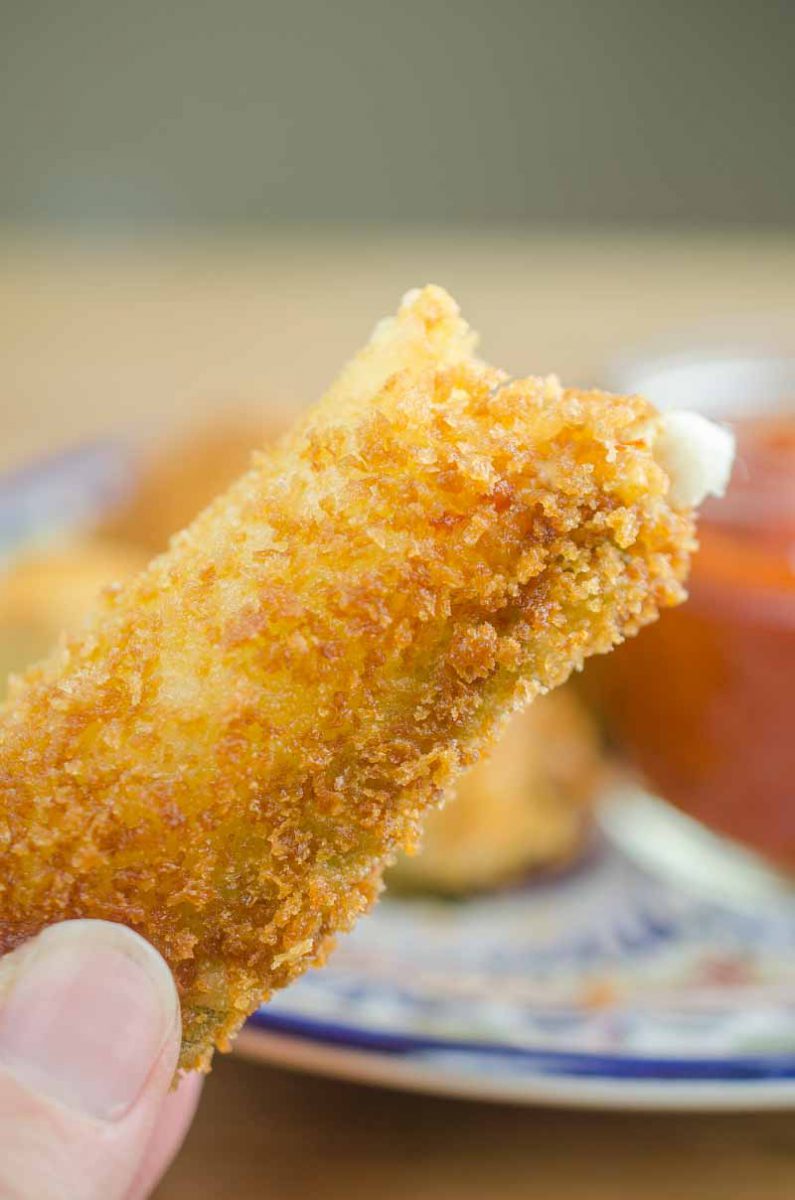 Finally, for this recipe I took out the ribs and the seeds of the jalapeno. This makes these considerably less spicy. If you would like to bump up the heat factor a bit, go ahead and leave them in.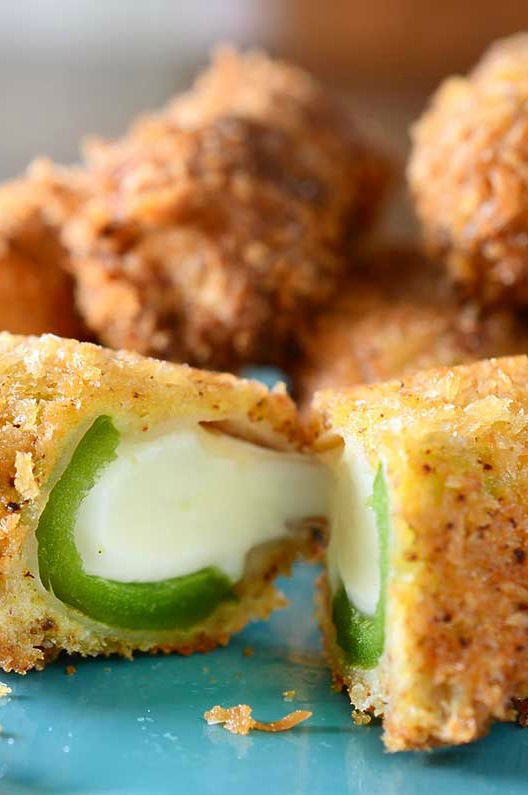 For more fried cheese goodness, check out Fried Pepper Jack Cheese Sticks and Fried Cheese Curds.
If you want to see just how easy it is to make Jalapeno Mozzarella Sticks, this video will help! And it may or may not make you drool too. Just sayin'

Jalapeno Mozzarella Sticks Recipe
Ingredients:
1 cup panko bread crumbs
1/4 teaspoon kosher salt
1/4 teaspoon garlic powder
8 sticks of mozzarella string cheese, cut in half
8 small jalapenos, cut in half lengthwise, stems and seeds removed
16 wonton wrappers
bowl of water
1 egg, beaten
oil for frying
Instructions
1
Combine the panko, salt and garlic powder together in a bowl.

2
Place one piece of mozzarella, in one half of a jalapeno, place both in a wonton wrapper. Dip your finger in the water and run along the edges of the wrapper. Fold the wrapper around the mozzarella so that it is completely closed. Dip into the egg. Dredge in the panko mixture to coat completely. Repeat with remaining ingredients.

3
In a large pot heat 1 inch of oil to 350 degrees. Fry mozzarella sticks, in batches if necessary, until golden brown, 2 to 3 minutes. Use a slotted spoon to transfer to a paper towel lined plate. Sprinkle with kosher salt. Serve.